By Craig Timberg / http://www.washingtonpost.com

(philcampbell / Flickr)
The FBI requires state and local police to keep quiet about the capabilities of a controversial type of surveillance gear that allows law enforcement to eavesdrop on cellphone calls and track individual people based on the signals emitted by their mobile devices, according to a bureau document released recently under a Freedom of Information Act request.
The December 2012 document is a heavily redacted letter between the FBI and police in Tacoma, Wash., as the local department sought to acquire an IMSI catcher, sometimes described as a "fake cellphone tower" because it tricks individual phones into routing their calls and other data through the surveillance equipment. The Takoma police were buying gear produced by Harris Corp., a Florida-based company that makes the StingRay and other IMSI catchers used by law enforcement agencies across the country.
Heirs to the Rockefeller family, which made its vast fortune from oil, are to sell investments in fossil fuels and reinvest in clean energy, reports say.
The Rockefeller Brothers Fund is joining a coalition of philanthropists pledging to rid themselves of more than $50bn (£31bn) in fossil fuel assets.
written by justin pavoni / http://ronpaulinstitute.org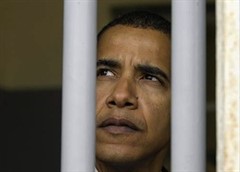 Five Truths
Truth #1: "We have not yet detected specific plotting against our homeland." This is an extremely important admission to understand. If there is no specific plot against America then America must by definition be acting pre-emptively to wage war on the organization known as the "Islamic State." Whether you think that is a good thing or a bad thing, it is by definition, the truth.
Truth #2: "ISIL poses a threat to the people of Iraq and Syria and the broader Middle East." This is undoubtedly true. If American politicians wanted to combat such a threat, it would make sense to cooperate with the governments of both Iraq and Syria. The fact that the United States has thus far absolutely refused to cooperate with the government of Syria should make you search for underlying motivations for American intervention that are perhaps less obvious.
In this video we gave you a recap of all the major events that took place during the massive civil disobedience action for flood wall street.

AUTHOR: JOE FLETCHER http://www.addictinginfo.org
The United States began to launch air strikes Monday night into Syria. The strikes are meant to increase military action against the Islamic State of Iraq and Syria.
According to Politico, Pentagon Secretary Rear Admiral John Kirby said in a statement: "The decision to conduct these strikes was made earlier today by the U.S. Central Command commander under authorization granted him by the commander-in-chief." The Pentagon said the use of fighter jets and bombers are in use.
Syria says the US had informed Damascus before carrying out airstrikes against the Takfiri ISIL militants' positions inside the Arab country.
According to Syrian state media, the Foreign Ministry said in a statement released early on Tuesday that Washington informed Syria's permanent envoy to the United Nations that strikes would be launched against the ISIL terrorists in the province of Raqqa.
On Monday night, Pentagon spokesman Rear Admiral John Kirby said in a statement that US army and "partner nation forces are undertaking military action against ISIL terrorists in Syria using a mix of fighter, bomber and Tomahawk Land Attack Missiles."
Assault weapon, ammo found in woods in search for accused killer of trooper http://www.philly.com/
CANADENSIS, Pa. – Search teams combing the dense, rugged woods not far from where two state troopers were shot on Sept. 12 – one fatally – have discovered an AK-47-style assault weapon like the one suspect Eric Frein was known to have.
That discovery and other clues, state police Lt. Col. George Bivens said Sunday, convinced authorities the searchers were closing in on the accused killer.
"We're pushing him hard," Bivens said. "He's no longer safe there."
With the weapon were two magazine clips of ammunition and a camouflage bag full of ammunition, all partially hidden in tangled forest undergrowth. It was not known whether Frein abandoned the weapon and ammunition or planted them in the woods to be used later, Bivens said.
Official story says a gun was found beneath the deceased man.
Salon / By Joanna Rothkop
A Savannah, Georgia man was  shot to death by police after he was found with a gun, kicking out the back window of a patrol car. Why was he kicking out a cop car's window? Because he had already been arrested. And handcuffed. Then how could he still have a gun? The story remains suspiciously cloudy.
CNN reports on the  strange death of Charles Smith:
The incident occurred shortly after 11 a.m. in the historic coastal city, Savannah-Chatham Metropolitan Police Chief Julie Tolbert said. Tolbert has asked that the Georgia Bureau of Investigation look into the shooting.
With a wingspan of 130 ft, it will join others to "provide near worldwide coverage" in 2017.
by Megan Geuss http://arstechnica.com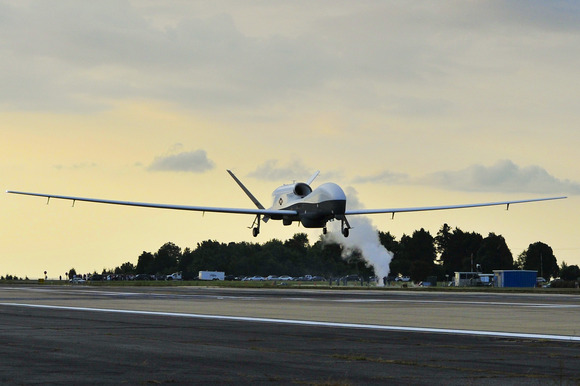 This morning, a giant Navy surveillance drone landed at Patuxent River base in Maryland after flying over the Gulf of Mexico and the American Southwest from an airfield owned by Northrup Grumman in Palmdale, California. The test flight represented the first cross-country flight for the MQ-4C Triton drone after 15 previous test flights.The drone flew 3,290 nautical miles over 11 hours, a Navy press release said. "Operators navigated the aircraft up the Atlantic Coast and Chesapeake Bay at altitudes in excess of 50,000 feet to ensure there were no conflicts with civilian air traffic," the release noted.
In this video Luke Rudkowski talks to Kevin who is a researcher that heads up @theglobalmovement on Instagram about the peoples climate march. The two go over some of the traps of top down organizations with corporate and state ties that but this event together while bringing up solutions for people to free themselves.
To find out more about Kevin check out @theglobalmovement on Instagram
Posted by Austin Petersen http://thelibertarianrepublic.com
A new Reuters poll which asks Americans if they would want their state to secede from the UNION of the United States has found that 1 in 4 Americans would say "yes."
Reuters reported that secession was supported mostly from the usual suspects such as Republicans over Democrats, right leaners, lower income brackets, high school over college grads, etc. However, there was also a surprising amount of support in almost every group and region overall.
From Reuters:
Secession got more support from Republicans than Democrats, more from right- than left-leaning independents, more from younger than older people, more from lower- than higher-income brackets, more from high school than college grads. But there was a surprising amount of support in every group and region, especially the Rocky Mountain states, the Southwest and the old Confederacy, but also in places like Illinois and Kansas. And of the people who said they identified with the Tea Party, supporters of secession were actually in the majority, with 53 percent.
Russian observers say referendum count took place in rooms that were too big and did not meet international standards

Ballot boxes are opened as counting begins in the Scottish referendum in Aberdeen. Photograph: Scott Heppell/AP
Luke Harding http://www.theguardian.com
Friday 19 September 2014 08.12 EDT
Russia has said the conduct of the Scottish referendum "did not meet international standards", with its observers complaining the count took place in rooms that were too big and that the procedure was badly flawed.
In an apparent attempt to mirror persistent western criticism of Russia's own elections, Igor Borisov – an accredited observer – said the poll failed to meet basic international norms.
/ TODAY'S ZAMAN / ISTANBUL
A nurse who works at a private hospital in Mersin, a city and province on the Mediterranean coast of Turkey, has told Turkish authorities and Parliament that she is sick and tired of treating members of the terrorist organization the Islamic State in Iraq and the Levant (ISIL), which now calls itself the "Islamic State."
The nurse, who was identified only by her initials, E.G., in a news story published by the Taraf daily on Wednesday, said of ISIL militants: "We treat them, and they go on to decapitate people. I am sick of treating wounded ISIL militants." E.G. has also written a letter to Parliament and the National Police Department, saying she and her colleagues are extremely disturbed by the fact that they have to treat people "who chop off heads."
Because the vast majority of America's farmers are aging fast, the country needs one million new farmers over the next 10 years to continue feeding itself.
Fortunately, the Cavalry is coming to the rescue — literally, from the Marines, Army, Air Force and National Guard.
With their physical conditioning and discipline, returning U.S. veterans are the ideal candidates to become the next generation of farmers to provide the nation with food security. Recognizing the connection between local food security and national security, these young men and women are forging a network in sustainable agriculture to benefit us all.