AUTHOR: JOE FLETCHER http://www.addictinginfo.org
The United States began to launch air strikes Monday night into Syria. The strikes are meant to increase military action against the Islamic State of Iraq and Syria.
According to Politico, Pentagon Secretary Rear Admiral John Kirby said in a statement: "The decision to conduct these strikes was made earlier today by the U.S. Central Command commander under authorization granted him by the commander-in-chief." The Pentagon said the use of fighter jets and bombers are in use.
Syria says the US had informed Damascus before carrying out airstrikes against the Takfiri ISIL militants' positions inside the Arab country.
According to Syrian state media, the Foreign Ministry said in a statement released early on Tuesday that Washington informed Syria's permanent envoy to the United Nations that strikes would be launched against the ISIL terrorists in the province of Raqqa.
On Monday night, Pentagon spokesman Rear Admiral John Kirby said in a statement that US army and "partner nation forces are undertaking military action against ISIL terrorists in Syria using a mix of fighter, bomber and Tomahawk Land Attack Missiles."
Assault weapon, ammo found in woods in search for accused killer of trooper http://www.philly.com/
CANADENSIS, Pa. – Search teams combing the dense, rugged woods not far from where two state troopers were shot on Sept. 12 – one fatally – have discovered an AK-47-style assault weapon like the one suspect Eric Frein was known to have.
That discovery and other clues, state police Lt. Col. George Bivens said Sunday, convinced authorities the searchers were closing in on the accused killer.
"We're pushing him hard," Bivens said. "He's no longer safe there."
With the weapon were two magazine clips of ammunition and a camouflage bag full of ammunition, all partially hidden in tangled forest undergrowth. It was not known whether Frein abandoned the weapon and ammunition or planted them in the woods to be used later, Bivens said.
Official story says a gun was found beneath the deceased man.
Salon / By Joanna Rothkop
A Savannah, Georgia man was  shot to death by police after he was found with a gun, kicking out the back window of a patrol car. Why was he kicking out a cop car's window? Because he had already been arrested. And handcuffed. Then how could he still have a gun? The story remains suspiciously cloudy.
CNN reports on the  strange death of Charles Smith:
The incident occurred shortly after 11 a.m. in the historic coastal city, Savannah-Chatham Metropolitan Police Chief Julie Tolbert said. Tolbert has asked that the Georgia Bureau of Investigation look into the shooting.
With a wingspan of 130 ft, it will join others to "provide near worldwide coverage" in 2017.
by Megan Geuss http://arstechnica.com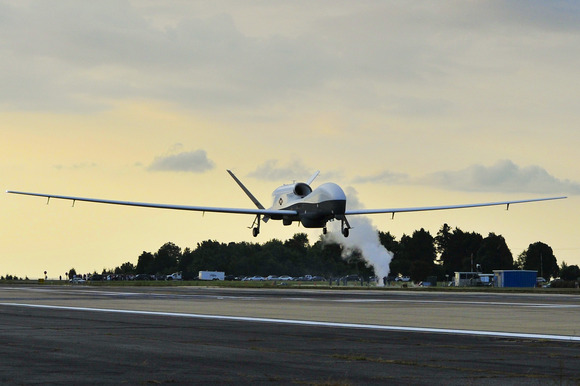 This morning, a giant Navy surveillance drone landed at Patuxent River base in Maryland after flying over the Gulf of Mexico and the American Southwest from an airfield owned by Northrup Grumman in Palmdale, California. The test flight represented the first cross-country flight for the MQ-4C Triton drone after 15 previous test flights.The drone flew 3,290 nautical miles over 11 hours, a Navy press release said. "Operators navigated the aircraft up the Atlantic Coast and Chesapeake Bay at altitudes in excess of 50,000 feet to ensure there were no conflicts with civilian air traffic," the release noted.