The New York Police Department has detained prominent peace activist and former CIA agent Ray McGovern, with witnesses saying he was "yelling in pain" during arrest. McGovern was detained ahead of a David Petraeus speech that he planned to attend.
McGovern was detained before the start of a talk between former CIA director David Petraeus, retired US Army Lt. Col. John Nagl, and author Max Boot on American Foreign Policy at the 92nd St Y., an Upper East Side cultural community center.
Anti-war group 'The World Can't Wait' said the activist was arrested "at protest of speech." He was reportedly prevented by security from entering, charged with criminal trespass and disorderly conduct, and will not be arraigned until Friday. The group has called for McGovern's release on Twitter and Facebook.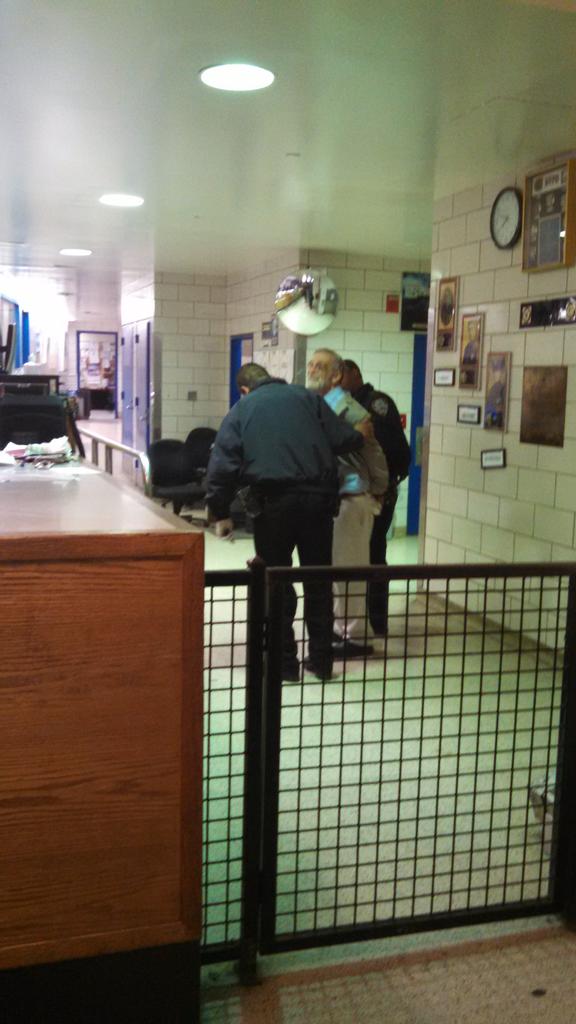 Boyd Bushman – His Last Interview: A Documentary on Area 51 and UFO's over Tucson, Arizona
Shortly before Boyd Bushman passed away on August 7, 2014, he was video recorded candidly speaking about his personal experiences with Area 51, UFOs, aliens and anti-gravity ideas. Boyd was a retired Senior Scientist  for Lockheed Martin. His career spanned over forty years, was awarded many patents, and included work with defense contractors Hughes Aircraft, General Dynamics, Texas Instruments, and Lockheed Martin.
The current issue of the National Rifle Association's American Warrior magazine just hit, and in it, the gun lobby comes out squarely in favor of warrior cops. An article titled, "If You Were a Cop, What Would You Drive?" opens with a photo of an armored personnel carrier-style vehicle juxtaposed with a Volkswagen van. Rick Stewart, the host of the NRA's Life of Duty Patriot Profile series, wonders, "Why should SWAT teams be forced to deploy in a glorified bread-truck?" (It is unclear why a hippie bus is the other alternative.)
By Deena Stryker  http://sacsis.org.za
An Italian radio program's story about Iceland's on-going revolution is a stunning example of how little our media tells us about the rest of the world. Americans may remember that at the start of the 2008 financial crisis, Iceland literally went bankrupt.  The reasons were mentioned only in passing, and since then, this little-known member of the European Union fell back into oblivion.
As one European country after another fails or risks failing, imperiling the Euro, with repercussions for the entire world, the last thing the powers that be want is for Iceland to become an example. Here's why:
Five years of a pure neo-liberal regime had made Iceland, (population 320 thousand, no army), one of the richest countries in the world. In 2003 all the country's banks were privatized, and in an effort to attract foreign investors, they offered on-line banking whose minimal costs allowed them to offer relatively high rates of return. The accounts, called IceSave, attracted many English and Dutch small investors.  But as investments grew, so did the banks' foreign debt.  In 2003 Iceland's debt was equal to 200 times its GNP, but in 2007, it was 900 percent.  The 2008 world financial crisis was the coup de grace. The three main Icelandic banks, Landbanki, Kapthing and Glitnir, went belly up and were nationalized, while the Kroner lost 85% of its value with respect to the Euro.  At the end of the year Iceland declared bankruptcy.
Wednesday at the Aspen Institute's "Washington Ideas Forum," Defense Secretary Chuck Hagel said we are living through, "historic, defining times," that will result in a, "new world order."
When questioned about the ongoing global chaos by the national correspondent for The Atlantic, James Fallows Hagel said, "I think we are living through one of these historic, defining times. I think we are seeing a new world order."
"What we're seeing in the Middle East with ISIL is going to require a steady, long-term effort. It's going to require coalitions of common interests, which we are forming," he added.
CLICK READ MORE TO SEE THE VIDEO