Published on Jun 28, 2016
Denver Police reported an Active shooter situation just blocks away from the University of Colorado at the Alliance Center, 1536 Wynkoop. The Situation has since been handled, the suspect is dead and a victim is in critical condition at the hospital.
Streets have been closed off and authorities are asking people to avoid the area.
Only one victim has been reported a woman critically injured but there could be multiple victims.
The Suspect an unidentified male shooter was found dead from a self inflicted gun shot wound according to Denver Police spokesman Doug Schepman.
50 People have been killed 60 injured, inside Istanbul Ataturk Airport multiple gunmen and suicide bombers attacked the terminal.
Although, no one has claimed responsibility for the attack its worth noting that today is the 2nd anniversary of ISIS declaring the Islamic state and they are strongly suspected to be involved with today's massacre.
https://twitter.com/JimDalrympleII/status/747911569904799744/
All U.S. flights have been suspended to Turkey by the FAA.
In total three separate bombs exploded authorities report.
Several video's were published online on twitter one showing a man yelling "get down, get down." Another showing the moments before a bomb goes off showing the flashing from recorded security footage. Another video was uploaded to Instagram showing panicked passengers running for their lives.
In wake of the terror attack security has been stepped up at New York and New Jersey an Armored vehicle sat outside of JFK International Airport to accompany an incoming Turkish flight.
https://twitter.com/jimdolan7/status/747904977029443584/
Not much is known at this time, but we will keep you up to date as more information becomes available.
"People are walking away bleeding, with bandages on their head."
Joe Durand told CNN.
"It was just a massive crowd of screaming people. Some were falling over themselves. A poor chap in a wheelchair was just left, and everyone just rushed to the back of the building, and then people ran the other way and no one really seemed to know what was going on,"
Laurence Cameron told CNN.
""first opened fire with a Kalashnikov then detonated himself at the airport entrance."
Turkey's Justice Minister Bekir Bozdag
Israel urged citizens to leave Turkey predicting the possibility of follow up attacks by the Islamic State.
Turkey Censored and throttled Turkish Internet as well with users on reddit reporting censorship on twitter and Facebook denying citizens the right to seek information.
This Australian TV Ad Slams Donald Trump So Hard It Was Banned In America (VIDEO)
The reputation of the presumptive Republican nominee for president precedes him. Americans whose neurons still fire have spent the past year bashing Donald Trump, and now our allies are getting in on the action. A startup company in Australia released an ad that mercilessly mocks Trump, his wall, and Mexican immigrants. Because the ad could be construed as electioneering, and because of troubling overtones of discrimination, the ad has been banned by ABC, NBC, CBS, Uni-vision and Comedy Central, and possibly others. It was allowed to run on Fox, according to Peter Adderton, the CEO of 360fly, the company responsible for the ad, who said he sympathizes with Republicans.
The ad features an actor who totally nails the look, mannerisms, facial expressions, gestures, voice and narcissism of the Republican candidate. "Trump" is now (shudder) president in the ad, and he is unveiling his wall along the US-Mexican border to gullible supporters and assembled press. He says,
"Today I am proud to unveil the wall. I know walls. This is an amazing wall. Now, no more Mariachis interrupting dinner. No more maids or caballeros. It is absolutely impenetrable. It is absolutely huge. Just like me. I'm fantastic. To our neighbors to the south, I say 'adios, amigos.'"
---
RELATED: WHAT WE SAW AT THE TRUMP RALLY WHY IT NEEDS TO STOP 
---
Meanwhile, a man using a 360 degree camera, the product that is being sold in the ad, zooms out of the choreographed spectacle and sees Mexican immigrants getting past the wall. A Mariachi trumpeter, maids, and caballeros tunnel under the wall. After which a gardener rockets over the wall using two leaf-blowers. And the ad ends with people lugging a Churros cart out of a tunnel. The overall result is entertaining, funny, and highlights the idiocy of Trump's idea that a wall could regulate immigration, while at the same time advertising a product. 
However you feel about Donald Trump's candidacy the derision of the situation is unfortunate. Some people will say the imagery  in the commercial could be construed as simply mocking "Trump's" words in the speech. But to do so, it also chooses to mock immigrants by reinforcing  dangerous and degrading caricatures of Hispanics and that nationally lampoon them with offensive cartoonish stereotypes . Thus, it accepts Trump's central conceit that Mexicans are considered second-class citizens who don't belong here. It would be a far more powerful of and advertisement if it had flipped the script on Trump's rhetoric by actually humanizing Mexican immigrants and showing them as productive members of society, rather than simply further schematizing the cultural divide circumventing it with a literal wall. Nonetheless, the ad is successful in both creating a viral interest and by exposing the lunacy of American Isolationist thinking.
---
Danny F. Quest is a official 9/11 Truther, anti-war activist, humanitarian,  Blogger, and writer/contributer  for WeareChange.org  Follow him on Social Media.
---
---
Sign up become a patron and Show your support for alternative news
for Just 1$

a month you can help Grow We are change

We use Bitcoin Too !  
12HdLgeeuA87t2JU8m4tbRo247Yj5u2TVP
U.S. Navy and Chinese War ships performed together in a rare training exercise last week in the waters off the coast of the Philippines.
Amid recent tension over the East China Sea where china sent fighter jets to the disputed island last February. It's nice to see this was a joint exercise and not war.
The exercise included Both Chinese and U.S. Helicopters, Aircraft carriers and naval vessels.
Two warships from the United States and five warships from China.
All In preparation for the 2016 Rim of the Pacific multinational naval exercise. Which begins June, 30th, and will bring 26 different countries together for a massive military drill. Which the DoD was considering UN-inviting China earlier in March. Both Countries expressed that the two hour exercise went well and was successful congratulating each other. And both Militaries continued sailing for Hawaii for the international drill in formation.
"Our communication is smooth and we also have accurate understating of the drill's intention. The drill meets our expectations.
In the drill, both sides had accurate understanding of each others intentions and acted quickly in finding the right positions and maneuvering."
Wang Sheqiang, a commander with the Chinese fleet said.
"Thank you very much for a professional and safe exercise.
Your crews maneuvered magnificently, I congratulate you on a successful exercise."
~American Navy Commander.
Although, this was a war drill,
this move could be seen as a peaceful move made by both super powers to de-escalate the situation in the East China Sea waters. Which the South China Sea dispute is about to wrap up in Court in a tribunal decided by a committee appointed by the United Nations Convention on the Law of the Sea (UNCLOS) on the Philippines and China's maritime conflict. As the late Legendary John Lennon once said all we need is love. "Imagine all the people, imagine theirs no country's it isn't hard to do. Imagine all the people living life in peace." After all we only have one world and we are all one human race together we share the land and the sea. Where is the Love?
Markets continued to plummet Monday amid concern from investors that other countries could follow Britain's exit from the European Union.
Russia has warned that,
"While it's unreasonable to draw direct parallels it's obvious that the U.K. is going through a turbulent, confusing and unpredictable period."
Russian President Vladimir Putin's spokesman Dmitry Peskov said.
Another Russian Official Finance Minister Anton Siluanov said.
"In the current fragile situation, one black swan can pull others along with it"
~Russian Finance Anton Siluanov
Russia is right as already, eight Countries France, Holland, Italy, Austria, Finland, Hungary, Portugal, and Slovakia have expressed they want to follow Britain's lead and have a referendum. As we warned last Friday it's the Brexit Domino Effect.
Meanwhile EU leaders are plotting to BLOCK Britain's exit .
Although UK PM David Cameron has already expressed that he will not allow another re-vote on Brexit and rejected that notion. While Other EU Countries and Germany's PM Angela Merkel called for stopping other countries from exiting the European Union. France and Germany are even both planning to unveil plans for a European Super State.
THE EU IS A PLAGUE on Nations Sucking Economies Dry for the IMF and BIS on Steroids. Members of the European Union each year have to pay a fee its like a club for countries and leaders to meet and talk about political things like sending us poor people to war and profiting off of the weapon contracts and private prisons.
As bank stocks continued to implode in the US and UK In the UK Credit ratings fell the UK was downgraded from AAA to a AA Country on the credit rating index by two separate credit agencies.
Shares of Banks in the UK were Also suspended Monday as they plunged from uncertainty of investor "Market Experts." That couldn't stop the 2008 Lehman brothers collapse and they won't stop the next one simply put the central banks are running out of ammo to prevent another Major Crisis.
The Reason for the Financial Earthquake that is BREXIT. Is that the EU was interwoven in the UK's Economy and had it's claws in several of its financial sectors of government.So Leaving the EU caused the Financial ripple effect due to this.
The Pound has dropped and Now its being said,
it could hit historic lows -making the dollar equal to the sterling pound's value by the end of this year. At the same time property and airline stocks dropped some by 20%.
"This Is The Worst Period I Recall; There's Nothing Like It" Alan Greenspan EX FED CHAIRMAN said.
Also Chinaa has now made its move and cut its Yuan rate Fix in its biggest move since its devaluation last year August 2015 when the PBoC (Peoples Bank of China) devalued the Yuan by as much as 5% in a one week period of time. Causing investors to panic globally and sell off their investments.
No matter the after effects of Brexit on the Economy it is a positive thing to see Britain exit the European Union.
The Bitter Fruit Story; the CIA's Coup d'etat of Guatemala, and the Assassination of A democratically elected president all for Standing Up to David Rockefeller.  
"In lost assassination, the assassin must be a fanatic of some sort. Politics, religion, and revenge are about the only feasible motives. Since a fanatic is unstable psychologically, he must be handled with extreme care. He must not know the identities of the other members of the organization, for although it is intended that he die in the act, something may go wrong. While the assassin of Trotsky has never revealed any significant information, it was unsound to depend on this when the act was planned."
Now that we understand the motives, lets jump in and see what it really takes to be a government sponsored hitman (or hit-woman).
This study is pretty long (The government spared no expense when describing in detail the preferred methods of Assassination) For this article we're just going to briefly summarize the subject matter of the document,  I do however recommend that you read the whole study through out to gain more complete understanding, of covert American deep state interventions.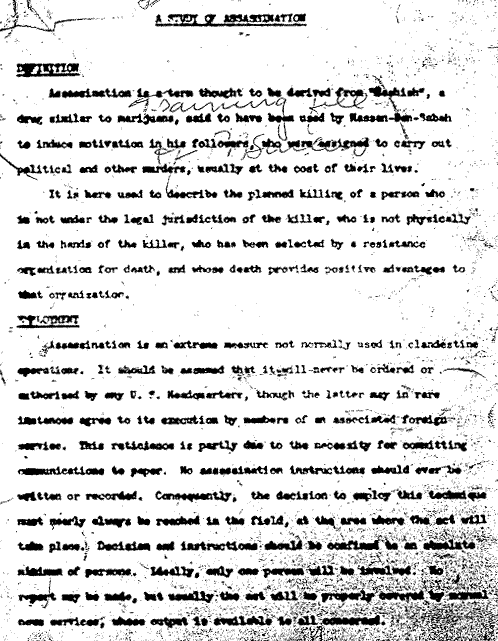 ---
---
President Árbenz drowned in his bathroom in Mexico City, On 27 January 1971
There are Several TECHNIQUES mentioned in the CIA' assassination manual. The Following is a summery of a number of the methods listed in the 19 page study released via.the freedom of information act in 1997.[ PDF]
The essential point of assassination is the death of the subject. What other point would there be for an assassination?
A human being may be killed in many ways but sureness is often overlooked by those who may be emotionally unstrung by the seriousness of this act they intend to commit. The specific technique employed will depend upon a large number of variables, but should be constant in one point: Death must be absolutely certain.
Techniques may be considered as follows:
 Manual.
It is possible to kill a man with the bare hands, but very few are skillful enough to do it well. Even a highly trained Judo expert will hesitate to risk killing by hand unless he has absolutely no alternative. However, the simplest local tools are often much the most efficient means of assassination. A hammer, axe, wrench, screw driver, fire poker, kitchen knife, lamp stand, or anything hard, heavy and handy will suffice.
According to the DOC 
The most efficient accident, in simple assassination, is a fall of 75 feet or more onto a hard surface.
Falls into the sea or swiftly flowing rivers may suffice if the subject cannot swim. It will be more reliable if the assassin can arrange to attempt rescue, as he can thus be sure of the subject's death and at the same time establish a workable alibi.
Drugs.
An overdose of morphine administered as a sedative will cause death without disturbance and is difficult to detect. The size of the dose will depend upon whether the subject has been using narcotics regularly. If not, two grains will suffice.
Edged Weapons
Absolute reliability is obtained by severing the spinal cord in the cervical region, . This can be done with the point of a knife or a light blow of an ax or hatchet.
"The Conference Room Technique"
The most Shocking few pages of the document describe what the CIA called "the conference room technique" of assassination, with two or three man death squads preforming an orchestrated dance like maneuver of murder.
In these official Leaked drawings from the end of the FOIA released document, demonstrate how to kill people in n enclosed "conference room' environment. Describing in startling step by step detail, a systematic method of assassination that appears eerily similar to the mass murder events in places like Sudan, Nigeria, and most recently Orlando Florida.  It goes into the detail of who stands where; where to shoot and how to cover your escape.
Related Link: Secret CIA Review of "High Value Target" Assassination Program (2009)
Now just think that this study was written up in the early 50's. Imagine all the creative assassination methods our CIA has thought up since.
Thank you for reading, I hope that this article opened your eyes to the nature of CIA political assassinations, and taught you a piece of suppressed American history. If you like our Work Subscribe to our Social networks, Donate To help us Speak Truth to Power, and don't forget to leave some propaganda, in the comment section below.
For additional reading on the history of the United Fruit Company: click here.
For more information and declassified documentation of U.S. involvement in Guatemala , see the following:
CIA involved in Guatemala coup, 1954
http://www.english.upenn.edu/~afilreis/50s/guatemala.html

The National Security Archive (George Washington University)
http://www.gwu.edu/~nsarchiv/latin_america/guatemala.html

INTELLIGENCE OVERSIGHT BOARD,
REPORT ON THE GUATEMALA REVIEW – JUNE 28, 1996
Anthony S. Harrington, Chairman; General Lew Allen, Jr., USAF (Ret.);
Ann Z. Caracristi; Harold W. Pote [ed. this is a detailed article but
will give an idea of what the CIA has been up to more recently]
http://www.totse.com/en/politics/central_intelligence_agency/guatrvw.html
CIA's drug smuggling reason enough to dissolve it
http://archives.thedaily.washington.edu/1996/102196/cia102196.html
Is the CIA necessary?
http://www.mtholyoke.edu/acad/intrel/draper.htm
---
Danny F. Quest is a official 9/11 Truther, anti-war activist, humanitarian,  Blogger, and writer/contributer  for WeareChange.org  Follow him on Social Media.
---
---
Sign up become a patron and Show your support for alternative news
for Just 1$

a month you can help Grow We are change

We use Bitcoin Too !

 
12HdLgeeuA87t2JU8m4tbRo247Yj5u2TVP
Drones are preventing fire fighters from flying helicopters equipped with special equipment to extinguish and stop the spread of a massive forest fire in Central California caused by the constant dry weather and intense heat.
"California has been under a severe drought for years. The dry brush from dead plants and trees combined with the heat and wind contributed to a rapid hard-to-control blaze"
local firefighters said.
Already in two days, two drone's have interfered with fire fighters in southern California trying to put out the Erskine Fire.
The fire has been raging for days since Thursday and has claimed two lives possibly more authorities warn. It has also engulfed 45,000 Acres of land, 200+ homes, with 1,500 others being put in the fire's imminent danger zone.
Causing the call for evacuation of hundreds of residents in Central and Southern California.
The fire has been being fought by thousands of fire fighters throughout Central and South California.
As of Monday June 27th, the fires have since spread into NINE large fires.

GOOGLE MAP FIRE LOCATIONS:
https://www.google.com/maps/d/embed?mid=1ZpcZ8OMZh1G1XwRmt9GaCwH6f-g&hl=en
"We're going to go back in and go through the rubble. We're going to try and use cadaver dogs
We don't know if there are other victims that were unable to escape this fire."
Kern Country Sheriff Donny Youngblood said.
Due to inhaling the smoke's fumes and the fire rapidly spreading out of control for fire fighters.
Sunday night officials said that the fire was only 40% contained .
California Governor Brown has declared a state of Emergency in Kern County to evacuate residents and help fight to extinguish the fire.
Now is the time to pray to the rain gods for rain for California, do your rain daces and your rain drum circles play your HAARP because California needs it or maybe we use that magical technology called cloud seeding to create some rain cloud ? Like they did in Texas years ago and recently in Australia as we reported a few weeks ago. We have had this technology for years according to EX- U.S. Secretary of Defense William Cohen when he spoke about weather warfare weapons in 1997. You can read his statement in a DoD transcript made possible with archive.org.
AND Now a word about HAARP from the wolves den themselves and a scientist, Dr. Michio Kaku and a 1978 Senate document about Weather Modification and a U.N. treaty . As well as a House Bill Known as the H.R.2977 "Space Preservation Act" banning use of exotic weapons. The UN was even urged in 2010 to Stop its Geo-engineering Projects.
So the question then remains why not create rain to stop these deadly forest fires from spreading If we have the technology and quit the constant calls of conspiracy bs when it comes to manipulating the weather when the U.S. and other countries had this technology since the 60s-70s?
China has even admitted to having this type of technology and you can bet if China/Russia has this technology America has a similar technology to stay ahead of the rats race in advanced warfare techniques. This Technology HAARP was actually admitted by the U.S. Airforce. As has EX FBI Director Ted L. Gunderson gone on the record saying these chem-trail programs exist. You can read all the patents below for yourself explaining how the technology works injecting iodized crystals into the clouds.
"We're moving on to other ways of managing the ionosphere, which the HAARP was really designed to do
To inject energy into the ionosphere to be able to actually control it. But that work has been completed."
~Airforce Official
The CIA , has even invested its time and money into ego-engineering practices. As has the U.S. military with Operations like Operation Popeye during the Vietnam war.
Then during the Cold War the Army conducted secret experiments on various cities including St. Louis, Missouri and Texas spraying an unknowing public with Zinc Cadium Sulfide.
Governments have also admitted to causing floods due to these experiments with the weather but very few pay any attention and would rather listen to debunkers despite the science being there that many times are paid shills for the government. That feel the public doesn't have a right to know that killer floods can be created by scientist.
So could the drought in California be another country using a weather weapon against the U.S. an advanced warfare tactic as William Cohen EX U.S. Secretary of Defense said in 1997?
Patents:
http://www.geoengineeringwatch.org/an-extensive-list-of-patents/
Academic:
http://oxrep.oxfordjournals.org/content/24/2/322.short
http://www.wmo.int/pages/prog/arep/wwrp/new/documents/Doc_3_6_weather_mod_2013_Final_tn.pdf
http://www.wmo.int/pages/prog/arep/wwrp/new/documents/Doc_3_6_weather_mod_2013_Final_tn.pdf
http://gradworks.umi.com/35/15/3515886.html
As Facebook, Twitter, and Google become pervasive in our day to day lives, issues of censorship and freedom of speech become more and more prevalent. In an aim to kick hate speech from the internet, major social media groups have begun using algorithms to combat hate speech, and thwart it in its tracks. But have the algorithms gone too far? Facebook recently had issues of trending news manipulation of conservative posts, Reddit had censorship issues on its Orlando shooting thread, and twitter has been taking down conservative accounts. So in no way are we attempting to say hate speech should be acceptable, in any form or fashion, but what defines hate speech? It is in those definitions that the gray area lies. Tech giants like Google and Facebook have the power to silence you, making you feel as though you are invisible, without having to manage it personally. Algorithms are given parameters to work within, based on the definitions set, and then Facebook will auto-censor you. Some say it is a good thing, others have major opposition. Freedom of thought and speech were inherently chosen as our first amendment, to promote the what is now considered critical thinking. With an overwhelming majority of people losing faith in the giants, here are some alternative sites for day to day tasks:
Ecosia is a search engine, that goes one step further. When their search engine is used, they help replant trees. To date, as of 6/16/2016, they have planted 4,434,700 trees, with goals to replant billions. For the ecologically mindful, this is a great way to use the internet to your advantage and make an impact on the planet, one search at a time. The site displays how many trees you, with others, have helped plant through web searches. It's an innovative way to create a sustainable planet again.
Diaspora is a decentralized social media network, designed with "Pods." These pods are hubs geographically distributed, and can be hosted by any member with the capacity. The Diaspora Foundation has 3 main philosophies, decentralization, freedom, and privacy. Various subsites are made, with separate data, login, and network. You have choices, instead of everyone seeing one profile, with various subgroups.
Minds is an open source social network, based on transparency and anonymity. End to end encryption for privacy, open source code for transparency. Promotes free expression of ideas, and point-based system for users to promote posts. The user drives the content they see Minds based on likes, follows and shares. Endorsed by Anonymous, but not created by Anonymous. Learn more above.
If you are looking for a site that is vocal about Freedom of Speech and Freedom of Expression, that is Twitter-style microblogging. Well, Sealion Club might be your place, they will not censor, or hinder your ability to express yourself in any way. Freedom of expression and speech are one great thing, but cyberbullying and incitement of violence toward others are another. With that in mind, express away.
Invisocial is a closed social network, where users can develop small close networks of friends, instead of hundreds of people. Some prefer the close intimate interactions, over masses of people, with the potential of using data against you.  They have sophisticated 256-AES Encryption for data security,on top of a proprietary algorithm for keeping data encrypted even upon hacking. They also utilize a split identification, for logging on multiple devices.
Aweditoria is a content driven social platform where publishers can use small snips of text to convey messages on various topics. Fellow users can then annotate on content and share for others to see. It is an interesting idea for spreading ideas and messages for positivity, with annotation helping explain ideas better. For philosophically minded individuals, this may be a great platform for deep thoughts and great content.
---
We Are Change (WAC), nor the writer, endorse, support, or promote any ideas on or of these sites over another, nor have they received financial or other compensation. You are using these sites at your own risk, and We Are Change (WRC), nor the writer, are responsible for ideas expressed by others on said social media sites. 
All of the contents of this Web site are free and open sourced We are change hereby authorizes you to view, copy, print and distribute materials available on this Web site provided that (1) the materials are used for internal informational purposes only; (2) the above copyright notice appears on every copy of the material and any portion thereof; and (3) no materials or related graphics are modified or altered in any way. Any rights not expressly granted herein are reserved Wearechange.org
And of course you can still Follow Us on the Big Three. 
---
---
Sign up become a patron and Show your support for alternative news
for Just 1$ a month you can help Grow We are change

We use Bitcoin Too !  
12HdLgeeuA87t2JU8m4tbRo247Yj5u2TVP
A drug-smuggling pigeon was detained by Costa Rican police after it was caught with cocaine and marijuana in a prison courtyard.
A homing pigeon smuggling 14g of cocaine and 14g marijuana into #LaReforma prison in Costa Rica was intercepted by police and taken into custody, reports The Telegraph.
The pigeon, dubbed as "narcopaloma," caught the attention of a prison guard when it landed on the courtyard of La Reforma prison in San Rafael de Alajuela, a city near the Nicaraguan border, Fox News Latino reported.
The nickname #Narcopaloma means #NarcoPigeon, the drug trafficking avifauna was allegedly seen by a prison guard while landing in the courtyard of the medium-security facility with a small zipped up pouch tied to its body.
Authorities believe that the pigeon may have been trained to act as a courier by an inmate at Le Reforma, which is Costa Rica's biggest prison, according to Sky News.

Prison authorities said that the bird may have been fed by an inmate in La Reforma's medium-security wing, and that someone brought it out in order to attach the drugs to it and let it fly back to it. This was reportedly the first time that a pigeon was caught smuggling drugs into La Reforma, although many other similar instances have happened elsewhere in the country.
Prison police chief Pablo Bertozzi told reporters that the pigeon flew specificially to the medium-security wing, indicating that the drugs "weren't for delivery to just anyone," according to The Register.
 "The real problem is that there is a lot of [drug] consumption. If there weren't consumers, the drugs wouldn't be arriving," Bertozzi said,
The Telegraph reported
.
The Costa Rican Ministry of Peace and Justice posted the incident on Facebook and Twitter, which quickly became viral. Memes about the #NarcoPaloma flooded social media, with some even joking that pigeons in the country are threatening to take over if their "comrade" is not released, according to Tico Times.
Thug Life #NarcoPalomapic.twitter.com/IxrcmqkeLg

— ??? – ??? ?? (@paotorresv) August 12, 2015
The Narco-Pigeon was "arrested" and later taken to a zoo where it will remain caged.
"They are Most likely going to deny him bail" Said his lawyer, "The Judge believes him to be a flight risk" 
Shortly after the incident The hash tag #FreePigeon has began to circle on South American social network pages.
---
Danny F. Quest is a official 9/11 Truther, anti-war activist, humanitarian,  Blogger, and writer/contributer  for WeareChange.org  Follow him on Social Media.
---
---
Sign up become a patron and Show your support for alternative news
for Just 1$

a month you can help Grow We are change

We use Bitcoin Too !  
12HdLgeeuA87t2JU8m4tbRo247Yj5u2TVP