A transit train has derailed in New Jersey at a Hoboken train station, injuring over a hundred people.
The train struck a wall and pillars, causing the roof to collapse on the train after entering the station around 8:30 a.m. Thursday morning.
A video inside the station shows catastrophic damage and debris scattered all over as officials are searching for survivors and emergency personnel are rescuing people from the wreck.
Three people have been killed, and more than 100 were injured from the crash.
"We approached the station and the train felt like it never stopped," Jamie Weatherhead-Sal, who was standing at the door between the second and the third car, told NBC4 New York. "The train just kept going, the lights shut off, people started yelling."
Another passenger said the "train felt as if it never stopped."
"It was for a couple seconds, but it felt like an eternity, I saw a woman pinned under the concrete. A lot of people were bleeding, one guy was crying," said Bhagyesh Sha.
NBC Staffer Aracely Hillebrech was on the platform at the station and reported –
"I was about 30 feet from it, I heard screeching and we saw the train and someone yelled 'run. We heard the train crash and heard the sound of water as the roof collapsed. People were scrambling and running away from the train." Hillebrecht said she saw people who were "really hurt" and "some people couldn't walk."
NJ Transit has tweeted out alternatives to the railway system saying, Rail service is suspended NJT bus & private carriers as well as NY Waterway ferry is accepting rail tickets and passes as a result of a train accident.
There is no information yet on what caused the crash but in 2014, an Amtrak train carrying important CEO's and Bankers derailed in Philadelphia, Pennsylvania around the time when Bankers and CEO's were being killed to suppress large lawsuits.
Senior FBI Agent, Ted L. Gunderson has previously said before that the elite use trains, plane crashes, etc. – to assassinate individuals instead of murdering them in cold blood.
Was this an assassination attempt of prominent people or simply an accident?
This happened once before in 1996 in Hoboken, NJ, when 200 people were injured and 3 were killed so maybe it is a legitimate non-manipulated accident and possibly the rails should have been replaced and it's negligence?
It's important to ask relevant questions and not just become emotionally attached to a situation so the first questions that need to be determined is how did the crash happen – was it an error by the conductor? The next question is who was on the train – were there any deemed important people on the train?
With that said, without supporting factual information, lets not jump to conclusions and speculate, but I still want to see a full manifest of who was on that train. With the investigative mind set out of the way this is a tragedy and I hope that most of these people are okay and sustained minor not critical injuries. No matter how this accident happened any loss of life is always a horrible way to start the day and my condolences are with friends and family members of the three people killed in this incident.
THIS IS A BREAKING STORY, STAY TUNED TO WE ARE CHANGE WE WILL KEEP YOU UP TO DATE AS MORE INFORMATION BECOMES AVAILABLE.
https://twitter.com/AP/status/781508393903226882
The U.S. Congress approved a stop-gap funding bill late Wednesday night that averts a looming federal government shutdown and accord to the main-stream media "provides urgently needed money to help battle an outbreak of the Zika virus."
Averting an election-year crisis, Congress sent President Barack Obama a bill to keep the government operating through Dec. 9 and provide $1.1 billion in to reportedly battle the Zika virus.
The House cleared the measure by a 342-85 vote. Passage of the bipartisan legislation came shortly after Republicans and Democrats ended a months-long fight over whether Washington should provide aid to the city of Flint, Michigan, as it struggles with a crisis over contaminated drinking water.
The spending measure was the Hill's last major to-do item before the election in November, and its completion keeps the U.S. government operating from Oct. 1, the start of the new fiscal year, until Dec. 9, and allows lawmakers to jet home in order to campaign to save their jobs.
The bill caps months of wrangling over money to being used to fight the mosquito-borne Zika virus, and also includes $500 million for rebuilding assistance to flood-ravaged Louisiana and other states, however to the informed citizen these additions are only there to make this late season debt increase more acceptable.
The White House said Obama will sign the measure and praised the progress on Flint.
The temporary spending bill sped through the House shortly after the chamber passed a water projects bill containing the breakthrough compromise on Flint. The move to add the Flint package to the water projects bill, negotiated by top leaders in both parties and passed Wednesday by a 284-141 vote, was the key to lifting the Democratic blockade on the separate spending bill.

The deal averts a potential federal shutdown and comes just three days before deadline. It defuses a lengthy, frustrating battle over Zika spending. Democrats claimed a partial victory on Flint while the GOP-dominated Louisiana delegation won a down payment on Obama's $2.6 billion request for their state.

The politicking and power plays enormously complicated what should have been a routine measure to avoid an election-eve government shutdown.

ANDREW TAYLOR, ASSOCIATED PRESS.
The temporary government-wide spending bill had stalled in the Senate Tuesday over Democrats' demands that the measure include $220 million in Senate-passed funding to help Flint and other cities deal with lead-tainted water. The Flint issue arose as the final stumbling block after Senate Majority Leader Mitch McConnell, R-Ky., added the flood aid for Louisiana to the spending bill.
Democrats argued it was unfair that the water crisis in Flint has gone on for more than a year with no assistance, while Louisiana and other states are getting $500 million for floods that occurred just last month. Democrats played a strong hand in the negotiations and had leverage because Republicans controlling the House and Senate were eager to avoid a politically harmful shutdown six weeks before the election.
In a series of carefully orchestrated maneuvers after the Senate approved the temporary funding, the House passed a wide-ranging water resources bill containing $170 million to assist Flint by a vote of 399-25.
Democrats have demanded action on the crisis, which stems from dangerous levels of lead in Flint's drinking water.
A Senate version of the bill contains $220 million for Flint and other cities with problem water systems.
The two chambers will have to hammer out compromise legislation after the Nov. 8 presidential and congressional elections. Wednesday's flurry of activity in Congress came as lawmakers rushed to recess this week until after the elections.
Flint's drinking water became tainted when the city, then under state control, began drawing from the Flint River in 2014 to save money. Regulators failed to ensure the water was treated properly and lead from aging pipes leached into the water supply. As many as 12,000 children have been exposed to lead in water, officials say.
There were other winners and losers in the scramble to produce the legislation.
Ted Cruz, R-Texas, failed to win a provision to block the U.S. government from transferring the Commerce Department's role in governing the internet's domain name addressing systems to a nonprofit consortium known as ICANN.
And Democrats failed to use the bill to reverse a ban engineered last year by McConnell on proposals to allow the Securities and Exchange Commission to require publicly-traded corporations to disclose political spending permitted under the Supreme Court's 2010 decision allowing unlimited political spending by businesses.
The spending bill also includes full-year funding for the Department of Veterans Affairs. That measure permits veterans with war injuries to receive in vitro fertilization treatments. A longtime ban on such treatments — demanded in the early 1990s by anti-abortion lawmakers concerned about destroyed embryos — has been lifted.
Sources:
http://abcnews.go.com/Politics/wireStory/pelosi-aide-deal-speaker-ryan-covers-flint-aid-42413387
http://www.reuters.com/article/us-usa-congress-idUSKCN11Y1MJ
Follow WE ARE CHANGE on SOCIAL MEDIA
---
Sign up become a patron and Show your support for alternative news

We use Bitcoin Too !  
12HdLgeeuA87t2JU8m4tbRo247Yj5u2TVP
Heavily Armed Cops Drop TEAR GAS On Peaceful Standing Rock Protesters.
Things are heating up at Standing Rock. After police spread lies yesterday about armed protesters who simply didn't exist and they had no proof of, today they moved in with machine gun-wielding officers, and others loading shotguns as they descended on protesters
Thomas H. Joseph II, one of the protesters on site, says the following:
We need everyone able to come join us at Standing Rock.

Today's action where uncalled for, the police was a direct threat to woman and children.

We gathered in prayer un-armed, prayed, sang songs, and attempted to leave. No threats, No vandalism, No violence was taken on our part.

Flood the White House with phone calls and demand Obama to act and enforce his previous declaration of no construction. With state police protecting Dakota Access Pipeline his words are meaningless.

White House Phone Number: 202-456-1111
Watch the video below, make the call and help SPREAD THE WORD till this is HEADLINE NEWS!
Many people are reporting they are unable to see/share videos. Police confiscating phones & deleting videos w/o warrant.
#StandingRock #NoDAPL #StateTerrorism
Hours More of Today's Dramatic Video Footage Can Be Seen Here..
–> – http://livestream.com/unicornriot/events/6419548-  <—
From above, the "Water Protecters" say that the police dropped what was "either mustard or tear gas."
 See for yourself…
Follow WE ARE CHANGE on SOCIAL MEDIA
---
Sign up become a patron and Show your support for alternative news

We use Bitcoin Too !  
12HdLgeeuA87t2JU8m4tbRo247Yj5u2TVP
I sat down to talk to Haitian activist Theova Milfort, who recently passed out in front of the White House during his six day hunger strike.
Milfort was protesting for Barack Obama to visit his country Haiti and to apologize publicly for what the Clintons did to Haiti before he leaves office.
Theova was rushed to the hospital after passing out in front of the White House during a campaign for Barack Obama to visit Haiti before he leaves office.
Theova expressed that he wanted the betterment of his people, especially the youth. Theova runs an organization that helps the youth and other struggling Haitian residents to help get his people out of poverty. He spoke about how the Clintons raped his country of it's resources and destroyed his country's economy after the Haitian earthquake. Speaking about the Clintons mining deal, he called it an economic crime against Haiti.
"After 50 years to get a permit for Tony Rodham, to export gold in Haiti less than 2% of royalties, this is insane this is actually an economic crime against Haiti," Theova said.
Theova additionally talked about the history of slavery in Haiti and Haiti's history that influenced the U.S. and other countries, and how the Haitians were the first independent black nation in the world. This is a major reason he feels that Barack Obama should go over to Haiti before he leaves office, being the first U.S. African American president.
"We the people of Haiti have a slogan shut down Haiti to rebuild it," Theova said.

"We beat up the first army the french and Napoléon army and we declared that Haiti was free and the first black nation in the world. Back in the 1820's African American's were in Haiti fleeing from racism and misery and slavery in America. Then back to 1920-30s-40s-50s-60s there was still slavery going on in the USA, then in 1979 some fifty hundred soldiers went to Sabadah to fight against the British for independence.

Then back to 1960's we saw that blacks weren't allowed to share the same bathrooms. Slavery didn't end until Rosa Parks stood up and said I won't give up my seat for you. A big time blow, that got inspired from the Haitian revolution because we are the first to say "Black Lives Matter" and were the first ones to say All lives matter. We helped South America get independence Brazil, Argentina, Panama etc.," Theova said.
Theova also talked about how Haitians are seen as unskilled workers and paid less despite working for years for a manufacturing corporation.
"The main problem is the wages aren't good and the government is taking wages out of those wages and they give only 1,000 – 3,000 people jobs."
We also discussed the corruption of the current Haitian government, opening the market for foreign businessmen while selling out their own people.
Theova told me how it's been an uphill battle, constantly facing hardships in trying to get his message across to help his county.
Thoeova helps run the non-profit organization FTMDhaiti.org, which provides micro-loans to help Haitians. Theova added "handouts don't work in Haiti, we say that the best way to help people is teach them how to catch a fish not give them a fish daily, we do financial training, how to run a small business,  how to run it, how to deal with customer service, how to maintain stocks and we give them a small amount of money to open up or add to their existing businesses."
If you can afford it and want to help out the people of Haiti, you can donate and reach Theova through FTMDhaiti.org. Stay tuned to We Are Change.
---
Theova Milfort @theovaMilfort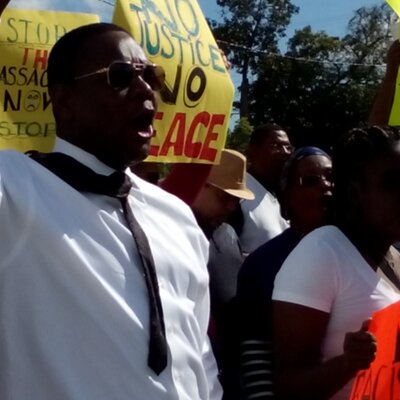 CEO at Fondation Theova Milfort pour le Dev. Inc.The voice of the voiceless!Human Rights Activist,Researcher,Actor,Microfinance expert,The upright man of Haiti!
Haiti W.I.and Florida, USA
---
In this video former Haitian President of Senate is speaking out to tell the truth about the Clinton Foundation at a Trump event! The former president said that Hillary Clinton was trying to buy him. Clinton's brother was later granted a rare permit by the Haitian government to mine for gold.
In this video Luke Rudkowski interviews Haitian American Joseph Mathieu a member of the Haitian community that has been in the streets protesting against Hillary Rodham Clinton. 
Follow WE ARE CHANGE on SOCIAL MEDIA
---
Sign up become a patron and Show your support for alternative news

We use Bitcoin Too !  
12HdLgeeuA87t2JU8m4tbRo247Yj5u2TVP
A counter protester at a Black Lives Matter demonstration at East Tennessee State University has been charged after he showed up in a gorilla mask and handed out bananas.
The protest was being held on campus on Wednesday afternoon, when it was crashed by Tristan Rettke –a freshman at the university. The ETSU Department of Public Safety report said that he was wearing blue jean overalls, a white t-shirt, the mask, and was handing out bananas on a rope. He was also carrying a burlap sack with a rebel flag and marijuana leaf on it.
After Rettke's arrival, the police were called over his "disorderly conduct." He was detained and taken to the Public Safety Office.
"I saw him come down the steps as a gorilla," Jaylen Grimes, one of the protesters, told the East Tennessean. "He pulled out his burlap sack and then he had the rope and whatnot and then he started offering us bananas. A lot of us didn't take it, but I just took as a sign of peace offering and just to show him that, just because he's being disrespectful towards me, I won't be disrespectful towards him."
"He was just trying to get a reaction out of us," Grimes said. "If we would have lashed out violently, that would have been another problem and we would've all got in trouble … and like I said, that's not why we're here. We were here as peaceful (demonstrators), so we had to remain as such."
Despite being offensive and totally out of line, Grimes told the paper that Rettke's presence drew a bigger crowd, which they were thankful for.
"I was going to let him stay as long as he wanted to," Grimes said, "because once white people see how the counterpart of their same culture acts, they can just reflect on that and see, 'Oh, I'm not like that. Oh, I actually might want to help.' And they might want to push against what his thoughts and what his beliefs are."
"Violence is not our answer to anything," Grimes said. "Because once you fight fire with fire, it just starts a larger fire. And where there's more fire, there's more destruction.
ETSU President Dr. Brian Noland gave a press conference regarding his arrest shortly after the incident, calling Rettke's actions "incomprehensible and intolerable" and asserted that he does not represent the values of the university.
Rettke was apparently so offensive that ETSU officials posted to Facebook inviting students to talk about it at an event in the auditorium the same evening.
"The ETSU Department of Public Safety staff responded to the incident. At this time, criminal charges are pending before the local district attorney, and an internal student-conduct investigation has begun," the post read. "Our university values diversity, inclusivity and respect for others. In keeping with those values, there will be an opportunity for community dialogue tonight at 7 p.m. inside the D.P. Culp Auditorium. University leadership will be present."
The masked gorilla-man was certainly offensive — and his attire and actions were disgusting — but were they illegal?
They were according to the campus administration and the District Attorney General's office, who have charged him with civil rights intimidation. He has now been taken to the Washington County Detention Center.
In Tennessee, civil rights intimidation requires that "the defendant injured or threatened to injure or coerced another."
Meanwhile, another student was present holding a sign that said "black lives matter, all lives don't."
While nobody could reasonably argue that Rettke's actions were not offensive, at what point does being an asshole become criminal?
In this video Luke Rudkowski covers the breaking news of how Congress overturned Barack Obama's veto, allowing 9/11 victims' family members to sue Saudi Arabia.
This is major news with huge geopolitical repercussions that we will cover on this channel, for more go to http://wearechange.org/donate/ and invest in us so we can grow our operations being the media that we need in the world.
Source
http://www.zerohedge.com/news/2016-05…
http://www.zerohedge.com/news/2016-05…
https://www.youtube.com/watch?v=keFog…
http://bigstory.ap.org/article/c70f6a…
http://www.usatoday.com/story/news/po…
https://www.theguardian.com/us-news/2…
http://www.reuters.com/article/us-usa…
http://www.politico.com/story/2016/09…
http://thehill.com/homenews/administr…
https://theintercept.com/2016/09/28/w…
http://www.dailymail.co.uk/news/artic…
http://www.zerohedge.com/news/2016-09…
https://www.youtube.com/watch?v=zpb1W…
http://www.zerohedge.com/news/2016-04…
http://www.zerohedge.com/news/2016-04…
https://www.theguardian.com/us-news/2…
https://www.mintpressnews.com/220321-…
http://www.dailymail.co.uk/news/artic…
http://news.antiwar.com/2016/09/27/de…
Support WeAreChange by Subscribing to our channel HERE http://www.youtube.com/subscription_c…
Visit our main site for more breaking news http://wearechange.org/
Patreon https://www.patreon.com/WeAreChange?a…
SnapChat: LukeWeAreChange
Facebook: https://facebook.com/LukeWeAreChange
Twitter: https://twitter.com/Lukewearechange
Instagram: http://instagram.com/lukewearechange
Rep WeAreChange Merch Proudly: http://wearechange.org/store
OH YEAH since we are not corporate or government WHORES help us out http://wearechange.org/donate
We take BITCOIN too
12HdLgeeuA87t2JU8m4tbRo247Yj5u2TVP
A new Associated Press-GfK poll reveals that one in three voters do not believe that Hillary Clinton is healthy enough for the job of President of the United States.
The survey found that while 51% of registered voters are very or extremely confident that Donald Trump is healthy enough to serve as president, only 36% are as confident in Clinton's ability.
The topic of 68-year-old Clinton's health became a huge issue in the election after questions were raised by popular author and journalist Mike Cernovich, and Paul Joseph Watson of Prison Planet, prior to Clinton's collapse at the 9/11 memorial.
The journalists' concerns were loudly dismissed and written off as sexist "conspiracy theories" by mainstream pundits and reporters who ultimately ended up eating their words.
Confusingly, AP wrote of their poll:
"Another gender divide: Nearly half of women but just 4 in 10 men think Clinton's health is getting too much attention, found the poll, which was taken before the presidential candidates' debate on Monday."
Since when is "nearly half" different than "just 4 in 10?" Some "divide." Their document does not provide the actual numbers for males vs females surveyed.
The story accompanying the poll was also extremely biased towards Clinton, painting her as a brave fighter who "refused to take a sick day," until it caught up to her in New York City. They also continued to imply anyone questioning the health of the candidate is sexist.
"Monday she rebutted Trump's talk of stamina by wondering if he could match her grueling schedule as a Secretary of State — traveling to 112 countries, negotiating peace deals, spending 11 hours testifying before a congressional committee," the AP wrote.
Having to sit through a hearing for possibly causing the deaths of four American citizens has apparently become a proud bragging right for Hillary Clinton.
Trump and his supporters are not backing down on the issue however, no matter what name calling his opponent and her supporters engage in.
"I think absolutely her health is an issue," David Bossie, Trump's deputy campaign manager, said on Fox and Friends on Wednesday. "Her stamina is an issue, whether or not she's going to be able to fulfill her office."
"That's something that every four years, whether it's John McCain, Mitt Romney, Barack Obama, going back to President Reagan … people want to know that their president that they're electing is going to be able to serve those four years, and I think there's lots of questions," Bossie continued.
On Wednesday, the Senate voted overwhelmingly to override President Obama's veto of the 9/11 bill Justice Against Sponsors of Terrorism Act (JASTA), that allows victims of 9/11 to sue Saudi Arabia for it's involvement in 9/11 and victims of terrorism in general to sue foreign sponsors of attacks.
This marks the first time in Obama's presidency that the Senate has mustered enough votes to overrule one of Obama's vetos, despite a number of unconstitutional bills crossing his desk since he took the office, including the NDAA and repeal of the Smith-Mundit Act which protected U.S. citizens against government sponsored propaganda.
Who was the single vote for keeping Obama's veto you ask? None other then Senate Minority Leader Harry Reid.
The White House responded to the vote, calling it "embarrassing."
"I would venture to say that this is the single most embarrassing thing that the United States Senate has done, possibly, since 1983." – Obama spokesman Josh Earnest.
Obama warned in a letter to Senate leaders last week that if the bill were to pass it would allow not only victims of terrorism in the U.S. to sue foreign countries, but also allow foreign countries to sue the U.S. military, and intelligence agencies as well as possibly subject U.S. government assets to seizure.
"The consequences of JASTA could be devastating to the Department of Defense and its service members — and there is no doubt that the consequences could be equally significant for our foreign affairs and intelligence communities," – Obama wrote.
In February, Secretary of State John Kerry warned the Senate that the bill would put America in legal jeopardy — if the U.S. weakens sovereign immunity provisions, other countries could do the same, opening the door to new lawsuits against America's government, corporations, and citizens saying –
"The 9/11 bill would expose the United States of America to lawsuits and take away our sovereign immunity and create a terrible precedent."
– John Kerry.
The bill's passage stems from the release of the 28 pages of the 9/11 Commission Report which shows Saudi Arabian ties to the 9/11 hijackers. If that's not enough, there was a flight certificate of an Al-Qaeda operative Ghassan al Sharbi linked to 9/11 that turned up in an envelope from the Saudi embassy in Washington. This potentially implicated the Saudi bin Laden family, but it's pretty hard to prosecute or investigate dead men/women that had a convenient plane crash and crane collapse a mere month later.
Another jailed Al-Qaeda operative Zacarias Moussaou, testified that Saudi Royals funded 9/11 prior to the release of 9/11 commission report. While the King of Saudi Arabia has said that Mossad was responsible, it's likely that both Saudi Arabia and Israeli Mossad were responsible for the sophisticated terror attack of 9/11 under the guise of the Zionist Khazarian Mafia elite – and no, this is not anti-Semitism, as not all of the Khazarian Mafia are Jewish, not all Zionist are Jews, and not all Jews are Zionists. This might explain the profits made on 9/11, unless Al-Qaeda trades on the stock market.
This marks the end of the cozy relationship of Saudi Arabia and U.S. relations. Watch as Saudi Arabia starts dumping U.S. bonds and causes an economic fallout. Additionally, this bill's implications mean the U.S. could be sued for it's controversial drone program overseas.
We will keep you updated on this and more. Stay tuned to We Are Change for breaking news.
https://www.youtube.com/watch?v=QffL6oiwDPg
Live Now.. –>link http://wspa.com/2016/09/28/deputies-responding-to-situation-at-townville-elementary/
TOWNVILLE, SC (WSPA) – Anderson Co. deputies say there has been a shooting at Townville Elementary school around 1:44 p.m. Wednesday.
They say one suspect is in custody and there is no longer an active threat.
Two students and one teacher hurt and taken to hospitals and a teenager is in custody, according to Taylor Jones with Anderson Co. Emergency Services.
SC Highway Patrol is on scene helping to clear rooms and secure the scene.
We can see deputies on the roof of the school with their weapons drawn.
Highway 24 is shutdown.
Air 7 says they have airlifted one patient.
Oconee Co. sheriff's office have been called in to help clear the building and secure the scene.
Students are being bused to Oakdale Baptist Church on Hwy 24, that is where parents need to pick them up.
This is a developing situation we will bring you more updates as they come in.