Hillary Clinton on Thursday further proved her own hypocrisy and the fact that she is an enemy of the U.S. Constitution by whining about the spread of "fake news" online, calling it an "epidemic," and saying that Congress should take action against it.
Hillary was supposed to be honoring her friend Harry Reid who is now leaving the senate, but instead she managed to talk more about herself and so called "fake news."
"The epidemic of malicious fake news and false propaganda that flooded social media over the past year — it's now clear the so-called fake news can have real-world consequences," Clinton said.
First of all, Hillary, you of all people have no room to talk about fake news. Wasn't it you who created the fake narrative about Benghazi that Americans died over a YouTube video? And correct me if I am wrong, but wasn't it you who said that snipers attacked you when you landed in Bosnia?
Some Democrats still in denial have blamed Clinton's loss on the spread of anti-Clinton "fake news" online. However, the Washington Post had to retract its recent article about websites pushing "Russian Propaganda," after it was proven that the story warning about fake news…was fake news.
While there is a good chance that Clinton's future won't include a position in a public office, she should be able to retire comfortably from all of the money she has made taking bribes as secretary of state for pay-to-play deals and charging a standard $225,000 speaking fee for speeches to Wall Street banks.
The issue of 'fake news' received attention after the Washington Post published a long libelous list by a shady, non-credible organization that provided no proof of its claims, which included We Are Change.
Clinton claimed, "This isn't about politics or partisanship."
"Lives are at risk lives of ordinary people just trying to go about their days, to do their jobs, contribute to their communities."
"It's a danger that must be addressed and addressed quickly," she said.
So first off, you are proving yet again that you are against the Constitution and the First Amendment. Read it and weep, you psycho!
"The First Amendment guarantees freedoms concerning religion, expression, assembly, and the right to petition.  It forbids Congress from both promoting one religion over others and also restricting an individual's religious practices.  It guarantees freedom of expression by prohibiting Congress from restricting the press or the rights of individuals to speak freely.  It also guarantees the right of citizens to assemble peaceably and to petition their government."
Lives like the ones you endangered in Libya when you told Ambassador Stevens and others to remain in Benghazi despite them warning you? Oh yeah those lives. Hillary, crawl under a rock and stay there. The FBI is still probing your Fraudatation and now foreign countries are being asked to probe your lucrative 'foundation' that even whistle-blower Chris Ortel called the largest charity fraud operation. Here is a song complete with all of Hillary's historic scandals.
In other words Hillary, sit down, shut up and stop being a walking hypocrite and consider yourself lucky I didn't include you in this fake news nuke article. Here's hoping I don't have to write another damn article about your pathetic, corrupt existence unless it's Hillary the chicken has died.
NEW YORK (WeAreChange) — Surprise, surprise! In a new report released Friday, the CIA claimed Russia played a direct role in Donald Trump's presidential victory.
The so-called 'bombshell report' was originally published by the Washington Post, the same website that is still reeling from publishing a now totally debunked article on fake news.
Here's what the report said:
The CIA has concluded in a secret assessment that Russia intervened in the 2016 election to help Donald Trump win the presidency, rather than just to undermine confidence in the U.S. electoral system, according to officials briefed on the matter.

Intelligence agencies have identified individuals with connections to the Russian government who provided WikiLeaks with thousands of hacked emails from the Democratic National Committee and others, including Hillary Clinton's campaign chairman, according to U.S. officials. Those officials described the individuals as actors known to the intelligence community and part of a wider Russian operation to boost Trump and hurt Clinton's chances.
A senior U.S. official claimed that the assessment made by the CIA is the "consensus view" held by U.S. senators.
The CIA's report went on to say that disagreements have come up in the intelligence community over the fact that there is no direct connection between the Kremlin and whistleblowers. It claims instead that Russia regularly uses middlemen for such operations.
Trump's transition team dismissed the CIA's findings in a short statement issued Friday evening: "These are the same people that said Saddam Hussein had weapons of mass destruction. The election ended a long time ago in one of the biggest Electoral College victories in history. It's now time to move on and 'Make America Great Again.'"
Trump has also consistently dismissed the intelligence community's findings about Russian hacking.
"I don't believe they interfered" in the election, he told Time magazine this week. The hacking, he said, "could be Russia. And it could be China. And it could be some guy in his home in New Jersey."
Julian Assange, the co-founder and editor-in-chief of WikiLeaks, has said in a television interview that the "Russian government is not the source."
In an October 31 story, the New York Times reported that an FBI investigation cleared Trump of any links to Russia.
For much of the summer, the F.B.I. pursued a widening investigation into a Russian role in the American presidential campaign. Agents scrutinized advisers close to Donald J. Trump, looked for financial connections with Russian financial figures, searched for those involved in hacking the computers of Democrats, and even chased a lead — which they ultimately came to doubt — about a possible secret channel of email communication from the Trump Organization to a Russian bank.

Law enforcement officials say that none of the investigations so far have found any conclusive or direct link between Mr. Trump and the Russian government. And even the hacking into Democratic emails, F.B.I. and intelligence officials now believe, was aimed at disrupting the presidential election rather than electing Mr. Trump.
Now, why bother trusting the CIA anyway – especially since they are one of the biggest fake news dissemination and propaganda machines on this planet?
This 1975 clip of testimony given during a House Intelligence Committee hearing has the agency admitting on record that they create and disseminate disinformation to the American people using the corporate media. This psy-op commonly known as 'Operation Mockingbird' first debuted in the 1950's during the Cold War and despite disinfo today, this program is well and truly alive right now in 2016.
This report is obviously huge news, especially when you consider all the other threats against Trump actually becoming president as well as the recent disinformation put out by the Washington Post in regards to Russia interfering with the U.S. election.
Let's not forget that just three weeks ago this very same newspaper published a bizzare blacklist attacking dozens of news oulets as fake news.
The Intercept's Glenn Greenwald wrote at the time that the article was "rife with obviously reckless and unproven allegations, and fundamentally shaped by shoddy, slothful journalistic tactics."
In another report on actual fake news, Greenwald commented on the Nov. 24 report that the Washington Post published that was subsequently spread by dozens of 0ther corporate media shills:
One of the most egregious examples was the recent Washington Post article hyping a new anonymous group and its disgusting blacklist of supposedly pro-Russia news outlets – a shameful article mindlessly spread by countless journalists who love to decry Fake News, despite the Post article itself being centrally based on Fake News.

(The Post this week finally added a lame editor's note acknowledging these critiques; the Post editors absurdly claimed that they did not mean to "vouch for the validity" of the blacklist even though the article's key claims were based on doing exactly that).
Now, just weeks later, we are supposed to believe another laughably erroneous report from the same newspaper that extensively quotes anonymous, biased government and intelligence officials?
We are right in the center of an all-out information war in the run-up to the inauguration of Trump in less than six weeks, and this latest disinformation released by the CIA and disemminated by their corporate media shills such as the Washington Post, is acting as the nuke in this war. 
An anonymous activist and artist who goes by the name "Wanksy," has developed a revolutionary way of getting the government to fix potholes in the road—he draws penises around them.
I can only imagine that Wanksy's name is based off of the famous artist and activist Banksy who drew hundreds of artistic artworks during Occupy Wall Street.
Wanksy's way of fixing pot holes may seem unconventional, but it works. He has found that the city fixes the potholes after he spray paints then. He lives in Manchester, UK, and notes that his town's city council is not very pleased with him. However, Wanksy said, "if they fix those potholes in the road he will have nothing to paint on."
"If there were no potholes I wouldn't draw on anything…
The road is my canvas." Wanksy, wrote.

He further expresses that "all his work is created using non-permanent, chalk based line marker, the same type that the council uses when doing repairs."
He continues, "the problem is that despite each and every vehicle owner in the land paying road tax, fuel tax and council tax, that money does not seem to be being spent on our roads, or at least not effectively."
His service he says is because "potholes are dangerous. Not only do they wreck vehicles, cause accidents they also injure cyclists and are a danger to pedestrians." Wanksy claims that "people shouldn't be offended because his artwork is cartoons and not photographs," and because "the anatomy is common place in art."
"I understand the council are stretched and may not have time to highlight big potholes with yellow paint,
but luckily, I do :-)" Wanksy, wrote.
Wanksy explained why he uses penises specifically, saying, "potholes are very hard to see. You tend to forget about them until it's too late. But draw a big yellow willy round it, you can't help but notice them and hopefully avoid it too, saving the vehicle from damage or the rider from injury. Usually the council will either notice it, or it actually gets reported and then gets repaired."
On Wanksy's website, he answers some of the comments from people who have questions about why a grown man would draw childish penises around potholes as if he's still in primary school. Some comments on his page even encourage him to take his artistic work overseas to the U.S.
Matthew Schmock of Wisconsin wrote:
"We need you in Madison, Wisconsin aka pothole hell."
And others, such as Helen Heiki Piscoe, just want to express their support. Piscoe commented:
"Just like Van Gough's water Lilly's, another masterpiece. Society thanks you Wanksy, please keep up the fight."
Who knew penises could save lives and cars? This is a prime example of how penises can be used to make our world a better place one road at a time! Just wait until this trend spreads—maybe then our governments will fix our roads. What are your thoughts?
Why draw penises on Potholes?
"Potholes are dangerous. Not only do they wreck vehicles and cause accidents, they also injure cyclists and are a danger to pedestrians.

I highlight dangerous potholes by turning them into temporary works of art, making them more visible and prompting the council to repair them.

The council is not too happy, but all my work is created using non-permanent, chalk based line marker, the same type the council use when doing repairs. The problem is that despite each and every vehicle owner in the land paying road tax, fuel tax and council tax, that money does not seem to be being spent on our roads, or at least not effectively.

I understand the council are stretched and may not have time to highlight big potholes with yellow paint,
but luckily, I do :-)"
How do the penises help people?
"Do I think my art is offensive? No. I am a qualified artist, the naked body and its anatomy are commonplace in art. The drawings themselves are cartoons, not photographs. Art should provoke a reaction and these pieces do that, generally a positive one.

Potholes are very hard to see you tend to forget about them until it's too late. But draw a big yellow willy round it, you can't help but notice them and hopefully avoid it too, saving the vehicle from damage or the rider from injury. Usually the council will either notice it, or it actually gets reported and then gets repaired.
Happy days."

An extremely triggered community college professor in California was secretly filmed telling her class that Donald Trump's election was an "assault" and an "act of terrorism" — and now a teacher's union is threatening the student.
Olga Perez Stable Cox, a psychology professor at Orange Coast College was caught on camera apparently calling the president-elect a white supremacist and asserting that the nation is as divided as it was during the Civil War.
The video begins as she is mid-sentence in her class on human sexuality, as she is apparently calling our soon-to-be president a white supremacist.
"…white supremacist and a vice president that is one of the most anti-gay humans in this country. And so we are in for a difficult time but again I do believe that we can get past that. Our nation is divided, we have been assaulted, it's an act of terrorism," Cox says.
Cox then asserts that the people who created the "assault," meaning his election, are "among us." She states that they are your relatives, and maybe in your circle of friends — apparently unaware that some were actually stuck in her classroom as well.
"One of the most frightening things for me and most people in my life is that the people creating the assault are among us. It is not some stranger from some other country coming and attacking our sense of what it means to be an American and the things that we stand for and that makes it more painful because I'm sure that all of us have people in our families and our circle of friends that are part of that movement and it is very difficult," the unhinged professor states. "We are way beyond Republicans and Democrats and we're really being back to being at civil war – I don't mean that in a fighting way but our nation is divided as clearly as it was in Civil War times. And my hope is we will get leadership to help overcome that."
She then promises to go over some "coping skills," with the room full of young adults that she is supposed to be lecturing on human sexuality.
"I will go over some coping skills but before i do that I want you to know that the optimist in me, first of all, we are the majority, more of us voted to not have that kind of leadership, and we didn't win because of the way our electoral college is set up but we are the majority and that's helping me to feel better," Cox said. "I'm relieved that we live in California it is one of the best states and I love that and I love living here but i'm especially proud of our legislature who did put out a message – one of the things i'm doing to cope is to look for positive messages and look for some hope that's the optimist in me-and california legislative leaders did put something… and these are things you can find…."
Now, a lawyer for the Orange Coast College Republicans is demanding that steps are taken to correct her behavior.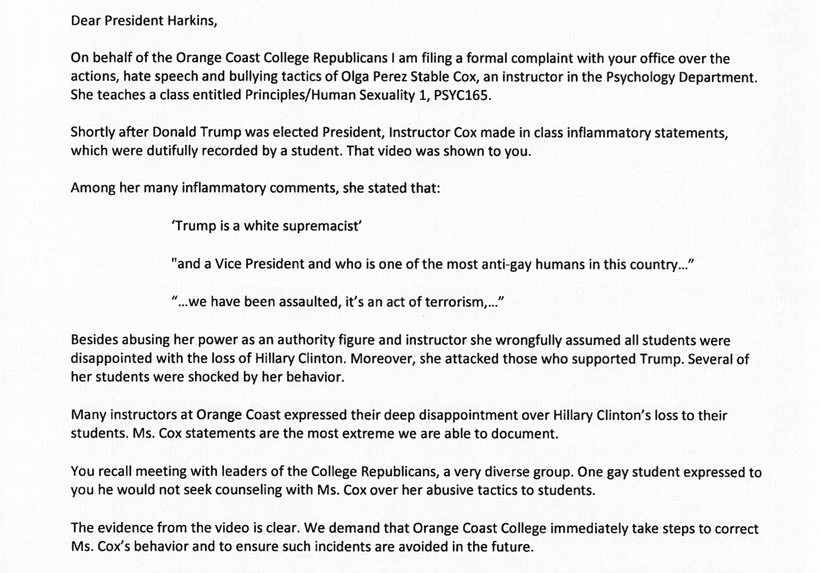 Meanwhile, the Coast Federation of Educators union is threatening legal action against the student who filmed the professors unprofessional rant.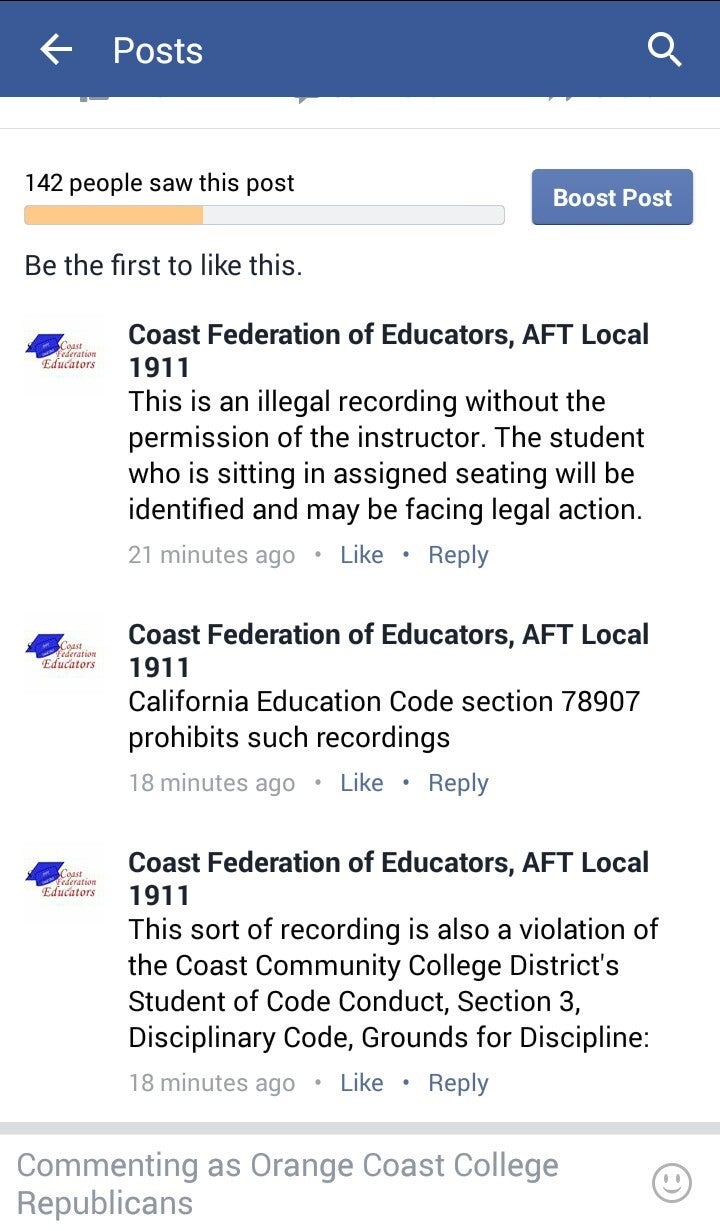 "The video, shot during a class on human sexuality, was submitted anonymously to us and we wanted to share it to raise awareness on this issue," Joshua Martinez, President of the Orange Coast College Republicans, told the Huffington Post. "We want other students to know that we will help protect them against the constant leftist indoctrination we are experiencing in class by exposing behavior like this."
Jill Stein was already drawing ire from her own party, and it is likely about to get worse — as Michigan approved a voter ID proposal in the wake of her recount stunt.
On Wednesday evening, the Republican-led state House of Representatives passed through legislation which would require voters to bring an ID to their local clerk's office within 10 days of an election — otherwise their votes will not be counted.
Under current laws, Michigan residents can vote without identification if they sign an affidavit stating their identity. On November 8, over 18,000 people in Michigan cast their ballots this way.
"The Detroit News' Jonathan Oostling reports that almost half of all such votes took place in heavily Democratic Wayne County, and almost 6,000 in the city of Detroit alone," Hot Air noted. "That seems oddly disproportional, given that Wayne County accounted for just 16% of the state's total."
The bill faced heavy opposition from Democrats who argued that the bill would disenfranchise voters. It is important to note that a valid photo identification card is required to even purchase certain cough medicines.
Representative Gary Glenn, a Republican, argued that the bill aims to "protect the integrity of every single Michigan citizen's vote, because every vote is diluted if fraudulent votes are cast."
While Democrats cried that voter ID laws would harm people who are "already struggling," the bill package also contained $2 million for free birth certificates and $1 million for the free ID program, under an "election modernization, voter education and implementation" appropriation.
The timing of the bill has lead to some serious mockery of Stein, who had already drawn criticism for collaborating with Democratic Party operatives for her recount effort in the state. Stein's lawyer for the Michigan recount, Democratic political consultant Mark Brewer, is a member of the Democratic National Committee and a past chair of the Association of State Democratic Chairs. Keegan Pontoni, the person in charge of volunteer coordination also happened to be a Democratic operative.
Internal communications from Michigan Green Party leaders which we previously published revealed that neither she, nor anyone associated with her recount effort, approached her own party for legal recommendations. The move left many within her party with a bad taste in their mouth.
"Instead, Stein hired more than just a law firm here–she hired the Democratic Party to run the recount in Michigan. This is no longer a matter of 'appearances.' This is scandalous," Michigan Green delegate LuAnne Kozma had said in an email to party officials.
We asked Kevin Zeese, senior advisor of the Stein campaign, about reports that the passage of the Voter ID bill had to do with her recount effort — he claims that it does not.
"Repubs have been suppressing votes in communities of color for years," Zeese told We Are Change. "They may credit Stein but that is just not believable. This would have happened with no recount. It was already planned for the lame duck."
Donald Trump has reportedly created yet another tie to Goldman Sachs in his cabinet by offering the job of National Economic Council Director to Goldman Sachs President Gary Cohn.
While this move would add another swamp figure to his administration, Trump previously bashed Goldman Sachs repetitively during his campaign.
Was there another loan that Ted Cruz FORGOT to file. Goldman Sachs owns him, he will do anything they demand. Not much of a reformer!

— Donald J. Trump (@realDonaldTrump) January 16, 2016
Cohn has been with Goldman Sachs for 25 years and previously worked in commodities. The National Economic Council, which Cohn would lead, is meant to "coordinate policy-making for domestic and international issues, to coordinate economic policy advice for the president, to ensure that policy decisions and programs are consistent with the president's economic goals, and to monitor implementation of the president's economic policy agenda," according to the office's website.
Cohn would advise Trump as he attempts to fulfill some of his campaign promises, which would include lowering corporate taxes and rethinking U.S. trade policy.
Trump has relied on several Goldman players for key positions. Last week he selected Steven Mnuchin, another veteran of Goldman, to be the next U.S. Treasury Secretary. Steve Bannon, Trump's chief strategist, also worked on mergers and acquisition deals for Goldman Sachs. Lastly, we have one of Trump's closest advisors, Anthony Scaramucci, who began his career at Goldman Sachs as a Hedge fund manger.
Cohn has yet to officially accept the offer, but if he does, he would not need approval from the Senate before taking the seat as National Economic Council Director.
One of Trump's campaign videos in the final weeks before the election attacked global elites and flashed an image of Goldman Sachs Chief Executive Lloyd Blankfein.
What do all of Trump's picks for his administration ultimately mean for the global economy? Luke Rudkowski and Jeff Berwick of the Dollar Vigilante discuss the ramifications on the global economy as a whole in the video below.
Can anyone seriously say anymore that Trump is draining the swamp? It's like he is driving a huge dump truck filled with mud and dumping it into the swamp.
CAIRO (WeAreChange) — Islamic terror group Hasm Movement has claimed responsibility for a bombing that killed six security officers near the Pyramids of Giza in Egypt on Friday.
The emerging terror group said it launched an explosion targeting a checkpoint on a main road near the tourist attraction in Cairo.
The blast struck near a mosque on Pyramids Road, the main thoroughfare leading from the city centre out to the Giza pyramids – a road often frequented by tour buses, according to the state-run MENA news agency.
The bombing appeared to have targeted two police vehicles parked along the road at a mobile checkpoint.
It completely destroyed one of the vehicles and severely damaged the other. Dozens of people gathered at the scene as police cordoned off the area.
According to the Egyptian interior ministry, two officers, a police officer and three conscripts were killed, with three more wounded in the attack.
VATICAN CITY (WeAreChange)  — The Pope has sensationally claimed "that media that focus on scandals and spreading 'fake news' to smear politicians risk becoming like the people they have a morbid fascination with excrement," Pope Francis said in an interview published Wednesday.
Francis told the Belgian Catholic weekly "Tertio" that spreading disinformation was "probably the greatest damage that the media can do" and using communications for this rather than to educate the public amounted to the people behind it committing a sin. I completely agree Pope Francis which is why CNN and a number of mainstream outlets should be outlawed by his holiness. Here is CNN using their own camera man to do just that to sell the agenda of the Trump #NotMyPresident protest.
The pope continued that "scandal-mongering media" risked falling prey to coprophilia, or arousal from excrement, and consumers of these media risked coprophagia,  eating that excrement.
Hold on, hold on really you compare reporters holding politicians accountable for their political ties to shady groups, secret societies and potential scandals to eating poop and getting off on it? What?
Yeah we sure did eat a lot of bull sh*t in the past like the Iraq WMD's when the U.S. and U.K. government colluded together to sell the American people fake news that Iraq had weapons of mass destruction to self investigate Iraq based off of forged plagiarized academic papers. It's also now known thanks to the press that Bush and Blair planned the Iraq invasion a year prior revealed by the emails of Hillary Clinton.
Then there is the Gulf Of Tonkin incident that started the invasion of Vietnam on false pretense when the government at the time lied and said a second Gulf of Tonkin attack had happened and finally the admitted bombing of Lusitania which started WW1. And while were talking about false flags to start wars, let's add in the proposed false flag that JFK stopped Operation Northwoods so this seems like an ugly pattern of the sin of treason.
Mr. Pope Francis what do you have to say about this well sourced but disturbing information? Even ex governor and navy seal Jesse Ventura has came out and spoken out about the Gulf Of Tonkin incident and how all wars are started with a falseflag.
So if spreading "fake news" about scandals is a sin what does that make spreading fake news that ultimately caused an invasion of a whole country or world war? Oh and what about Operation Mockingbird when the CIA admitted to using fake news to manipulate U.S. citizens during the Church Hearing in 1975? Then there is the prepackaged news stories aired by main stream media and the fact that propaganda is legalized under NDAA which repealed the Smith-mundt act. As murdered journalist Michael Hastings said "Smith-mundt had been passed to protect U.S. audiences from our own government's misinformation campaigns."
See Mr. Francis the problem is that 90% of U.S. media is owned by 6 different companies and then you have the trust in media which is at an all time low 6% and the fact FBI can pose as journalist which is basically operation mockingbird 2.0. My suggestion is this – allow people to get their media where they want to get their media and break the huge monopoly that is held onto by the media in not just the U.S. but the world.
"I think the media have to be very clear, very transparent, and not fall into – no offense intended – the sickness of coprophilia, that is, always wanting to cover scandals, covering nasty things, even if they are true," he said.
Okay, so this part is very contradictory: you want journalists in the media to be very transparent but not to cover scandals and nasty things –  how does that work?
I'll agree that a lot of stuff about celebrities is stupid and wasteful of a broadcast. Needless drama like who the f*ck cares about the Kardashians. The very fabric of our society depends on independent journalists holding our elected officials accountable when they step out of line or have elitist connections to secret societies like Yale's Skull and Bones, Bilderberg etc. if not who will?
"And since people have a tendency towards the sickness of coprophagia, a lot of damage can be done." he, added.
Well how much damage did I do? Here's some more.
How about you condemn secret societies doing "mock sacrificial killings" like Skull & Bones hosting a ritual in "the Tomb" as seen in the video below that is pretty evil and invites evil – does it not? You should probably go cleanse this area and declare it an enemy of the church and since it's alumni includes influential people, politicians and financial officials like Goldman Sachs execs who run America, well that evil spreads into the higher society of the American structure, right?
Pope Francis additionally spoke of the danger of politicians themselves using the media to slander their political rivals – which was abundantly apparent in the 2016 election of Donald Trump v.s. Hillary Clinton where both candidates consistently bashed each other using the media and spread false hoods about each other ultimately lying to the American voters.
"The means of communication have their own temptations, they can be tempted by slander, and therefore used to slander people, to smear them, this above all in the world of politics," Pope Francis, said. "They can be used as means of defamation…"
"No-one has a right to do this. It is a sin and it is hurtful," he said.
I agree again Pope Francis. It's like that no named company PropOrNot that called us Russian agents without any proof and then the Washington Post slandering us committing defamation against my co-workers and I which made me personally very sad /sarcasm. Then we got all happy because we clearly do their job better than them and are making a dent if they have to mention little old WeAreChange. All because we brought a lot of transparency to should-be prison tenant, Hillary Clinton and the Clintons' history of losing documents. 
Now the U.S. government wants to censor and criminalize fake news, propaganda on the web despite the fact that they used disinformation and propaganda for years and still can now legally do it with NDAA.
Pope Francis further described disinformation as the greatest harm the media can do because "it directs opinion in only one direction and omits the other part of the truth," he said.
Oh yeah again disinformation like some shady group that claims 200 websites are run by Russkies or the WMD's in Iraq that caused the Iraq invasion or CNN's own camera man lying on live TV? No, Pope Francis a journalist's job is to dig, dig and dig and to expose the truth no matter what the truth is no matter how dark or scandal filled. Igor Avanchel out Make Journalism Great Again #MJGA
P.S. While we're at it let's share some of that forbidden ancient knowledge in the underground miles long Vatican library with the rest of the world.
Former and current black employees of CNN filed a class action lawsuit against Atlanta-based CNN, Turner Broadcasting and New York parent company Time Warner for racial discrimination.
The lawsuit posted on Rodney Ho's AJC Radio & TV Talk blog alleges that CNN mistreated its black employees.
"As a result of the current discrimination lawsuit filed on behalf of DeWayne Walker vs. CNN, Time Warner & Turner, we have uncovered stories involving abuse of power, nepotism, revenge, retaliation and discrimination," Daniel Meachum, said in a press release.
"This discrimination represents a company-wide pattern and practice," the lawsuit states, "rather than a series of isolated incidents." He said "the company has been discriminating against blacks for more than 20 years," he added.
The lawsuit filed in the United States District Court in the Northern District of Georgia, is a lengthy 40 pages and said that blacks especially males are discriminated against in evaluations, compensation and promotions at the network. Blacks receive "disproportionately lower scores on evaluations," the lawsuit alleges.
While blacks make up 30 to 35 percent of CNN's staff, the lawsuit said, "they are drastically under-represented at higher pay grades and senior positions, while still being required to generally labor three times as long as Caucasians for promotions."
Based on data provided by Turner, blacks are terminated at a higher rate than whites and promoted at a significantly slower rate." he said. The lawsuit continues "written and unwritten policies and practices for performing evaluations and promotions discriminate against blacks." Such policies "allow supervisors to essentially handpick candidates through word of mouth for available positions and make promotion decisions on the basis of subjective criteria," the lawsuit said. "This system prevents qualified African-Americans from competing equally for positions or even knowing that they are available."
"Upon information and belief," the suit says, "African-American employees have had to endure racial slurs and prejudicial biases from superiors such as, 'it's hard to manage black people' and 'who would be worth more: black slaves from times past or new slaves.' "
Meachum said at a press conference Wednesday morning "that he has been collecting information about CNN and Turner for three years before filing the class-action suit."
Adding on that he is "outraged as an African American lawyer to have to sit down and go through the facts with people telling what I've been told these past three years."
"I've seen people at Turner that have worked there for 14, 15 years with a total raise over that time of $5,000 to $6,000. That's horrible," Meachum said. "That is not the face that I think Turner and CNN wants to put on. That's the reality of the people who work there."
Rodney noted and listed that at least three other individuals have filed for lawsuits against CNN in the past three years.
At least three others have filed individual lawsuits against CNN over the past three years.
It's also worth noting that 2 weeks ago CNN aired a segment in which a white pundit dropped the n-word on live TV. In which the eyes popped out of the black Trump supporter guest's head when he said it. I guess that doesn't help the case against CNN either.