Whoa.
A 2011 report said Keanu Reeves revealed that two sequels to The Matrix trilogy are on the way. Reeves said he met with the writers and creators of The Matrix, the Wachowskis, around Christmas. But the report has been widely reported as false.
The Matrix is one of the most revealing, anti-establishment movies ever created. At a time when major media conglomerates are stifling real messages from coming out of Hollywood, two Matrix sequels would have the potential to inspire a new generation.
The Wachowskis allegedly told Reeves that they finished script treatments for two Matrix sequels, and met with "Avatar" director James Cameron about their plan to make the films in 3D.
The original Matrix films, using the metaphor of a virtual reality where people are plugged into lies instead of the real world, was a mind-altering sensation for the millennial generation.
The idea of "taking the red pill" and seeing the world as it truly is for the first time has become a pervasive theme in politics, gender issues, and any other topic where people have been duped and must eventually face a harsh reality.
In addition to The Matrix, the Wachowskis have written and directed several more anti-establishment productions, including Alan Moore's V For Vendetta — depicting a vigilante overthrowing a fascist U.K. government — Jupiter Ascending, which depicts an ultra-wealthy elite treating humans as a resource to be harvested, and Cloud Atlas, which shows a populist uprising against a fascist government, a cover-up of technology that would help mankind by an evil corporation, and how the stories of all the characters interweave throughout time as a result of reincarnation.
The Matrix is said to have been influenced by the philosophy of Plato, and the Wachowskis are known to have studied at the Kabbalah Centre. Isaac Newton himself reportedly said, "Plato learned his ideas from the Kabbalah." The deep philosophical questions posed by the Wachowskis in their films are grounded in ideas from some of the greatest minds in history.
With Hollywood rebooting everything, there could indeed be two more Matrix films on the way eventually, potentially giving the world paradigm-shifting films bringing us ever closer to a consciousness where mankind is truly united.
Andrew Meyer speaks and writes about real news, practical wisdom, music and more. Follow him on twitter and at theandrewmeyer.com.  He is internationally known for questioning Senator John Kerry and coining the phrase "Don't Tase Me Bro!"
Globalist call on elites to rise up against the "fist shaking, mindless, angry, ignorant, know nothing masses" ! 
Published on Jun 29, 2016
In this video Luke Rudkowski covers the brazen admission from James Traub a CFR member and heir to the Bloomingdale empire. Traub recently wrote an article for Foreign Policy openly calling for the elites to rise up against the "fist shaking, mindless, angry, ignorant, know nothing masses. Check us out on https://www.patreon.com/WeAreChange in order to grow our operations and continue to provide you free content. A $1 tip goes a long way for us.
---
(Sources) 
http://foreignpolicy.com/2016/06/28/i…
https://twitter.com/JamesTraub1?ref_s…
http://www.cfr.org/about/membership/r…
https://danielmiessler.com/blog/a-log…
http://www.globalistagenda.org/quotes…
https://twitter.com/jamestraub1/statu…
https://www.youtube.com/watch?v=Q4L7G…
Support WeAreChange by Subscribing to our channel HERE http://www.youtube.com/subscription_c…
Visit our main site for more breaking news http://wearechange.org/
Patreon https://www.patreon.com/WeAreChange?a…
SnapChat: LukeWeAreChange
Facebook: https://facebook.com/LukeWeAreChange
Twitter: https://twitter.com/Lukewearechange
Instagram: http://instagram.com/lukewearechange
Rep WeAreChange Merch Proudly: http://wearechange.org/store
Sign up become a patron and Show your support for alternative news
for Just 1$

a month you can help Grow We are change

We take BITCOIN too
12HdLgeeuA87t2JU8m4tbRo247Yj5u2TVP
Royal Rife made astonishing scientific breakthroughs, and you probably have never heard of him.
Born in Elkhorn, Nebraska in 1888, Royal Raymond Rife studied microbiology at John Hopkins University  and received an honorary degree from the University of Heidelberg.
He mastered several scientific disciplines and created his own private lab for experiments. If Rife needed a tool for an experiment, he had the mechanical inclination to make and produce it himself. Two of his greatest inventions are his universal microscope, the 6000-piece microscope capable of seeing viruses in vivo – something unheard of at the time – and his Rife machine, a frequency generator capable of destroying viruses, cancer, and infections without toxic effect to healthy cells.
At the moment, Rife's legacy is regarded as a travesty, as greed has covered up the purpose of his greatest invention. Healthy people do not need drugs, or doctors, as frequently as sick people — so a society of healthy people will not make drug companies billions in profits a year.
Rife's universal microscope was a microscope unlike anything at the time, with reports of magnification at 60,000x, showing live viruses. Other microscopes with capabilities to do that were electron microscopes, requiring dead samples to be used. With his intricate tool, Rife found a new assortment of organisms to catalog, including tuberculosis and cancer, using a revolutionary staining idea. Today, most dye stains use acid or aniline base stains, to literally dye cells colors for visibility, even using radioactive sugar to follow cancer cells in tests like PET for nuclear medicine. But Rife was able to use monochromatic light tuned to specific frequencies, to highlight chemical consistencies of organisms. It was through careful observation, testing, and experimenting that led to his discovery of a possible Cancer Virus, or BX. This BX, through careful inoculation, was repeatedly discovered in experimented animals, after injection of the BX virus.
Upon discovery, Rife wanted a way to treat the virus, and as so with his microscope, created the Rife Machine. This machine was based on a theory of using high radio frequencies, with his clinical beam ray reaching up to 3,000,000 Hertz. He created 5 successive ray tube machines, ranging in capabilities and capacities over a five year period. As he tuned and tinkered, he discovered that using x-ray glass, or other materials like pyrex, quartz, and glass, filled with inert gasses like helium and argon, created an effect similar to neon signs. This neon sign-style treat used a metal antenna tuned to frequencies, named resonance frequencies, and could cause the microorganisms to denature themselves. He attacked the molecules that hold the cells together, to quite literally cause them to blow up. Over the course of repeated testing, he could duplicate the reaction under his microscope, in animals, testing 400 animals, then testing humans. The end results were astonishing at the time, curing 100% of his patients with his device.
In a trial done in conjunction with the University of Southern California, and the Special Medical Research Committee, 16 terminally ill cancer patients were taken from Pasadena County Hospital, into Rife's lab and exposed to the Rife frequency generator. After a 90 day therapy, 14 cancer patients, on the verge of death, were declared cured, and two remained 30 more days for more intensive treatment, and later declared cured. The most amazing part of this revelation is that his frequency generator had the capacity to destroy a plethora of bacteria and viruses. A banquet was held in 1931 to celebrate Rife's extraordinary achievements, with 44 of the most recognized doctors in the country, held at the estate of Southern California American Medical Association Director, Dr. Milbank Johnson. A celebration, in the image above, in the Evening Tribune was the last of Royal Raymonds Rife's accolades. In the following years, Rife saw everything he built, and believed in, destroyed piece by piece, thanks to the American Medical Association – and group funded by the Rockefeller family.
We can objectively look back on history, and determine clues of justification for this suppression of technology. But the rationale is of selfish greed, and lack of regard for the future of medicine and technology. To quote lyrics of rapper and activist Immortal Technique, in his song "Rich Man's World," he said, "No invention would benefit the world of man, 'til I have the money in my hand."
The Head of the Journal of the American Medical Association, at the time, Morris Fishbein, sought to fight competition of the "orthodox" methods of surgery, radiation, and chemotherapy drugs for treatment of disorders. In the 1980's, the AMA was found guilty of conspiracy to restrain competition in their attacks on chiropractors.
New methods of health care have been discouraged, restricted and in some instances eliminated by the AMA, as found by the U.S. Court of Appeals. At the time, Rife technology would have killed the drug industry, and if he could cure all diseases, the health industry would struggle to maintain a profit.
When the health and wellbeing of society were purposely maligned for the purpose of profitability, someone needed to go to jail. Today, "alternative medicine" and therapy have never been respected as viable medical procedures and laughed at among many doctors, despite a lack of scientific trials examining "new" methods.
What happened to Rife's research? After years of several raids, a final raid confiscated research, notes, and equipment, summing up to $40,000 in value, but priceless to humanity. Rife, forced to flee, went to Mexico and died in 1971 at the age of 83. A legacy, a man that should been talked about the way we see  Albert Einstein, was forced to go into hiding and run because he decided he wanted to help humanity.
Rife completely revolutionized how we could have treated diseases, but instead died because of a fatal mixture  of alcohol and valium, hiding from an oppressive medical board. How do you feel about this, or other revolutionary technologies being silenced to maintain a status quo for big corporations globally? Comment down below! Share this technology with the world, so people know that we have the solutions, we just are not utilizing them!
All sources used are below, research for yourself on this scientific genius you have never heard of:
http://www.naturalnews.com/027104_cancer_WHO_Chi.html
http://rifevideos.com/the_rife_machine-report-a_history_of_rifes_instruments_and_frequencies.html
http://rifevideos.com/royal_rife_documents.html
http://rifevideos.com/history_of_the_development_of_a_successful_treatment_for_cancer_and_other_virus_bacteria_and_fungi.html
Brian D. Hill is an activist, writer, and the founder of USWGO, an alternative political news site. He has also worked with We Are Change North Carolina, writing various alternative media articles under different aliases. Brian was involved in a huge petition to push the nullification of NDAA (National Defense Authorization Act) in the town of Mayodan, NC.
Hill confronted Senator Phil Berger with a petition to nullify the NDAA. Now Brian Hill says this is one of the many reasons he is currently being targeted falsely for child pornography possession.
Hill says he is innocent, and that a virus he calls the e-mule virus infected his computer. Hill has filed an appeal to the courts to allow a forensic investigator to examine his computer to prove his claim that he is innocent and being framed.
Either through a virus accidentally infecting his computer – or purposefully implanted by law enforcement through using some type of software like hacking teams Galileo.
In 2014, we learned that governments worldwide were paying for a Remote Access Trojan (GALILEO) which seemed to have attributed the source code in possibly forging child pornography. It's interesting to note that prior to being charged with possession of child pornography, Brian wrote several stories on various websites about others in the alternative media being setup with child porn, including, Melissa Melton, Luke Rudkowski, Dan Johnson and Stewart Rhodes.
Hill received threatening emails in 2013 from tormail.org with the statement "Brian is going to be a sex offender, he was set up with child porn, the police would never believe a word he says, and his friends are next."
The emails Brian Hill was sent were provided to We Are Change, and Hill also talks about them in a video he made that his family sent to We Are Change.
Additional evidence that supports Brian's claim of being setup is the fact that his computer was downloading the image's of child pornography while in the custody of the North Carolina State Bureau of Investigations (SBI) in August 2012 and 2013.
This is evidenced by documents titled "the Joy Strickland emails," in which Joy Strickland tells Agent Rodney White that "Brian might be innocent." The Joy Strickland emails, provided to We Are Change by Brian's family, provide proof that Joy Strickland was provided a prior warning that Brian might be innocent before the DHS arrest. 
So why then is Brian still facing the charge of unlawful possession of underage material of a minor? Hill was forced to falsely confess under intimidation when a Mayodan police officer threatened him and his family by saying that if Brian didn't confess that his mom would be held responsible. Therefore Brian's confession was pure coercion and not a choice made by free will.
Leading up to all this, the Mayodan Police Department and U.S. Government were very aware of Brian's Political presence. On March 13, 2012, Hill's organizations USWGO/WAC-NC attended the Mayodan Town Council to speak on Agenda 21. A few days later, on March 18th, USWGO is documented having an increase in viewers which Brian attributed to surveillance by the US government.
In April, Brian gave a speech on NDAA , and he urged Rockingham County Sheriff Samuel S. Page to not endorse NDAA. A month later in May, Senator Phil Berger received the nullify NDAA petition at the Mayodan Town Hall. Then in June, Brian met with Stewart Rhodes, Alex Jones, and Aaron Dykes at the Hyatt Place hotel in Chantilly, VA to cover the Occupy Bilderberg protest. Brian also published a special report on the Bilderberg group . Three days later, Brian asked Rockingham to end the Media Blackout on his Nullify-NDAA resolution. Then on June 18th, Senator Phil Berger refused to take action on the Nullify-NDAA bill.
Brian then published an article he titled "The only way to change the system is by opting out of it." A month later, on Aug 29, Brian was accused by the police of being a "Sovereign Citizen" after asking people to peacefully separate themselves from government authority. Hill then began to write various articles about Seantor Phil Berger's campaign contributors. On July 8th, the Mayodan Town Council refused the nullify NDAA resolution. A day later, Brian was intimidated and kicked out of the Town Council, an incident captured on video. Brian then prophesied his own demise as he posted on Prison Planet forums warning that his mother, family and him were being harassed.
So the question must be asked — WHY would Brian be downloading child porn on his Laptop after he knew they were after him? If he was guilty and knew he was targeted, then why leave child porn on his laptop when he knew he was being targeted? Why not just destroy the hard drives? These questions are referenced in this court document.
On August 28, 2012, police raided Brian's residence in Mayodan, North Carolina. Brian was charged with possession of child pornography and threatened into confession as police told him his mom would  be held responsible if Brian didn't confess. Brian was then taken to four different jails and held for 11 months. He was given only half of his required dose of insulin, causing a dangerous drop in body weight.
Brian is now facing the charges for child pornography, a crime he adamantly denies. He has been through hell and says he is not properly represented in court by the public defender.
No one deserves this, and if Hill's allegations are true, this could happen to anyone alternative media community.
Brian is emotionally broken down, a matter exacerbated by a form of autism he suffers from. Hill also suffers from anxiety and diabetes, but has received no help.
It is undisputed that Brian Hill's computer has a virus that constantly downloads illegal material — even while it remains in the custody of the SBI. Brian's hope for exoneraton now lies with you — the public.
If you are an attorney who will take on this case or a computer forensic expert, please contact We Are Change to get into contact with Brian and his family. The evidence of Brian's innocence is clear – you can access it all below.
FILES:
https://mega.nz/#F!dlRgkTbB!s1UU-N8i7pVzxvG-gLbE7w
US Customs and Border Protection proposal would see Facebook, Twitter and other social media accounts requested on landing and visa forms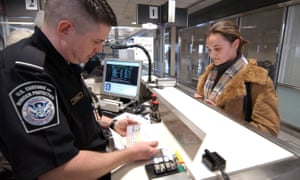 The US government is proposing making social media accounts part of the visa screening process for entry into the country.
US Customs and Border Protection's proposed change would add a line on both the online and paper forms of the visa application form that visitors to the US must fill out if they do not have a visa and are planning on staying for up to 90 days.
The following question would be added to both the Electronic System for Travel Authorization (Esta) and I-94W forms: "Please enter information associated with your online presence—Provider/Platform—Social media identifier."
The information will be optional, for now, but the proposed change published by the US Federal Register states that "collecting social media data will enhance the existing investigative process and provide Department of Homeland Security (DHS) greater clarity and visibility to possible nefarious activity and connections by providing an additional tool set which analysts and investigators may use to better analyze and investigate the case."
The proposal is currently under consultation, with US government taking comments until 22 August.
The change forms part of the plan by the US DHS to scrutinise social media activity of visa applicants and those wishing to enter the country, following the San Bernardino killings in California, in which social media profiles formed part of the investigations along with an iPhone 5C.
Current DHS pilot programmes are being kept under wraps but are said to scan a limited amount of social media posts.
The pilot programmes currently used by DHS do not sweep up all social media posts, though government officials have kept details of the programmes closely held, as they do not want to reveal the precise process they use to try and identify potential threats.
It's unclear if or how the DHS would verify information written on a form before hitting border control, leaving the possibility of false information being put down, and while the information may be optional, it will likely be difficult to discern what is and isn't required on the form.
The US government approves around 10m visa applications a year and had 77.5 million foreign visitors in 2015. Collecting social media accounts for all visitors could produce one of the largest government-controlled databases of its kind almost overnight.
Published on Jun 28, 2016
Denver Police reported an active shooter situation just blocks away from the University of Colorado at the Alliance Center. The Situation has since been handled, the suspect is dead and a victim is in critical condition at the hospital.
Streets have been closed off and authorities are asking people to avoid the area.
Only one victim has been reported – a woman critically injured but there could be multiple victims.
The suspect, an unidentified male shooter, was found dead from a self inflicted gun shot wound according to Denver Police spokesman Doug Schepman.
50 People have been killed 147 injured, inside Istanbul Ataturk Airport multiple gunmen and suicide bombers attacked the terminal.
Although, no one has claimed responsibility for the attack its worth noting that today is the 2nd anniversary of ISIS declaring the Islamic state and they are strongly suspected to be involved with today's massacre.
https://twitter.com/JimDalrympleII/status/747911569904799744/
All U.S. flights have been suspended to Turkey by the FAA.
In total three separate bombs exploded authorities report.
Several video's were published online on twitter one showing a man yelling "get down, get down." Another showing the moments before a bomb goes off showing the flashing from recorded security footage. Another video was uploaded to Instagram showing panicked passengers running for their lives.
In wake of the terror attack security has been stepped up at New York and New Jersey an Armored vehicle sat outside of JFK International Airport to accompany an incoming Turkish flight.
https://twitter.com/jimdolan7/status/747904977029443584/
Not much is known at this time, but we will keep you up to date as more information becomes available.
"People are walking away bleeding, with bandages on their head."
Joe Durand told CNN.
"It was just a massive crowd of screaming people. Some were falling over themselves. A poor chap in a wheelchair was just left, and everyone just rushed to the back of the building, and then people ran the other way and no one really seemed to know what was going on,"
Laurence Cameron told CNN.
""first opened fire with a Kalashnikov then detonated himself at the airport entrance."
Turkey's Justice Minister Bekir Bozdag
Israel urged citizens to leave Turkey predicting the possibility of follow up attacks by the Islamic State.
Turkey Censored and throttled Turkish Internet as well with users on reddit reporting censorship on twitter and Facebook denying citizens the right to seek information.
This Australian TV Ad Slams Donald Trump So Hard It Was Banned In America (VIDEO)
The reputation of the presumptive Republican nominee for president precedes him. Americans whose neurons still fire have spent the past year bashing Donald Trump, and now our allies are getting in on the action. A startup company in Australia released an ad that mercilessly mocks Trump, his wall, and Mexican immigrants. Because the ad could be construed as electioneering, and because of troubling overtones of discrimination, the ad has been banned by ABC, NBC, CBS, Uni-vision and Comedy Central, and possibly others. It was allowed to run on Fox, according to Peter Adderton, the CEO of 360fly, the company responsible for the ad, who said he sympathizes with Republicans.
The ad features an actor who totally nails the look, mannerisms, facial expressions, gestures, voice and narcissism of the Republican candidate. "Trump" is now (shudder) president in the ad, and he is unveiling his wall along the US-Mexican border to gullible supporters and assembled press. He says,
"Today I am proud to unveil the wall. I know walls. This is an amazing wall. Now, no more Mariachis interrupting dinner. No more maids or caballeros. It is absolutely impenetrable. It is absolutely huge. Just like me. I'm fantastic. To our neighbors to the south, I say 'adios, amigos.'"
---
RELATED: WHAT WE SAW AT THE TRUMP RALLY WHY IT NEEDS TO STOP 
---
Meanwhile, a man using a 360 degree camera, the product that is being sold in the ad, zooms out of the choreographed spectacle and sees Mexican immigrants getting past the wall. A Mariachi trumpeter, maids, and caballeros tunnel under the wall. After which a gardener rockets over the wall using two leaf-blowers. And the ad ends with people lugging a Churros cart out of a tunnel. The overall result is entertaining, funny, and highlights the idiocy of Trump's idea that a wall could regulate immigration, while at the same time advertising a product. 
However you feel about Donald Trump's candidacy the derision of the situation is unfortunate. Some people will say the imagery  in the commercial could be construed as simply mocking "Trump's" words in the speech. But to do so, it also chooses to mock immigrants by reinforcing  dangerous and degrading caricatures of Hispanics and that nationally lampoon them with offensive cartoonish stereotypes . Thus, it accepts Trump's central conceit that Mexicans are considered second-class citizens who don't belong here. It would be a far more powerful of and advertisement if it had flipped the script on Trump's rhetoric by actually humanizing Mexican immigrants and showing them as productive members of society, rather than simply further schematizing the cultural divide circumventing it with a literal wall. Nonetheless, the ad is successful in both creating a viral interest and by exposing the lunacy of American Isolationist thinking.
---
Danny F. Quest is a official 9/11 Truther, anti-war activist, humanitarian,  Blogger, and writer/contributer  for WeareChange.org  Follow him on Social Media.
---
---
Sign up become a patron and Show your support for alternative news
for Just 1$

a month you can help Grow We are change

We use Bitcoin Too !  
12HdLgeeuA87t2JU8m4tbRo247Yj5u2TVP
U.S. Navy and Chinese War ships performed together in a rare training exercise last week in the waters off the coast of the Philippines.
Amid recent tension over the East China Sea where china sent fighter jets to the disputed island last February. It's nice to see this was a joint exercise and not war.
The exercise included Both Chinese and U.S. Helicopters, Aircraft carriers and naval vessels.
Two warships from the United States and five warships from China.
All In preparation for the 2016 Rim of the Pacific multinational naval exercise. Which begins June, 30th, and will bring 26 different countries together for a massive military drill. Which the DoD was considering UN-inviting China earlier in March. Both Countries expressed that the two hour exercise went well and was successful congratulating each other. And both Militaries continued sailing for Hawaii for the international drill in formation.
"Our communication is smooth and we also have accurate understating of the drill's intention. The drill meets our expectations.
In the drill, both sides had accurate understanding of each others intentions and acted quickly in finding the right positions and maneuvering."
Wang Sheqiang, a commander with the Chinese fleet said.
"Thank you very much for a professional and safe exercise.
Your crews maneuvered magnificently, I congratulate you on a successful exercise."
~American Navy Commander.
Although, this was a war drill,
this move could be seen as a peaceful move made by both super powers to de-escalate the situation in the East China Sea waters. Which the South China Sea dispute is about to wrap up in Court in a tribunal decided by a committee appointed by the United Nations Convention on the Law of the Sea (UNCLOS) on the Philippines and China's maritime conflict. As the late Legendary John Lennon once said all we need is love. "Imagine all the people, imagine theirs no country's it isn't hard to do. Imagine all the people living life in peace." After all we only have one world and we are all one human race together we share the land and the sea. Where is the Love?