The publicly neutral organization looked for ways to boost Hillary Clinton's campaign, according to emails
The Democratic National Committee explored ways to sabotage Bernie Sanders's campaign in favor of Hillary Clinton's during the recent primaries despite publicly proclaiming neutrality, according to a trove of 20,000 emails released on Friday by
WikiLeaks
.
Several emails appear to corroborate Sanders's previous claims that DNC Chairwoman Debbie Wasserman Schutlz – who was co-chair of Clinton's presidential campaign in 2008 – and other high-ranking members were tipping the scales.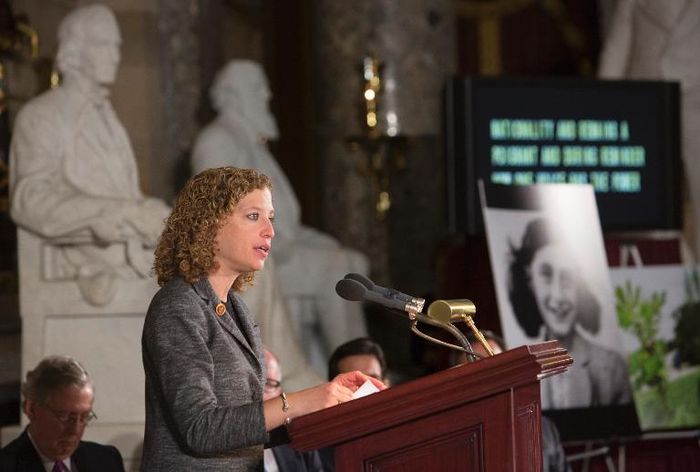 Chris Kleponis (AFP)
"Congresswoman Debbie Wasserman Schultz speaks at the dedication ceremony for the Congressional Anne Frank Memorial Tree on Capitol Hill in Washington, on April 30, 2014"
In a May email, a communications official wrote to Luis Miranda, the committee's communications director, with an idea after a Sanders staff member illicitly accessed the Clinton team's donor information via a software error.
"Wondering if there's a good Bernie narrative for a story, which is that Bernie never ever had his act together, that his campaign was a mess," read the email.
That breach led to the DNC banning the Sanders campaign from accessing its important voter database, leading Sanders to file a lawsuit that he eventually dropped.
In an email regarding Sanders's demand that Wasserman Schultz step down from her role, the DNC chair wrote: "This is a silly story. He isn't going to be president."
In another email, Wasserman Schultz said of Sanders: "Spoken like someone who has never been a member of the Democratic Party and has no understanding of what we do." Sanders is an independent but ran as a Democrat after years of caucusing with Democrats.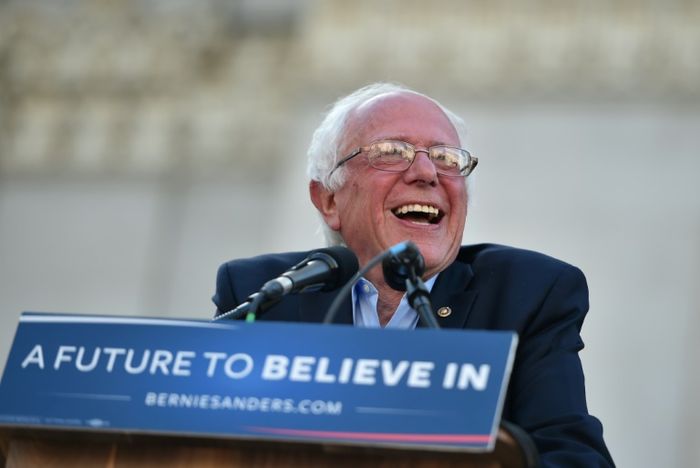 Josh Edelson (AFP/File)
"Democratic presidential candidate Bernie Sanders addresses a rally at Frank Ogawa Plaza in Oakland, California on May 30, 2016"
One email that has drawn particular attention among Sanders supporters is one in which Wasserman Schultz responded to an article about MSNBC host Mika Brzezinski saying the chairwoman should step down.
"This has been very poorly handled from the start. It has been unfair, and they haven't taken him seriously, and it starts, quite frankly, with the person that we just heard speaking," Brzezinski said on air of Wasserman Scultz.
"This is the LAST STRAW", Wasserman Schultz wrote to Miranda, demanding that the communications director call MSNBC President Phil Griffin. "This is outrageous. She needs to apologize."
Wasserman Schultz then wrote to Chuck Todd, moderator of NBC's Meet the Press that "Chuck, this must stop. . . I would like to discuss this with you today."
When Miranda told Wasserman Schultz that Brzezinski was willing to talk, the chairwoman declined. "She's already served as a judge and jury without even bothering to talk to me," she wrote. "Not sure why I should trust having a conversation with her would make any difference. Or that she even matters, to be frank."
In another case of contact between the press and the committee, influential Politicoreporter Kenneth Vogel sent an advance copy of an article to DNC national press secretary Mark Paustenbach.
"Vogel gave me his story ahead of time/before it goes to his editors as long as I didn't share it," Paustenbach wrote to Miranda."Let me know if you see anything that's missing and I'll push back."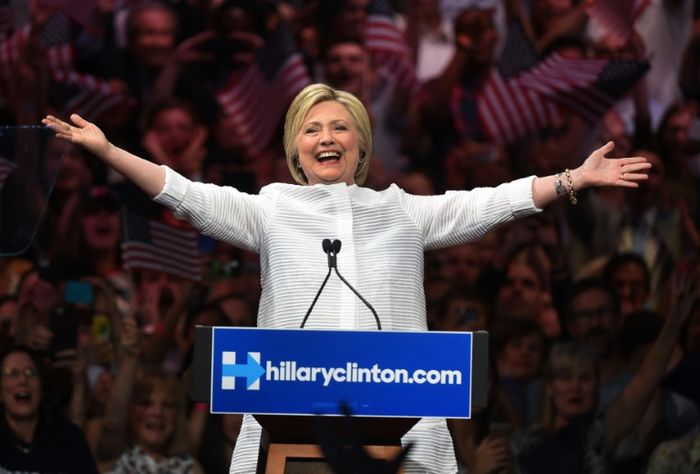 Timoth A. Clary (AFP/File)
"Hillary Clinton won the Democratic primary in the state of California, US networks reported"
Another email that has raised eyebrows is one from DNC CFO Brad Marshall.
"It might may no difference, but for KY and WVA can we get someone to ask his belief," wrote Marshall, apparently speaking of Sanders although not referring to him by name. "Does he believe in a God. He had skated on saying he has a Jewish heritage. I think I read he is an atheist. This could make several points difference with my peeps. My Southern Baptist peeps would draw a big difference between a Jew and an atheist."
The leak also showed that the DNC saw Sanders's goal of pushing the party to veer left on the Israeli-Palestinian conflict as a way to undermine his campaign.
"The Israel stuff is disturbing," Wasserman Schultz wrote to Miranda. Miranda wrote that Hillary for America, Clinton's campaign, "see it as an ideal issue to marginalize Bernie on."
When Sanders and Clinton held a debate in New York, Clinton accused Sanders of failing to provide a solution for stalled negotiations between the Israelis and Palestinians, highlighting her experience in the Middle East peace process as Secretary of State in the Obama administration.
"Describing the problem is a lot easier than trying to solve it," she said.
Another email provided a tantalizing idea for the more conspiracy-minded. When Sanders supporters in Alaska set up an event to "counter" an appearance by Wasserman Schultz, Miranda suggested that Alaska Democratic Party executive director Kay Brown could get information about the event. "There's no way Kay doesn't have someone who can get her intel. We need to push them," Miranda wrote.
"Kay told me she has friends inside the Bernie organization there who may be able to provide some more information," DNC staffer Kate Houghton replied.
Follow WE ARE CHANGE on SOCIAL MEDIA
---
Sign up

 become a patron and Show your support for alternative news
for Just 1$

a month you can help Grow We are change

Instagram: http://instagram.com/lukewearechange
Rep #WeAreChange Merch Proudly:
In this video Luke Rudkowski talks to investigative journalist Wayne Madsen about the political geopolitical landscape after the RNC.
Luke begins asking Wayne Madsen what he thought about Ted Cruz's statement at the Republican National Convention Wayne made a comment calling Cruz "Texas toast."
Wayne Madsen responded saying.
"I think Cruz basically if he thought he would come here to try to peal away supporters for a potential 2020 presidential run i think he shot himself in the foot. He's obviously not a very good student of history they say he's a very good student of the constitution. But anyone who's aware of recent Republican politics knows that in 1964 when Barry Goldwater got the nomination and seized the party away from insiders the fact that Nelson Rockefeller and George Romney did not endorse him. That cost them the nomination in 1968 when the Republicans went to Richard Nixon. Even Cruz delegates saw what he did."
Luke then asked Wayne Madsen what his out look on a possible World War is if Hillary
becomes president.
Wayne responded "If Hillary's in there no fly zone, confronting Russian planes yes a war could take place and we know with her pathological response to Qaddafi's death when she said we came we saw he died. This woman is a war monger there is a very good chance she could get us into a war."
Luke then asked Wayne Madsen how he sees the international court of justice ruling on the South China Sea dispute playing out especially in an election year and Russia's opinion about Hillary and Trump.
"Well you know when im reminded about the Hague and the international court of justice ruling im reminded about the quote that Joseph Stalin said at Yalta during the big three conference when Winston Churchill said "what about the pope." and Joseph Stalin said how many divisions does he have? Well how many divisions does the International Court Of Justice have? China's a major military major economic power. As far as Putin and President Xi Jinping of China, are looking at Trump and saying look here's probably a guy we can deal with better then Hillary Clinton. As far as big power politics are concerned yet we hear the Nato Secretary General Stulten Berg decrying Donald Trump and his policy, we see Federica Mogherini the EU foreign minister decrying what Trump says. Id like to point out that these two people weren't elected. These two are part of the global elite, and i think Stulten Berg and Federica Mogherini should just be ignored."
~Wayne Madsen
Luke ended his interview with Wayne Madsen asking him what he thought about Trumps policies and what are some of the good things that stuck out to him and some of the bad things?
"Well i think Trump on the free trade issues has hit a nerve especially with people here in Cleveland he's getting a lot of support here in Ohio. The idea that he's against all these neo con wars is another plus. Where i am not so certain is issues like privatizing the VA, you know is that like getting 10% off on your medical day bill on veterans day? I mean that's what privatization means i mean he's got to rethink that because he's going to lose a lot of veteran's support in states like Ohio and Pennsylvania where there is a huge veterans community."
~Wayne Madsen
Stay tuned to we are change for more interviews by Luke and our other corespondents and thank you for choosing we are change. Were not corporate whore's so donate if you can to keep us going.
Follow WE ARE CHANGE on SOCIAL MEDIA
---
Sign up

 become a patron and Show your support for alternative news
for Just 1$

a month you can help Grow We are change

Instagram: http://instagram.com/lukewearechange
Rep #WeAreChange Merch Proudly:
Multiple shootings are being reported in Munich, Germany at the Olympia Einkaufszentrum in the Moosach district near the Olympic stadium in the northern part of the Bavarian city according to the Spiegel.
At least NINE people are reported DEAD.
UNKNOWN – Injured at a shopping center in the German city of Munich. This comes after an ax attack on a German train.
A big security operation is under way to sweep the city, German police say. The scene in the Moosach district has been sealed off and are asking people not to post video or photos of the police operation.
Reports speak of multiple attackers Helicopters are over the scene and shopworkers reportedly unable to leave. With everyone else being asked to avoid the area.
The security forces have been on alert after a migrant stabbed five people on a train in Bavaria on Monday.
The authorities warned of the danger of further attacks.
Another potential shooting has been reported by several sources Skynews alleges the possibility of multiple shooters.
Video of one of the shooters has emerged on social media showing a suspect open fire at a shopping center in Munich, Germany.
Three people have been reported with weapons according to Munich Police and Skynews.
A twitter account associated with the German police has confirmed multiple suspects are involved posting a tweet "The suspects are still on the run. Please avoid public places."
Assailants were "masked, and dressed all in black." according to CNN.
"We believe we are dealing with a shooting rampage. We believe there was more than one perpetrator. The first reports came at 6pm, the shooting apparently began at a McDonald's in the shopping centre. There are still people in the shopping centre. We are trying to get the people out and take care of them."
~Spokewoman for Munich Police said.
Instagram video shows ambulances arrive at the scene.
Munich authorities have declared an emergency using the city's smartphone warning system, Die Welt reports via Die welt.
The U.S. has also issued an advisory for U.S. citizens in Munich to seek shelter and remain vigilant.
Police are now using the term "suspected terrorism" in connection with the shooting.
Obama has responded to the shooting saying. "We don't yet know exactly what's happening; our hearts go out to those who may have been injured."
Police have now acknowledged the claims of three gunmen saying three gunmen are loose and heavily armed with rifles.
At least nine people are now being reported DEAD by SkyNews.
(THIS IS A DEVELOPING STORY AND WILL BE UPDATED)
Confirmed to be Hillary Clinton's Vice Presidential pick,  Senator Tim Kaine is a prominent supporter of the Trans Pacific Partnership (TPP). If passed, the TPP would destroy countless American jobs.
Hillary Clinton supported NAFTA (the North American Free Trade Agreement) signed into effect by her husband Bill Clinton. The law has effectively exported thousands of U.S. jobs.
Hillary also lobbied for NAFTA as first lady by holding meetings and helping the White House block opposition from labor and environmental groups. She was a speaker at a crucial meeting on NAFTA to help get the bill passed.
Hillary now says she regrets NAFTA and has flip flopped over the years on NAFTA, being for it and against it many times during her career as a politician. Her opponent Bernie Sanders opposed it from the start.
"I think everybody is in favor of free and fair trade. I think NAFTA is proving its worth"
~Hillary Clinton, said according to a 1996 Associated Press report.
A few years later, she changed her position on the deal during her first run for the White House against Obama. In 2007, she called NAFTA a "mistake" and said it "hurt a lot of American workers."
Many blame NAFTA for being responsible for loss of manufacturing jobs in industrial States including – Ohio and Pennsylvania.
Now Hillary Clinton is secretly supporting the TPP and her likely choice for Vice President Tim Kaine is a prominent supporter of the deal. Clinton has stumped for the TPP repeatedly in the past few years, before being forced to claim she is against it to combat the candidacy of Bernie Sanders. The State Department blocked the release of Hillary Clinton's emails on the TPP until after the election. So we won't know what her stance is on the issue until after November — an absolute absurdity.
This lack of transparency is an insult to Americans intelligence. The American people deserve to be able to see what their candidates positions are, especially on trade deals that will affect average American lives.
Republican Presidential candidate Donald Trump has been adamant on Hillary Clinton's past support of free trade deals and flip flopping to now be against the TPP. In Cleveland, at the Republican National Convention, Trump said —
"She supported NAFTA (the North American Free Trade Agreement), and she supported China's entrance into the WTO (World Trade Organization) — another one of her husband's colossal mistakes. She supported the job-killing trade deal with South Korea. She supported the Trans-Pacific Partnership."  ~Donald Trump
Tim Kaine is one of 32 Democratic senators that backed the Trans Pacific Partnership deal.
Although, Tim Kaine has previously said that "he wouldn't be Hillary's running mate."
"I really love my job, I really do I have a great feeling that I'm going to be on that podium with Hillary Clinton when she's taking the oath of office, but I'm going to be sitting with the other senators."
~Tim Kaine
It will be very interesting to see who Hillary Clinton chooses. Her other potential choice is Tom Vilsack, the former governor of Iowa who also destroyed emails. So at least she'll find company in her criminality if she chooses Vilsack.
Via the BBC:
At least one person has been killed and an unknown number injured in a shooting at a shopping centre in the German city of Munich.
A big security operation is under way, German police say. The scene in the Moosach district has been sealed off.
Reports speak of one attacker. Helicopters are over the scene and shopworkers reportedly unable to leave.
The security forces have been on alert after a migrant stabbed five people on a train in Bavaria on Monday.
The authorities had warned of the danger of further attacks.
Munich police are telling people to avoid the area.
An Austin police officer was caught on camera body slamming a female teacher at a traffic stop.
The woman was complying with the officer's orders, but the officer freaked out and pulled her out of her car and slammed her to the ground. In the ride to the police station, another officer tells the woman, "Blacks have a tendency for violence." Both officers have been placed on administrative leave.
Breaion King was pulled out of her car and violently slammed on the concrete in June 2015. Only now has the video has just been released showing the police brutality.
Austin police officials have been investigating the incident that left a black elementary school teacher injured and in cuffs after a traffic stop went completely wrong.
The footage shows a police officer arguing with Breaion King before grabbing her out of her vehicle and violently throwing her to the ground and body slamming her twice.
The Austin Police Chief responded saying.
"My heart was sickened and saddened when I first learned of this incident it's disturbing"
~Police Chief Art Acevedo
In another video that followed the arrest, in the squad car a shocking conversation can be heard between Breaion King and another Officer Patrick Spradlin which turns quickly into racism.
"But do you still believe that there is racism out there?" – King asks Spradlin.
He responds "Yes, I do, But let me ask you this: Do you believe it goes both ways?"
King then responds with "I do, but I believe that, I'm not going to lie, I believe that caucasians have more supremacy than we do, they have more rights."
"I don't think that" Spradlin responds.
"A lot more people are a little afraid of black people because of everything, honestly. . .," King says.
The conversation then takes a turn for the worst when the officer responds back.
"Let me ask you this why are so many people afraid of black people?"
"That's what I want to figure out, because I'm not a bad black person," King responds back.
"I can give you a really good idea, a really good idea why it might be that way violent tendencies. I want you to think about that."
"I'm not saying anything, I'm not saying it's true, I'm not saying I agree with it or nothing but 99 percent of the time, when you hear about stuff like that, it is the black community that is being violent, that's why a lot of white people are afraid. And I don't blame them. There are some guys I look at I know it's my job to deal with them and I know it's probably going to get ugly and that's the way it goes, but some of them because of their appearance and whatnot, some of them are very intimidating."
~Officer Patrick Spradlin, Austin PD.
Police Chief Art Acevedo who is Hispanic issued an apology for his officers actions and behavior, calling the incident not consistent with his own values and many in the department apologizing to Breaion King.
"I'm sorry that on the day you were stopped for going 15 mph, you were. . . treated in a manner that is not consistent with the expectations of this police chief, of most of the officers of this department, and most importantly, of all of us as human beings. Police officers have a sworn duty to try to calm things down, approach incidents, approach people in a manner that enhances the probability that everyone gets to go on with their day, especially over a speeding ticket." ~ Austin Police Chief Art Acevedo
He added on "For those that think life is perfect for people of color, I want you to listen to that conversation and tell me we don't have social issues in this nation. Issues of bias. Issues of racism. Issues of people being looked at different because of their color."
This is a huge example of why we need police reform – how many innocent people shot by cops does it take to realize that there needs to be some form of accountability and better training implemented nationwide to prevent tragedies? In this case, the victim Breaion King wasn't killed — only violently injured, but things could have been way worse.
On Friday, Wikileaks finally released the 19,252 emails obtained from hacking the DNC's server by hacker Guccifer2, along with 8,000 attachments.
Wikileaks previously promised to leak Guccifer2's hacked DNC emails —
"The emails released Friday cover a period from Janury 2015 to May 2016. They purportedly come from the accounts of seven major figures in the DNC: Senior Adviser Andrew Wright, National Finance Director Jordon Kaplan, Finance Chief of Staff Scott Comer, Communications Director Luis Miranda, Northern California Finance Director Robert Stowe, Finance Director of Data & Strategic Initiatives Daniel Parrish and Finance Director Allen Zachary."  ~Wikileaks Press Release
The fresh leak is a smoking gun, as Guccifer2 himself has highlighted the DNC's bias towards Hillary Clinton against Senator Bernie Sanders. Former DNC chairwoman Debbie Wasserman Shultz's previously denials have now been proven false.
The emails show the bias for electing Hillary Clinton as the party candidate, calling Bernie Sanders a "left wing socialist" and discussing how to deal with him and other Democrats, as well as voters who oppose Hillary Clinton and are calling the system "rigged."
Did you know our pending DNC release contians 5,245 emails about Trump 2,893 about Hillary Clinton & 2,235 on Bernie Sanders? #feelthebern

— WikiLeaks (@wikileaks) July 22, 2016
We will keep you up to date on Hillary Clinton's email leak — this is only part one of a massive coming release from Wikileaks. Founder Julian Assange has previously promised to give enough evidence that could indict Hillary Clinton. In the meantime, imagine what secrets can we uncover by searching through these damning emails in Wikileaks's database. What a time to be alive.
Humanity has a bleak and sometimes utterly destructive future ahead of it. With the wars we create and destroying the planet every day littering, destroying rain forest and other animals habitats and more. So what can be done to save the human race? Scientist have an idea and they want to send human DNA and Data into deep space to potentially continue on our painful legacy of destruction else where in the cosmos and for others to remember us.
"Our best bet for space exploration could be printing humans, organically, on another planet"
~Adam Stelzner, Curiosity rover's lead engineer at NASA's Jet Propulsion Laboratory.
An absolute crazy idea or not has that ever stopped science?
No it hasn't, With the growing list of likely habitable planets scientist may be looking for a new home for Earth's citizens. With NASA finding 100 new planets just this week although mostly gas giants to add to it's extensive list of 3,200 planets since May with 1,284 of those being recently discovered with potentially Eleven now that are habitable by human standards. Including two planets that were just recently discovered that could support life.
Although, scientist have said that 550 planets heave a rocky surface like Earth so there might be more then eleven habitable planets. When we consider our standards for finding alien life might be wrong as were looking for what can support human life and not
thinking outside of the box of what life forms could live under other conditions that we can't due to our biological make up. Scientist have already hypothesized that 100 Billion planets may exist in what they deem the "habitable zones." So the logical next step in human evolution is to begin to plan to colonize other potentially habitable planets.
1. Send human DNA into space to a habitable planet
2. Send watch probes to watch over new experiment of life.
3. ?????
4. Profit and watch the planet populate with little humans to destroy that planet next.
That's just what a Kick-starter project called "Voices of Humanity" wants to do send human DNA and Data into space to continue on the human race. "Using a laser propelled spacecraft
Your data will live forever in the universe. You will be immortalized" according to the KickStarter page.
Essentially what they want to do in a step by step process is.
1. Raise $30,000 and "launch computer chips full of images and data into Earth's orbit by 2017."
2. Raise $100,000 "build a sophisticated ground-based laser and robotic telescope that allows data to be optionally transmitted via laser to the target of your choice in space."
3. ????? Expand to other planets?
4. Profit and watch new humanity ruin another planet.
"We will be able to 'back up humanity', using the universe as our 'cloud' with your images, pictures, text, tweets, video, and DNA!""
~Voices of Humanity
How would all this be made possible? 3D printing humans back to cloning which we previously discussed last week.
"Our best bet for space exploration could be printing humans, organically, on another planet
Maybe we will colonize other worlds not with astronauts in space suits, but with bacteria"
~Adam Seltzner, Nasa engineer said.
The idea and project isn't lacking support either it's backed by Nasa's Philip Lubin who is also working on the Breakthrough Starshot project with Stephen Hawking. Which also aims to use laser based spaceships.
At the time of this writing the project goal is set at $30,000 and has reached just $4,518 of that given amount with a remaining of 46 days to go.
They aim to send data including – documents, audio, tweets, pictures, and movies. into space offering the chance for anyone to send their twitter handle into space simply by tweeting at @HumanityChip so become a living legend and tweet them and ingrain your twitter in history.
"We sometimes use the phrase, 'we want to back up humanity,' which is not a joke — we want to do this.
Personally, I would like to send out a blueprint for life on Earth and how to reconstruct us, how to make us.
Everything required to have a do-it-yourself 'build humanity' project."
~Professor Philip Lubin, NASA, in an interview with space.com.
At least all our mistakes and screw ups will be remembered so the next civilization of humans doesn't fuck up the next world as much as we have. Maybe we can get it right next time around and profits and greed won't over take future human minds and we can live as a single collective of human beings? Free from racism and differences and focus on the one thing we all share in common were all flesh and blood humans.
But Have many scientist considered maybe just maybe the Universe is already filled of other human like races that have surpassed our own? What if our DNA came from space? That's the theory that Kazakhstan scientist are now juggling around and it holds weight. Since 97-98% of our DNA is considered "JUNK DNA" by modern day science which is absolutely absurd.
Maybe we are all aliens and humanity is an experiment from a much more advanced intelligent race of humans already? Which the response to the SETI 1977 WoW Signal may just suggest that.
"Our hypothesis is that a more advanced extraterrestrial civilization was engaged in creating new life and planting it on various planets. Earth is just one of them.
What we see in our DNA is a program consisting of two versions, a giant structured code and a simple or basic code."
~Maxim A. Makukov, of the Fesenkov Astrophysical Institute.
DONATE TO THE CAMPAIGN HERE:
Male escorts are making crazy money at the RNC
It's been a great week for gay escorts in Cleveland.
Male prostitutes contacted by The Post said business is booming and Republican National Convention attendees — most of them married — are clamoring for their services.
"Business has been way better. I've seen 10 clients so far," one male escort said.

"Most of them were first-timers. You could tell they were nervous, but once they became more comfortable, they seemed to be having a good time."
Another escort said he had already earned $1,600 since Monday — over six times the amount he usually makes.
"I normally only make $200 to $300, but I've been seeing lots of guys in hotels downtown," he said, noting the boom in business near the Quicken Loans Arena.
The clientele has included mostly married white men between the ages of 40 and 50, said another escort who's seen eight johns so far.
"One of them was from Texas and visiting for the convention. He said he was a politician," he said, claiming he didn't remember the client's name.
One gigolo who charges $250 an hour said he's been making about $800 per day since the convention kicked off — all from men visiting from Florida, Louisiana and Washington, DC.
"Usually I need to go out of town," he said with a chuckle.
Most men paid to have sex, but one client requested to "do his business in the corner" while watching his wife in bed with the escort.
One of the hookers said he wasn't surprised that the convention — filled with politicians who openly oppose gay marriage — brought such a boom in business.
"When it comes to anything people aren't supposed to be doing, they like to do it," the escort said.

"The Republicans have a lot of delegates in the closet, let's put it that way."
But ladies of the night weren't reaping the same benefits.
When contacted by The Post, females for hire said they're making much less money than normal.
"Has business been better for me? Honestly, no," one woman said before abruptly hanging up the phone.
"Business is slower than usual," said another. "I haven't been getting any calls."
Follow WE ARE CHANGE on SOCIAL MEDIA
---
Sign up become a patron and Show your support for alternative news
for Just 1$ a month you can help Grow We are change

After 9 months in Asia we are carrying on our investigation in Canada. Change of climate, culture and scale… there are woods stretching as far as we can see and distances are also stretching out. The roads in perfect condition and empty… What a difference with Asia! Landing in North America is also an experience of disrupting town planning, driving through towns, on a horizontal level. In the residential districts, the new houses look like the ones in a catalog : perfect facades, aseptic lawns, garages and big cars. Here there is space and people living on credit ! Muko's remark – a militant involved in the conservation of troglodyte houses in Capadoccia, whom we met in Turkey – comes back to us « For me, today's standardized houses are a limit to imagination… I think it is more difficult to design another world when living in such a formatted, even sterilized, environment.»
But North America remains the land where everything is possible ! The continent hosts so many pioneers who are looking for other living ways. We are out to meet some of them in Quebec. Starting with the inhabitants of the eco-village of « la Baie », who invented a straw building technique which is heard of in Europe event and beyond, too: the GREB technique. Behind those initials there is the « Bay Ecological Research Group » which, for 25 years now, has been experimenting a post-petrol way of life !
To reach the small eco-village, we are driving along the magnificent Saguenay fjord which flows into the St Laurent river before climbing up the small path to the 'tiny village'. Pierre and Marie-Thérèse, who have been leading the projects since its beginnings, welcome us in their cosy straw house.
Pierre tells us that it all started : « In 1972, The Club of Rome stressed the limits of our society based on an infinite growth in a world with finite resources. I was not known whether the resources would die out in 20 or 300 years… But it was totally unacceptable for us to have built a non-viable system over the long term, relying moreover on the exploitation of the countries lying in the south. It was our duty to find solutions to build a different world.»
This is the philosophy which, a few years earlier, pushed them into travelling to the USA, the Middle East, Europe and India to visit the ecological projects. Pierre remembers « Indeed we toyed with the idea of settling in communities in the south of France. But I could not stand the idea that one day I would be told « t is all very well to build an ecological house there… but in Quebec, temperatures go down below 30° in winter and dreaming of other ways of life, is a luxury which is just not imaginable here !».
 An experimental eco-village
With a taste for challenges, Pierre and Marie-Thé return to Quebec in 1988. Together with five other families, they purchase a piece of land of several hectares and decide to create an eco-village on waste agricultural and wooden lands. A key stage, prior to settling down, it was necessary to analyse the resources available and to observe the territory, so as to consider the possibilities and limits of this eco-system. So for most inhabitants, building with straw balls and a wooden framework proved to be the most relevant choice !
Beyond the construction, the project was also to meet other fundamental needs such as finding food, or getting energy. From the very beginning, the eco-village of « la Baie » is much more than a simple ecological district or a self-sufficient community. Pierre says : « Our intention was not to be survivors, quite the opposite. We did not want to save ourselves from such a catastrophe. We wanted to create a life laboratory and the successes and failures of that life laboratory would be made public. That is why at the same time at the eco-village, we founded the GREB, the Bay ecological Research Group. »
And year after year, some inhabitants left (Pierre and Marie-Thérèse are the only founders left) and others have arrived, attracted by the project. It is the case, for instance of Patrick Déry, who decided to settle here with his wife in 1994. Jokingly he remembers « as far as I am concerned, I would never have come in a community of pals. I was convinced by the idea of participating in the development of a broad scale viable society project.» A teacher-researcher, Patrick heads a research centre on renewable energies, and from time to time he offers his students to come and experiment on the village land. A tireless researcher, he also performs all sorts of studies on agriculture through the experimental farm he has set up. But the GREB became famous through another of his researches.
But the GREB became famous through another of his researches…
 The invention of an efficient straw building technique
 Using straw to build ? Despite prejudices which are still going strong, the idea is gradually becoming accepted.
It is quite cheap, there is plenty of straw everywhere, it has very good thermal and sound insulation qualities as well as many other properties – this is why straw is used more and more by the self-builders and some professionals, too. But in 1996, when Patrick Déry and martin Simard build one of the first straw houses in the village, the slow process leads them to find another more efficient technique. Then they come up with the idea of erecting a wooden double framework, compress the straw balls inside, and pour mortar with a formwork. After several attempts, the better adapted mortar finally consists in 3 volumes of sand, 4 volumes of sawdust, 1 volume of air lime and 1 volume of cement. The GREB technique was born !
Which are the advantages of this technique compared to other straw buildings ?
It is fast and simple (it may easily be chosen by self-builders) and so the costs are considerably lower. For instance, one of the houses of the small village, some 150m2, was built in 9 months and 3 weeks of that time were necessary to fill the framework with the straw balls. Its total cost amounted to euro 100,000.
To Read more and Support CLICK HERE 
Submitted by Olivier Mitsieno
Follow WE ARE CHANGE on SOCIAL MEDIA
---
Sign up become a patron and Show your support for alternative news
for Just 1$ a month you can help Grow We are change