A hero with a bullhorn has taken to reading Julian Assange the internet from the sidewalk outside of the Ecuadorian Embassy, as the nation cut off the Wikileaks founder's access to the world wide web.
Wearing a tie and a sign around his neck that reads, "Julian Assange's Personal Internet Service," comedian Bobby Mair stood outside the embassy on Wednesday shouting the day's "internet highlights" to the controversial publisher.
Mair read Assange his horoscope — which suggested meditation.
"In your hometown right now of Townsville, it's like 32 degrees [Celsius, 90 Fahrenheit]. Maybe some of your childhood friends are having a nice day." Mair read through the bullhorn towards Assange's window. "Maybe you could write them a letter."
The comedian also read Assange the list of what is trending on Facebook, including the fact that Phil Collins is going on tour. He proceeded to sing Collin's hit song, "In the Air Tonight."
Eventually, a police officer approached Mair and asked him to turn the megaphone down a bit, which he complied with.
"I thought about it, and realized they probably just changed the password on the wifi in the embassy," Mair shouted. "So I thought of some passwords they might have changed it to at the Ecuadorian Embassy — try 'Quito,' that's Ecuador's capital! 'South America' — people aren't creative with their passwords, try 'South America.' Try 'yummy coffee' maybe…"
"If that doesn't work 1-2-3-4-5-6, but I know sometimes you only get three tries… so maybe leave out yummy coffee."
Mair then appeared close to a breakdown as he screamed for Assange to pay attention to him and come out on the balcony to say that he got the information.
It remains unclear if Assange appreciated, or even heard, his personal "internet service," but the internet sure did. I suppose those of us who saw it are the last ones who needed it, though.
In this video Luke Rudkowski talks about the latest set up of Julian Assange of Wikileaks to take a million dollars supposedly from Russia. This election year and Ecuador is putting a lot of added stress on Julian Assange of Wikileaks. Vote with your dollar and invest in independent media to bring us to the next level on https://www.patreon.com/wearechange
Sources
http://bigstory.ap.org/article/6f997f…
http://planetfreewill.com/2016/10/18/…
https://twitter.com/WLTaskForce/statu…
https://www.youtube.com/watch?v=zislz…
http://www.zerohedge.com/news/2016-10…
https://www.wikileaks.org/Background-…
https://www.buzzfeed.com/josephbernst…
https://twitter.com/wikileaks/status/…
http://www.zerohedge.com/news/2016-10…
https://twitter.com/wikileaks/status/…
https://twitter.com/davidsoloff
http://www.zerohedge.com/news/2016-10…
https://www.buzzfeed.com/josephbernst…
https://twitter.com/wikileaks/status/…
Support WeAreChange by Subscribing to our channel HERE http://www.youtube.com/subscription_c…
Visit our main site for more breaking news http://wearechange.org/
Patreon https://www.patreon.com/WeAreChange?a…
SnapChat: LukeWeAreChange
Facebook: https://facebook.com/LukeWeAreChange
Twitter: https://twitter.com/Lukewearechange
Instagram: http://instagram.com/lukewearechange
Rep WeAreChange Merch Proudly: http://wearechange.org/store
OH YEAH since we are not corporate or government WHORES help us out http://wearechange.org/donate
We take BITCOIN too
12HdLgeeuA87t2JU8m4tbRo247Yj5u2TVP
Wikileaks released yet another batch of Clinton campaign chairman John Podesta's emails in Part 11 of what has become a daily trend.
The 1,894 newly leaked emails brings the total number of Clinton campaign emails leaked thus far by the whistle-blower organization to 17,150.
Already revelations are starting to flow into twitter further exposing how corrupt not only Hillary Clinton is, but the entire Democrat party and Hillary's campaign staff themselves.
It has been revealed that Hillary Clinton vetted billionaires and businessmen who donated to the Clinton Foundation as potential running mates. Her VP choices included –
General Motors CEO and chairwoman Mary Barra, former New York City Mayor Michael Bloomberg, Apple CEO Tim Cook, Microsoft founder Bill Gates, Coca-Cola CEO Muhtar Kent, Rockefeller Foundation president Judith Rodin and Starbucks CEO Howard Schultz.
Podesta then classified them into "rough food groups" based on race and gender. The recent leak also includes John Podesta pondering an Antonin Scalia replacement to George Soros on the day Scalia died and discussing the Justice Department's "investigation" of Hillary Clinton.
Another email shows Hillary's staffers politicizing Black History Month to garner black voter support. Other emails exposed Clinton's connection to Facebook founder Mark Zuckerberg.
The leaks also revealed an in-office sexual harassment covered up by Clinton's aide Robby Mook.
More media poll rigging was also revealed in an email from 2008 that says that they will oversample women they are worried about a certain group later in the summer.
Another leaked email described Bill Clinton's secret lover the "energizer," about whom Clinton officials had a conference call.
Election Low Down & Censorship Of Podesta Wikileaks, FBI Quid Quo Pro & Hillary Staging Violence !! 
In this video Luke Rudkowski just goes over 3 of the latest Hillary Clinton scandals that just broke. We go over the Wikileaks Podesta Emails, James O'keefe Project Veritas video and the FBI release of 100 documents relating to Hillary Clinton's email investigation. Important election news showing the complicity of Comey and bias against Trump. Don't forget to invest in us and support independent media throughhttps://www.patreon.com/wearechange
Sources
https://www.youtube.com/watch?v=-jw4g…
https://www.youtube.com/watch?v=5IuJG…
http://dailycaller.com/2016/10/18/act…
http://dailycaller.com/2016/10/13/twi…
http://www.inquisitr.com/3605790/octo…
https://twitter.com/wikileaks/status/…
https://twitter.com/wikileaks/status/…
https://twitter.com/wikileaks/status/…
https://twitter.com/wikileaks/status/…
https://twitter.com/Lukewearechange/s…
https://wikileaks.org/podesta-emails/…
http://www.dailymail.co.uk/news/artic…
http://www.zerohedge.com/news/2016-10…
https://www.theguardian.com/us-news/2…
http://dailycaller.com/2016/10/17/exc…
http://www.thelastamericanvagabond.co…
Support WeAreChange by Subscribing to our channel HERE http://www.youtube.com/subscription_c…
Visit our main site for more breaking news http://wearechange.org/
Patreon https://www.patreon.com/WeAreChange?a…
SnapChat: LukeWeAreChange
Facebook: https://facebook.com/LukeWeAreChange
Twitter: https://twitter.com/Lukewearechange
Instagram: http://instagram.com/lukewearechange
Rep WeAreChange Merch Proudly: http://wearechange.org/store
OH YEAH since we are not corporate or government WHORES help us out http://wearechange.org/donate
We take BITCOIN too
12HdLgeeuA87t2JU8m4tbRo247Yj5u2TVP
First How Many Constitutional Freedoms Do We Still Have?
Preface: While a lot of people talk about the loss of our Constitutional liberties, people usually speak in a vague, generalized manner … or focus on only one issue and ignore the rest.
This post explains the liberties guaranteed in the Bill of Rights – the first 10 amendments to the United States Constitution – and provides a scorecard on the extent of the loss of each right.
First Amendment
The 1st Amendment protects speech, religion, assembly and the press:
Congress shall make no law respecting an establishment of religion, or prohibiting the free exercise thereof; or abridging the freedom of speech, or of the press; or the right of the people peaceably to assemble, and to petition the Government for a redress of grievances.
However, the government is arresting those speaking out … and violently crushing peaceful assemblies which attempt to petition the government for redress.
A federal judge found that the law allowing indefinite detention of Americans without due process has a"chilling effect" on free speech. And see this and this.
There are also enacted laws allowing the secret service to arrest anyone protesting near the president or other designated folks (that might explain incidents like this).
The threat of being labeled a terrorist for exercising our First Amendment rights certainly violates the First Amendment.   The government is using laws to crush dissent, and it's gotten so bad that even U.S. Supreme Court justices are saying that we are descending into tyranny.
For example, the following actions may get an American citizen living on U.S. soil labeled as a "suspected terrorist" today:
And holding the following beliefs may also be considered grounds for suspected terrorism:
Of course, Muslims are more or less subject to a separate system of justice in America.
And 1st Amendment rights are especially chilled when power has become so concentrated that the same agency which spies on all Americans also decides who should be assassinated.
Second Amendment
The 2nd Amendment states:
"A well regulated Militia, being necessary to the security of a free State, the right of the people to keep and bear Arms, shall not be infringed."
Gun control and gun rights advocates obviously have very different views about whether guns are a force for violence or for good.
But even a top liberal Constitutional law expert reluctantly admits  that the right to own a gun is as important a Constitutional right as freedom of speech or religion:
Like many academics, I was happy to blissfully ignore the Second Amendment. It did not fit neatly into my socially liberal agenda.
***
It is hard to read the Second Amendment and not honestly conclude that the Framers intended gun ownership to be an individual right. It is true that the amendment begins with a reference to militias: "A well regulated militia, being necessary to the security of a free state, the right of the people to keep and bear arms, shall not be infringed." Accordingly, it is argued, this amendment protects the right of the militia to bear arms, not the individual.
Yet, if true, the Second Amendment would be effectively declared a defunct provision. The National Guard is not a true militia in the sense of the Second Amendment and, since the District and others believe governments can ban guns entirely, the Second Amendment would be read out of existence.
***
More important, the mere reference to a purpose of the Second Amendment does not alter the fact that an individual right is created. The right of the people to keep and bear arms is stated in the same way as the right to free speech or free press. The statement of a purpose was intended to reaffirm the power of the states and the people against the central government. At the time, many feared the federal government and its national army. Gun ownership was viewed as a deterrent against abuse by the government, which would be less likely to mess with a well-armed populace.
Considering the Framers and their own traditions of hunting and self-defense, it is clear that they would have viewed such ownership as an individual right — consistent with the plain meaning of the amendment.
None of this is easy for someone raised to believe that the Second Amendment was the dividing line between the enlightenment and the dark ages of American culture. Yet, it is time to honestly reconsider this amendment and admit that … here's the really hard part … the NRA may have been right. This does not mean that Charlton Heston is the new Rosa Parks or that no restrictions can be placed on gun ownership. But it does appear that gun ownership was made a protected right by the Framers and, while we might not celebrate it, it is time that we recognize it.
The gun control debate – including which weapons and magazines are banned – is still in flux …
Third Amendment
The 3rd Amendment prohibits the government forcing people to house soldiers:
No Soldier shall, in time of peace be quartered in any house, without the consent of the Owner, nor in time of war, but in a manner to be prescribed by law.
Hey … we're still honoring one of the Amendments! Score one for We the People!
The 4th Amendment prevents unlawful search and seizure:
The right of the people to be secure in their persons, houses, papers, and effects, against unreasonable searches and seizures, shall not be violated, and no Warrants shall issue, but upon probable cause, supported by Oath or affirmation, and particularly describing the place to be searched, and the persons or things to be seized.
But the government is flying drones over the American homeland to spy on us.
Senator Rand Paul correctly notes:
"The domestic use of drones to spy on Americans clearly violates the Fourth Amendment and limits our rights to personal privacy."
Paul introduced a bill to "protect individual privacy against unwarranted governmental intrusion through the use of unmanned aerial vehicles commonly called drones."
Empty-wheel notes in a post entitled "The OTHER Assault on the Fourth Amendment in the NDAA? Drones at Your Airport?":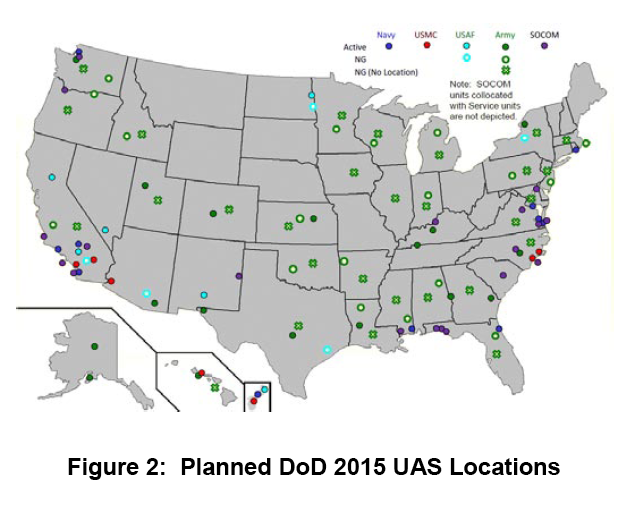 As the map above makes clear–taken from this 2010 report–DOD [the Department of Defense] plans to have drones all over the country by 2015.
Many police departments are also using drones to spy on us. As the Hill reported:
At least 13 state and local police agencies around the country have used drones in the field or in training, according to the Association for Unmanned Vehicle Systems International, an industry trade group. The Federal Aviation Administration has predicted that by the end of the decade, 30,000 commercial and government drones could be flying over U.S. skies.
---
"Drones should only be used if subject to a powerful framework that regulates their use in order to avoid abuse and invasions of privacy," Chris Calabrese, a legislative counsel for the American Civil Liberties Union, said during a congressional forum in Texas last month.
He argued police should only fly drones over private property if they have a warrant, information collected with drones should be promptly destroyed when it's no longer needed and domestic drones should not carry any weapons.
He argued that drones pose a more serious threat to privacy than helicopters because they are cheaper to use and can hover in the sky for longer periods of time.
A congressional report earlier this year predicted that drones could soon be equipped with technologies to identify faces or track people based on their height, age, gender and skin color.
Even without drones, Americans are the most spied on people in world history:
The American government is collecting and storing virtually every phone call, purchases, email,  text message, internet searches, social media communications, health information,  employment history, travel and student records, and virtually all other information of every American. [And see this.]
Some also claim that the government is also using facial recognition software and surveillance cameras to track where everyone is going.  Moreover, cell towers track where your phone is at any moment, and the major cell carriers, including Verizon and AT&T, responded to at least 1.3 million law enforcement requests for cell phone locations and other data in 2011. (And – given that your smartphoneroutinely sends your location information back to Apple or Google – it would be child's play for the government to track your location that way.)    Your iPhone, or other brand of smartphone is spying onvirtually everything you do  (ProPublica notes: "That's No Phone. That's My Tracker").
As the top spy chief at the U.S. National Security Agency explained this week, the American government is collecting some 100 billion 1,000-character emails per day, and 20 trillion communications of all types per year.
He says that the government has collected all of the communications of congressional leaders, generals and everyone else in the U.S. for the last 10 years.
He further explains that he set up the NSA's system so that all of the information would automatically be encrypted, so that the government had to obtain a search warrant based upon probably cause before a particular suspect's communications could be decrypted.  [He specifically did this to comply with the Fourth Amendment's prohibition against unreasonable search and seizure.] But the NSA now collects all data in an unencrypted form, so that no probable cause is needed to view any citizen's information.  He says that it is actually cheaper and easier to store the data in an encrypted format: so the government's current system is being done for political – not practical – purposes.
He says that if anyone gets on the government's "enemies list", then the stored information will be used to target them. Specifically, he notes that if the government decides it doesn't like someone, it analyzes all of the data it has collected on that person and his or her associates over the last 10 years to build a case against him.
Wired reports:
Transit authorities in cities across the country are quietly installing microphone-enabled surveillance systems on public buses that would give them the ability to record and store private conversations….

The systems are being installed in San Francisco, Baltimore, and other cities with funding from the Department of Homeland Security in some cases ….

The IP audio-video systems can be accessed remotely via a built-in web server (.pdf), and can be combined with GPS data to track the movement of buses and passengers throughout the city.

***

The systems use cables or WiFi to pair audio conversations with camera images in order to produce synchronous recordings. Audio and video can be monitored in real-time, but are also stored onboard in blackbox-like devices, generally for 30 days, for later retrieval. Four to six cameras with mics are generally installed throughout a bus, including one near the driver and one on the exterior of the bus.

***

Privacy and security expert Ashkan Soltani told the Daily that the audio could easily be coupled with facial recognition systems or audio recognition technology to identify passengers caught on the recordings.
RT notes:
Street lights that can spy installed in some American cities
America welcomes a new brand of smart street lightning systems: energy-efficient, long-lasting, complete with LED screens to show ads. They can also spy on citizens in a way George Orwell would not have imagined in his worst nightmare.
With a price tag of $3,000+ apiece, according to an ABC report, the street lights are now being rolled out in Detroit, Chicago and Pittsburgh, and may soon mushroom all across the country.
Part of the Intellistreets systems made by the company Illuminating Concepts, they havea number of "homeland security applications" attached.
Each has a microprocessor "essentially similar to an iPhone," capable ofwireless communication. Each can capture images and count people for the police through a digital camera, record conversations of passers-by and even give voice commands thanks to a built-in speaker.
Ron Harwood, president and founder of Illuminating Concepts, says he eyed the creation of such a system after the 9/11 terrorist attacks and the Hurricane Katrina disaster. He is"working with Homeland Security" to deliver his dream of making people "more informed and safer."
Fox news notes that the government is insisting that "black boxes" be installed in cars to track your location.
The TSA has moved way past airports, trains and sports stadiums, and is deploying mobile scanners to spy on people all over the place.  This means that traveling within the United States is no longer a private affair.  (And they're probably bluffing, but the Department of Homeland Security claims they will soon be able to know your adrenaline level, what you ate for breakfast and what you're thinking … from 164 feet away.)
And Verizon has applied for a patent that would allow your television to track what you are doing, who you are with, what objects you're holding, and what type of mood you're in.  Given Verizon and other major carriers responded to at least 1.3 million law enforcement requests for cell phone locations and other data in 2011, such information would not be kept private.  (And some folks could be spying on you through your tv using existing technology.)
Of course, widespread spying on Americans began before 9/11 (confirmed here and here. And see this). So the whole "post-9/11 reality" argument falls flat.
And the spying isn't being done to keep us safe … but to crush dissent and to smear people who uncover unflattering this about the government … and to help the too big to fail businesses compete against smaller businesses (and here).
In addition, the ACLU published a map in 2006 showing that nearly two-thirds of the American public – 197.4 million people – live within a "constitution-free zone" within 100 miles of land and coastal borders:
The ACLU explained:
Normally under the Fourth Amendment of the U.S. Constitution, the American people are not generally subject to random and arbitrary stops and searches.
The border, however, has always been an exception.  There, the longstanding view is that the normal rules do not apply.  For example the authorities do not need a warrant or probable cause to conduct a "routine search."
But what is "the border"?  According to the government, it  is a 100-mile wide strip that wraps around the "external boundary" of the United States.
As a result of this claimed authority, individuals who are far away from the border, American citizens traveling from one place in America to another, are being stopped and harassed in ways that our Constitution does not permit.
Border Patrol has been setting up checkpoints inland — on highways in states such as California, Texas and Arizona, and at ferry terminals in Washington State. Typically, the agents ask drivers and passengers about their citizenship.  Unfortunately, our courts so far have permitted these kinds of checkpoints – legally speaking, they are "administrative" stops that are permitted only for the specific purpose of protecting the nation's borders.  They cannot become general drug-search or other law enforcement efforts.
However, these stops by Border Patrol agents are not remaining confined to that border security purpose.  On the roads of California and elsewhere in the nation – places far removed from the actual border – agents are stopping, interrogating, and searching Americans on an everyday basis with absolutely no suspicion of wrongdoing.
The bottom line is that the extraordinary authorities that the government possesses at the border are spilling into regular American streets.
Computer World reports today:
Border agents don't need probable cause and they don't need a stinking warrant since they don't need to prove any reasonable suspicion first. Nor, sadly, do two out of three people have First Amendment protection; it is as if DHS has voided those Constitutional amendments and protections they provide to nearly 200 million Americans.
***
Don't be silly by thinking this means only if you are physically trying to cross the international border. As we saw when discussing the DEA using license plate readers and data-mining to track Americans movements, the U.S. "border" stretches out 100 miles beyond the true border. Godfather Politics added:
But wait, it gets even better!  If you live anywhere in Connecticut, Delaware, Florida, Hawaii, Maine, Massachusetts, Michigan, New Hampshire, New Jersey or Rhode Island, DHS says the search zones encompass the entire state.
Immigrations and Customs Enforcement (ICE) and Customs and Border Protection (CBP) have a "longstanding constitutional and statutory authority permitting suspicionless and warrantless searches of merchandise at the border and its functional equivalent." This applies to electronic devices, according to the recent CLCR "Border Searches of Electronic Devices" executive summary [PDF]:
Fourth Amendment
The overall authority to conduct border searches without suspicion or warrant is clear and longstanding, and courts have not treated searches of electronic devices any differently than searches of other objects.  We conclude that CBP's and ICE's current border search policies comply with the Fourth Amendment.  We also conclude that imposing a requirement that officers have reasonable suspicion in order to conduct a border search of an electronic device would be operationally harmful without concomitant civil rights/civil liberties benefits.  However, we do think that recording more information about why searches are performed would help managers and leadership supervise the use of border search authority, and this is what we recommended; CBP has agreed and has implemented this change beginning in FY 2012.
First Amendment
Some critics argue that a heightened level of suspicion should be required before officers search laptop computers in order to avoid chilling First Amendment rights.  However, we conclude that the laptop border searches allowed under the ICE and CBP Directives do not violate travelers' First Amendment rights.
The ACLU said, Wait one darn minute! Hello, what happened to the Constitution? Where is the rest of CLCR report on the "policy of combing through and sometimes confiscating travelers' laptops, cell phones, and other electronic devices—even when there is no suspicion of wrongdoing?" DHS maintains it is not violating our constitutional rights, so the ACLU said:
If it's true that our rights are safe and that DHS is doing all the things it needs to do to safeguard them, then why won't it show us the results of its assessment? And why would it be legitimate to keep a report about the impact of a policy on the public's rights hidden from the very public being affected?
***
As ChristianPost wrote, "Your constitutional rights have been repealed in ten states. No, this isn't a joke. It is not exaggeration or hyperbole. If you are in ten states in the United States, your some of your rights guaranteed by the Bill of Rights have been made null and void."
The ACLU filed a Freedom of Information Act request for the entire DHS report about suspicionless and warrantless "border" searches of electronic devices. ACLU attorney Catherine Crump said "We hope to establish that the Department of Homeland Security can't simply assert that its practices are legitimate without showing us the evidence, and to make it clear that the government's own analyses of how our fundamental rights apply to new technologies should be openly accessible to the public for review and debate."
Meanwhile, the EFF has tips to protect yourself and your devices against border searches. If you think you know all about it, then you might try testing your knowledge with adefending privacy at the U.S. border quiz.
Wired pointed out in 2008 that the courts have routinely upheld such constitution-free zones:
Federal agents at the border do not need any reason to search through travelers' laptops, cell phones or digital cameras for evidence of crimes, a federal appeals court ruled Monday, extending the government's power to look through belongings like suitcases at the border to electronics.
***
The 9th U.S. Circuit Court of Appeals sided with the government, finding that the so-called border exception to the Fourth Amendment's prohibition on unreasonable searches applied not just to suitcases and papers, but also to electronics.
***
Travelers should be aware that anything on their mobile devices can be searched by government agents, who may also seize the devices and keep them for weeks or months. When in doubt, think about whether online storage or encryption might be tools you should use to prevent the feds from rummaging through your journal, your company's confidential business plans or naked pictures of you and your-of-age partner in adult fun.
Fifth Amendment
The 5th Amendment addresses due process of law, eminent domain, double jeopardy and grand jury:
No person shall be held to answer for a capital, or otherwise infamous crime, unless on a presentment or indictment of a Grand Jury, except in cases arising in the land or naval forces, or in the Militia, when in actual service in time of War or public danger; nor shall any person be subject for the same offense to be twice put in jeopardy of life or limb; nor shall be compelled in any criminal case to be a witness against himself, nor be deprived of life, liberty, or property, without due process of law; nor shall private property be taken for public use, without just compensation.
But the American government has shredded the 5th Amendment by subjecting us to indefinite detentionand taking away our due process rights.
The government claims the right to assassinate or indefinitely detain any American citizen on U.S. citizen without any due process. And see this.
As such, the government is certainly depriving people of life, liberty, or property, without due process of law.
There are additional corruptions of 5th Amendment rights – such as property being taken for private purposes.
The percentage of prosecutions in which a defendant is denied a  grand jury is difficult to gauge, as there isso much secrecy surrounding many terrorism trials.
Protection against being tried twice for the same crime after being found innocent ("double jeopardy") seems to be intact.
Image by William Banzai
Sixth Amendment
The 6th Amendment guarantees the right to hear the criminal charges levied against us and to be able to confront the witnesses who have testified against us, as well as speedy criminal trials, and a public defender for those who cannot hire an attorney:
In all criminal prosecutions, the accused shall enjoy the right to a speedy and public trial, by an impartial jury of the State and district wherein the crime shall have been committed, which district shall have been previously ascertained by law, and to be informed of the nature and cause of the accusation; to be confronted with the witnesses against him; to have compulsory process for obtaining witnesses in his favor, and to have the Assistance of Counsel for his defence.
Subjecting people to indefinite detention or assassination obviously violates the 6th Amendment right to a jury trial.  In both cases, the defendants is "disposed of" without ever receiving a trial … and often without ever hearing the charges against them.
More and more commonly, the government prosecutes cases based upon "secret evidence" that they don't show to the defendant … or sometimes even the judge hearing the case.
The government uses "secret evidence" to spy on Americans, prosecute leaking or terrorism charges (even against U.S. soldiers) and even assassinate people.  And see this and this.
Secret witnesses are being used in some cases. And sometimes lawyers are not even allowed to read their own briefs.
Indeed, even the laws themselves are now starting to be kept secret.  And it's about to get a lot worse.
True – when defendants are afforded a jury trial – they are provided with assistance of counsel. However, the austerity caused by redistribution of wealth to the super-elite is causing severe budget cuts to the courts and the public defenders' offices nationwide.
Moreover, there are two systems of justice in America … one for the big banks and other fatcats, and one for everyone else.   The government made it official policy not to prosecute fraud, even though fraud is themain business model adopted by Wall Street.  Indeed, the biggest financial crime in world history, thelargest insider trading scandal of all time, illegal raiding of customer accounts and blatant financing of drug cartels and terrorists have all been committed recently without any real criminal prosecution or jail time.
On the other hand, government prosecutors are using the legal system to  crush dissent and to silence whistleblowers.
And some of the nation's most powerful judges have lost their independence  … and are in bed with the powers-that-be.
Seventh Amendment
The 7th Amendment guarantees trial by jury in federal court for civil cases:
In Suits at common law, where the value in controversy shall exceed twenty dollars, the right of trial by jury shall be preserved, and no fact tried by a jury, shall be otherwise re-examined in any Court of the United States, than according to the rules of the common law.
As far as we know, this right is still being respected.  However – as noted above – the austerity caused by redistribution of wealth to the super-elite is causing severe budget cuts to the courts, resulting in the wheels of justice slowing down considerably.
Eighth Amendment
The 8th Amendment prohibits cruel and unusual punishment:
Excessive bail shall not be required, nor excessive fines imposed, nor cruel and unusual punishments inflicted.
Indefinite detention and assassination are obviously cruel and unusual punishment.
The widespread system of torture carried out in the last 10 years – with the help of other countries –violates the 8th Amendment.  Many want to bring it back … or at least justify its past use.
While Justice Scalia disingenuously argues that torture does not constitute cruel and unusual punishment because it is meant to produce information – not punish – he's wrong.  It's not only cruel and unusual … it is technically a form of terrorism.
And government whistleblowers are being cruelly and unusually punished with unduly harsh sentences meant to intimidate anyone else from speaking out.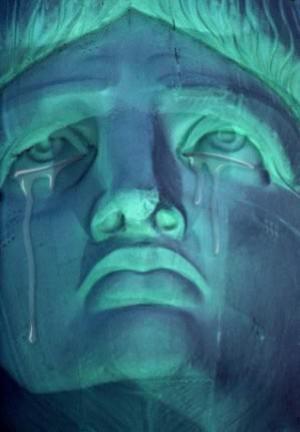 Ninth Amendment
The 9th Amendment provides that people have other rights, even if they aren't specifically listed in the Constitution:
The enumeration in the Constitution, of certain rights, shall not be construed to deny or disparage others retained by the people.
We can debate what our inherent rights as human beings are.  I believe they include the right to a level playing field, and access to safe food and water.  You may disagree.
But everyone agrees that the government should not actively encourage fraud and manipulation.  However, the government – through its malignant, symbiotic relation with big corporations – is interfering with our aspirations for economic freedom, safe food and water (instead of arsenic-laden, genetically engineered junk), freedom from undue health hazards such as irradiation due to government support of archaic nuclear power designs, and a level playing field (as opposed to our crony capitalist system in which the little guy has no shot due to redistribution of wealth from the middle class to the super-elite, and government support of whitecollarcriminals).
By working hand-in-glove with giant corporations to defraud us into paying for a lower quality of life, the government is trampling our basic rights as human beings.
Tenth Amendment
The 10th Amendment provides that powers not specifically given to the Federal government are reserved to the states or individual:
The powers not delegated to the United States by the Constitution, nor prohibited by it to the States, are reserved to the States respectively, or to the people.
Two of the central principles of America's Founding Fathers are:
(1) The government is created and empowered with the consent of the people
and
(2) Separation of powers
Today, most Americans believe that the government is threatening – rather than protecting – freedom … and that it is no longer acting with the "consent of the governed".
And the federal government is trampling the separation of powers by stepping on the toes of the states and the people.  For example, former head S&L prosecutor Bill Black – now a professor of law and economics – notes:
The Federal Reserve Bank of New York and the resident examiners and regional staff of the Office of the Comptroller of the Currency [both]  competed to weaken federal regulation and aggressively used the preemption doctrine to try to prevent state investigations of and actions against fraudulent mortgage lenders.
Indeed, the federal government is doing everything it can to stick its nose into every aspect of our lives … and act like Big Brother.
Conclusion: While a few of the liberties enshrined in the Bill of Rights still exist, the overall scorecard of the government's respect for our freedom: a failing grade.
Most sources are in the Material. The primary source and inspiration for this article is: http://www.washingtonsblog.com/2013/02/constitution.html
---
Sign up become a patron and Show your support for alternative news

We use Bitcoin Too !  
12HdLgeeuA87t2JU8m4tbRo247Yj5u2TVP
In an interview on Tuesday with Fox news J. Christian Adams, an election lawyer who formerly served with the U.S. Justice Department (DOJ), told FOX and Friends there are 4 million ineligible and dead voters on American voter rolls — suggesting a considerable amount of voter fraud, enough to influence the results of the 2016 presidential election.
Adams, who was the Voting Section Attorney at the DOJ, told FOX and Friends that he has filed six lawsuits in the past year alleging voter rolls were corrupted in Philadelphia, Pennsylvania, Broward County, Florida, and also in Texas.
"Dead people are voting and it's something that this administration isn't doing anything about."
According to a recent poll by POLITICO, 41% of Americans believe that the election could be 'stolgen' against Trump. And for good reason. The primary was rigged against Sanders, as I revealed back in June. There were a number of instances of voter fraud in areas like missing votes and inaccurate voter registrations. So it's no wonder Americans are worried about the current election being rigged, to say nothing of the infamous Bush and Gore incident in Florida and Ohio back in the 2000 election.
Adams has voiced his concerns about voter fraud. Will America listen? Or will the general election end up being rigged again?
Seemingly, the Obama administration has no desire to clean up the voting system, which testifies to Adams' claim. The White House has strongly denied that voter fraud even exists. In fact, President Obama has said voter fraud is not a 'real problem'. "Nobody wakes up and says 'I'm going to go vote in somebody else's name,'" he remarked last August.
In a recently-leaked video series entitled Project Veritas, overseen by investigative reporter James O'Keefe, Manhattan Board of Elections Commissioner Alan Schulkin admitted to voter fraud with regard to the city's municipal ID program. The controversy stirred New York City mayor Bill De Blasio to respond with a call for Schulkin to resign.
O'Keefe followed up with another video on election fraud that further exposes the underbelly of this ugly election season and all the techniques that the Democratic party has used to tilt the electorate and public perception in its own favor.
In the second video of James O'Keefe's new explosive series on the Democratic National Committee and Hillary Clinton's 2016 election campaign, Democratic party officials confessed to successfully committing voter fraud unbeknownst to the American public. Scott Foval, the now former national field director for Americans United for Change (a leftist, activist policy group) who has since been fired, admitted that the Democrats had been playing a role in rigging elections for nearly five decades.
Foval's revealed confession gives credence to the comments made by Schulkin, in addition to the claim made by Adams about voter fraud. Unknowingly, Foval went on to explain to a hidden camera: "we've been bussing people in to deal with you f—— assholes for fifty years and we're not going to stop now."
(Reporting by Aaron Kesel; editing by Bryan William Myers)
,
The Ecuadorian government in an official report admitted that it disconnected the internet connection used by Wikileaks founder Julian Assange after WikiLeaks "published a wealth of documents, impacting on the US election campaign," the statement said.
"The Government of Ecuador respects the principle of non-intervention in the internal affairs of other states.  It does not interfere in external electoral processes, nor does it favor any particular candidate." The actions taken "temporarily restrict access to some of its private communications network within its Embassy in the United Kingdom," the Ecuadorian government stated, adding, "This temporary restriction does not prevent the WikiLeaks organization from carrying out its journalistic activities."

"Ecuador's foreign policy responds to sovereign decisions alone and does not yield to pressure from other states," the statement concluded.
This statement raises questions about the timing and convenient meeting by John Kerry with Ecuadorian officials recently alleged by Wikileaks.
John Kerry was in Colombia on September 26 to attend the signing of a peace deal between the Colombian government and the Revolutionary Armed Forces of Colombia (FARC), a terrorist group.
The U.S. State Dept denied the allegations saying, "While our concerns about Wikileaks are longstanding any suggestion that Secretary Kerry or the State Department were involved in shutting down Wikileaks is false." Also adding that the "reports that Secretary Of State John Kerry had a meeting with Ecuadorian Officials about shutting down Assange's internet were also false," State Dept. spokesperson John Kirby, said.
Immediately following the outage of Assange's internet in one of the three hashtags that Wikileaks posted included John Kerry's name – suggesting that the international whistle-blower organization may have some dirt on the current Secretary of State. He has recently been bombarded with claims that he took one out of the Clinton handbook and was running pay to play schemes as Secretary Of State funneling money to his daughters charity.
What could Julian Assange and Wikileaks have on Secretary Of State John Kerry? What more do they have on Hillary Clinton? Stay tuned to We Are Change, where we will cover all this and more as it happens. Assange still has 30,000 some emails to release and he promises that they will all be released before the election on Nov 8th.
In an interview with Breitbart News Juanita Broaddrick broke down telling her full story in vivid detail of how Bill Clinton had raped her years ago in her hotel room in Arkansas 1978, and subsequently how she believes that Hillary knew that Bill had raped her based off Hillary's behavior afterward and that Hillary helped cover it up and threatened her.
Juanita Broaddrick started off describing the moment that she and the Clintons arrived at a private Clinton fundraiser Juanita was invited to in 1978.
Broaddrick was a volunteer for the Clinton's campaign.  Juanita was to deliver checks from donors to the Clinton campaign that day but arrived earlier specifically to avoid the Clintons, instead she met Hillary face to face. After learning from the Clinton's driver that she was the talk of the entire ride over to the event.
"I just want to thank you for everything you are doing for Bill's campaign and its so nice to meet you." Hillary said.
Juanita responded with a nod and told her friend, "Let's go",  feeling uncomfortable that the Clintons had talked about her.  That's when something happened that Juanita will never forget. Juanita Broaddrick detailed the moment that Hillary grabbed hold of her arm stared her in the face with an angry look and said to her a frightening statement in a low voice, "Do you understand? Everything that you do?"
That statement is why Juanita Broaddrick feels that Hillary Clinton potentially knew that her husband Bill Clinton had raped her. Comforted by Kathleen Willey, another alleged Clinton rape victim, Juanita Broaddrick trembled, crying, saying, "She is still afraid of Bill Clinton and asserted that she is frightened by the idea that Hillary Clinton could be President of the United States."
"And they come in early from the kitchen area. And just before they do, a gentleman who had driven them from the airport comes straight over to me. He was supporting Clinton but he didn't know what had happened to me even though he was a friend. And he said the topic of the conversation all the way from the airport was about you.

"And that startled me. And I knew I had to get out of there. Well, just as he moved, here comes Hillary straight for me. And she gets to me and she starts saying,  'I just want to thank you for everything you are doing for Bill's campaign. And it's so nice to meet you.'  And all of these things.

"So I just nodded and I told my friend, 'Let's go.' And I thought somebody from behind had grabbed a hold of my arm. But it was her. She grabbed a hold of my arm and my hand and she pulls me into her. And she says with this very angry look on her face, which had been so pleasant seconds before. And in a low voice, says, 'Do you understand? Everything that you do.' And that frightened me."
Wikileaks confirmed earlier suspicion that a state party was behind cutting off Julian Assange's Internet access in the Ecuadorian embassy. Wikileaks tweeted, "We have activated the appropriate contingency plans." Then followed through with a series of cryptic tweets appearing to rbe switches, if something is to happen inevitably to it's founder Julian Assange. Later confirming that Ecuador shut off Julian Assange's internet access following his release of Clinton's Goldman Sach's transcripts.
The scripts expose her private opinion on issues with Investment Bank's executives in Wall St, her big donors. In one of the leaked transcripts, Hillary told a Goldman Sachs conference she would like to "intervene secretly in Syria." Showing she is eager to get in office and pander to the war hawks and military industrial complex.
"My view was you intervene as covertly as is possible for Americans to intervene,"

~Hillary Clinton
Now Julian is facing a threat, potentially to his life, since Julian has been barred up in the Ecuadorian Embassy. He was recently targeted by an unknown attacker suspected of being an assassin who tried to climb in his window at the embassy earlier in August during the morning hours at approximately 3 a.m. Without access to the internet and the safety of live stream, Julian Assange could be murdered, dragged out of the embassy, have his rights violated, etc. Hillary Clinton was caught in her emails saying "why can't we just drone the guy" when referring to Assange.
Other political pundits like Bob Beckel have also called for the assassination of Wikileaks Founder. Beckel was caught in 2010 saying to "shoot that son of bitch" when referring to Julian Assange.
Shortly after confirming that the Ecuadorian embassy had shut off Julian Assange's internet access, Wikileaks dropped the 5th installment in John Podesta's email leaks revealing more bombshells after bombshells about Clinton and her campaign's inner workings. The organization has already published over 12,000 Podesta emails online since starting the dump last Friday. With this latest release it brings the total number of Podesta emails now in the public to over 15,200.
Wikileaks also confirmed that Julian Assange is still alive, and that the cryptic tweets which contained pre-commitment hash codes, that sent the internet into a frenzy speculating a "dead mans switch." Wikileaks reiterated that it was a precautionary measure for it's founders safety i.e. the organization's contingency plans.
Let us remember that Assange is only the messenger of this data, he is the one that is providing the platform Wikileaks to be an outlet to expose and reveal Hillary and her campaign's vast corruption. As Obama said, "The only people who don't want to disclose the truth are people with something to hide." What more does Hillary Clinton and her campaign have left to hide?
Stay tuned to We Are Change as we breakdown the Wikileaks, John Podesta email leaks that could potentially ruin Hillary Clinton's chance at the U.S. presidency "if it catches fire" like, Assange said. Right now, its a brush fire but if it can become a forest fire. Hillary's campaign may be over, along with her staffers careers.
In Beyond Science, Epoch Times explores research and accounts related to phenomena and theories that challenge our current knowledge. We delve into ideas that stimulate the imagination and open up new possibilities. Share your thoughts with us on these sometimes controversial topics in the comments section below.
Petrified wheel tracks found in various locations, including parts of Turkey and Spain, were left by heavy all-terrain vehicles some 12 million to 14 million years ago, according to Dr. Alexander Koltypin, a geologist and director of the Natural Science Research Center at Moscow's International Independent University of Ecology and Politology.
This is a controversial claim, since human civilization is only thought by mainstream archaeologists to extend back several thousand years, not millions of years. That's not to mention the idea of a prehistoric civilization advanced enough to have such vehicles.
The wheel tracks cross over faults formed in the middle and late Miocene period (about 12 to 14 million years ago), suggesting they are older than those faults,Koltypin said on his website.
At the time, the ground would have been wet and soft, like a malleable clay. The large vehicles sank into the mud as they drove over it. Tire ruts at various depths suggest that over time the area dried out. Vehicles were still driving over it as it dried, Koltypin said, and did not sink as deeply.
The vehicles were similar in length to modern cars, but the tires were about 9 inches (23 centimeters) wide.
The vehicles were similar in length to modern cars, but the tires were about 9 inches (23 centimeters) wide.
He said geological and archaeological works that contain information about these ruts are few and far between, especially in English. Such references usually say the tracks were left by carts pulled by donkeys or camels.
"I will never accept it," he wrote of these explanations. "I myself will always remember … many other inhabitants of our planet wiped from our history."
Koltypin maintains that the tracks could not have been left by lightweight carts or chariots, as the vehicles would have been much heavier to leave these deep impressions.
He has conducted many field studies in various locations and reviewed published studies on the local geology extensively. He hypothesizes that anetwork of roads spread through much of the Mediterranean and beyond more than 12 million years ago.
These thorough-ways would have been used by people who built underground cities like that at Cappadocia, Turkey, which he theorizes are also much older than mainstream archaeology holds.
Mainstream archaeologists attribute many of the tracks to various civilizations at different time periods. But, Koltypin said it is not right to attribute identical roads, ruts, and underground complexes to different eras and cultures.
He instead attributes them to a single, widespread civilization in a distant age. Multiple tumultuous natural occurrences—such as tsunamis, volcanic eruptions, flooding, and tectonic disturbances that have left major fractures in the Earth—have wiped out much of the remains of this advanced prehistoric civilization, he said.
http://www.theepochtimes.com/
This work is licensed under a Creative Commons Attribution-Share Alike 3.0 License
---
Sign up become a patron and Show your support for alternative news

We use Bitcoin Too !  
12HdLgeeuA87t2JU8m4tbRo247Yj5u2TVP