Luke Rudkowski of We Are Change was recently at the Occupy Wall Street event and noticed Lupe Fiasco hanging out with the crowd of protesters. Lupe wanted to know who Luke was and after talking for 20 minutes about the past work of We Are Change and our mission, Lupe gladly agreed to do the interview. Lupe gets into great detail about 911 truth, the new world order and most importantly solutions to the problems we face today. We thank Lupe for not only his words but positivity and knowledge he shares with millions of people through his music.
Apologizes for the audio cutting out in the last two minutes, we are working with a $10 mic and no budget. Also be aware strong language is used during the interview.
http://www.facebook.com/LukeWeAreChange
http://www.twitter.com/LukeRudkowski
Music: Lupe Fiasco – Words I Never Said ft. Skylar Grey
http://www.youtube.com/watch?v=22l1sf5JZD0&ob=av2e
Learn More About Lupe Fiasco Here http://www.lupefiasco.com/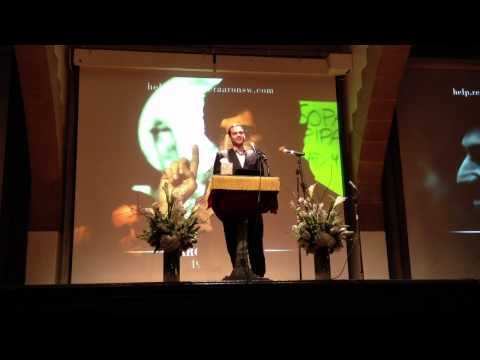 David Segal, friend of recently deceased  Aaron Swartz gave a speech at a memorial service at the great hall of Cooper Union in NYC on January 19th 2013. David Segal is the executive director of Demand Progress. David talks about discovering FOIA documents with Aaron, that detailed the spying of Aaron and his family.
To find out more about Aaron and the future projects dedicated to his legacy, check out this site http://www.rememberaaronsw.com/
Become a member of The Sponsor Lounge and get exclusive behind the scenes content while helping us grow! Join us today! http:///www.wearechange.org/donate
Check out our merchandise at http://wearechange.org/store/
Luke Rudkowski hits the streets of NYC to find out what people think about the possibility of Tyranny in the United States. Let us know what you think of the video in the comments section below.
Happy New Year 2013 From WeAreChange!
http://wearechange.org/donate Please consider donating to help us continue to make videos like this. We Are Change would not exist without YOU! http://wearechange.org/store Also support We Are Change by purchasing an item at our store!
http://twitter.com/lukewearechange
http://facebook.com/lukewearechange
I want to thank everyone in 2012 including the over 8 million viewers we had on this one youtube page that made our work possible. We had an incredible year and after everything that we experienced the bad the ugly the good and beautiful. One thing I learned is that with love, hard work and a positive attitude we can achieve anything.
Again thank you so much to everyone who donated to make this year possible.
Music by: Ratatat Song: Gettysburg
https://itunes.apple.com/us/album/classics/id180537852
http://www.ratatatmusic.com/news.html
Support us by subscribing here http://bit.ly/P05Kqb
to see more from Joy Camp check out their YouTube Channel http://www.youtube.com/thejoycamp

Follow Sierra @ http://twitter.com/sierra_adamson
Senator Charles Schumor refuses to offer any explanation when questioned on his vote for the National Defense Authorization Act (NDAA) which gives the President the power to indefinitely detain American citizens without charge or trial.
To learn more about the NDAA: http://www.stopndaa.org
Become a WeAreChange Sponsor and get exclusive behind the scenes content while helping us grow! http:///www.wearechange.org/donate