By Charles McFarlane of Modern Farmer
Why Is The USDA Buying Submachine Guns?
"Submachine guns, .40 Cal. S&W, ambidextrous safety, semi-automatic or 2 shot bur[s]t trigger group, Tritium night sights for front and rear, rails for attachment of flashlight (front under fore grip) and scope (top rear), stock-collapsib[l]e or folding, magazine – 30 rd. capacity."
In May, the USDA's Office of Inspector Generalfiled a request for these weapons. But why exactly do they need them?
According to a USDA press rep, the guns are necessary for self-protection.
"OIG Special Agents regularly conduct undercover operations and surveillance. The types of investigations conducted by OIG Special Agents include criminal activities such as fraud in farm programs; significant thefts of Government property or funds; bribery and extortion; smuggling; and assaults and threats of violence against USDA employees engaged in their official duties," wrote a USDA spokesperson.
In the aftermath of school shootings by psychiatric drug users and the creation of fake or false flag shootings within schools, school administrators and local police have gone to the other extreme. The knee-jerk responses completely bypass valid questions such as "were the shooters on psych meds, or did this really happen as reported?"
Instead of seeking answers and questioning the incidents and their reports, excessively clamping down on security and reporting innocent behavior as suspicious has now reached the point of having children tazed or taken into custody, as in jailed, for absurdly harmless actions.
"They heard me get shot. They heard me scream for assistance. They were just two blocks away – but they were fifteen minutes from the end of their shift, and they went back to the station instead of coming to my aid."
By William Norman Grigg
Pro Libertate Blog
"I can't get killed for this job," observed one of Adam Basford's former colleagues in the Yakima Police Department, explaining why he had refused to come to Basford's aid during a hand-to-hand struggle with an armed suspect. "I thought we were going to get killed, so I had to leave you there."
That officer was one of three who were in a position to help on August 18, 2013 when Basford attempted to arrest Antonio Cardenas, a recently paroled felon who was suspected of aggravated assault with a firearm. Concerned over the safety of bystanders, including a young girl, Officer Basford didn't pull his gun. He found himself grappling with a younger ex-convict who was several inches taller and at least sixty pounds heavier, while every other available nearby officer found something better to do.
US attorney general's tenure has proven unhelpful to the five million victims of mortgage abuses in the US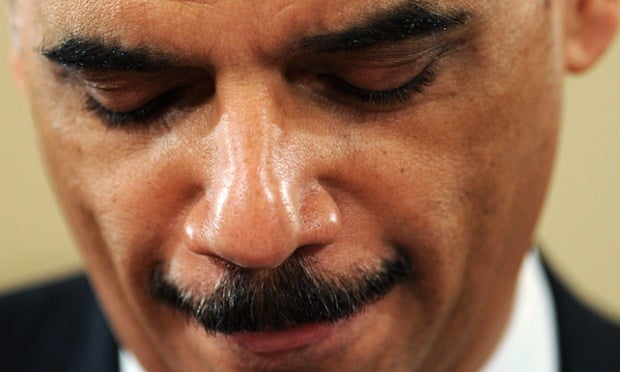 Holder has a mixed legacy: excellent on civil and voting rights, bad on press freedom and transparency. Photograph: JONATHAN ERNST/Reuters
David Dayen / http://www.theguardian.com
The telling sentence in NPR's report that US attorney general Eric Holder plans to step down once a successor is confirmed came near the end of the story.
"Friends and former colleagues say Holder has made no decisions about his next professional perch," NPR writes, "but they say it would be no surprise if he returned to the law firm Covington & Burling, where he spent years representing corporate clients."
A large chunk of Covington & Burling's corporate clients are mega-banks like JP Morgan Chase, Wells Fargo, Citigroup and Bank of America. Lanny Breuer, who ran the criminal division for Holder's Justice Department, already returned to work there.