www.yahoo.com

The Joint Chiefs of Staff of the U.S. military and American intelligence agencies have quietly pushed the White House in recent weeks to deny a new Russian surveillance plane the right to fly over U.S. territory. This week, the White House finally began consideration of the decision whether to certify the new Russian aircraft under the so-called "Open Skies Treaty." And now the question becomes: Will the spies and generals get their way?
The initiative's political target is the powerful pro-gun lobby, including the National Rifle Association, that spends millions of dollars each year to back gun-rights supporters.
Bloomberg's group, called Everytown for Gun Safety, will focus on state and local lawmakers, "corporate boards, and state and federal elections – fields of play formerly occupied almost solely by the gun lobby," according to a statement.
A study, to appear in the Fall 2014 issue of the academic journal Perspectives on Politics, finds that the U.S. is no democracy, but instead an oligarchy, meaning profoundly corrupt, so that the answer to the study's opening question, "Who governs? Who really rules?" in this country, is: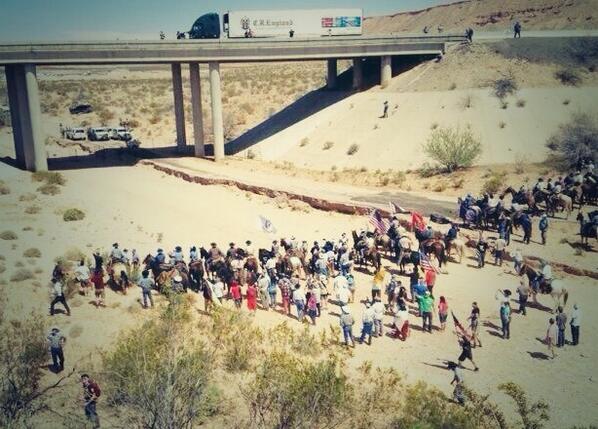 In an epic standoff that Infowars reporter David Knight described as being like "something out of a movie," supporters of Nevada cattle rancher Cliven Bundy advanced on a position held by BLM agents despite threats that they would be shot at, eventually forcing BLM feds to release 100 cattle that had been stolen from Bundy as part of a land grab dispute that threatened to escalate into a Waco-style confrontation.

Over the last week, we have extensively covered the showdown at the Bundy Ranch in Clark County, Nevada; today, things took a turn for the worse as militia from around the country mobilized and started making their way into Nevada.
The showdown started when Federal officials sent in Armed BLM agents to steal Cliven Bundy's cattle, and in the process closed off over 600,000 acres to the public. This land, which is used by hunters and fisherman throughout Nevada and Arizona, has been officially closed down by the BLM, who says it will remain closed until at least May 12th.
In a recent discussion on gun violence prevention programs, Attorney General Eric Holder told the House appropriations committee that the Department of Justice is considering smart gun tracking technologies, specifically:
"…so that we can make sure people have the ability to enjoy their Second Amendment rights while at the same time, decreasing the uh misuse of, um, of weapons that lead to, uh, the kinds of things we see on a daily basis you know where people, kids especially, um are struck down…"