Official story says a gun was found beneath the deceased man.
Salon / By Joanna Rothkop
A Savannah, Georgia man was  shot to death by police after he was found with a gun, kicking out the back window of a patrol car. Why was he kicking out a cop car's window? Because he had already been arrested. And handcuffed. Then how could he still have a gun? The story remains suspiciously cloudy.
CNN reports on the  strange death of Charles Smith:
The incident occurred shortly after 11 a.m. in the historic coastal city, Savannah-Chatham Metropolitan Police Chief Julie Tolbert said. Tolbert has asked that the Georgia Bureau of Investigation look into the shooting.
With a wingspan of 130 ft, it will join others to "provide near worldwide coverage" in 2017.
by Megan Geuss http://arstechnica.com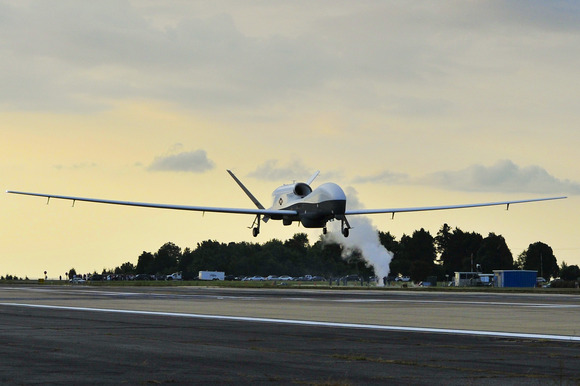 This morning, a giant Navy surveillance drone landed at Patuxent River base in Maryland after flying over the Gulf of Mexico and the American Southwest from an airfield owned by Northrup Grumman in Palmdale, California. The test flight represented the first cross-country flight for the MQ-4C Triton drone after 15 previous test flights.The drone flew 3,290 nautical miles over 11 hours, a Navy press release said. "Operators navigated the aircraft up the Atlantic Coast and Chesapeake Bay at altitudes in excess of 50,000 feet to ensure there were no conflicts with civilian air traffic," the release noted.
Posted by Austin Petersen http://thelibertarianrepublic.com
A new Reuters poll which asks Americans if they would want their state to secede from the UNION of the United States has found that 1 in 4 Americans would say "yes."
Reuters reported that secession was supported mostly from the usual suspects such as Republicans over Democrats, right leaners, lower income brackets, high school over college grads, etc. However, there was also a surprising amount of support in almost every group and region overall.
From Reuters:
Secession got more support from Republicans than Democrats, more from right- than left-leaning independents, more from younger than older people, more from lower- than higher-income brackets, more from high school than college grads. But there was a surprising amount of support in every group and region, especially the Rocky Mountain states, the Southwest and the old Confederacy, but also in places like Illinois and Kansas. And of the people who said they identified with the Tea Party, supporters of secession were actually in the majority, with 53 percent.
ARTURO GARCIA http://www.rawstory.com/
Arizona Sheriff Joe Arpaio downplayed his department's impending loss of military-grade weaponry that he was defending just last month, KTVK-TV reported.
"It really doesn't mean anything," Arpaio said at a press conference on Tuesday. "Look at the handguns. They probably don't work anyway. We have plenty of our own."
Arpaio and the Maricopa County Sheriff's Department have four months to return about 200 weapons, including M-16 and M-14 rifles, as well as two armored vehicles, five helicopters, and 158 pairs of night vision goggles they have acquired through the Defense Department's Excess Property Program, commonly known as the "1033 program."
The department will reportedly ask for an extension on one of the helicopters, saying that one they ordered as a replacement will not be ready until March 2015.
Overall, 100 departments around the country were suspended from the program, which provided local law enforcement agencies with surplus military equipment. Arpaio defended the initiative in an interview with The Arizona Republic last month.
"We want this military surplus so we have enough firepower to protect ourselves and the public," Arpaio was quoted as saying.
However, his department was "terminated" from the program after reportedly losing nine weapons since 1993. Arpaio said last month that between internal audits found between 20 and 22 firearms had "vanished" from his department, with several of them being taken home by officers after they retired.
Arpaio said on Tuesday that his department has replaced most of the weapons it received through the 1033 program with more modern firearms, and plans to buy new night-vision goggles, as well.
"We were buying those anyway," he said. "We have the money."
by Jon Fingas | @jonfingas | http://www.engadget.com
The US government's threat that it would fine Yahoo $250,000 per day back in 2008 was bad enough by itself, but declassified documents show that the penalties could easily have been much, much worse. Marc Zwillinger and Jacob Sommer (who were on Yahoo's side in the case) note that $250,000 was merely the baseline, and that the requested fines would double for every week that Yahoo refused to hand over user data. There wasn't a ceiling, either. At that rate, holding out for any significant amount of time would have been impossible — Yahoo would have lost all of its assets, or $13.8 billion, in just over a year. As such, the fine wasn't so much a punishment as a weapon that forced the internet firm to comply with a surveillance order it was planning to contest in court.
By MIKE VILENSKY http://blogs.wsj.com
New York Senator Liz Krueger will introduce a bill seeking to legalize marijuana for general use in New York state, she said on Sunday, hoping the recent passage of medical marijuana laws will help give the bill momentum.
Ms. Krueger, a Democrat representing Manhattan for more than a decade, said that in the legislative session beginning in January, she will fight for a bill modeled partly on cannabis legalization laws that recently went into effect in Washington and Colorado.