Abby Martin interviews peace activist and author, Miko Peled on the latest violence gripping Gaza, following the kidnapping of three Israeli teenagers and the militarized response by Israel's defense forces.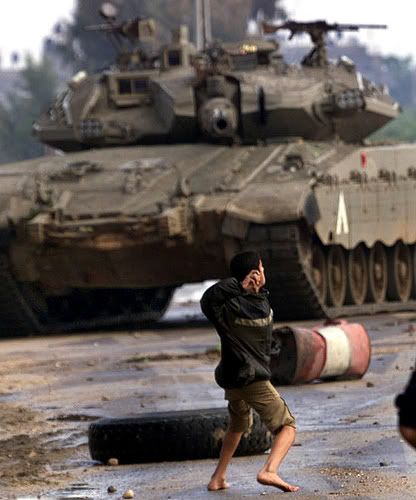 The number of Palestinian children held in solitary confinement, subjected to harsh interrogation and general mistreatment in Israeli prisons is increasing, according to a report released on Monday by an international non-governmental organization.
The report was released by Defense for Children International – Palestine (DCI-P), a monitoring organization that focuses on the treatment of children in areas of conflict, and details the treatment of Palestinian children between the ages of 12 and 17 in the occupied West Bank throughout last year.
DEVELOPING: Josie Wales, a.k.a. Josie The Outlaw's Facebook page has just been deleted without warning.This has happened more than a week after another freedom-centered Youtuber Stefen Molyneux's channel was disappeared without violating any of Youtube's policies. The trend of Youtubers losing channels without provocation hit a critical point with the dissipation of Mark Dice's channel.  
Israeli security forces have detained a camel alleged to have "infiltrated" a "military zone" near Bethlehem, taking the level of arbitrary arrests and harassment of young Palestinians to a new low.
The head of Rashaida village council, Fawaz Rashaydeh, told Quds news agency that Israeli soldiers arrested the camel belonging to Moslim Younis Rashaydeh and took it to the Ma'ale Adumim settlement near Bethany. The soldiers arrested the camel's owner at the same time and forced him to pay a fine of 2,000 shekels for the return of the animal and an additional 600 shekels as a "transfer fee". Rashaydeh accused the Israelis of acting with intent to drive Palestinians from their land to the east of Bethlehem.
www.rt.com


The two police officers acquitted of violently killing a homeless man in California still might face federal charges as the FBI prepares to reexamine the case.
Testimony and evidence entered during the trial surrounding the  death of a schizophrenic homeless man from California will be  examined by the Federal Bureau of Investigation, an FBI  spokesperson said Monday.
Stunning Hypocrisy
The big banks have laundered hundreds of billions of dollars for drug cartels. See this, this, this, this, this and this (indeed, drug dealers kept the banking system afloat during the depths of the 2008 financial crisis).  
The HSBC employee who blew the whistle on the banks' money laundering for terrorists and drug cartels says said: "America is losing the drug war because our banks are [still] financing the cartels", and "Banks financing drug cartels … affects every single American".