ALEX CLARK-YOUNGBLOOD / http://panampost.com/
Alaska, Oregon, DC, and Florida Demonstrate Diverse Approach to Ending Prohibition
November's midterm elections represent the next phase of marijuana legislation reform in the United States. Marijuana reform efforts will be put to a vote in Alaska, Oregon, Washington, DC, and Florida.
This year's ballot measures come on the heels of 2012's initial wave of legalization in Colorado and Washington, but a close look reveals significant differences between each of them.
Alaska
The details of Ballot Measure 2 in Alaska are similar to those within standing Colorado law. Alaska residents over the age of 21 would be allowed to possess up to an ounce of marijuana, while cultivating a maximum of six plants in their home.
By: Barry Donegan / http://benswann.com
In child support cases, courts sometimes force people to pay back the government's welfare contributions to a child, even in scenarios when the person being ordered to pay support is not actually the child's parent. According to WXYZ-TV ABC 7 Detroit, Detroit man Carnell Alexander is facing that exact situation after an ex-girlfriend of his listed him as the father of her child on an application for welfare benefits. Despite the facts that a DNA test proved that he is not the father and his ex-girlfriend agrees that he should not have to pay support, the State of Michigan is ordering him to either pay back the nearly $30,000 worth of welfare contributions it paid to the child's mother or go to jail.
Robert W. Wood / http://www.forbes.com/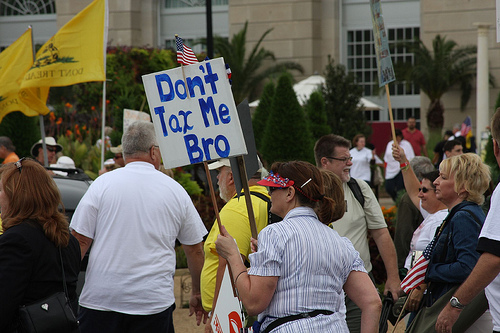 The right to protest may be fundamental, but tax protests seem to be treated differently than many others. Despite free speech protections, some arguments about taxes seem almost as incendiary as yelling 'fire' in a crowded theater. Even the Canadian government is cracking down on tax protesters. The Canada Revenue Agency just executed nine search warrants as part of an investigation into tax evasion involving suspected tax protesters.
About 80 tax investigators were joined in the operation by officers from the Sûreté du Québec. Canadian Revenuers are always on the lookout for illegal tax schemes and those who promote them and so is the IRS. In the U.S., a tax protester usually means someone denying the authority of the IRS. In 1998, Congress prohibited the IRS from labeling people as "illegal tax protesters." Congress even ordered the IRS to purge the "protester" code from the computer files of 57,000 Americans.
By Christopher Ingraham / http://www.washingtonpost.com/
No pressure, Colorado and Washington, but the world is scrutinizing your every move.
That was the take-home message of an event today at the Brookings Institution, discussing the international impact of the move toward marijuana legalization at the state-level in the U.S. Laws passed in Colorado and Washington, with other states presumably to come, create a tension with the U.S. obligations toward three major international treaties governing drug control. Historically the U.S. has been a strong advocate of all three conventions, which "commit the United States to punish and even criminalize activity related to recreational marijuana," according to Brookings' Wells Bennet.
The U.S. response to this tension has thusfar been to call for more "flexibility" in how countries interpret them. This policy was made explicit in recent remarks by Assistant Secretary of State William Brownfield, who last week at the United Nations said that "we have to be tolerant of different countries, in response to their own national circumstances and conditions, exploring and using different national drug control policies." He went on: "How could I, a representative of the Government of the United States of America, be intolerant of a government that permits any experimentation with legalization of marijuana if two of the 50 states of the United States of America have chosen to walk down that road?"
Are you tired of the secrecy and extreme Internet censorship proposals in the TPP? Be sure to check out our positive alternative, crowdsourced from over 300,000 people in 155 countries around the globe – learn more at Our Digital Future.
October 16, 2014 – This morning Wikileaks published a second leaked draft of the Intellectual Property chapter of the Trans-Pacific Partnership (TPP). The draft confirms people's worst fears about Internet censorship. That's according to community-based organization OpenMedia, which is leading a large international Fair Deal Coalition aimed at securing balanced copyright rules for the 21st Century.
Via Huffington Post
JPMorgan Chase CEO Jamie Dimon offered a grave warning on Friday about future cyberattacks.
Making his first public statement about the enormous data breach that roiled the bank this summer, Dimon said the company would spend $250 million a year to increase security and prevent future breaches, The New York Times reported.
"This is going to be a big deal and there will be a lot of battles," he said, according to a JPMorgan spokeswoman. "We need a lot of help."
The comments, which were also Dimon's first public remarks since he disclosed last summer that he had throat cancer, were made at a Washington conference organized by the banking lobby Institute of International Finance.
The cyberattack against JPMorgan affected the data of 76 million households and 7 million businesses, according to a regulatory filing.