In this video Luke Rudkowski interviews Australian public intellectual and Professor Clive Hamilton about this area of specialty Geo Engineering. In this video Clive tells us how Bill Gates, the Jason Group, CIA, raytheon and big oil companies are working on geo engineering.

He is a member of the Board of the Climate Change Authority of the Australian Government, and is the Founder and former Executive Director of the The Australia Institute. He regularly appears in the Australian media and contributes to public policy debates. Hamilton was granted the award of Member of the Order of Australia on 8 June 2009 for "service to public debate and policy development, particularly in the fields of climate change, sustainability and societal trends".
In this video Luke Rudkowski interviews journalist and film maker Tyrone D Murphy in London England about the infamous Groucho Club.

By Ashley Killough, CNN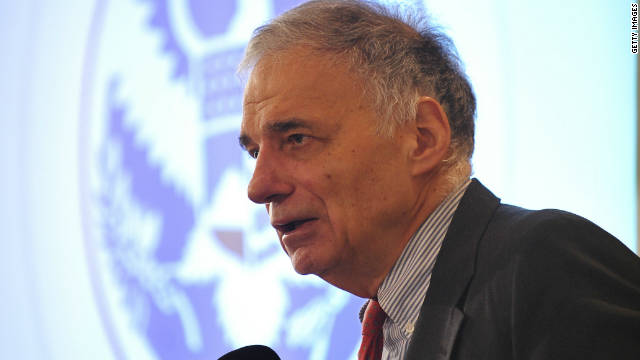 Ralph Nader: Rand Paul needs to 'become more like Ron Paul'
(CNN) — Former presidential candidate Ralph Nader had some biting words about Rand Paul, saying the self-described "libertarian-ish" lawmaker is retreating from his roots as he broadens his appeal for a potential presidential bid.
"What he ought to do is go back to his father, sit on his knee and become more like Ron Paul," Nader said in a new video published Monday.
Nader, a liberal consumer advocate who espouses left-libertarian views, ran for president as the Green Party nominee in 2000 and as an independent candidate in 2004 and 2008 and as a write-in candidate in 1992 and 1996.

In this video Luke Rudkowski confronts former U.N General Secretary Kofi Annan when he was delivering a speech in NYC about creating a New World Order. Sign up on our email list here http://eepurl.com/5_UHn
Special thanks to https://www.youtube.com/channel/UCdjDNuYRzt7HOD1ZR7WihAA for filming this with us. Please subscribe to her channel for other coverage in NYC
This is a speech that Kofi Annan gave in NYC at Baruch college that was titled "New World Disorder." We couldn't believe it ourselves so we wanted to post the full video of the former general secretary of the U.N talking openly about the plan for a New World Order.
Special thanks to https://www.youtube.com/channel/UCdjD… for filming this with us. Please subscribe to her channel for other coverage in NYC
In this video Luke Rudkowski talks to 5 time independent presidential candidate Ralph Nader about the 2016 elections and the ideas of libertarianism.3