BY GLENN GREENWALD AND MURTAZA HUSSAIN @ggreenwald@mazmhussain / https://firstlook.org
As the Obama Administration prepared to bomb Syria without congressional or U.N. authorization, it faced two problems. The first was the difficulty of sustaining public support for a new years-long war against ISIS, a group that clearly posed no imminent threat to the "homeland." A second was the lack of legal justification for launching a new bombing campaign with no viable claim of self-defense or U.N. approval.
The solution to both problems was found in the wholesale concoction of a brand new terror threat that was branded "The Khorasan Group." After spending weeks depicting ISIS as an unprecedented threat — too radical even for Al Qaeda! — administration officials suddenly began spoon-feeding their favorite media organizations and national security journalists tales of a secret group that was even scarier and more threatening than ISIS, one that posed a direct and immediate threat to the American Homeland. Seemingly out of nowhere, a new terror group was created in media lore.
The unveiling of this new group was performed in a September 13 article by the Associated Press, who cited unnamed U.S. officials to warn of this new shadowy, worse-than-ISIS terror group: 
HARRISON JACOBS / http://www.businessinsider.com
Joshua Wong/Wikimedia CommonsJoshua Wong, the leader of the Scholarism movement in Hong Kong.
Joshua Wong, 17, a student protester and the leader of the "Scholarism" movement in Hong Kong, has reportedly been arrested by police during a student protest.
Wong was arrested along with four other demonstrators at Hong Kong government headquarters and has been accused of police assault, Yvonne Leung Lai-kwok, president of the University of Hong Kong's students' union, told South China Morning Post. 
The United States has launched a huge number of drone strikes under President Obama.
It's widely accepted and extremely terrifying

Brian Doherty / http://reason.com
CSPANIn "'It's So Simple, It's Ridiculous'" (May 2004), I explored the exotic world of tax rebels-Americans who believe citizens have no legal obligation to pay income tax. They describe themselves not as mere "tax protestors" but as a "tax honesty" movement, since they believe honesty about the income tax means admitting that none of us legally owe it.
The movement's prospects looked bleak. "A sober assessment of the empirical evidence," I wrote, shows "that victories for the tax honesty movement (the occasional criminal acquittal or mistrial) lead inevitably to a later defeat (further convictions or civil seizures)."
While tax protestors fare no better nowadays, it's the tax collectors who are today making headlines by quibbling about how to interpret various tax laws. Congress has been investigating reports that the Internal Revenue Service (IRS) may have aimed unusually abusive information requests, denials of status, and bureaucratic foot-dragging at nonprofit groups with a conservative bent.
By Matt Agorist / http://thefreethoughtproject.com
What good are lapel cams and microphones if the cops are disabling them? Why aren't they being fired for this?
"No one likes to be monitored," says Sid Heal, recently retired commander who evaluated technology during his decades-long tenure at the Los Angeles County Sheriff's Department. And? If you do not want to be filmed and recorded don't be a cop.
According to the arstechnica.com, The Los Angeles Police Commission is investigating how half of the recording antennas in the Southeast Division went missing, seemingly as a way to evade new self-monitoring procedures that the Los Angeles Police Department imposed last year.
Roads blocked, banks and schools closed, as thousands join unprecedented demonstrations disrupting daily life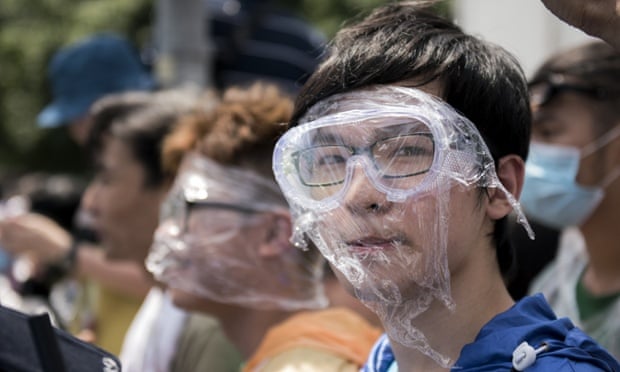 Tania Branigan / http://www.theguardian.com
Thousands of Hong Kong citizens protested across the city on Monday, blocking roads and prompting the closure of banks and schools, as they stepped up their calls for democracy.
Police attempts to use teargas to clear huge protests from Admiralty and Central in downtown Hong Kong late on Sunday backfired by spurring more people to take to the streets, with numbers peaking in the tens of thousands. Fresh protests sprang up in Causeway Bay and Mongkok, in Kowloon.
Parts of the financial hub, generally known for its orderliness, were paralysed by the demonstrators. The government announced on Monday morning that riot police had been taken off the streets as citizens "have mostly calmed down" and urged people to unblock roads and disperse.
http://thefreethoughtproject.com
Grand Junction, CO — Angel Lane Place, an 11-month-old baby girl has died as a result of injuries received while under the care of state-approved foster parents.
A 20-year-old woman from Grand Junction is facing charges in the death of Angel.
The Grand Junction Police Department said Sydney Danielle White told investigators she "accidentally dropped" the infant, Angel Lane Place, on the floor September 12, and then on September 15, grabbed her by the neck and shook her.
According to an arrest affidavit, White said that on the morning of September 15, Angel was screaming and she couldn't get her to stop. She told police she held the baby "by the neck with both hands and shook her multiple times." She said she stopped after one of her children then came into the room and said, "Mommy, stop it," and put Angel to sleep.

In this video Luke Rudkowski talks to the inventor of the Free 3D-Printable Hydroponics System, which is open sourced and available to you now. .
To find out more about the invention check out http://www.3dponics.com/
You would think war-themed video games copy real life, and not the other way around. Not this time. A Washington think tank has hired the maker of the acclaimed "Call of Duty" game to envision the kind of future wars the US could be fighting.
The key reason for this, according to the Atlantic Council think tank, is that, with all its money and capabilities, America really isn't thinking creatively about the various threats it could face in the 21st century.
Dave Anthony, the creator of the billion-dollar Call of Duty franchise, will be joining other authors, screenwriters and entertainment figures in an initiative called 'The Art of Future War Project,' set to launch next week, according to AFP.
AlterNet writer Max Blumenthal describes what he saw in Gaza following a humanitarian ceasefire from last month.
On September 25, in Brussels, Belgium, the Russell Tribunal gathered to examine allegations of war crimes and genocidal intent by the Israeli military against residents of the Gaza Strip during Operation Protective Edge. I was among those invited to provide testimony before a jury that included Michael Mansfield, John Dugard, Roger Waters, Ken Loach, Vandana Shiva, Richard Falk, Ahdaf Soueif, and Ronnie Kasrils. The following day, I presented testimony in the European Parliament alongside Israeli journalist David Sheen and Mohammed Omer, a journalist from the Gaza Strip. (Two other invitees from the Gaza Strip, Palestinian Committee on Human Rights director Raji Sourani and filmmaker Ashraf Mashharawi, were prevented from leaving the besieged coastal enclave by the Egyptian regime.) Here are the prepared remarks I delivered on September 25 before the Russell Tribunal:
I arrived in the Gaza Strip at the onset of a five-day humanitarian ceasefire on August 14. With the cessation of violence, I was able to gain unfettered access to residents who had borne the brunt of the Israeli ground invasion in the hardest hit border areas, places like Khuza'a, Shujaiya, Beit Hanoun, Rafah, and the villages surrounding Beit Lahiya. I recorded testimonies from scores of residents of these areas, documenting war crimes committed by the Israeli armed forces. The atrocities formed an undeniable pattern, suggesting that the crimes committed by Israeli forces in Gaza during Operation Protective Edge were the product of stated military policies, or at least rules of engagement that enabled massacres, summary executions, wholesale residential destruction, the use of civilians as human shields, and abductions. I will describe these atrocities in as much detail as possible and allow the members of the jury to judge for themselves.
by CHARLIE SMITH / http://www.straight.com
Images like these are being blocked from being seen within China.
CHET WONG
THE DEMOCRACY-BUSTING CHINESE government in Beijing appears to have taken another step in stifling the sharing of information.
Numerous reports, including this one from Reuters, state that Facebook's photo-sharing service known as Instagram is no longer available in China.
It comes in the wake of a police crackdown on democracy protests in Hong Kong that sent more than two dozen people to hospital.
The hashtag #OccupyCentral has been used to disseminate many photos of police repression over Twitter.
"They heard me get shot. They heard me scream for assistance. They were just two blocks away – but they were fifteen minutes from the end of their shift, and they went back to the station instead of coming to my aid."
By William Norman Grigg
Pro Libertate Blog
"I can't get killed for this job," observed one of Adam Basford's former colleagues in the Yakima Police Department, explaining why he had refused to come to Basford's aid during a hand-to-hand struggle with an armed suspect. "I thought we were going to get killed, so I had to leave you there."
That officer was one of three who were in a position to help on August 18, 2013 when Basford attempted to arrest Antonio Cardenas, a recently paroled felon who was suspected of aggravated assault with a firearm. Concerned over the safety of bystanders, including a young girl, Officer Basford didn't pull his gun. He found himself grappling with a younger ex-convict who was several inches taller and at least sixty pounds heavier, while every other available nearby officer found something better to do.
By Haaretz
Most of the group's foreign recruits cross into Syria over the porous border from Antalya in Turkey.
By Haaretz
The Islamic State jihadist organization has recruited more than 6,000 new fighters since America began targeting the group with air strikes last month, according to the U.K.-based Syrian Observatory for Human Rights.
At least 1,300 of the new recruits are said to be foreigners, who have joined IS from outside the swathes of Syria and Iraq that it controls.
The United States has launched some 165 air strikes on IS targets since early August. Other strikes have been carried out by the U.K and France, the latest a French attack on a logistics depot in Iraq on Friday.