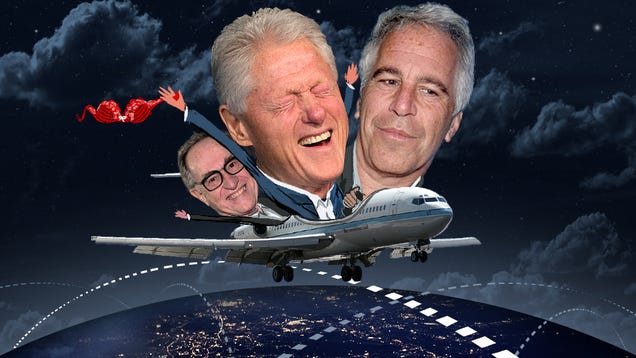 By Nick Bryant Gawker Bill Clinton took repeated trips on the " Lolita Express"—the private passenger jet owned by billionaire pedophile Jeffrey Epstein—with an actress in softcore porn movies whose name appears in Epstein's address book under an entry for "massages," according to flight logbooks obtained by Gawker and published today...
Metro News You could be forgiven for thinking that virtual reality is a gimmick, the preserve of the nerdy gamer or the techie that must have everything. Its uses are far-reaching, however, as this incredible video shows. In Eye Play the Piano, a young disabled boy wears a VR headset to play the piano using only his eyes.https://www.youtube.com/watch?v=VHXx7XTPULE...
Make Magazine The summer of 2013 found Michael Balzer in good health. A few years earlier, he'd struggled with a long illness that had cost him his job. As he recovered, he built an independent career creating 3D graphics and helping his wife, a psychotherapist named Pamela Shavaun Scott, develop treatments for video game addiction. Balzer's passion is technology,...
By Elizabeth Howell Space.com Elon Musk, the billionaire entrepreneur behind the private spaceflight company SpaceX, says he will unveil his concepts for Mars colonization later this year. In an "Ask Me Anything" session on Reddit Monday evening (Jan. 5), Musk told readers that the details of his Mars Colonial Transporter would be unveiled by the end of...
By Julian Ryall The Telegraph Japan has announced new laws to force workers to go on holiday. Japanese workers are so reluctant to leave their offices that they took less than half their holiday entitlement in 2013. The government now wants to raise that total to 70 per cent by 2020, according to the Yomiuri newspaper. In an uncertain economy, Japanese companies are...
Click here for video Kare 11 ST. PAUL, Minn. – A St. Paul exercise teacher celebrated a birthday today. Doesn't sound like that big a deal, as all exercise instructors DO have birthdays. The thing is, Lauretta Taggert is now 100 years old, and still teaching. Taggert celebrated her big birthday on Tuesday with friends at the Riverview Highlands senior...
By Hannah Parry and Jo Davies The Daily Mail A schoolboy on a train was handed a 'Banksy' by a passenger claiming to be the elusive graffiti artist. Ben Azarya was handed the signed copy of an iconic print which he was told would be worth about £20,000 after he helped a stranger pick up his paints after the fell out of his bag. The man, on a train in...
By Sarah Knapton The Telegraph Paralysed patients have been given new hope of recovery after rats with severe spinal injuries walked again through a 'groundbreaking' new cyborg-style implant. In technology which could have come straight out of a science fiction novel or Hollwood movie, French scientists have created a thin prosthetic ribbon, embedded with...
By Edith Lederer Yahoo News U.N. Secretary-General Ban Ki-moon said late Tuesday that the state of Palestine will join the International Criminal Court on April 1, a high-stakes move that will enable the Palestinians to pursue war-crimes charges against Israel. The Palestinians submitted the documents ratifying the Rome Statute that established the court last...
By Oliver Milman The Guardian The City of Melbourne will offer homeless people free passes to the movies and swimming pools amid fears that the summer heat will prove to be a "silent killer" of those unable to escape it. The city's heatwave and homeless strategy sets out measures to help homeless people during the expected heatwave, delivered by six homelessness...
By Hayley Peterson Business Insider A Pittsburgh restaurant just banished tips and in return, started paying employees a $35,000 salary with benefits. The restaurant, called Bar Marco, is also giving its workers health care, 500 shares in the company, and paid vacation. "America needs to realize that working in the restaurant industry is an occupation,"...
By Alec Cope We Are Change The United States and its allies front the ludicrous image of "ending" war – only to leave a massive force that will continue combat operations. After 13 years, trillions of dollars and thousands of lives lost – nothing was accomplished. A "formal" ceremony was held, the United States and NATO then...
What Power Do You Have To Change The World? Speech By: Benjamin Hero [https://www.youtube.com/user/TheBenja…] Video Editor: Elina St-Onge...
In this video Luke Rudkowski talks about the moment in World War One where soldiers realized the power of humanity. Check out our 2nd channel http://www.youtube.com/subscription_center?add_user=LukeWeAreChange Support WeAreChange by Subscribing HERE http://www.youtube.com/subscription_center?add_user=WeAreChange Like Us on Facebook:...
In this video Luke Rudkowski tries to give some understanding and common sense to the current situation of 2 NYPD officers being assassinated in NYC. SOURCES: http://www.msnbc.com/rachel-maddow-show/the-unfortunate-rush-politicize-the-nypd-murders http://reason.com/blog/2014/12/21/in-the-rush-to-blame-everyone-for-the-sh...
In this video Luke Rudkowski breaks down the theories when it comes to the Sony North Korean Hacking Scandal. Sources: http://gizmodo.com/obama-sony-made-a-mistake-pulling-the-interview-1673268761?utm_campaign=socialflow_gizmodo_facebook&utm_source=gizmodo_facebook&utm_medium=socialflow http://rt.com/news/214167-goliath-sony-hack-google/...
What Is Change Media University? CMU is an educational resource for today's changing media landscape, a online journalism school without the burden of debt or outdated ideas and curriculum. We Are Change created a platform where aspiring journalists can achieve success and develop their careers without jumping through degrading corporate hoops. If you do not want to...
Jeff interviews independent journalist Luke Rudkowski of We Are Change, topics include: independent journalism making the mainstream media irrelevant, the death of the mainstream media, speaking truth to power, the future is live streaming, Change Media University at Anarchapulco, full power journalism training, simple affordable tools, Change Media is also a...
Inspired by 90-year old Arnold Abbott (arrested for feeding the homeless), We Are Change Colorado donates Nature's Path Organic bars and fruit to the homeless at the Denver Rescue Mission. Huge thanks to Christina Tobin – Founder of Free and Equal Elections – for donating the Nature's Path bars and sharing this idea originally! Importantly,...
Follow Us
@Lukewearechange
Coinbase Address:17zfAyA1kxieD7QzjRUDLrRPRxxfPDZxtD
LiteCoin Address:f6kzThQqZqRihp9PGP9ZGJdpkxEyAokv6
AnonCoin Address:ZMTiAXgK1nWBqCudPyLoE8RhSXdYjU2ZZ
Maxcoin Address:mNh9UbExUY2mSU7nsaVgL3TSE5znPkdCt3
PrimeCoin Address:AJcUwjAnMbXtP4Wk3PhGFCxqbzCpFJUFaP
FeatherCoin Address:6sZBcEHkqTkKVoMjTLJYzkBpp2gYC95mNq
GoldCoinAddress:E8gVSikwdEMUjvHE3HH3nAVv8m8mQureah
Dogecoin Address:D7DeA1rwQGkpRaMLgQ1Z9jENLnrj6QvJJp
MazaCoin Address:MTtEvE3CAkCB4Z8A6XTQ5AaQyyatZ8TV4J
AuroraCoin Address:AYmQxhqBybZqnEEaKumUZTT7sGuc6pqpR5
StartCoin Address:sXArTqVtve2GtA3rXU384cWvCTAJpVPneB