Tom Engelhardt / http://www.thenation.com
This article originally appeared at TomDispatch.com. To stay on top of important articles like these, sign up to receive the latest updates from TomDispatch.com.
It happened so fast that, at first, I didn't even take it in.
Two Saturdays ago, a friend and I were heading into the Phillips Museum in Washington, DC, to catch a show of neo-Impressionist art when we ran into someone he knew, heading out. I was introduced and the usual chitchat ensued. At some point, she asked me, "Do you live here?"
"No," I replied, "I'm from New York."
By Julia Amalia Heyer / http://www.spiegel.de/
Last year, approximately one thousand Palestinian children were arrested by Israeli forces, often for no reason. Advocates point to systemic abuse, including beatings and forced confessions, but the Israeli military remains steadfast.
When the soldiers came to get him, Mahmood says, he wasn't afraid. He crumples a handkerchief in his hand while shaking his head. Maybe a little bit afraid, he mumbles, when the six soldiers pointed their assault weapons at him. Or when they bound his wrists with zip ties, covered his eyes and shoved him on the floor of their four-by-four.
On that warm summer night in early June, Mahmood recalls, he was walking down the village road with his friend Hussein. The two of them were discussing whether it would be possible to smoke rolled-up tobacco leaves like cigarettes. They saw the two military vehicles from far away, but they're not an unusual sight in Ya'abad; the Jewish settlement of Mevo Dotan is located on an opposite hillside and the
Israeli
army patrols through the surrounding Palestinian villages in order to protect the settlers. But then the vehicle suddenly stopped next to them.
In this video Luke Rudkowski talks to Tarak Kauff an organizer of Veterans For Peace, who organizes a demonstration every year at the Vietnam memorial in NYC. The goal of the demonstration is to fight the closer of the memorial at night and every year but this one dozens of veterans are arrested for standing their ground.

Eric Zuesse / http://www.washingtonsblog.com
Udo Ulfkotte, a former editor of Frankfurter Allgemeine Zeitung (which is one of Germany's largest newspapers), has decided to go public about the corruption of himself and the rest of the Western 'news' media, because he finds that this corruption is bringing Europe too close to a nuclear war against Russia, which he concludes the U.S. aristocracy that controls the CIA wants to bring about, or else to bring closer to the brink.
I've been a journalist for about 25 years, and I've been educated to lie, to betray, and not to tell the truth to the public. … The German and American media tries to bring war to the people in Europe, to bring war to Russia. This is a point of no return, and I am going to stand up and say … it is not right what I have done in the past, to manipulate people, to make propaganda against Russia, and it is not right what my colleagues do, and have done in the past, because they are bribed to betray the people not only in Germany, all over Europe. … I am very fearful of a new war in Europe, and I don't like to have this situation again, because war is never coming from itself, there is always people who push for war, and this is not only politicians, it is journalists too. … We have betrayed our readers, just to push for war. … I don't want this anymore, I'm fed up with this propaganda. We live in a banana republic, and not in a democratic country where we have press freedom. …
By SUSANNA KIM via GOOD MORNING AMERICA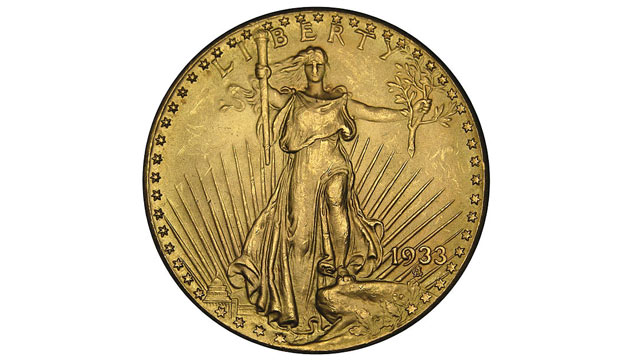 A judge ruled that 10 rare gold coins worth $80 million belonged to the U.S. government, not a family that had sued the U.S. Treasury, saying it had illegally seized them.
The 1933 Saint-Gaudens double eagle coin was originally valued at $20, but one owned by King Farouk of Egypt sold for as much as $7.5 million at a Sotheby's auction in 2002, according to Courthouse News.
After the U.S. abandoned the gold standard, most of the 445,500 double eagles that the Philadelphia Mint had struck were melted into gold bars.
By Grace Wyler / http://www.vice.com/
Bernie Sanders is angry. In fact, he's furious. He's mad about income inequality, and about the decades of economic policies and trade agreements that he says have gradually eroded the middle class. He's mad at Republicans in Washington, DC, who want to gut spending for entitlement programs like Social Security and Medicare. He's mad at House Speaker John Boehner for suggesting last week that the US might have "no choice" but to send ground troops into Syria. He's mad at everyone in Congress for not doing more to address climate change, or to rein in the financial industry after the 2009 economic meltdown. He's mad—really, really mad—about the Supreme Court's 2010 Citizens United ruling, and about the overwhelming political influence of corporate campaign contributors. He's mad at Democrats for not being mad enough. And he wants you to start getting mad too.
by Janet Fang / http://www.iflscience.com/
A two-week-old baby's very complicated heart surgery was made much simpler thanks to a 3D printed replica of the infant's tiny heart. Born with congenital heart defects, the patient had life-saving surgery at New York-Presbyterian Morgan Stanley Children's Hospital this past July.
"The baby's heart had holes, which are not uncommon with CHD, but the heart chambers were also in an unusual formation, rather like a maze," cardiac surgeon Emile Bacha of Columbia Presbyterian Hospital tells the CT Post. 
By Joe Coscarelli / http://nymag.com/
The latest video evidence of police brutality in New York City comes not via a bystander with a smartphone but from good old-fashioned surveillance footage. DNAinfo has the disturbing tapeshowing two officers catching up to 16-year-old Kahreem Tribble in Bed Stuy, just after 2 a.m. on August 29. The first cop takes a big swing at Tribble's face and misses. As the teen backs into a security grate with his hands up, the second officer runs up, gun drawn, and smashes him in the teeth with the weapon. Once on the ground, Tribble gets hit again. 
US police killed 77 people throughout the country in September, according to a compendium of local press reports compiled by volunteers on Wikipedia. Over the past week, police have killed at least 14 more people, while judges and prosecutors continued to protect the perpetrators of police violence.
Detroit judge throws out manslaughter charge against officer who killed 7-year-old Aiyana Stanley-Jones
Wayne County Circuit Court Judge Cynthia Gray Hathaway tossed out a felony manslaughter charge on Friday against a police officer who shot a 7-year-old girl during a raid in 2010.
Jones was killed as police were executing a "no-knock" search warrant for a homicide suspect in the two-apartment home. The police—members of the heavily armed Special Response Team—threw a flash grenade through an unopened window around 12:45 a.m. before charging in with guns drawn.
The division between police and citizens in this country continues to deepen with an incident out of Indiana caught on video showing a group of cops shattering a car window to pull out a passenger because he did not have identification.
Hammond police had pulled over the man's girlfriend because she had not been wearing a seatbelt, which as we saw in South Carolina, can lead to a cop opening fire on a driver trying to comply with their orders.
They then asked her boyfriend, Jamal Jones, for his identification, which she should not have been under any legal obligation to provide considering he wasn't driving.
BY DEANNA BOYD / http://www.star-telegram.com
FORT WORTH — A Fort Worth police deputy chief who fatally shot a German shepherd after the dog reportedly mauled his cat to death was arrested Monday on a warrant accusing him of cruelty to an animal.
Deputy Chief Kenneth Flynn, who was off duty when he shot the dog named Bentley, surrendered at the Tarrant County Jail Monday night and was immediately released on a $1,000 bond.
A woman present during the dog's shooting said she's upset that Fort Worth officers who initially responded to her 911 call didn't make a police report.
The woman, who asked not to be identified for fear of retaliation, said the investigation into the deputy chief's conduct did not begin until after she called back three hours after the shooting and asked dispatchers for a report number, only to learn that the officers had not made one.
By: Barbara H. Peterson / http://farmwars.info
Fear porn is running rampant. You've all heard the purveyors yelling "doom! doom!" at the top of their lungs every time another new and improved disease comes rolling down the pike. This year it is ebola. Last year it was the flu. Next year it will be something else.
But guess what? There are two very important things that you can do:
Bolster your immune system.
Turn down the volume on the fear porn.
Let's face it. If you eat garbage, your immune system is garbage. If your immune system is garbage, you will get sick. Just how hard is that to understand? Health depends on the immune system. Sure, there are genetic predispositions towards certain diseases, but with a bolstered immune system, they can be warded off.
So, if you want a nation of sick, compliant people who are more than willing to pay through the nose for the "cure," what do you do? Target the immune system. And that is exactly what is going on.
by Kye White / http://www.msn.com/
The drop in bitcoins price to a 12-month low overnight was the result of a sell wall on a prominent Western bitcoin exchange an attempt to manipulate the market, according to Bitcoins Reserve co-founder Sam Lee.
The arbitrage fund made money during the price tumble which saw bitcoin fall to a low of $US286 dollars overnight, down from around $US375 late last week. At the time of publication, bitcoin is trading at $US304.07, according to CoinDesk.
Roughly 30,000 bitcoins were offered for sale on bitcoin exchange Bitstamp at $US300.
By Richard Clough / http://www.bloomberg.com/
Led by Lockheed Martin Corp. (LMT), the biggest U.S. defense companies are trading at record prices as shareholders reap rewards from escalating military conflicts around the world.
Investors see rising sales for makers of missiles, drones and other weapons as the U.S. hits Islamic State fighters in Syria and Iraq, said Jack Ablin, chief investment officer at Chicago-based BMO Private Bank. President Barack Obama approved open-ended airstrikes this month while ruling out ground combat.
"As we ramp up our military muscle in the Mideast, there's a sense that demand for military equipment and weaponry will likely rise," said Ablin, who oversees $66 billion including Northrop Grumman Corp. (NOC) and Boeing Co. (BA) shares. "To the extent we can shift away from relying on troops and rely more heavily on equipment — that could present an opportunity."