Follow Luke @ http://www.twitter.com/LukeWeAreChange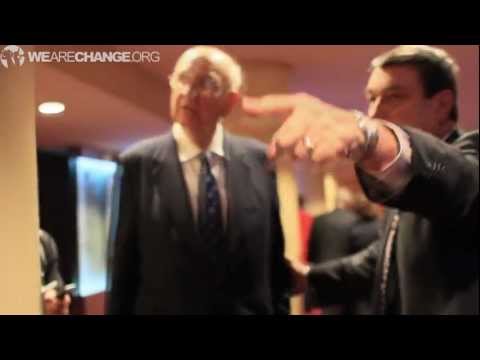 At a gala for the NY Economics Club, Luke Rudkowski questioned Paul Volcker on his Bilderberg attendance and the Federal Reserve. In a previous video, Volcker acknowledged being a member of Bilderberg and the Trilateral Commission but stated that the Federal Reserve was "the most insidious" organization he's been a member of. This time Luke had the opportunity to have a longer conversation with Volcker since he was lost at the event and couldn't find where he was supposed to be, so we had the interview as we helped him navigate around the hotel. As it turns out, the place we were helping Volcker find ended up being the room that Ben Bernanke was in waiting to have his picture taken, which is where Luke confronted him. Although Volcker was most likely not too pleased to have been confronted with the questions Luke asked him, he at least talked to us and didn't immediately call security as Bernanke did.
Watch the first video with Paul Volcker: http://www.youtube.com/watch?v=3yA-Yu0kI6c&feature=plcp
Watch the Ben Bernanke confrontation: http://www.youtube.com/watch?v=EMY70En6ud4&list=UUhwwoeOZ3EJPobW83dgQfAg&…
Song: "Sillyconductor" by Woolfia http://freemusicarchive.org/music/Sillyconductor/
Support us by subscribing here http://bit.ly/P05Kqb
Check out our merchandise at http://wearechange.org/store/
Become a member of The Sponsor Lounge and get exclusive behind the scenes content while helping us grow! Join us today! http:///www.wearechange.org/donate
Subscribe to stay updated!