Luke Rudkowski talks to Jeffrey Smith about what he heard over Police and Firefighter handheld radios on September 11th, 2001.
we started a design contest where you could win $300 please contribute at https://99designs.com/logo-design/contests/create-next-logo-change-109589/brief
SUPPORT THE RESISTANCE http://www.wearechange.org/?page_id=9453
http://www.facebook.com/LukeWeAreChange
http://www.twitter.com/LukeRudkowski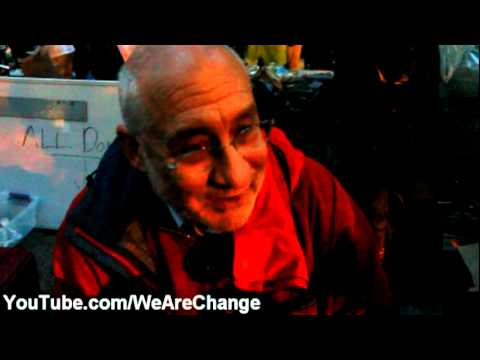 Help We Are Change produce more videos like this and continue our coverage of #occupywallstreet http://www.wearechange.org/?page_id=9453
Source for Geithner quote http://www.eutimes.net/2011/09/europe-stunned-after-being-told-obama-is-not-i…
Joseph Eugene Stiglitz, ForMemRS, FBA, (born February 9, 1943) is an American economist and a professor at Columbia University. He is a recipient of the Nobel Memorial Prize in Economic Sciences (2001) and the John Bates Clark Medal (1979). He is also the former Senior Vice President and Chief Economist of the World Bank. He is known for his critical view of the management of globalization, free-market economists (whom he calls "free market fundamentalists") and some international institutions like the International Monetary Fund and the World Bank. Read more at http://en.wikipedia.org/wiki/Joseph_Stiglitz
http://www.facebook.com/LukeWeAreChange
http://www.twitter.com/LukeRudkowski
September 9, 2011, 2:20 PM
9/11 'Truthers' to Tone Protests Down, for a Day
By COREY KILGANNON
"No bullhorning during the memorial."
That's always been the rule of thumb among "truther" demonstrators at ground zero on Sept. 11, out of respect for relatives of victims of the terror attack, said Mike Skuthan, 32, a Web designer from Long Island who attends the demonstrations every year.
But after this Sunday's memorial, Mr. Skuthan said, the bullhorns and signs will again be brought out and the groups will walk from one location to another in Manhattan chanting their message and engaging passers-by to help them call for a new investigation into the attacks.
"You have the usual chants — '9-11 Truth Ends Wars,' or 'Two planes, three buildings,' " Mr. Skuthan said. "The popular one this year will probably be, 'Ten years, no justice.' "
Members of the so-called 9-11 Truth movement range from extreme conspiracy theorists who believe that the Bush administration engineered the attacks to consolidate power, roll back civil liberties and help oil mogul friends. But then there are more moderate factions that simply insist that top government officials know more about the attacks than they have acknowledged, and then used then used the attacks as a pretext for invading Iraq. A large percentage of activists outline — often in great detail — what they call inconsistencies in government explanations of the attacks, which many call a governmental cover-up.
There are scores of somber memorial events on Sunday commemorating the 10th anniversary of the 2001 attacks — poignant prayer services, candlelight vigils and, of course, the official commemoration at ground zero.
But for conspiracy theorists, the day's poignancy is mixed with a renewed urgency to their demand for answers, and to dispute official explanations of the attacks. The slew of events leading up to Sunday include screenings of sept. 11-conspiracy films, and widespread "street action" protests. There are discussions by the leading proponents of so-called 9/11-truth theories, and even a spiritual service led by religious leaders who believe the public has not been told the whole truth about the attacks.
Because this is the 10th anniversary, and it falls on a weekend, "truthers'' are hoping to get their highest turnout ever for demonstrations, said Mr. Skuthan, who pitched in this year by making a popular Web site for "truther" events this weekend, including the locations of numerous "street actions."
The demonstrations may be more subdued this year, said Luke Rudkowski, 25, a journalist from Brooklyn.
Mr. Rudkowski is no shrinking violet. Armed with a video camera and a YouTube account, he has confronted the likes of Vice President Joseph R. Biden Jr.; Larry A. Silverstein, the leaseholder on the Trade Center; and Thomas H. Kean, a former governor of New Jersey who was chairman of the federal Sept. 11 commission.
In 2009, Mr. Rudkowski was arrested while attempting to question Mayor Michael R. Bloomberg about the lack of health care for emergency responders.
But when Mr. Rudkowski gathers with other activists at ground zero on Sunday morning near the official, private memorial service, he says, he will be in nonconfrontational mode.
READ MORE HERE http://cityroom.blogs.nytimes.com/2011/09/09/911-truthers-to-tone-protests-down-for-a-day/
Kurt Nimmo
Infowars.com
February 16, 2011
In the We Are Change video below, Marxist converted into card-carrying neocon David Horowitz reveals something not really surprising – he knows very little about September 11, 2001, or at least claims to know very little.
The events of September 11, 2001, define the pro-war, anti-Muslim agenda of the neocons, and yet Horowitz comes off as completely clueless. He is like a deer caught in the headlights. He is like a babe in the woods without his soap box at Fox News.
He feigns ignorance of the established fact that Mahmood Ahmed, then director of Pakistan's ISI, ordered Saeed Sheikh to wire $100,000 to hijacker Mohamed Atta. On the morning of the attacks, Ahmed had a breakfast meeting in Washington, D.C., with House and Senate Intelligence Committee chairmen, Rep. Porter Goss and Senator Bob Graham.
Horowitz is also clueless about the fact that six out of ten 9/11 commissioners doubt the official story and some suspect they were deceived by the Pentagon. The co-chairs of the Commission, Thomas Keane and Lee Hamilton, said that the CIA and the Bush neocons "obstructed our investigation."
The co-chairs of the Commissionadmitted that their report was driven by political considerations. In other word, it was steered by neocons in the Bush administration for the sake of creating an excuse to invade small countries and wantonly slaughter Muslims.
David Horowitz is a member of the neocon intelligentsia. It is difficult to believe he has no knowledge of the event that literally defines the neocons and their illegal wars against Arabs and Muslims, so far resulting in over a million and half calculated murders.
Of course, we have to take into consideration that Horowitz's main obsession is attacking people he was once associated with as a Marxist, so knowledge about the facts surrounding 9/11 come in at best as a distant second. He is also an enemy of libertarians and especially Ron Paul because Paul is opposed to the total warfare state and the neocon mass murder campaigns in Iraq, Afghanistan and Pakistan.
Stock up with Fresh Food that lasts with eFoodsDirect (Ad)
Horowitz may be dismissed as just another ideologue on the CIA's payroll. Horowitz's operation has taken money from Richard Scaife, the "philanthropic" billionaire who worked with the CIA. Scaife's Forum World Features, a foreign news service, was a CIA front that disseminated propaganda around the world.
In short, Horowitz indirectly works for the same people who pulled off the attacks of September 11, 2001.