Ferguson, Missouri, endured a fourth night of pitched battles between police and protestors
SWAT officers and 500 protestors faced-off in St. Louis suburb
Tear gas was then fired as the crowd chanted 'Hands Up! Don't Shoot'
Smoke bombs were also lobbed into the crowd after dark
Protestors responded by attempting to throw Molotov cocktails

Earlier two reporters were arrested and then released without charge
Demonstrations in the St Louis suburb were sparked by police shooting of an unarmed teenager Michael Brown on Saturday night

Missouri Governor Jay Nixon cancelled all appearances on Wednesday night and said he would visit Ferguson on Thursday
Ferguson, Missouri, endured a fourth night of pitched battles between police and protestors
Tony Blair gave advice to newspaper executive Rebekah Brooks on handling the phone-hacking scandal six days before her arrest, a court has heard.
NYPD and occupier exchange words followed by an arrest at Occupy Union Square. Follow Luke @lukewearechange for updates and instant notifications for when We Are Change goes LIVE at ustream.tv/wearechange.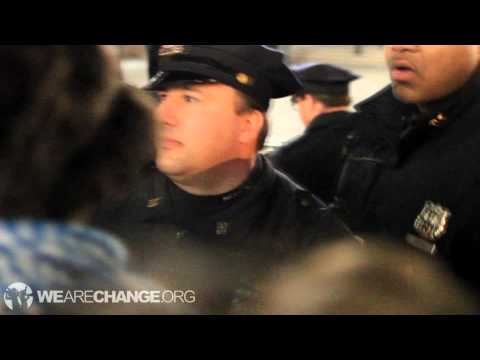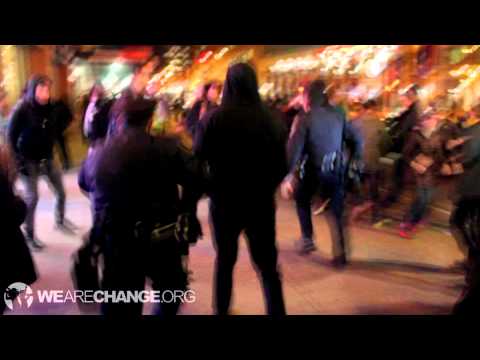 madness from the Big Apple. Recorded 1.29.12
support us
http://www.wearechange.org/?page_id=9453
http://www.facebook.com/LukeWeAreChange
http://www.twitter.com/LukeRudkowski
http://www.WeAreChange.org
Back in 09′ WAC Chicago spoke with Gov. Blagojevich about the BOA incident that led to his arrest the following day. He's been sentenced to 14 years in prison. Watch the video, spread the truth far and wide.
Detailed article from Infowars:
http://www.infowars.com/blagojevich-arrested-on-corruption-charges-after-going-up-against-bank-of-america/