Thomas Kean: "aftershocks" from planes caused collapse of WTC Building 7
On September 13th, 2011, Thomas Kean, Chair of the 9/11 Commission and Former Governor of N.J., gave a lecture for the The Drew Forum, a series of public lectures at Drew University located in Madison, New jersey. We Are Change was tipped off to the event by http://www.youtube.com/FreedumbFighter28 and attended. After the lecture, a question and answer session was opened up to the audience. When We Are Change asked Thomas Kean to address the collapse of WTC Building 7, which was not hit by a plane, and was not mentioned once in the 9/11 Commission Report, his answer was simply shocking.
Kean claims the Bureau of Standards Final Report on the collapse WTC Building 7 found that "aftershocks"
from the planes hitting the twin towers caused the foundation of Building 7 to weaken and collapse. First, it is important to note that the National Bureau of Standards changed its name back in 1988 to the National Institute of Standards and Technology, or NIST. Second, no where in NIST's Final Report does it say that aftershocks from the impact of the planes into the Twin Towers caused or even had a factor in the collapse of Building 7. In fact, NIST claims Building 7 was brought down by fire.
However, NIST's Final Report has come under harsh criticism from highly reputable sources. A recent documentary released by Architects and Engineers for 911 Truth, which you can watch for free right now (http://www.youtube.com/watch?v=lw-jzCfa4eQ), details meticulously the flaws and illogical conclusions brought forward by NIST.
How is it that the Chair of the most important criminal investigation of our lives doesn't even know the official government story behind the collapse of Building 7? Furthermore, why does he make up a theory that is more illogical and more preposterous than the official version released by NIST, essentially baking a layer cake of lies? I think it's time for a REAL 9/11 investigation.
SUPPORT THE RESISTANCE http://www.wearechange.org/?page_id=9453
Matt Meyer
We Are Change NY
October 28, 2010
It has been remarked that "all the world loves a clown". Thinking back to Stephen King's Pennywise or John Wayne Gacy's Pogo that might be debatable, but it is probably at least true that most people enjoy some form of well crafted humor or good satire. With that in mind many people may scratch their heads wondering why comedic talk show host Jon Stewart would be the recipient of serious questions regarding his stance on the events of September 11, 2001. Those same people may also scratch their heads wondering how, or even become angry at the suggestion that Jon Stewart's Daily Show is simply another layer of misinformation laid out by the corporatocracy to be mindlessly absorbed by the zombified "moderate liberal" segment of the well-trained population. The theses submitted for your approval here are that 1.) Jon Stewart is a well entrenched member of the establishment's mainstream media propaganda machine. 2.) The people putting on the "Rally to Restore Sanity" are the complete antithesis of what they claim to be – peaceful moderates who would rather talk things out and listen to the ideas of others. And, 3.) the Daily Show actually employs angry, sometimes violent, anti-American radicals and globalists who peddle the REAL conspiracy theories concerning U.S. domestic and foreign policy, geopolitics and science. Their conspiracy theories are then given a humorous spin and represented by funny pictures or captions on The Daily Show. These "funny" graphics are then placed next to Jon Stewart's face so he can proceed to mug, smirk and feign outrage, ultimately resulting in applause and laughter from his obedient audience. But in the end it's not real news, it's not fake news, it's propaganda peppered with jokes.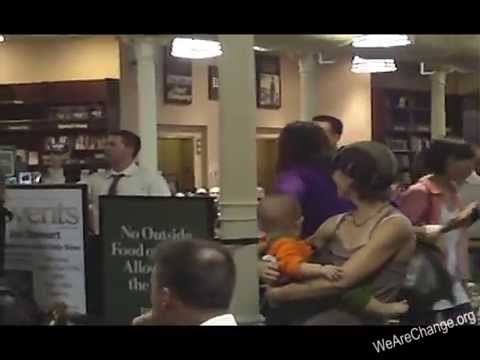 One month ago I was punched in the face by the executive producer of the Daily Show. I also had my camera damaged by another Daily Show writer, and had my shirt torn by Jon Stewart's security guard. Jon Stewart and the writers and staff of the Daily Show were appearing at a popular book store in Manhattan to present and sign copies of their new book of humorous pictures and captions. I was moved to peacefully confront Jon and ask him a few questions after watching his show a few nights earlier. On the September 16th installment of The Daily Show, before a gushing and edge-free interview with notorious criminal Bill Clinton, Jon announced his "Rally to Restore Sanity". He billed this as a rally for which people should "use indoor voices" and "take it down a notch for America". It was clear that this "Rally to Restore Sanity" was, in part, to be a mockery of the now co-opted and neo-conned Tea Party movement and its successful rallies featuring Glenn "the Judas Goat" Beck and the Palin the Pied Piper of soccer moms. It was also designed to poke fun at the more vocal elements of the anti-war movement. Essentially, the Daily Show had cooked up a rally for wishy-washy people who believed that other people were "insane" for being enraged by a corrupt and out-of-control government that increasingly ignores We the People, while bowing to Wall Street bankers, corporate interests and the military-industrial complex. Jon's rally was to be for those who think injustice, theft and mass murder should just be laughed off (and that sarcasm is what should pass for humor). Getting upset and then vocalizing it using the first amendment, apparently, were the actions of lunatics. Once again a mainstream media talking head was reminding us that the first amendment should really be used to express popular and benign ideas, not controversial ones. These stand-down orders disturbed me, especially in the wake of a watered-down liberty movement, but the "joke" that encouraged me to take action was Jon's mock protest sign suggesting that "9/11 was an OUTSIDE job". He was not, by the way, suggesting Israeli Mossad or British MI6 involvement. He was goofing on the many concerned, often credible individuals who reject the ridiculous and impossible "official story" of 9/11. Again, it was "insane" to question 9/11's official fable about cavemen with box cutters defeating a multibillion dollar defense, defying the laws of physics in the process. Yes, the hundreds of well-known military, intelligence service, and government officials, the engineers and architects, the pilots and professors, the members of media, artists and entertainers, the family members and survivors who rejected this nonsense – were all insane according to him. This was quite a dismissive and insulting statement by the diminutive comedian, but to his credit he did not launch into a clichéd "tin foil hat" reference. Still, I decided that I would question Jon when the opportunity came about.
The Incident
In the past I have peacefully confronted a number of well-known politicians and members of the mainstream media on both sides of the false left-right political spectrum about 9/11(Michael Moore, Sean Hannity, Nancy Pelosi, John McCain, Jimmy Carter, etc..). I've been shoved by cops and security, but never punched in the face before. On the evening of September 27th, 2010, I left work and headed alone to the Manhattan book store where Jon and the Daily Show writers were signing their new book. I happened to run into Luke Rudkowski and some other fellow members of We Are Change NYC in the bookstore, also hoping to question Jon. When I got the opportunity I asked Jon a polite, albeit unpopular question about his take on 9/11 truth.  He and the crowd mocked me and I left, heading down the escalator and outside the store. Some We Are Change NYC acquaintances and I were outside the store, hoping to ask Jon Stewart a follow up question. Instead, The Daily Show staff and writers came out before Jon.  The executive producer of the Daily Show, Rory Albanese, was belligerent and taunted us. He immediately used a common tactic of those who want to defeat the 9/11 truth argument without actually using facts – he used emotional appeal, telling us that we were disrespecting the victims' families. Like many who use this ad hominem approach he ignored the fact that 9/11 victims' families started the 9/11 truth movement. It is important to note that Albanese put his hands on me twice by this point, lightly shoving my body as well as my hand holding a camera. He stated that he would put his hands on me if he so chose. He was also looking to fight with others, and mentioned that he wanted to punch a We Are Change member's face because of his "knowledge". Soon after, another writer for the show, named J.R. Havlan, was engaged in a heated exchange with another We Are Change member, Matt Lepacek.  I was videotaping with my handheld camera as Havlan suddenly reached past two people to grab it – and proceeded to press and twist the viewfinder.  He succeeded in damaging the camera, so I repeatedly asked him why he did it and suggested that he might have to pay for the damaged property. He walked briskly away.
Believing that the camera was irreparably broken, I put it in my pocket.  Luke and the others with cameras had not made their way down the block just yet. I was walking along with Havlan and a few other writers as we all made our way down the sidewalk.  There was some general body bumping made towards me by some of the staff and writers, telling me to "just walk away" (although admittedly, they were not as physically imposing as the bad guys from The Road Warrior).  Once again, the aforementioned Rory Albanese was before me, blocking my path as Havlan crossed the street.  I did nudge him out of my personal space without much force, as I reached into my pocket to once again inspect my camera and see if I could use it.  Without warning Albanese landed a right handed, closed fist to the side of my face, which I did not see coming.  By all definitions it was a "sucker punch". I was stunned momentarily and when I came to, he had moved down the block, about twenty feet away.  I did react defensively at first and did suggest that I was going to hit him back, but Jon Stewart's security guard "Brian" grabbed me in a bear hug from behind.  I threw him off and he grabbed me again, ripping my shirt in the front.  Two other men stood between me and Albanese telling me to "just walk away".  At this point Luke arrived, helped calm me down and urged me to not hit Albanese, which I agreed to. (I was reminded of the arrest and false charges put on We Are Change's Gary Talis, who was eventually cleared of the charge of assaulting a woman in a wheel chair, as well as the false terrorist charges placed against We Are Change L.A.'s Bruno Bruhwiler.)  As I saw Albanese making his way around the corner I told an acquaintance to call the cops to report the assault, which was done.
My face was bruised and cut and I had a scratch on my nose.  Albanese, I was told, made his way to a local bar.  A while later he returned, right before the cops arrived.  We both approached the police – reporting different stories.  His consisted of me pushing him with two hands for no reason, when the reality was that he had already put his hands on me, had been harassing me, was blocking my path so his fellow Daily Show writer could leave, invaded my personal space, and then sucker punched me before taking off. Albanese was put in handcuffs and brought to the 14th street precinct.  I was brought separately, where I gave my statement and a photo of my wounds was taken.  Although I was told I would hear from the D.A. I never did.
One month later my cuts and bruises have healed, and I have realized it would be fruitless and a waste of time and money to pursue the matter. The important fact was that this incident was documented, and the NYPD (whose general attitude toward We Are Change is completely different than it was five years ago) helped make that happen. This is about a much larger point. The people holding the "Rally to Restore Sanity" are not moderate, rational or sane. Allow me to present that case.
The Reality About the People Who Want to "Restore Sanity"
Since 1999, Political satirist Jon Stewart has hosted The Daily Show on Comedy Central, owned by Viacom – the fourth largest media conglomerate in the U.S. Jon has gained considerable attention and respect for his ability to "deliver truth through humor". Many articles have been written about how his Daily Show delivers and assesses the news more accurately than the networks and cable. In recent times Jon was credited by the Huffington Post, NPR and other left-leaning outlets for his "hard hitting" interview with Mad Money's Jim Cramer. Now to be sure, Cramer is a suspect individual who is alleged to have used his show to "pump and dump" stocks (not mentioned by Jon). However, while Stewart took on Cramer for putting entertainment before journalism, did we ever hear Jon mention the Chief Operating Officer of the NYSE who presided over the infamous "flash crash" of May, 2010 – who just happened to be his brother, Larry Leibowitz? (Jon changed his last name.) Certainly not. On the day of that "flash crash" Jon had some pretty good zingers about "fat fingers", but alas an opportunity for some real insight from a real insider – his brother – was passed over. Larry Leibowitz is a former international investment banker who has served on a number of market and industrial committees, and again – is the current COO of the NYSE.
It is openly admitted that chicken hawk neoconservatives like William Kristol love doing The Daily Show, where Stewart might make them mildly uncomfortable for a minute, before jumping past the really hard hitting questions and shaking their hands with a smile. In the spirit of his "moderate liberalism" he has given a pass on real issues and war crimes to the likes of Doug Feith, John Bolton and Condoleeza Rice among others. How could a "sane" person joke around with the architects of an illegal, unjustified war that has resulted in hundreds of thousands of innocent people being dead? If neocons love doing his show, one can only imagine how the eugenics loving globalists who pose as concerned liberals on his show feel about it (Clinton, Gates, Gore, etc.). For proof of a globalist connection to the Daily Show, one need go no further than one of the show's Emmy Award winning writers, Kevin Bleyer, who is a member of the globalist round table group known as the Council on Foreign Relations, whose stated mission can only be described as the erosion of U.S. sovereignty. His Wikipedia entry proudly boasted about his CFR membership until recently, but it can still be confirmed elsewhere, like on the CFR's own website and Bleyer's Facebook page in which two of his five "likes" are the CFR and Foreign Affairs, the CFR's publication. In addition, Bleyer (who was one of the writers present on the night I was assaulted) is a Truman National Security Fellow, an organization that "recruits, trains, and positions progressives across America to lead on national security". It appears that Bleyer is positioned nicely. One of the Truman National Security Project's objectives is Operation Free, a particular project that "organizes military veterans to speak out on issues of climate change and sustainable energy security". One can assume that Bleyer will not be writing any comedic exposes of "Climate Gate" anytime soon. He may, though, continue to write jokes for Barack Obama as he has done in the past – another instance that makes one consider possible conflicts of interest for The Daily Show and its true range of political satire.
Certainly, there is nothing wrong with the peaceful assembly of individuals to support any cause. However, as individuals it is important to closely inspect those who are "rallying the troops", whether it's Glenn Beck, Sarah Palin or even Jon Stewart. The establishment loves to make reference to Hitler and the Nazis, but it may be appropriate here to point out that the people standing and saluting at Nazi rallies actually adored Hitler – and by no means were they all evil people. They were just misled. I believe the people attending the "Rally to Restore Sanity" are being misled – once again. What is being advertised as a gathering of moderate and sensible people to laugh away the implosion of the Constitution and the dollar, has actually been designed to dull the senses so as to repress the most sane reactions to looking at the state of our Union, which should be anger, frustration and a steadfast resolve to fight.
In April of 2009 Jon Stewart was completely honest, before retreating back behind the flashing, pixilated curtain he helps hold in place. In an interview with CFR and Project for a New American Century member Clifford May, Jon rebutted the neocon's defense of George W. Bush by stating that Harry S Truman was in fact a war criminal for his part in the atomic bombings of Hiroshima and Nagasaki. Considering the thousands of innocent Japanese civilians who were vaporized or radiated to death, it is difficult for any "sane" person to argue that Truman was anything less than a mass murderer, let alone a war criminal. Yet only a couple of days later in a cringe-worthy display, Jon pathetically apologized for calling Harry a war criminal, explaining that it was a "dumb" and "stupid" thing to say. Even Robert McNamara admits that the only thing that saved Harry and his crew from not being labeled "war criminals" was that they won the war. Never the less, maybe Jon really had a change of heart, or maybe he didn't want to insult his writer Kevin Bleyer, the Truman National Security Fellow. I guess only an insane conspiracy theorist would ponder such things.
Made to look like a hack, Thought Police Block Mega-Viral Anti-Establishment Documentary After More than a Year of Dominating Viewcounts, Ranking #1 in Search Engines and Waking Up Millions to the False Left-Right Paradigm Perpetuated by Obama
Aaron Dykes
Prisonplanet.com
July 19, 2010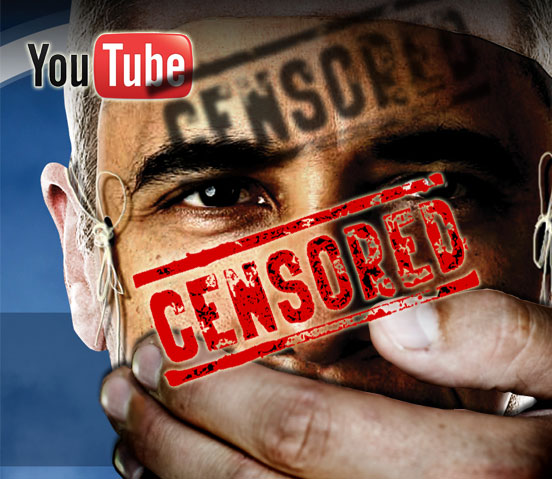 Alex Jones is on high-alert after someone managed to compromise the"ChangeDaChannel" You Tube account and criminally remove the most-viewed version of "The Obama Deception" available online, which had more than 6.5 million views and whose URL link ranked among the top of all "Obama" related searches.
The channel's owner was tipped-off about the breach, and was subsequently able to change the password and prevent further deletions of Alex Jones and other patriot documentaries. Both he and members of the Infowars staff believe the video could have only been pulled from behind the scenes at Google or by a government-level cybersecurity admin with access to YouTube records, as the passwords were carefully guarded and unlikely to be guessed at.
The film, which has been attacked before, was censored at a critical time. Just one day before on Friday's broadcast, Alex challenged activists to drive "Obama Deception" up in the search engines. Only a few hours later, Google trends rankings revealed that it was the #1 search term, above Lindsay Lohan, the BP Oil Spill or the death of George Steinbrenner. What's more, the viewcount grew by nearly 100,000 in that same single day, demonstrating the accelerated attention the film has been receiving. Further, as a result of topping the online trends charts, dozens of fresh reviews in online papers and blogs were published, including Blue Star Chronicles, Mahoo News and Live Street Journal.
"This was a criminal act, and You Tube needs to investigate, track the IP and find out who did it," Alex Jones said. "The Obama Deception was getting more and more popular, and the establishment doesn't like the fact that it exposes the Left-Right paradigm and identifies Obama as a puppet," he added.
Fighting back against the censorship of The Obama Deception and other patriot works is in your hands. Already, your hard work to promote and propagate this information has resulted in tremendous success. You are equally capable of responding to this negative act with a positive outpouring of numbers in the way of spreading the video, searching for the term and a million other ways of promoting the truth out there. Once again, it is up to you.
The Obama Deception has drawn fierce attacks since its release in March 2009– not only strong words attempting to discredit the powerful information the film puts forward, but in attempts to limit and block the film online. Nevertheless, an estimated 25 million have seen the film worldwide, thanks to hundreds of online versions and DVDs handed out by dedicated activists.
Even so, Google merchant and other shopping carts have blocked its sale after labeling the film as "anti," "hate" or otherwise "inappropriate." Before the film was even released, FBI officials asked suspiciously about the film during a visit to Alex's office, where they attempted to gather information about the documentary, office employees and other information. Earlier in the film's release, YouTube was caught fudging the viewcount and other statistics for the film. This past week, Alex Jones' Facebook was blocked for displaying a "Gadsden flag"– a key icon of the Revolutionary War–which drew ire. The Obama Deception was taken down only a few months ago after a false copyright complaint blocked it for several weeks, but was later restored. Even a "Christian" version of YouTube has censored an upload of the film.
Images of President Obama as "the Joker" created a stir last year as well– and it was clear from interference that free speech did not apply to those holding signs with the image at rallies or putting up posters around town or on social networking sites.
21ST CENTURY THOUGHT POLICE: INTERNET CENSORSHIP ALERT
A cadre of White House Intelligensia as well as a new breed of "Cyber Security" at the Pentagon have taken it upon themselves to regulate the Internet, conform "free speech" to their gated-and-streamlined Internet 2 model and "offensively" take on offending web entities. This action has been boldly led by the likes of Senator Jay Rockefeller, who in support of cyber security bill, stated that it might have been "better if we'd never invented the Internet." More dramatically, Joe Lieberman and others have called for Chinese-style censorship and enabling a "kill switch" at the behest of President Obama or his successors.
Further, a literal information war has been declared in the online space, a veritable frontier battleground for freedom in the 21st Century virtual world. CENTCOM announced its intention to "engage bloggers" and counter errors or "disinformation." The Air Force has a similar operation, as does the Pentagon.
Likewise, Obama's Information "Czar" Cass Sunstein outlined a report for the Journal of Political Philosophy recommending engagement on the part of the government to infiltrate conspiracy groups in order to undermine them via postings on chat rooms and social networks sites. Even more outrageously, he has envisioned a scheme to censor conspiracy theories or tax those who disseminate them. Supreme Court nominee Elena Kagan has also advocatedregulating political speech and even banning books.
The flag@whitehouse.gov program even asked supporters to identify "fishy" blogs or websites that might be promoting "disinformation" about health care or other aspects of the White House agenda. The same concept took place during the 2008 campaign where Missouri ran an add threatening to arrest critics who "told a lie" about Obama or promoted 'disinformation' such as claims that Obama was born in Kenya.
The web has become the most important public space for political discussion in the 21st Century, as has been very "democratic" in its access to blogs, alternative news, individual and even unpopular opinions, the promotion of ideas and candidates (regardless of budgets or notoriety), audio-visual and printed archives and other vital material that should be protected under Constitutional and democratic principles, but are instead being bullied.
Blocking information is not new, but will only accelerate in the realm of the 21st Century Internet. Opponents of freedom would like to silence widespread online dissent, and will only find justification for moving forward to shut it down and censor its content. The Constitution and Bill of Rights put in place strong protection for expression and personal belief, and a high-tolerance for free speech for a reason– especially when criticizing or questioning high officials and leaders.
OBAMA'S "CRISIS OF CONFIDENCE" IS ELECTION DILEMMA FOR DEMOCRATS
Cadres of angry Obama supporters have been attacking The Obama Deception since its released less than 2 months after Barack Obama's inauguration. Despite attempts to label the film as "racist" or "anti-government," The Obama Deception has reached many people, and unnerved the establishment so much, that Alex Jones reportedly made the supposedly leaked White House enemies list, proving that the film has undermined Obama's effectiveness.
Instead of being able to easily ram-through legislation with the aid of Democratic majorities in BOTH houses, Obama has been forced to fight for issues that are simultaneously gaining in their unpopularity with the public daily. Carbon taxes, the bailout for bankers, health care legislation, amnesty for illegal aliens– alongside the collapsing ecomony– have driven massive fury. All these issues and more have been covered in Alex Jones' controversial documentary since the dawn of the Obama Administration. The Fall of the Republic further expands that analyze and goes even deeper.
Top news pundits are now saying that the Democrats may likely lose control of not only the House, but the Senate as well in the November 2010 elections. Rahm Emanuel is fleeinghis Chief of Staff position; former Clinton Aides are speculating that only a terror attack like 9/11 or the Oklahoma City bombing save the Obama Administration, and bolster a political rescue from the angry uprising that has been unseating incumbents, supporters of Health Care and other unpopular legislation, but especially the Congressional Democrats.
With the upcoming midterm elections, the Obama White House is more desperate than ever to regain their credibility, silence those calling the Emperor "naked" and reign in the destruction of America to fit the schedule of his social-engineering masters.
SOLUTIONS: FIGHTING BACK FOR FREE SPEECH AND ON-LINE LIBERTY — A CALL TO ACTION!
As Paul Joseph Watson has recently observed, the lights are going out for free speech on the Internet. But the best defense against such strong attempts to censor and control the web, is to fight back with a full offensive. The same activists who've made The Obama Deception one of the most viewed online films of all time, and who've driven its name into the top of search trends can once again demonstrate to the powers to be that we are a force of significant numbers. Make it clear that we will never stop fighting and that we will see that this powerful film– and so many other activist tools– aren't shut down, and instead are spread everywhere into the physical and virtual world.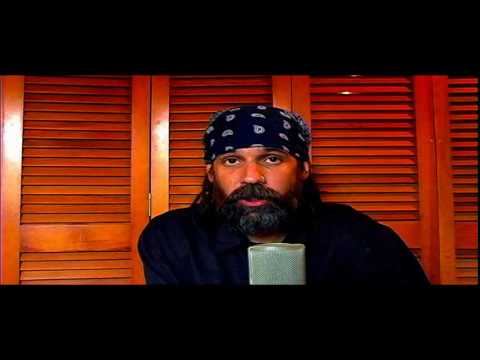 Fight back against criminal sabotage and outright censorship:
- by spending 5 minutes or so every time you go online to send "The Obama Deception" or "Police State 4? or "Endgame" into the top of Google, Yahoo, Bing and StartPage's search engines.

- break apart marketing for mindless celebrities or government "propaganda placement" and use the hype to bring attention to real issues of the day or powerful documentaries that tell the truth

- by spreading other links to The Obama Deception to your friends, family, coworkers and everyone else you know. Spreading these links will, in turn, make them more dominant in search engine results, and help drive the trend as well

- by sending out the new upload of The Obama Deception on Change Da Channel, featuring a warning by Alex Jones about how dire the need is to spread the film and stop the Internet policing

- using Facebook, Twitter, MySpace and other social networking sites to virally share "The Obama Deception" as well as key news articles

-pass out DVDs, pamphlets and flyers in the physical world to people you encounter, and keeping physical and offline archives of vital information that can survive outside of the increasingly-regulated Internet

-wherever it seems relevant, let your Congressman, city representatives, etc know that you support a free Internet; urge them to vote against a "kill switch" and to carefully guard against "cyber security" that is really surveillance and censorship.

- Get The Obama Deception on DVD and make copies forevermore or download the film in high-quality on PrisonPlanet.tv and share it with your familiars.
Share these working links to The Obama Deception:
MrV1420 – http://www.youtube.com/watch?v=KrpRocaEfQE
http://video.google.com/videoplay?docid=7886780711843120756#
http://www.ustream.tv/recorded/1250419
http://www.vidoemo.com/yvideo.php?i=ZUFhUU5BcWuRpQ3dhTHc&the-obama-deception-hq-full-length-version=
fearblocke – http://www.youtube.com/watch?v=F8pKq9FzmtQ
jh4t3d – (Spanish Subtitles) http://www.youtube.com/watch?v=VtAdmaXuaA0&feature=related
bedoboy – http://www.youtube.com/watch?v=kP_AdVVKFdM
Hashstarr – http://www.youtube.com/watch?v=85IEs4nCgfo&feature=related
stopcenzurze – (Czech Subtitles) http://www.youtube.com/watch?v=OVhRafT4AkA&feature=related
http://www.liveleak.com/view?i=9f6_1237453305
http://www.viddler.com/explore/Bootlead/videos/20/
http://vimeo.com/3676634
http://www.metacafe.com/watch/4706364/obama_deception/
Support youtube.com/ChangeDaChannel
Support youtube.com/TheAlexJonesChannel
Please continue to support Infowars.com and PrisonPlanet.com– we cannot do it without you.
Lawsuit: School administrator 'may be a voyeur' who spied on kids for personal gratification
A Philadelphia-area school district secretly took "thousands" of webcam photos of students in their homes and tracked their Web site visits and parts of online chats through spy software installed on the students' school-issued laptops, a Pennsylvania court heard yesterday.
In February, the family of Blake Robbins, a student at Harriton High School in Rosemont, sued the Lower Merion School District after the district admitted to them it had been spying on students via a remote-activated feature on the laptops it issued to all its 2,300 high school pupils.
In a motion filed in court on Thursday, Robbins' lawyers asserted that the school district had taken at least 400 snapshots of 15-year-old Robbins, including some of him sleeping. The motion also stated that "thousands of webcam pictures and screen shots have been taken of numerous other students in their homes," the Philadelphia Inquirer reports.
And in a strange twist to the story, the lawyers also suggested that Carol Cafiero, one of two school administrators with access to the spying technology, "may be a voyeur" who spied on students for her personal gratification, as some of the images taken by the laptops may have ended up on her personal computer.
The motion asks the judge to force Cafiero to turn over her home computer, which she has refused to do so far. Earlier this week, during a deposition, Cafiero pleaded the Fifth Amendment to all questions regarding her involvement in the alleged school spying.
Watching the students at home was like "a little [Lower Merion School District] soap opera," said a staffer in an email obtained by Robbins' lawyers.
"I know, I love it," Cafiero responded in a reply email, as quoted at the Inquirer.
If true, the allegations against Cafiero would realize privacy advocates' worst fears about the school district's monitoring of students at home: That the technology is all too open to abuse by those who would seek to exploit children.
So far, there have been no allegations that the cameras captured any images of nude students, which could fall within the definition of child pornography.
On Thursday, the judge presiding over the case in a federal courtroom in Philadelphia restricted access to the images to the lawyers involved in the case, reports KYW news radio. The school board says it will soon notify the parents of children whose pictures were taken by the spy software, and is working on a way to transfer the photos to the parents, the Inquirer reported Friday.
The latest claims made against the school district contradict what the district itself has said about the use of the cameras. In February, when news of the spy software broke, the school districtpublished a statement saying administrators had activated the monitoring system only 42 times, most of those in order to retrieve lost or stolen laptops.
But the allegations made Thursday suggest "there were 42 instances when they began intensive surveillance on the suspected stolen computers," reports tech blog Slashdot. "This consisted of (among other things) transmitting a picture from the laptop's webcam every 15 minutes. This may have gone on for weeks."
The school district announced in February it was shutting down the spy software, shortly after news of the spy software went public.
Robbins' family launched the lawsuit two months ago after Blake Robbins was called into a vice-principal's office and accused of taking drugs. As evidence, the vice-principal showed a photo of pills in Robbins' bedroom. The Robbins family said the pills were candy, and launched a class-action lawsuit alleging the school district violated Blake's right to privacy.
This week, Sen. Arlen Specter (D-PA), who held hearings into the Lower Merion School District's spying activities, introduced legislation limiting the use of surveillance software.
The proposed Surreptitious Video Surveillance Act of 2010 "would update the federal wiretapping statute to create serious criminal and civil penalties for secret, nonconsensual video surveillance inside any temporary or permanent residence, be it your house, your apartment, or your hotel room,"reports the Electronic Frontier Foundation.
Here is news of the Third World War. The United States has invaded Africa. US troops have entered Somalia, extending their war front from Afghanistan and Pakistan to Yemen and, now, the Horn of Africa. In preparation for an attack on Iran, American missiles have been placed in four Persian Gulf states, and "bunker-buster" bombs are said to be arriving at the US base on the British island of Diego Garcia in the Indian Ocean.
In Gaza, the sick and abandoned population, mostly children, is being entombed behind underground American-supplied walls in order to reinforce a criminal siege. In Latin America, the Obama administration has secured seven bases in Colombia, from which to wage a war of attrition against the popular democracies in Venezuela, Bolivia, Ecuador and Paraguay. Meanwhile, the Secretary of "Defense" Robert Gates complains that "the general [European] public and the political class" are so opposed to war they are an "impediment" to peace. Remember this is the month of the March hare.
According to an American general, the invasion and occupation of Afghanistan is not so much a real war as a "war of perception." Thus, the recent "liberation of the city of Marja" from the Taliban's "command and control structure" was pure Hollywood. Marja is not a city; there was no Taliban command and control. The heroic liberators killed the usual civilians, poorest of the poor. Otherwise, it was fake. A war of perception is meant to provide fake news for the folks back home, to make a failed colonial adventure seem worthwhile and patriotic, as if "The Hurt Locker" were real, and parades of flag-wrapped coffins through the Wiltshire town of Wooten Basset were not a cynical propaganda exercise.
"War is fun," the helmets in Vietnam used to say with bleakest irony, meaning that if a war is revealed as having no purpose other than to justify voracious power in the cause of lucrative fanaticisms, such as the weapons industry, the danger of truth beckons. This danger can be illustrated by the liberal perception of Tony Blair in 1997 as one "who wants to create a world [where] ideology has surrendered entirely to values" (Hugo Young, the Guardian) compared with today's public reckoning of a liar and war criminal.
Western war states such as the US and Britain are not threatened by the Taliban or any other introverted tribesmen in faraway places, but by the antiwar instincts of their own citizens. Consider the draconian sentences handed down in London to scores of young people who protested Israel's assault on Gaza in January last year. Following demonstrations in which paramilitary police "kettled" (corralled) thousands, first-offenders have received two and a half years in prison for minor offences that would not normally carry custodial sentences. On both sides of the Atlantic, serious dissent exposing illegal war has become a serious crime.
Silence in other high places allows this moral travesty. Across the arts, literature, journalism and the law, liberal elites, having hurried away from the debris of Blair and, now, Obama, continue to fudge their indifference to the barbarism and aims of Western state crimes by promoting retrospectively the evils of their convenient demons, like Saddam Hussein. With Harold Pinter gone, try compiling a list of famous writers, artists and advocates whose principles are not consumed by the "market" or neutered by their celebrity. Who among them have spoken out about the holocaust in Iraq during almost 20 years of lethal blockade and assault? And all of it has been deliberate. On January 22, 1991, the US defense Intelligence Agency predicted in impressive detail how a blockade would systematically destroy Iraq's clean water system and lead to "increased incidences, if not epidemics of disease." So, the US set about eliminating clean water for the Iraqi population: one of the causes, noted UNICEF, of the deaths of half a million Iraqi infants under the age of five. But this extremism apparently has no name.
Norman Mailer once said he believed the United States, in its endless pursuit of war and domination, had entered a "pre-fascist era." Mailer seemed tentative, as if trying to warn about something even he could not quite define. "Fascism" is not right, for it invokes lazy historical precedents, conjuring yet again the iconography of German and Italian repression. On the other hand, American authoritarianism, as the cultural critic Henry Giroux pointed out recently, is "more nuance, less theatrical, more cunning, less concerned with repressive modes of control than with manipulative modes of consent."
This is Americanism, the only predatory ideology to deny that it is an ideology. The rise of tentacular corporations that are dictatorships in their own right and of a military that is now a state with the state, set behind the façade of the best democracy 35,000 Washington lobbyists can buy, and a popular culture programmed to divert and stultify, is without precedent. More nuanced perhaps, but the results are both unambiguous and familiar. Denis Halliday and Hans von Sponeck, the senior United Nations officials in Iraq during the American and British-led blockade, are in no doubt they witnessed genocide. They saw no gas chambers. Insidious, undeclared, even presented wittily as enlightenment on the march, the Third World War and its genocide proceeded, human being by human being.
In the coming election campaign in Britain, the candidates will refer to this war only to laud "our boys." The candidates are almost identical political mummies shrouded in the Union Jack and the Stars and Stripes. As Blair demonstrated a bit too eagerly, the British elite love America because America allows it to barrack and bomb the natives and call itself a "partner." We should interrupt their fun.

This work by Truthout is licensed under a Creative Commons Attribution-Noncommercial 3.0 United States License.