Read The Entire Article Here Please Comment,
Part About WeAreChange:
It's what historians of 9/11 – which is what the activists and investigators essentially are – value most: the paper trail. Documents, statements, memos. This is the grist of history. And if some of the 9/11 activists can tend, sometimes, towards the obsessive, it's generally an obsession with data. And to have that data withheld? It's murder.
So when, at the tail end of LibertyFest, longtime 9/11 activist Luke Rudkowski tells me of the 2.5 terabytes of data from the Able Dangerterror investigations that were deleted, it's with genuine pain in his eyes. It's a Ming vase that's smashed on the floor. It's Wayne Rooney looking at a squashed banana. It's a tragedy.
I asked Rudkowski what the "Truthers" were planning for the day. "This year, we're all about paying our respects to the dead. We're sending out a solemn message: we don't know what happened on 9/11, yes we have questions, but on the day we're not asking them. We're going to stand in respectful silence."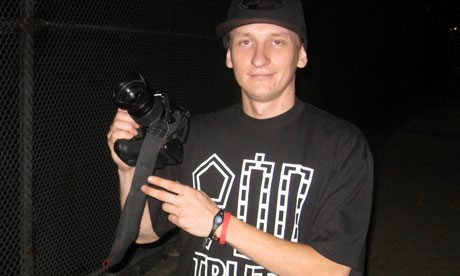 Luke Rudkowski Photograph: Charlie Skelton
But on the night before, Rudkowski is happy to ask. Why, from the 78 security cameras that surround the Pentagon, have we been shown just a few blurry frames? Why has the FBI classified its official investigation into the fact that some of the hijackers were trained at US military bases…?
And what would he say to those who'd scoff at asking such questions? "I'd say, look at the evidence and make up your own mind. And remember, 9/11 is a gigantic event that's going to affect us all for the next hundred years, but it's an event a lot of people know very little about."
And with that, I slid away from the party, and bought some toothpaste from a late night store. I'm not going to mark the tenth anniversary of 9/11 with dirty teeth. I'm glad that the New York Truthers aren't planning anything big and brash for the anniversary. The living will still have their questions, documents will need to be declassified, evidence sifted and lies challenged, but the anniversary of 9/11 is about the dead. The truth can take the day off.
Full Story – We are Change Ireland
Patrick: Downey, a US citizen denied political asylum in Ireland, this week released the identity of a senior CIA operative involved in illegal eavesdropping activities on the Georgian opposition party in Tbilisi 2007 – 2008.
In 2009, Downey, a US citizen, disabled veteran, former US Foreign Service employee and past victim of serious crimes committed against him while abroad (in Russia and in Georgia), brought a civil rights lawsuit against the United States ("Patrick C. Downey Jr. -v- The United States" 8:09-CV-1315-T-26EAJ"), arguing that his rights to due process and equal protection, as guaranteed in the 14th Amendment to the US Constitution were being denied to him, given the enforcement of the Alien Tort Claims Act (ATCA) in federal courts, and that he was thus being discriminated against on the basis of his nationality — having no similar form of redress as that given to foreign citizens.
Several days after filing the case, Downey was ruled against for reasons which were completely bogus in nature, and his request for a jury trial was also denied. The case is currently being appealed.
Moreover, Downey's former employer in the Republic of Georgia, a Yeltsin-era Russian oligarch and multi-billionaire by the name of Boris Ivanishvili (who was named in the lawsuit), benefited personally from tens of millions of Euros in "war reconstruction loans", courtesy of the European Bank for Reconstruction and Development (EBRD); a large portion of which happens to be owned by the US government. These loans occurred in the wake of the 2008 War in South Ossetia, which it has been suggested was started by then-US Vice President/Vietnam War draft-dodger Dick Cheney. Downey himself chose to be evacuated during the War in South Ossetia (for the cost of $35.00), which the US Department of State later billed him for.
Later in 2009, Downey was threatened by a representative of Mr. Ivanishvili's in Tbilisi, and later fled from the US in order to claim political asylum in Ireland, given the threats made against him and the United State's government's refusal to respond to Mr. Downey's repeated concerns regarding the threats, which he attributed to political reasons.
While in seeking asylum in Ireland under "Direct Provision", in addition to being assaulted, Downey's human rights were repeatedly violated for a period of several months, which has caused Downey a considerable degree of pain and suffering.
During this time, Mr. Downey became aware of illegal and clandestine activities which had occurred in Georgia, including illegal wiretapping and electronic surveillance of Georgian citizens opposed to the policies of Georgian President Mikheil Saakashvili, whom the US installed as president of Georgia in an illegal regime-change operation carried out by former US Ambassador to Georgia, Richard Miles (as well as others), which was in part funded by groups linked to billionaire financier George Soros' "Soros Foundation". It has in fact been suggested that other billionaires took part in this fiasco.
Downey (whom an employee of the Irish government implied was a racist), was denied political asylum in Ireland and issued a deportation notice. Downey (who is currently in hiding), fears for his life, yet he has chosen to fight all the injustice which he has been forced to endure, for private, as well as patriotic reasons.
View Patrick's video statement below.
http://www.youtube.com/watch?v=Wtl7_CksEWE
Namebase reference for Frietze here – Nicaragua 1969-1972 Colombia 1972-1976 Peru 1976-1981 Mexico 1981
Philly to teen 'flash mobs': The behavior ends now
By JOANN LOVIGLIO, Associated Press Writer Joann Loviglio, Associated Press Writer – Thu Mar 25, 3:43 am ET
PHILADELPHIA – The term "flash mob" used to mean online-organized groups having street-corner pillow fights or sidewalk dance-offs, but in Philadelphia they've turned violent, and the reasons are as tough to pin down as where the next one will be.
At least five such mobs have gathered in the City of Brotherly Love in the past year, all leaving property damage or injuries in their wake, after hundreds of teenagers communicating by text message, Twitter, Facebook and other social media spread the word for everyone to show up at a designated spot.
Police Commissioner Charles Ramsey said Wednesday that he has been talking to law enforcement officials in other cities to see whether any have encountered similar problems. He doesn't think Philadelphia is unique, but was unaware of another municipality that has seen teen mobs of the same size and frequency.
The local mobs involve mainly middle- and high-schoolers — not the college-and-older crowd that typically take part in nonviolent flash mobs. And the younger kids don't gather with the intention of performing something silly en masse; generally the only goal is to gather at a specific location, though one was sparked as rumors spread of a brawl at a downtown mall.
"Social phenomena have to start somewhere," said Frank Farley, a psychologist and professor at Temple University. "It could be some kind of coincidence of fate that will get picked up later on elsewhere."
In the most recent mob, on Saturday night, witnesses estimated as many as 2,000 teenagers thronged the narrow sidewalks, blocked traffic, jumped on cars and roughed up bystanders around South Street, a 10-block strip of bars, clothing stores, pizzerias and cheesesteak joints that has long been a hangout for teens and 20-somethings.
There were three arrests and multiple assaults, and many stores and restaurants closed early amid fears of trouble brewing.
Farley, an expert in risk-taking and thrill-seeking personalities, said the flash mobs have attributes that many teens would find attractive.
"This kind of thing I could see catching on across the country the more it's publicized," he said. "It's easy to do; it's thrilling, it's fun, and they can turn on the TV the next day and say, 'I was there.'"
Philadelphia is stepping up enforcement and ratcheting up penalties against juveniles in an effort to put an end to the roving groups wreaking havoc in downtown business and tourist districts.
"The lion's share of these kids don't have any nefarious intent," said Deputy Police Commissioner Richard Ross, "but if you have a group of 1,000, 2,000 kids and only 25 are disruptive, that's still unacceptable."
Mayor Michael Nutter said Wednesday that if the "stupidity" continues, he will permanently move up the city's curfew for minors, currently 10:30 p.m. on weekdays and midnight on weekends, as police and businesses have suggested. The mayor didn't say what those earlier curfews might be.
Police are also monitoring social networking sites and message boards for early warning of potential disturbances, and the city transit authority is monitoring subways for any unusual spikes in riders all headed to one area.
The message repeated by Nutter, Ramsey, District Attorney Seth Williams and every speaker at a news conference Wednesday near the site of Saturday's mob: Parents must take responsibility for their children or face criminal charges themselves. They also sought to reassure residents, businesses and tourists that the city is safe.
Ramsey urged parents to monitor their children's computer activity and check their cell phones for text messages, and to contact police with any pertinent information.
While not revealing tactics, police said they have "rapid response" plans in place to track down flash mobs before mayhem ensues. The FBI, undercover police and school district also will pitch in if necessary, Nutter said.
Those arrested in the three mobs that gathered since February face felony charges — a departure from previous clashes in May 2009 and December 2009, when misdemeanor counts were filed.
Family Court Judge Kevin Dougherty this week found 28 teenagers guilty of felony rioting for incidents on Feb. 16, when 150 teens stormed through a downtown department store, fighting and breaking items, and on March 3.
Dougherty's questions to the teens about what motivated them to join the crowd were largely answered with shrugs or one-word answers, and some of the kids denied being part of the mob.
Several of the juveniles, whose names were not released because of their age, acknowledged they learned through text messages, MySpace and Facebook that a gathering — and possibly a fight — would occur at the announced location.
By Agence France-Presse
Wednesday, March 24th, 2010 — 2:33 pm
French police have arrested a hacker who sabotaged the account of US President Barack Obama in one of his attacks on the Twitter online social network, a police source said Wednesday.
The unemployed 25-year-old, who used the pseudonym "Hacker Croll," was arrested in the Puy-de-Dome region of central France after an operation conducted jointly with US agents from the FBI that lasted several months.
He was in police custody in the city of Clermont-Ferrand.
The hacker had also attacked Facebook and email accounts operated by Google, the police source said, adding that he had never attempted to profit financially from his hacking activities.
He had managed to secure Twitter's administrator codes and was able to create, modify or delete accounts at will, the source said, adding that the hacker set up a blog to share his discoveries.
The French hacker was known to police here for minor scams that had netted 15,000 euros (20,000 dollars), according to the police source.
The FBI (Federal Bureau of Investigation) alerted French authorities to his presence on French territory in July last year.
At Top News, Amandeep Dhaliwal adds, "On Wednesday evening, a hacker by the name of 'Hacker Croll,' managing to compromise a Twitter administrative account, posted 13 screenshots of Twitter's administrative console at different web sites."
While one of the screenshots revealed the administrative information about President Obama's Twitter account, another showed information about Britney Spears' account, and yet another about Ashton Kutcher's account. Coincidentally, one of the screenshots posted was of an internal inquiry of Twitter's previous high-profile security episode, the Mikeyy Worm Attack!

The screenshots were apparently captured by Hacker Croll while he was logged into the account of Jason Goldman, Twitter's director of product management. Croll managed to access Goldman's Twitter account after hacking his Yahoo account, exploring the same weakness in Yahoo's password-recovery system via which Alaska Gov. Sarah Palin's e-mail account was hacked last year.