In an attempt by fact to imitate fiction, the US military's "Iron Man" armor will take an important step towards reality in June, when multiple prototypes will be revealed and tested.
Media Roots Radio – White House Hypocrisy & Spin, Democrats' Wars, Fake Terror by Media Roots
MEDIA ROOTS- Abby & Robbie Martin cover White House spin regarding Gaddafi's vs. Bin Laden's death footage and the third declared "end" to the Iraq War, MoveOn's attempt to hijack elements of Occupy Wall Street, Democratic Presidents using the cloak of NATO to initiate military interventions, CIA involvement in false flag terrorism and cases of fake "terror" manufactured by aspects of the US government in the newest edition of Media Roots Radio.
Humanity faces a daunting battle against corporate forces that have historically proved willing to employ any means necessary to preserve an evil system.  The police brutality and corporate funding aimed at crushing Occupy Wall Street hint of the savagery unleashed by corporations in countries around the world over the past 150 years.  Yet the recent crackdown has provided our rebellion with an extraordinary public relations weapon by demonstrating the veracity of our charges against a ruthless system that despises democracy and justice…  Read full article here
Media Roots Radio – Trevor Paglen Interview by Media Roots
MEDIA ROOTS- Trevor Paglen's work deliberately blurs the lines between science, contemporary art, journalism, and other disciplines to construct unfamiliar, yet meticulously researched ways to see and interpret the world around us.
His visual work has been exhibited at several art museums worldwide and his writing and art have been published in major publications including The New York Times, Wired, Vanity Fair and Newsweek. Paglen holds a B.A. from UC Berkeley, an M.F.A. from the School of the Art Institute of Chicago, and a Ph.D. in Geography from UC Berkeley, where he remains an affiliated researcher.
Paglen is also the author of several books: Torture Taxi, the first book to comprehensively cover the CIA's extraordinary rendition program; I Could Tell You But Then You Would Have to be Destroyed by Me, a book looking at the world of black projects through unit patches and memorabilia created for top-secret programs; and Blank Spots on the Map: The Dark Geography of the Pentagon's Secret World, a book that gives a broader look at secrecy in the United States.
Read The Entire Article Here Please Comment,
Part About WeAreChange:
It's what historians of 9/11 – which is what the activists and investigators essentially are – value most: the paper trail. Documents, statements, memos. This is the grist of history. And if some of the 9/11 activists can tend, sometimes, towards the obsessive, it's generally an obsession with data. And to have that data withheld? It's murder.
So when, at the tail end of LibertyFest, longtime 9/11 activist Luke Rudkowski tells me of the 2.5 terabytes of data from the Able Dangerterror investigations that were deleted, it's with genuine pain in his eyes. It's a Ming vase that's smashed on the floor. It's Wayne Rooney looking at a squashed banana. It's a tragedy.
I asked Rudkowski what the "Truthers" were planning for the day. "This year, we're all about paying our respects to the dead. We're sending out a solemn message: we don't know what happened on 9/11, yes we have questions, but on the day we're not asking them. We're going to stand in respectful silence."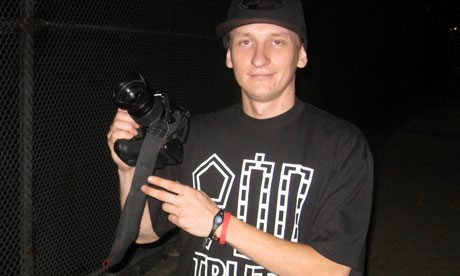 Luke Rudkowski Photograph: Charlie Skelton
But on the night before, Rudkowski is happy to ask. Why, from the 78 security cameras that surround the Pentagon, have we been shown just a few blurry frames? Why has the FBI classified its official investigation into the fact that some of the hijackers were trained at US military bases…?
And what would he say to those who'd scoff at asking such questions? "I'd say, look at the evidence and make up your own mind. And remember, 9/11 is a gigantic event that's going to affect us all for the next hundred years, but it's an event a lot of people know very little about."
And with that, I slid away from the party, and bought some toothpaste from a late night store. I'm not going to mark the tenth anniversary of 9/11 with dirty teeth. I'm glad that the New York Truthers aren't planning anything big and brash for the anniversary. The living will still have their questions, documents will need to be declassified, evidence sifted and lies challenged, but the anniversary of 9/11 is about the dead. The truth can take the day off.