Matt Meyer
We Are Change NY
October 28, 2010
It has been remarked that "all the world loves a clown". Thinking back to Stephen King's Pennywise or John Wayne Gacy's Pogo that might be debatable, but it is probably at least true that most people enjoy some form of well crafted humor or good satire. With that in mind many people may scratch their heads wondering why comedic talk show host Jon Stewart would be the recipient of serious questions regarding his stance on the events of September 11, 2001. Those same people may also scratch their heads wondering how, or even become angry at the suggestion that Jon Stewart's Daily Show is simply another layer of misinformation laid out by the corporatocracy to be mindlessly absorbed by the zombified "moderate liberal" segment of the well-trained population. The theses submitted for your approval here are that 1.) Jon Stewart is a well entrenched member of the establishment's mainstream media propaganda machine. 2.) The people putting on the "Rally to Restore Sanity" are the complete antithesis of what they claim to be – peaceful moderates who would rather talk things out and listen to the ideas of others. And, 3.) the Daily Show actually employs angry, sometimes violent, anti-American radicals and globalists who peddle the REAL conspiracy theories concerning U.S. domestic and foreign policy, geopolitics and science. Their conspiracy theories are then given a humorous spin and represented by funny pictures or captions on The Daily Show. These "funny" graphics are then placed next to Jon Stewart's face so he can proceed to mug, smirk and feign outrage, ultimately resulting in applause and laughter from his obedient audience. But in the end it's not real news, it's not fake news, it's propaganda peppered with jokes.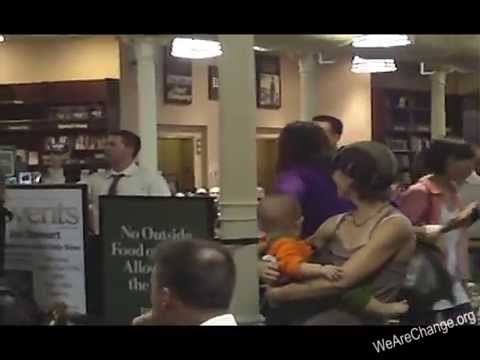 One month ago I was punched in the face by the executive producer of the Daily Show. I also had my camera damaged by another Daily Show writer, and had my shirt torn by Jon Stewart's security guard. Jon Stewart and the writers and staff of the Daily Show were appearing at a popular book store in Manhattan to present and sign copies of their new book of humorous pictures and captions. I was moved to peacefully confront Jon and ask him a few questions after watching his show a few nights earlier. On the September 16th installment of The Daily Show, before a gushing and edge-free interview with notorious criminal Bill Clinton, Jon announced his "Rally to Restore Sanity". He billed this as a rally for which people should "use indoor voices" and "take it down a notch for America". It was clear that this "Rally to Restore Sanity" was, in part, to be a mockery of the now co-opted and neo-conned Tea Party movement and its successful rallies featuring Glenn "the Judas Goat" Beck and the Palin the Pied Piper of soccer moms. It was also designed to poke fun at the more vocal elements of the anti-war movement. Essentially, the Daily Show had cooked up a rally for wishy-washy people who believed that other people were "insane" for being enraged by a corrupt and out-of-control government that increasingly ignores We the People, while bowing to Wall Street bankers, corporate interests and the military-industrial complex. Jon's rally was to be for those who think injustice, theft and mass murder should just be laughed off (and that sarcasm is what should pass for humor). Getting upset and then vocalizing it using the first amendment, apparently, were the actions of lunatics. Once again a mainstream media talking head was reminding us that the first amendment should really be used to express popular and benign ideas, not controversial ones. These stand-down orders disturbed me, especially in the wake of a watered-down liberty movement, but the "joke" that encouraged me to take action was Jon's mock protest sign suggesting that "9/11 was an OUTSIDE job". He was not, by the way, suggesting Israeli Mossad or British MI6 involvement. He was goofing on the many concerned, often credible individuals who reject the ridiculous and impossible "official story" of 9/11. Again, it was "insane" to question 9/11's official fable about cavemen with box cutters defeating a multibillion dollar defense, defying the laws of physics in the process. Yes, the hundreds of well-known military, intelligence service, and government officials, the engineers and architects, the pilots and professors, the members of media, artists and entertainers, the family members and survivors who rejected this nonsense – were all insane according to him. This was quite a dismissive and insulting statement by the diminutive comedian, but to his credit he did not launch into a clichéd "tin foil hat" reference. Still, I decided that I would question Jon when the opportunity came about.
The Incident
In the past I have peacefully confronted a number of well-known politicians and members of the mainstream media on both sides of the false left-right political spectrum about 9/11(Michael Moore, Sean Hannity, Nancy Pelosi, John McCain, Jimmy Carter, etc..). I've been shoved by cops and security, but never punched in the face before. On the evening of September 27th, 2010, I left work and headed alone to the Manhattan book store where Jon and the Daily Show writers were signing their new book. I happened to run into Luke Rudkowski and some other fellow members of We Are Change NYC in the bookstore, also hoping to question Jon. When I got the opportunity I asked Jon a polite, albeit unpopular question about his take on 9/11 truth.  He and the crowd mocked me and I left, heading down the escalator and outside the store. Some We Are Change NYC acquaintances and I were outside the store, hoping to ask Jon Stewart a follow up question. Instead, The Daily Show staff and writers came out before Jon.  The executive producer of the Daily Show, Rory Albanese, was belligerent and taunted us. He immediately used a common tactic of those who want to defeat the 9/11 truth argument without actually using facts – he used emotional appeal, telling us that we were disrespecting the victims' families. Like many who use this ad hominem approach he ignored the fact that 9/11 victims' families started the 9/11 truth movement. It is important to note that Albanese put his hands on me twice by this point, lightly shoving my body as well as my hand holding a camera. He stated that he would put his hands on me if he so chose. He was also looking to fight with others, and mentioned that he wanted to punch a We Are Change member's face because of his "knowledge". Soon after, another writer for the show, named J.R. Havlan, was engaged in a heated exchange with another We Are Change member, Matt Lepacek.  I was videotaping with my handheld camera as Havlan suddenly reached past two people to grab it – and proceeded to press and twist the viewfinder.  He succeeded in damaging the camera, so I repeatedly asked him why he did it and suggested that he might have to pay for the damaged property. He walked briskly away.
Believing that the camera was irreparably broken, I put it in my pocket.  Luke and the others with cameras had not made their way down the block just yet. I was walking along with Havlan and a few other writers as we all made our way down the sidewalk.  There was some general body bumping made towards me by some of the staff and writers, telling me to "just walk away" (although admittedly, they were not as physically imposing as the bad guys from The Road Warrior).  Once again, the aforementioned Rory Albanese was before me, blocking my path as Havlan crossed the street.  I did nudge him out of my personal space without much force, as I reached into my pocket to once again inspect my camera and see if I could use it.  Without warning Albanese landed a right handed, closed fist to the side of my face, which I did not see coming.  By all definitions it was a "sucker punch". I was stunned momentarily and when I came to, he had moved down the block, about twenty feet away.  I did react defensively at first and did suggest that I was going to hit him back, but Jon Stewart's security guard "Brian" grabbed me in a bear hug from behind.  I threw him off and he grabbed me again, ripping my shirt in the front.  Two other men stood between me and Albanese telling me to "just walk away".  At this point Luke arrived, helped calm me down and urged me to not hit Albanese, which I agreed to. (I was reminded of the arrest and false charges put on We Are Change's Gary Talis, who was eventually cleared of the charge of assaulting a woman in a wheel chair, as well as the false terrorist charges placed against We Are Change L.A.'s Bruno Bruhwiler.)  As I saw Albanese making his way around the corner I told an acquaintance to call the cops to report the assault, which was done.
My face was bruised and cut and I had a scratch on my nose.  Albanese, I was told, made his way to a local bar.  A while later he returned, right before the cops arrived.  We both approached the police – reporting different stories.  His consisted of me pushing him with two hands for no reason, when the reality was that he had already put his hands on me, had been harassing me, was blocking my path so his fellow Daily Show writer could leave, invaded my personal space, and then sucker punched me before taking off. Albanese was put in handcuffs and brought to the 14th street precinct.  I was brought separately, where I gave my statement and a photo of my wounds was taken.  Although I was told I would hear from the D.A. I never did.
One month later my cuts and bruises have healed, and I have realized it would be fruitless and a waste of time and money to pursue the matter. The important fact was that this incident was documented, and the NYPD (whose general attitude toward We Are Change is completely different than it was five years ago) helped make that happen. This is about a much larger point. The people holding the "Rally to Restore Sanity" are not moderate, rational or sane. Allow me to present that case.
The Reality About the People Who Want to "Restore Sanity"
Since 1999, Political satirist Jon Stewart has hosted The Daily Show on Comedy Central, owned by Viacom – the fourth largest media conglomerate in the U.S. Jon has gained considerable attention and respect for his ability to "deliver truth through humor". Many articles have been written about how his Daily Show delivers and assesses the news more accurately than the networks and cable. In recent times Jon was credited by the Huffington Post, NPR and other left-leaning outlets for his "hard hitting" interview with Mad Money's Jim Cramer. Now to be sure, Cramer is a suspect individual who is alleged to have used his show to "pump and dump" stocks (not mentioned by Jon). However, while Stewart took on Cramer for putting entertainment before journalism, did we ever hear Jon mention the Chief Operating Officer of the NYSE who presided over the infamous "flash crash" of May, 2010 – who just happened to be his brother, Larry Leibowitz? (Jon changed his last name.) Certainly not. On the day of that "flash crash" Jon had some pretty good zingers about "fat fingers", but alas an opportunity for some real insight from a real insider – his brother – was passed over. Larry Leibowitz is a former international investment banker who has served on a number of market and industrial committees, and again – is the current COO of the NYSE.
It is openly admitted that chicken hawk neoconservatives like William Kristol love doing The Daily Show, where Stewart might make them mildly uncomfortable for a minute, before jumping past the really hard hitting questions and shaking their hands with a smile. In the spirit of his "moderate liberalism" he has given a pass on real issues and war crimes to the likes of Doug Feith, John Bolton and Condoleeza Rice among others. How could a "sane" person joke around with the architects of an illegal, unjustified war that has resulted in hundreds of thousands of innocent people being dead? If neocons love doing his show, one can only imagine how the eugenics loving globalists who pose as concerned liberals on his show feel about it (Clinton, Gates, Gore, etc.). For proof of a globalist connection to the Daily Show, one need go no further than one of the show's Emmy Award winning writers, Kevin Bleyer, who is a member of the globalist round table group known as the Council on Foreign Relations, whose stated mission can only be described as the erosion of U.S. sovereignty. His Wikipedia entry proudly boasted about his CFR membership until recently, but it can still be confirmed elsewhere, like on the CFR's own website and Bleyer's Facebook page in which two of his five "likes" are the CFR and Foreign Affairs, the CFR's publication. In addition, Bleyer (who was one of the writers present on the night I was assaulted) is a Truman National Security Fellow, an organization that "recruits, trains, and positions progressives across America to lead on national security". It appears that Bleyer is positioned nicely. One of the Truman National Security Project's objectives is Operation Free, a particular project that "organizes military veterans to speak out on issues of climate change and sustainable energy security". One can assume that Bleyer will not be writing any comedic exposes of "Climate Gate" anytime soon. He may, though, continue to write jokes for Barack Obama as he has done in the past – another instance that makes one consider possible conflicts of interest for The Daily Show and its true range of political satire.
Certainly, there is nothing wrong with the peaceful assembly of individuals to support any cause. However, as individuals it is important to closely inspect those who are "rallying the troops", whether it's Glenn Beck, Sarah Palin or even Jon Stewart. The establishment loves to make reference to Hitler and the Nazis, but it may be appropriate here to point out that the people standing and saluting at Nazi rallies actually adored Hitler – and by no means were they all evil people. They were just misled. I believe the people attending the "Rally to Restore Sanity" are being misled – once again. What is being advertised as a gathering of moderate and sensible people to laugh away the implosion of the Constitution and the dollar, has actually been designed to dull the senses so as to repress the most sane reactions to looking at the state of our Union, which should be anger, frustration and a steadfast resolve to fight.
In April of 2009 Jon Stewart was completely honest, before retreating back behind the flashing, pixilated curtain he helps hold in place. In an interview with CFR and Project for a New American Century member Clifford May, Jon rebutted the neocon's defense of George W. Bush by stating that Harry S Truman was in fact a war criminal for his part in the atomic bombings of Hiroshima and Nagasaki. Considering the thousands of innocent Japanese civilians who were vaporized or radiated to death, it is difficult for any "sane" person to argue that Truman was anything less than a mass murderer, let alone a war criminal. Yet only a couple of days later in a cringe-worthy display, Jon pathetically apologized for calling Harry a war criminal, explaining that it was a "dumb" and "stupid" thing to say. Even Robert McNamara admits that the only thing that saved Harry and his crew from not being labeled "war criminals" was that they won the war. Never the less, maybe Jon really had a change of heart, or maybe he didn't want to insult his writer Kevin Bleyer, the Truman National Security Fellow. I guess only an insane conspiracy theorist would ponder such things.
Newt's World Order Confronted by We Are Change Colorado

By WACC media group

Newt Gingrich recently came to Denver's own terrorism museum called The C.E.L.L. to promote the Global War on Terror and talk about his less than totally secret plans to possibly make a run for president in 2012.  We Are Change Colorado was there as we hoped to participate in the Q&A sessions and ask Mr. Gingrich some of the tougher questions.  The Center for Empowered Learning and Living, or The C.E.L.L., is the first museum dedicated specifically to the subject of terrorism.  The C.E.L.L. opened in downtown Denver on September 11, 2008.  It encourages participants to shed their preconceived notions on the ideologies and aims of international terrorism. It also has a new name: The Counterterrorism Education Learning Lab.  We did an investigative piece on The C.E.L.L. shortly after they opened and exposed who is behind this 6 million dollar piece of 'nonprofit' propaganda.  Follow the money as they say, and when we learned who funded and promoted this place, as well as the agenda being pushed inside the museum itself, the true motives behind this 'terrorism museum' became all too apparent.  The full investigative article and video can be found

here

.

As

Mr. Gingrich

came on stage he was met by many who came to see him talk with Denver Post editor Greg Moore about our need to be more vigilant in fighting terrorism both domestically and overseas.  It seems that it can be counted on that the Denver Post will be a nice little pro War on Terror publication from now on.  Interestingly enough, the Denver Post ran several

articles praising

Mr. Gingrich the day after his appearance.  As the presentation got underway Greg commented about Newt's possible presidential run in the coming election. Someone shouted from the audience, "Yeah, Newt for President!"  This garnered cheers and applause from the audience.  The voice rang out loud and clear again "Newt for President!" Newt and Greg were all smiles, lapping up the apparent support for his run at the White House.  What happened next surprised most seated in the opera house.

So what did they mean by New World Order, anyway?  Well maybe the best people to ask would be the politicians who have used that phrase over and over again.  G. W. Bush used it over 200 times.  Bill Clinton, Gary Hart, Gordon Brown, Merkel, Sarkozy, Chavez, Ahmedinijad, Kissinger, and yes, even Obama has called for an "International Order". The New World Order is essentially tiny elite ruling over everyone else. As the late George Carlin would say "it's the 'big club' and you're not in it."

Global government and the War on Terror are now coming to a town near you. If you have anything unpopular to say you could be labeled a terrorist. Local police departments in recent years have been granted direct access to Federal databases maintained by The Department of Homeland Security and supplemented by nongovernmental organizations. Free speech is being very carefully eroded, and even the right to record a public officer has been made illegal in some states.  The Department of Justice recently sent out a memo entitled 'Communities Against Terrorism'

encouraging people to report anyone

handing out "extremist literature."  ALL literature, even 'extremist literature' is protected by the first amendment, commonly known as free speech. If we follow all of these steps to their logical conclusion, we will certainly have a police state on our hands in short time.

There is also lot of

buzz

coming from DHS about 'homegrown terrorism' when what they actually mean to say is that the American populace is waking up and finding out they're being lied to. The widespread free-flow of information on the internet has sparked an enlightenment as to how government, banks and corporations actually function with regards to personal life and the rest of the world. This in turn has led some to join together to do the one thing they still can: protest. The vast majority of these groups are peaceful and non-violent, and though they do dissent, most are only interested in spreading information and raising awareness. It's quite alarming then to see peaceful groups like We Are Change, a non violent political activist/media group and The Oathkeepers, a group of active duty military, veterans and police, listed as potential hate groups on the

SPLC website

. While 'domestic terrorism' tends to refer to people linked with supposed terror groups abroad such as Al-Qaeda, the IRA, etc., this newer phrase 'homegrown terrorism' seems to be referring to anyone in the United States with a negative opinion of the government. There has also been

speculation in the media

as to whether or not the focus of the war on terror needs to be shifted to the domestic front. If you haven't noticed your local police departments gearing up for this, just take a look at all the new equipment most metropolitan departments have acquired in recent years, from armored personnel carriers to sound cannons to x-ray vans. Naturally the elite have to

generate support

for this and it provides great opportunity to confront them when they come to rub elbows with their financiers and admiring public on their speaking/book-signing/campaigning tours.

In addition to the

Newt event

We Are Change Colorado joined with their fellow group in Colorado Springs (one of the largest military cities in the country hosting NORTHCOM, NORAD and much more) and hit the NWO hard with a

big protest/rally

on 9/11/10, passing out hundreds of DVDs and displaying many large signs and banners to passersby which resulted in two members being arrested for using amplification devices (a.k.a. bullhorns).  It has come to our attention that these last two actions that We Are Change Colorado participated in have agitated the elitist community

here in Denver

so much so that we have actually received warnings from our sources about both incidents, raising our concerns that we may be at risk of being singled out in the future.

Some will certainly question the journalistic merit of employing a tactic like this; however we have attended The C.E.L.L. events before and have not been given a fair chance to ask real questions.  All questions taken by The C.E.L.L.'s guest speakers must be submitted on an index card and are pre-screened prior to the Q&A session which means nothing but softball questions supporting the agenda being pushed will be asked.  

Newt Gingrich along with the Republican Party

are saying we need to end the war on terror in ten years; not now, of course, but in ten years. I suppose that does sound like a compromise to some who remember John McCain saying '100 years'. Gingrich is clearly posturing to run for President in 2012, and his talking tour which focuses on terrorism and what he describes as the current administration's LACK of persistence and severity in the war on terror is designed to generate steam for his campaign. He is for Carbon Taxes, body scanners, implantable microchips, and is a Council on Foreign Relations member; a consummate globalist. As you can see in this

video

, he means serious business when it comes to his definition of security and combating terror, and to have someone like that at the helm would be a frightening thing indeed.

The strategy for implementing the New World Order has for some time been painstaking incrementalism; taking the smallest of steps towards a closed society so as not to alarm the public with any bold sweeping changes in policy. One of these steps being taken now is the restriction of recording devices in public, more specifically as it pertains to police, private security, and federal and state buildings. More and more people are being told they cannot video tape public officers in public places… does that sound funny to anyone else? There are literally thousands of videos on the internet now of police officers going way beyond the call of duty; the other way, that is, committing crimes and acts of violence towards citizens. Many officers have had to face the consequences of their negligent and/or

criminal actions

in the face of rock-solid video evidence in court as well as perjury charges for having lied about it in the first place; however this has led some departments to claim that recording police could

interfere

with their ability to enforce the law. There are some instances where people have been charged under a wiretapping law, and the states of Illinois, Maryland, and Massachusetts are taking steps to make it illegal to record police altogether. Public surveillance (CCTV) is on the rise here in Denver as in other major cities around the globe and the message is clear: "we have the right to record you; you do not have the right to record us." Even though it is still perfectly legal to record police in Denver, we are frequently asked to stop, and of course we politely decline.

We are supposed to have the

right to privacy

and freedom from unreasonable search and seizures here in America; the right to travel freely; the right to free press, free speech, and the right to film in public for our own protection. We have all of these rights as outlined in the Constitution.  They are not granted by government, but are inalienable, meaning that they are yours by the mere fact that you exist.  Not only do you have them, inalienable actually means that you could not give them away, even if you wanted to.  That's how the founding fathers saw it.  That is America folks. That is what our military and law enforcement agencies have taken an oath to defend.

Posted on: Monday, October 25, 2010
WASHINGTON: A treasure trove of US documents implicating Pakistan in its support for terrorism exploded in the public domain on Sunday, sending officials in both countries scurrying to defend a dubious alliance and straining a phony partnership based on a misreading of the ground sentiment and situation.
WikiLeaks, a whistleblower organization that publishes sensitive government leaks from anonymous sources, put a staggering 91,000 documents, mainly ground reports from US military personnel, in public domain on Sunday. Many of the documents exposed Pakistan's double-faced policy of fuelling terrorism in Afghanistan while claiming to be fighting it as an US ally.
In effect, the chronicles suggested that Washington was blindly paying Pakistan massive amounts of money for access to Afghanistan even as Islamabad uses its spy agency, ISI, to plot the death of American and Nato troops, allied Indian personnel, and undermines US policy. The most devastating leaks showed that Pakistan allows representatives of its spy service, ISI, to meet directly with the Taliban in secret strategy sessions to organize attacks against American soldiers in Afghanistan, and even hatch plots to assassinate Afghan leaders, including President Hamid Karzai.
WikiLeaks worked with three media organizations–The New York Times, Germany's Der Spiegel and The Guardian–to make sense of the massive cache of documents, while not disclosing how it got hold of it. Stunned Washington experts compared it to the leaking of the Pentagon papers during the Vietnam War. What the cache highlighted most was the continuing Pakistani perfidy, and American credulity in accepting Islamabad as an ally and funnelling billions of dollars in aid even as it helped plot US downfall in the region and killed American soldiers.
"Americans fighting the war in Afghanistan have long harboured strong suspicions that Pakistan's military spy service has guided the Afghan insurgency with a hidden hand, even as Pakistan receives more than $1 billion a year from Washington for its help combating the militants," the New York Times said in its assessment of the report. "The records also contain firsthand accounts of American anger at Pakistan's unwillingness to confront insurgents who launched attacks near Pakistani border posts, moved openly by the truckload across the frontier and retreated to Pakistani territory for safety," it continued.
"The behind-the-scenes frustrations of soldiers on the ground and glimpses of what appear to be Pakistani skullduggery contrast sharply with the frequently rosy public pronouncements of Islamabad as an ally by American officials looking to sustain a drone campaign over parts of Pakistani territory to strike at Qaida havens," it added.
That policy of ambivalence and appeasement continued even into the hours after the WikiLeaks expose, as US and Pakistani officials rushed to control the damage. US national security advisor James Jones condemned the "disclosure of classified documents by individuals and organizations", which, he said, "could put the lives of Americans and our partners at risk, and threaten our national security", when, in effect, the documents suggest it is Washington's appeasement of Pakistan which is doing that.
US officials also argued that the documents posted by WikiLeaks covered a period from January 2004 to December 2009 and pre-dated President Barack Obama's new strategy announced on December 1, 2009, when they suggested there began a turnaround "with a substantial increase in resources for Afghanistan, and increased focus on Al Qaida and Taliban safe-havens in Pakistan, precisely because of the grave situation that had developed over several years".
"I don't think anyone who follows this issue will find it surprising that there are concerns about the ISI and safe havens in Pakistan. In fact, we've said as much repeatedly and on the record," one official explained. "The period of time covered in these documents (January 2004-December 2009) is before the President announced his new strategy. Some of the disconcerting things reported are exactly why the President ordered a three-month policy review and a change in strategy."
But the official also cast aspersions on WikiLeaks and its motive, saying, "It's worth noting that WikiLeaks is not an objective news outlet but rather an organization that opposes the US policy in Afghanistan."
Pakistan, as usual, reacted with fury to the disclosures, calling the leaks "malicious and unsubstantiated". An unnamed official in Islamabad was quoted as saying, "They were from raw intelligence reports that had not been verified and were meant to impugn the reputation of the spy agency."
A more restrained reaction came from Pakistan's ambassador to the US Hussain Haqqani (whose book chronicles the Pakistani military's jihadi connections and outlook). "The documents circulated by WikiLeaks do not reflect the current on-ground realities," Haqqani said, plying the current Washington-Islamabad line that whatever happened was in the past.
'Out-of-the-box' CIA think tank proposes concerns over women's rights, fear of terrorism as ways to boost support for Afghan war
Evidently spooked by the collapse of the Dutch governmentover the country's involvement in Afghanistan, the CIA has put together a strategy proposal to prevent what it fears could be a "precipitous" collapse of support for the war in Afghanistan among European allies.
A document marked "confidential / not for foreign eyes," posted to the Wikileaks Web site, suggests strategies to manipulate European public opinion on the war, particularly in France and Germany.
The document doesn't propose any direct methods by which the CIA could achieve this — there are no references to planting propaganda in the press, for example — but it does lay out what it sees as the key talking points to changing hearts and minds on the war. Among its proposals, the policy paper suggests playing up the plight of Afghan women to French audiences, as the French public has shown concern for women's rights in Afghanistan.
For the German audience, the document suggests a measure of fear-mongering about the possible fallout of NATO failure in Afghanistan. "Germany's exposure to terrorism, opium, and refugees might help to make the war more salient to skeptics," the document asserts.
Read the report here, courtesy of Wikileaks.
The policy paper was prepared by a group called the "CIA Red Cell," which describes itself as having been tasked "with taking a pronounced 'out-of-the-box' approach that will provoke thought and offer an alternative viewpoint on the full range of analytic issues."
"The fall of the Dutch Government over its troop commitment to Afghanistan demonstrates the fragility of European support for the NATO-led ISAF mission," the document states. "Some NATO states, notably France and Germany, have counted on public apathy about Afghanistan to increase their contributions to the mission, but indifference might turn into active hostility if spring and summer fighting results in an upsurge in military or Afghan civilian casualties."
The CIA report notes that 80 percent of the French and German public are opposed to the war, but offers a loophole: Public apathy, which has allowed European leaders to extend and broaden their involvement in Afghanistan despite deep opposition.
But "if some forecasts of a bloody summer in Afghanistan come to pass, passive French and German dislike of their troop presence could turn into active and politically potent hostility," the report states.
GET OBAMA INVOLVED
The CIA Red Cell points out that President Obama continues to enjoy popular support in Europe at levels he has not seen in the US in months. The report suggests getting the president involved in selling the Afghanistan war to Europeans.
"The confidence of the French and German publics in President Obama's ability to handle foreign affairs in general and Afghanistan in particular suggest that they would be receptive to his direct affirmation of their importance to the ISAF mission—and sensitive to direct expressions of disappointment in allies who do not help," the report states.
The report notes that "when [opinion poll] respondents were reminded that President Obama himself had asked for increased deployments to Afghanistan, their support for granting this request increased dramatically, from 4 to 15 percent among French respondents and from 7 to 13 percent among Germans."
To change French minds, the CIA Red Cell proposes linking the Afghanistan war to the effort to improve women's rights in Afghanistan. It also proposes pointing out that the Afghanistan mission is more popular in Afghanistan than it is in Europe, at least according to the statistics cited in the report.
"Afghan women could serve as ideal messengers in humanizing the ISAF role in combating the Taliban because of women's ability to speak personally and credibly about their experiences under the Taliban, their aspirations for the future, and their fears of a Taliban victory," the report asserts.
"Highlighting Afghans' broad support for ISAF could underscore the mission's positive impact on civilians. About two-thirds of Afghans support the presence of ISAF forces in Afghanistan, according to a reliable … poll conducted in December 2009," the report states.
For the German public, the message should be somewhat different, the report states. "Messages that dramatize the consequences of a NATO defeat for specific German interests could counter the widely held perception that Afghanistan is not Germany's problem. For example, messages that illustrate how a defeat in Afghanistan could heighten Germany's exposure to terrorism, opium, and refugees might help to make the war more salient to skeptics."
Numerous news reports in recent years have suggested that the CIA is more deeply involved in the Afghanistan war than it has been in previous wars. For instance, when news broke that seven CIA agents had been killed in a suicide bombing at a forward operating base, it highlighted the fact that the CIA has been operating essentially as a branch of the military in Afghanistan, running the unmanned aerial drone strikes against the Taliban.
That suicide bombing also highlighted the difficulties the agency faces in getting a grasp on the situation in the Central Asian country. CIA operatives had believed Humam Khalil Abu-Mulal al-Balawi, the suicide bomber, was willing to work as an informant for them. They were apparently so completely unaware of his status as a double agent that they had prepared a birthday party for himin advance of his arrival, when he proceeded to blow himself up.
By RAMIT PLUSHNICK-MASTI Associated Press Writer © 2010 The Associated Press
March 22, 2010, 5:09PM
HOUSTON — Halliburton Co. and KBR Inc. have withdrawn an appeal asking the U.S. Supreme Court to block a lawsuit by a former military contractor who says she was raped by KBR co-workers in Iraq.
KBR said in a statement Monday that it withdrew the appeal to not risk violating a recently passed federal provision it called "very broad and vague," that restricts the Defense Department from doing business with companies that prohibit employees from seeking redress for certain crimes through the courts.
"As a result, KBR did not want to risk being in violation of the amendment, so the company withdrew its petition," KBR said in a statement.
Diana Gabriel, a spokeswoman for Halliburton, also confirmed the appeal was withdrawn but declined to elaborate.
Jamie Leigh Jones, of Texas, sued the companies after she says she was raped while working for KBR in Baghdad in 2005. KBR and Halliburton split in 2007.
The companies argued that Jones' contract required claims against them be settled through arbitration.
But the 5th U.S. Circuit Court of Appeals in New Orleans sided with Jones in September, saying her case could go to trial.
A trial date has been set for May 2011, Jones' attorney Todd Kelly said.
Now that the Supreme Court appeal has been withdrawn, "it looks like we're headed for trial," said Kelly, who is based in Houston.
The Associated Press usually doesn't name people alleging sexual assault, but Jones' identity has been broadcast in media reports and on her own Web site.
No one has been charged in Jones' case or in any other alleged sexual assaults on women who did civilian work in Iraq. At least three women have testified before Congress about being sexually assaulted or harassed while working as military contractors in Iraq.