Thousands of pro-Palestinian demonstrators turned out on the streets of London, Paris, and Oslo on Friday to call for an end to Israeli military strikes on Gaza.
Several thousand people crowded the streets outside the Israeli Embassy in west London, waving placards that read "Gaza: End the Siege" and "Freedom for Palestine." The crowds blocked an entire road, and several protesters managed to climb on top of a double-decker bus stuck in traffic, but police said the protest was largely peaceful.
On May 24, millions of people  from around the world participated in the March Against Monsanto, calling for the permanent boycott of genetically engineered foods and other harmful agro-chemicals. Marches occurred on six continents, in 52 countries, with events in more than 400 cities, including 47 U.S. states.
View Slideshow
Daniel Bissonnette, a very articulate 9-year-old, mesmerized listeners in this must-see video at a Vancouver, Canada, March Against Monsanto event, asking key questions on why children—the most vulnerable age group to ravages of genetically modified organisms (GMOs) and pesticide—are subjected to the worst food possible.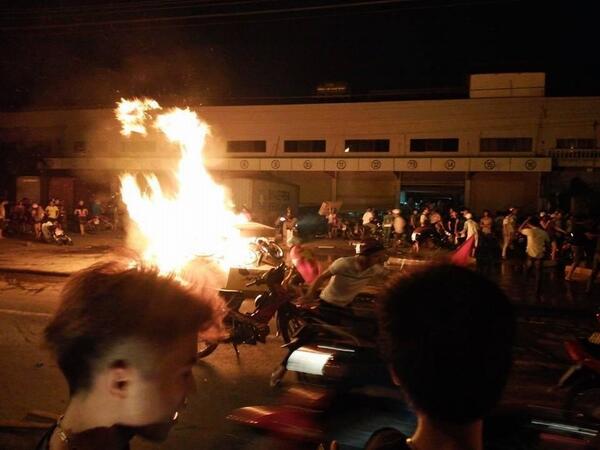 China began evacuating hundreds of its nationals from Vietnam (via at least 2 planes and 5 ships) as the anti-China protests have become increasingly deadly following Beijing's attempt to deploy an oil drill in Vietnamese disputed waters (detailed here, here, here, and here)…
*CHINA SENDING 5 SHIPS TO VIETNAM TO EVACUATE CHINESE: XINHUA
*HUNDREDS OF VIETNAMESE SECURITY IN CENTRAL HO CHI MINH CITY
*VIETNAM PRIME MINISTER ISSUES DIRECTIVE TO PREVENT PROTESTS
*VIETNAM GOVT TAKES ACTION TO PREVENT RIOTS: BINH
Hundreds of police and security forces are in central Ho Chi Minh city and the Chinese consulate is under heavy guard. Tensions across the ASEAN region are growing as Taiwan is on "high alert" but the bloc's inability to craft a united response to Chinese aggression signals a further decline in its regional clout.
Last weekend, thousands of demonstrators across multiple continents protested against the state-sponsored violence in Venezuela. Attending the protest in front of the Federal Building in West Los Angeles, I tried not to recall how much blood had been spilled here in recent years.
The US-supported opposition in the Bolivarian Republic of Venezuela is taking its cue from the anti-government protests taking place across the Atlantic Ocean in Ukraine. Failing to win any of Venezuela's elections by earning a popular mandate from the majority of the population in the last few years, the leaders of the mainstream opposition are now resorting to colour revolution tactics and a Ukraine-style disruption strategy.