In yet another example of how the recent Ukrainian "revolution" was nothing more than an Anglo-American destabilization of a foreign nation for geopolitical purposes, recent appointments to political posts inside Ukraine should serve as clear evidence of that fact.
In addition to the appointment of national positions to individuals belonging to the neo-Nazi Fascist Svoboda party, RT reports the installment of even more questionable characters, party affiliations aside.
Media Roots Radio – OWS: Police State Repression, Unification; Media Censorship, Citizen Journalism by Media Roots
MEDIA ROOTS – Abby & Robbie Martin cover Occupy Wall Street: the police state repression against the First Amendment, the Democratic Party's attempt to co-opt the movement, the Obama administration's hypocrisy to praise revolution abroad and censor it at home, the fact that the Tea Party and OWS are fighting two heads of the same beast, the "Black Bloc" provocateurs and their attempt to discredit peaceful movements; media censorship and the fact that news anchors are repeaters, not reporters; the two-tiered justice system catered toward the elite; citizen journalism and its role in allowing participation and unification in the global revolution.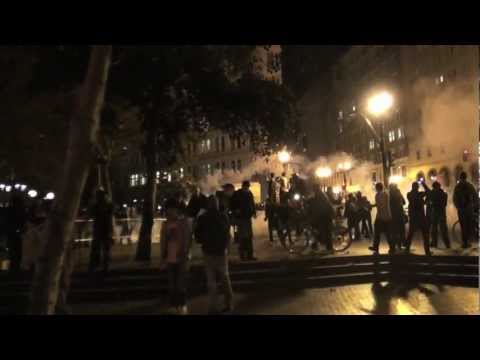 Abby Martin of Media Roots captured the extremely tense moments of the Oakland PD's standoff with the Occupy Wall Street protestors before the brutal crackdown occurred.
Things came to a head around 7:45 pm when the Oakland PD started throwing smoke bombs and tear gas canisters into the crowd completely unprovoked. This is what a police state looks like!
Contact Oakland Mayor Jean Quan here: http://www.oaklandnet.com/contactmayor.asp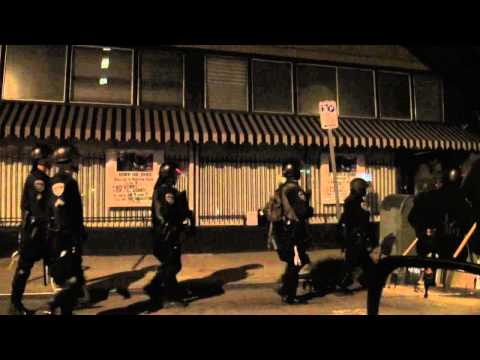 Abby Martin of Media Roots went out to cover the immediate aftermath of the brutal police raid of Occupy Oakland at 6:20 am on October 25, 2011.
500+ Oakland PD used tear gas, rubber bullets and completely leveled two encampments of peaceful protestors practicing civil disobedience. 90+ protestors were then arrested.
Contact the Mayor Jean Quan here: http://www.oaklandnet.com/contactmayor.asp
Media Roots Radio – Occupy Wall Street, Divide & Conquer, Medical Marijuana by Media Roots
MEDIA ROOTS-  Abby & Robbie Martin cover the Occupy Wall Street movement: the divide and conquer tactics being used to discredit OWS, the different schools of thought and ideology within the movement and the original demands made by the US Day of Rage; the Obama administration's shocking crackdown on medical marijuana and new federal law banning medical marijuana card holders from owning firearms; false flag terrorism and updates about the 'underwear bomber' case, Blackwater and the privatization of the armed forces: is the corporatization of the US military preventing an anti-war rebellion similar to that seen in the 60s?