"Former Dutch PM does not run away from Bilderberg questions: "no more scare-stories please."
On 7 Januari 2013 WRC-Rotterdam met with former Prime-Minister  Jan-Peter Balkenende at the New Year's reception in Rotterdam's cityhall. Currently Balkenende is working as a partner at Ernst & Young and as professor at the Erasmus University in Rotterdam. He is also the chairman of the IAB (International Advisory Board) of Rotterdam. He was willing to do a short interview. First his opinion was asked about mayor Aboutaleb's quote "Be the change you wish to see in Rotterdam". Next, the Rotterdam Climate Initiative was discussed, where his good friend Jeroen v/d Veer, who was also a topmanager of Shell, fulfils the role of chairman of the Council. How does Balkenende see these two roles of Jeroen v/d Veer? Finally we asked him about the Bilderberg Conferences. Balkenende was there only once in 2008 (5-8 Juli, Westfields Marriott Hotel, Chantilly, Washington DC). Balkenende thinks there are a lot of scare-stories and feels at ease telling us a bit more about these confidential meetings.
Support Independent media! 
Like our Facebook page:
WeAreChange.org 
WeAreChangeRotterdam
Know Your Rights – Ep 2
Happy New Year 2013 From WeAreChange!
http://wearechange.org/donate Please consider donating to help us continue to make videos like this. We Are Change would not exist without YOU! http://wearechange.org/store Also support We Are Change by purchasing an item at our store!
http://twitter.com/lukewearechange
http://facebook.com/lukewearechange
I want to thank everyone in 2012 including the over 8 million viewers we had on this one youtube page that made our work possible. We had an incredible year and after everything that we experienced the bad the ugly the good and beautiful. One thing I learned is that with love, hard work and a positive attitude we can achieve anything.
Again thank you so much to everyone who donated to make this year possible.
Music by: Ratatat Song: Gettysburg
https://itunes.apple.com/us/album/classics/id180537852
http://www.ratatatmusic.com/news.html
Support us by subscribing here http://bit.ly/P05Kqb
Greetings!
As the invisible creator & maintainer of my favorite website, We Are Change, I'd like to take an opportunity to tell you guys to check out another great website that has some interesting esoteric content & videos.  It was created by Brian, an old friend of We Are Change, as well as Luke and myself.  Brian engineered and co-produced my band's album "We're Not The Only Ones" which is available for sale here.  All proceeds from our powerful political album go directly to We Are Change.
Thanks for help making this website a well known and respected beacon of truth and freedom.  Peace!
Sierra Adamson breaks down this week's WRC Wrap-Up.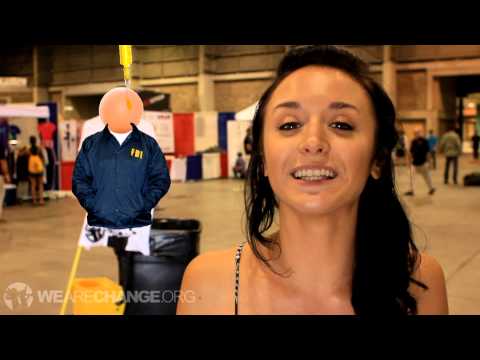 Become a WeAreChange Sponsor and get exclusive behind the scenes content while helping us grow! http:///www.wearechange.org/donate
This week's wrap up covers the detained Marine veteran Brandon Raub, the upcoming Republican National Convention and the clashing of a car boot and electric chain saw.