When this brave grandmother is held up at gunpoint, she does the unthinkable. Rather than give into her mugger, she shares powerful words with him that brings the man to tears. Her courage and determination are an inspiration to us all.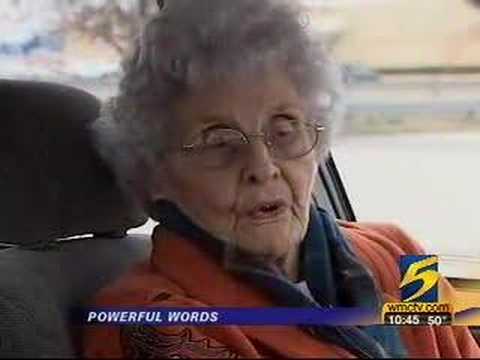 A Dutchman honoured by Israel for hiding a Jewish child during World War Two has handed back his medal after six of his relatives were killed in an Israeli air strike on Gaza.

Ferguson, Missouri, endured a fourth night of pitched battles between police and protestors
SWAT officers and 500 protestors faced-off in St. Louis suburb
Tear gas was then fired as the crowd chanted 'Hands Up! Don't Shoot'
Smoke bombs were also lobbed into the crowd after dark
Protestors responded by attempting to throw Molotov cocktails

Earlier two reporters were arrested and then released without charge
Demonstrations in the St Louis suburb were sparked by police shooting of an unarmed teenager Michael Brown on Saturday night

Missouri Governor Jay Nixon cancelled all appearances on Wednesday night and said he would visit Ferguson on Thursday
Ferguson, Missouri, endured a fourth night of pitched battles between police and protestors

U.N. Secretary-General Ban Ki-moon.
UNITED NATIONS — Secretary General Ban Ki-moon said on Wednesday that "all available evidence" suggested that Israeli artillery had hit a United Nations school in Gaza full of civilians who thought they were in a safe zone.
WeAreChange is proud to celebrate the most enlightening hip-hop artists of all time. The following list was shaped in part by you the audience, WeAreChange staff, and the author. All of the artists on the list were chosen for creating songs full of good vibes, tight beats, original flow, and verses full of uplifting wisdom and knowledge.
Today's movement towards truth, liberty, and alternative media was cultivated in part by seeds planted in hip-hop. While many of today's MCs provoke the most savage of satire – like the Key & Peele sketch featuring a debauched rapper named Bling Benzy – here are the hip-hop artists whose music most enlightened a generation.
A Russian expert in oriental studies, Vyacheslav Matuzov, said that the leader of the Islamic State of Iraq and the Levant (ISIL) Abu Bakr Al-Baghdadi has close ties and cooperation with the US Central Intelligence Agency (CIA).