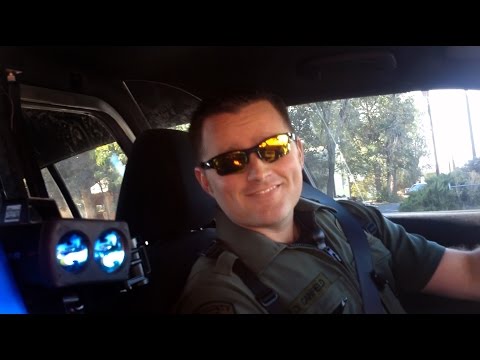 Libertarian Gavin Seim pulled over a police officer in an unmarked car the other day and gave him a recitation of the law that is an incredible viral video.
By Willie Nelson via Huffington Post
Last month at Farm Aid 2014, I was lucky to meet Phillip Barker, a Black farmer who, like many minority farmers, lost much of his farmland as a result of discriminatory lending practices by banks and the U.S. Department of Agriculture. Today, Phillip and his wife Dorathy farm the 20 acres they were able to hold on to in Oxford, North Carolina. Their farm is one of two Black dairy farming operations in the state of North Carolina. They also operate a nonprofit organization, Operation Spring Plant, which provides resources and training to minority and limited resource farmers, including a program that introduces young people to farming and provides youth leadership training. Phillip said one of his goals is to provide tools for the next generation and to help young people "come back to the farm to understand the wealth of the land."
"Wealth of the land." That's a powerful phrase.
Phillip believes the next generation must see a sustainable livelihood from the land, but the wealth he refers to can't be measured only in dollars. It is measured in the experience of working on the land, tending the soil, and caring for the animals and crops that grow from it. It's measured in the ability to be independent, to feed himself and his family. It's measured in the way he and Dorathy sustain and strengthen their community. It's measured in being rooted to a place and passing something valuable to the next generation.
Via ITV.com
Thousands of people have attended a rally in the centre of Glasgow in support of Scottish independence.
The five-hour 'Hope Over Fear' event in George Square was aimed at maintaining the momentum of the Yes movement, following its defeat in the referendum just over three weeks ago.
Former socialist MSP Tommy Sheridan, who is now the co-convenor of Solidarity Scotland, rallied the crowd and called for similar events to be held in Edinburgh, Dundee, Fife and across Scotland.
Via Star Tribune
PHILADELPHIA — A U.S. appeals court on Wednesday ruled that prosecutors can use evidence gathered after a GPS device was put on a suspect's van without a warrant.
The decision is a blow to three Philadelphia brothers charged in a series of pharmacy robberies, and for civil rights lawyers concerned about the reach of police power in the technological age.
"It's disappointing that today's decision lets law enforcement agents off the hook in a broader range of circumstances," said Catherine Crump, a law professor at the University of California, Berkeley who argued the case in May for the American Civil Liberties Union.
The U.S. Supreme Court in 2012 said that GPS tracking amounts to a police search but left unresolved the question of whether warrants are always needed.
Via Seattle Times
Officials in Ferguson, Missouri, are charging nearly 10 times the cost of some of their own employees' salaries before they will agree to turn over files under public records laws about the fatal shooting of 18-year-old Michael Brown.
Missouri's attorney general on Monday, after the AP first disclosed the practice, contacted Ferguson's city attorney to ask for more information regarding fees related to document requests, the attorney general's spokeswoman said.
The move to charge high fees discourages journalists and civil rights groups from investigating the shooting and its aftermath. And it follows dozens of records requests to Ferguson under the state's Sunshine Law, which can offer an unvarnished look into government activity.
Via LaTimes.com
Many documentaries seek to kick-start environmental movements, reverse death row sentences or even change legislative policy.
But few come with the kind of ideological ambition of the Edward Snowden study "Citizenfour," a movie of grand scope that also tells an intimate personal story.
The long-awaited documentary from Snowden chronicler Laura Poitras arrived with a bang at its world premiere at the New York Film Festival on Friday night, receiving a rare festival standing ovation ahead of its theatrical release Oct. 24, when it could well jolt both the fall moviegoing season and the national conversation about privacy and security.
Poitras, as some may recall, shot the 12-minute video of Snowden that went viral in June 2013 and made the National Security Agency contractor, at 29, perhaps the most important and polarizing figure since Daniel Ellsberg. "Citizenfour" is, in effect, that original video effort writ very large — a look at how Snowden came to the decision to pull back the curtain on the NSA's massive surveillance operation and what happened to him when he did.