This is what we know thus far, 53 People are Dead, 53 Injured.
it's the Biggest Mass Shooting in History in the U.S. A State of Emergency is in Effect.
text's confirm possibility of 2 shooters one identified as
Omar Mateen, he proclaimed allegiance to ISIS in a 911 call after the attacks.
He Had Been previously Investigated by the FBI, ISIS WARNED 3 DAYS PRIOR of the Attacks Omar worked for Security firm G4S. ANOTHER ATTACK FOILED IN LA Man heading to Gay Pride Parade was HEAVILY Armed ARRESTED.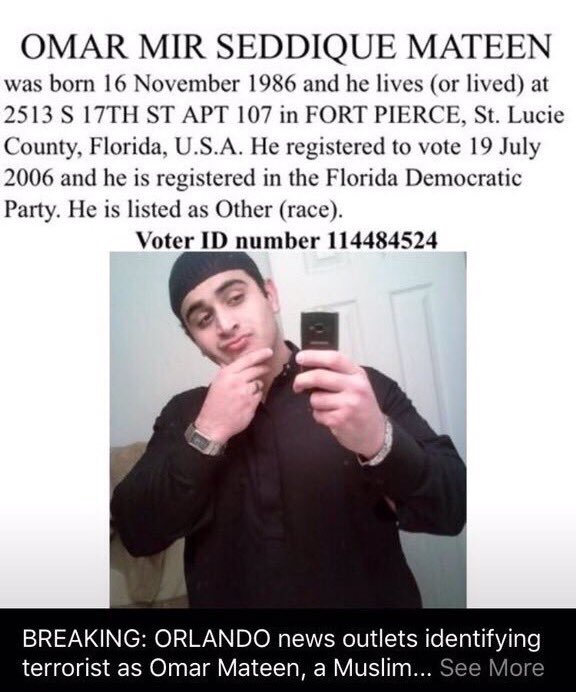 We Are Change corespondent in Orlando Justin Harvey was Live on the Scene:
https://www.facebook.com/justin.harvey.90281/videos/10101894159611323/
(UNSEEN FOOTAGE) Pulse Nightclub Shooting Orlando:
https://www.youtube.com/watch?v=gcTSy0TiDq0
On 6/12/2016 53 people were murdered 53 more injured in a senseless killing that happened at Pulse Gay Night Club, by an ISIS Affiliated Attacker who took people hostage during the month of Ramadan. The attack was previously warned about to officials by threats made by ISIS affiliated Hacking group Cyber Caliphate three days prior to the incident. The gunmen worked for G4S a security firm . Rep Schiff went on the record that the Attacker was known by the FBI. Omar called 911 to pledge allegiance to ISIS after carrying out the shooting. Pulse night club put out warning on Facebook for club goers to run for cover. President Obama has released a statement calling the Orlando shooting "An Act of Terror." Gun used in mass massacre was an AR-15 Assault rifle which was purchased legally according to ATF officials. Ex Obama Administration official Attorney General Eric Holder first to call for more gun control measures. FBI Confirms it interviewed Omar twice once in 2013 and again in 2014 questioned on his connections to a known
suicide bomber. Orlando Mayor Buddy Dyer speaks at a press conference "We will not be defined by this act of terror." Witnesses of the Pulse night club shooting massacre describe what they saw. Florida's
Governor Rick Scott has tweeted and told reporters at a press conference "This is clearly an act of terror." Islamic Society of Central Florida leader Imam Muhammad calls for an end to mass shootings.
Suspect's Father run's youtube account Seddique Mateen hosted tv show called Payam-e-Afghan. The Second politician Sen. Bob Casey suggest gun legislation reform plans gun bill as a result of Orlando Shooting. Text messages of witnesses confirm possibility of possible second shooter.
Congress weighs in on the shooting absolutely stunned shooting occurs right when congress is going to shutdown until November elections. Twitter hashtag #GunControlNow is currently trending. The Council on American–Islamic Relations (CAIR) expresses its condolences to victims families of the tragedy tells ISIS it doesn't speak for all Muslims.
#BREAKING: The entire state of #Florida is under a state of emergency. #C3N

— WEAR ABC 3 (@weartv) June 12, 2016
Another attack was foiled in LA where an armed attacker was headed to a gay pride festival with a cache of weapons and possible explosives.
VICTIM NAMES:
Stanley Almodovar III
Juan Ramon Guerrero
Luis Omar Ocasio-Capo
Edward Sotomayor Jr.
Eric Ivan Ortiz-Rivera
Peter O. Gonzalez-Cruz
ISIS HAS CLAIMED RESPONSIBILITY:

#PulseNightclub shooting. Orlando Mayor Buddy Dyer: "We will not be defined by this act of terror." pic.twitter.com/2UuDYwxhOp

— Orlando Police (@OrlandoPolice) June 12, 2016
Now Orlando-we weep again. What reason now to oppose gun safety measures? Is the answer to our gun violence epidemic to do nothing-again?

— Eric Holder (@EricHolder) June 12, 2016
Sen. Bob Casey Plans Gun Bill in Wake of Orlando Nightclub Shooting https://t.co/91WB0HxdBM via @bridgetbhc pic.twitter.com/UpZ87Ng9KD

— Roll Call (@rollcall) June 12, 2016
President Obama Delivers Statement On Orlando:
https://www.youtube.com/watch?v=hFv8PVuiiDM
More then 600 people have lined up to donate blood to the 53 victims:
There are more than 600 people in line waiting to donate blood for the victims of the #OrlandoShooting pic.twitter.com/SJ2q4YVJTh

— Steve Helling (@stevehelling) June 12, 2016
Orlando LGBT Leader responds to mass shooting at Pulse nightclub:

"There was blood splattered on me and I remember the screaming." #OrlandoShooting.https://t.co/MGRvKQk0ab

— CBC News (@CBCNews) June 12, 2016
'I'm going to die Heartbreaking text messages Orlando clubber sent to mum while hiding:
https://www.youtube.com/watch?v=BuyHQ6gs-Sw
Shooting at Pulse Nightclub on S Orange. Multiple injuries. Stay away from area. pic.twitter.com/5Di2mc6XUY

— Orlando Police (@OrlandoPolice) June 12, 2016
GOV RICK SCOTT DELIVERS STATEMENT ON ORLANDO NIGHTCLUB SHOOTING:

Rep. Schiff Links Shooter to ISIS:

(More Information will be updated as it becomes available.)