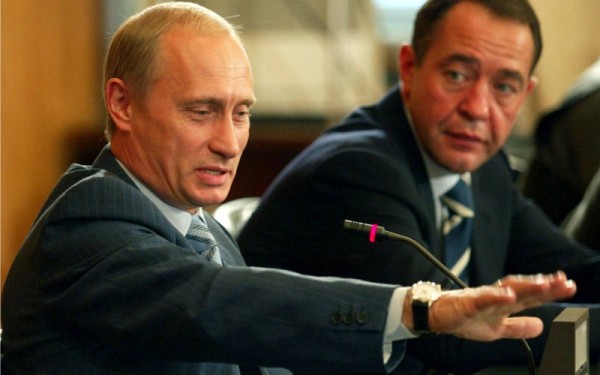 President Vladimir Putin with Former Russian Press Adviser, Mikhail Lesin, Reuters
WASHINGTON DC — A Russian embassy official confirmed on Friday, media mogul and former Russian Press Minister Mikhail Lesin, 57, died in Washington D.C.
Thursday, the Washington based Russian Embassy was notified that a citizen had died, prompting an ongoing investigation involving both American and Russian authorities. By the following day, a spokesperson for the Embassy confirmed that the national was indeed Lesin, but this is the only information currently being given to the public.
"Our consular officials had an opportunity to confirm that the Russian national who passed away in DC is indeed Mikhail Lesin. Out of respect to the privacy and sensitivity of the matter we are not at liberty to disclose any other information, and would ask you to refer all further requests to his family and the law enforcement officials,"

ABC News, the Daily Beast and the Washington Post were among some news outlets falsely reporting that Mikhail Lesin had been found in the Dupont Circle Hotel, despite no information pertaining to the location of Lesin's death being released.

Lesin's family reportedly told RIA Novosti that the cause of death was due to heart stroke.
Russian President Vladimir Putin also expressed his condolences to the Lesin family, with Mikhail Lesin having been an adviser to Putin from 2004 to 2009.
Mikhail Lesin is accredited with co-founding the Russian government backed news organization, RT News in 2005 – while also being accused of restricting freedom of press. Lesin was appointed head of Russia's largest media conglomerate, Gozprom-Media in 2013, to only resign December 2014 due to "family reasons".
In December of 2014, the Department of Justice was considering opening an investigation concerning Lesin's acquisition of $28 million dollars in L.A. property, as well as "multi million dollar" European assets.
RT News hasn't responded to any inquiries related to Mikhail Lesin's death.
What Picture Is Being Painted Here?
Luke Rudkowski's recent video reveals the truth about the tragic Russian jetliner crash in Egypt. In doing so, it's revealed that the nature of relations between the 'west' and Russia have entered a tense, unpredictable zone.
A proxy-war between the United States and Russia escalated a long time ago and constant sabre rattling between the two super-powers hasn't improved relations. What is going on behind the scenes is something very different as opposed to what we've been lead to believe.
We Are Change will not speculate or ask questions concerning the complete nature of this event at this time; but an open-mind and proper discernment may bring a startling truth to light, in the near-future.
By Alec Cope
We Are Change