The United States are dilacerated by interracial and deep social conflicts which could undermine American stability. The ongoing situation can be compared to the low-intensity civil war and the society could easily burst into flames at the slightest spark.
Hundreds of demonstrators have been arrested across the U.S. as protests against police shootings intensified and new details about the motivations and plans of the Dallas sniper emerged. In Baton Rouge, Louisiana, more than 160 people were detained during demonstrations over the shooting death of Alton Sterling, a 37-year-old African American.
Military-style vehicles, teargas and smoke grenades returned to American streets this summer, and Barack Obama appealed for calm and said those who attack law enforcement undermine the cause of social justice. The unrest built as authorities in Dallas, TX, said black gunmen had killed at least five white policemen in Dallas in the first inevitable result of years of anti-white incitement by the media and establishment. Gunfire broke out at around 20:45 local time last Thursday, as Black Lives Matter demonstrators marched through the city.
The so-called Black Power Political Organization claimed on its Facebook account that it was behind the attack in which cops were picked out from an 'elevated position'. According to the BPPO statements 'more assassinations are coming'. There were initial reports there could have been up to three or four snipers involved in a coordinated attack during a peaceful Black Lives Matter protest.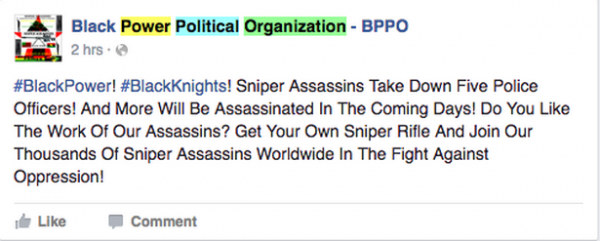 Victim of the System
The Dallas attack was highly organized. At least one of the suspects was a well trained U.S. military veteran who had gathered a large amount of weaponry. The gunman, Micah Xavier Johnson, served with the U.S. Army Reserve for six years and was in Afghanistan. He had far-reaching plans for the outbreak of a small guerrilla war against white policemen. Dallas Police Chief David Brown said Johnson told negotiators before he died he was upset over recent police-involved shootings of African Americans and 'wanted to kill white people, especially white officers'. He was heavily-armed and killed by police – while holed up in the car park – in a robot-controlled explosive device after negotiations broke down.
Today an uncountable number of American veterans are trying to fit into civilian life after not getting a promotion and retirement. Hundreds of thousands of American citizens were taught to fight and kill by the US government, now many of them are living in poverty and hoarding anger at the unjust American society. These people represent a real army of potential murderers. Nevertheless, this is not their fault – the government does not take care of the veterans who gave their lives for the country and politicians are not ready to discuss this issue, they have no intention of even facing it.
The current political and economic systems are in crisis and are not addressing social and racial problems. Without a nationwide reform of police hiring and training practices,  a social explosion that would rival Ferguson's riots in 2014 could erupt at any moment. Shootings in Baton Rouge and Kansas City of police officers demonstrate that growing hatred of police.
Racial Roots
The existing racism, of course, is a result of authorities' inaction – which may be intentional. The Republican Party under George W. Bush loved to trumpet being "tough on crime" — but never addressed the crimes of police officers.
Racism is another powerful political trump card which is used by different political forces, including the Democratic Party. Moreover, the racism issue is a part of a horse trade and plays a big role in the run-up to presidential elections. Therefore, the Democratic candidate Hillary Clinton will almost certainly get many votes thanks to her statements about the necessity of equality and fight against racism – despite her failure to actually offer a solution to the issue.
The ruling Democratic Party just concluded a deal with black communities – politicians give benefits and autonomy amounting to local fiefdoms to the community leaders, who herd them votes in exchange. As a result, African Americans have been urged to vote for the Democrats, especially the Clintons. Bill and Hillary have very close ties with black leaders, so there is no surprise that Hillary Clinton has condemned the Dallas Police Department.
Both the Republicans and the Democrats have failed to solve the police brutality crisis, and have escalated the situation with weapons from the federal government. Unless a change is made, the police brutality will continue, and fuel the growing race divide.