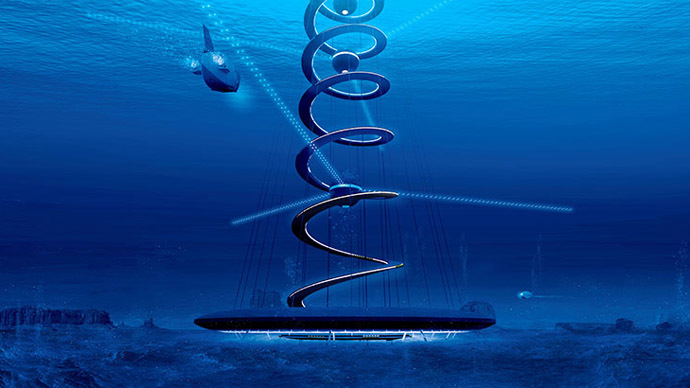 RT News
Will people ever live in underwater cities? Japanese construction firm says it is possible by 2030. The visionaries revealed a $25 billion deep-sea eco-city plan called Ocean Spiral for 5,000 people that will produce energy from sea resources.
Many have pondered the idea of living under the sea while sci-fi film directors such as George Lucas tempted our imagination with stunning images of underwater cities. Such was the Gungan city consisting of a mass of hydrostatic bubbles shown in the first part of the "Star wars" epic space film series.
Now a Japanese construction firm Shimizu Corp. says that building an underwater residential area is not a fantasy and aims to build one by 2030 – in just 15 years.
"This is a real goal, not a pipe dream," the Shimizu spokesman Hideo Imamura told the Guardian.
The outlandish plan envisages a spiral-shaped structure comprised of three major sections. Floating slightly above the surface the structure will be topped by a 500-meter sphere.
The central part is a spiral 15km long with room for business zones, residential areas and hotel rooms for about 5,000 people, according to the plan.