UPDATE 6:00 A.M. EST – 3/23/17: 7 arrests made in raids on six properties in various cities across the U.K, 5 deaths confirmed.
UPDATE: 5:30 P.M. EST – 3/23/17: A 6th person has been confirmed dead.
There have been reports of a terrorist attack at the U.K. Parliament. Four people have been reported dead, including a police officer who was stabbed to death, and around a dozen more who are injured. We will not be able to identify these people until the investigations have been released.
Incident in #Westminster: We are treating this as a terrorist incident until we know otherwise

— Metropolitan Police (@metpoliceuk) March 22, 2017
A man wielding an 'eight inch' knife has been shot outside Parliament after charging the gates and stabbing a police officer. London Police have have declared it to be a "terrorist incident" at the capital "until we know otherwise." Up to a dozen of innocent pedestrians were apparently mowed down on Westminster Bridge by a grey 4×4, which then crashed into the gates outside of Parliament.
The area is now on lockdown as helicopters have come in to assist casualties, and police investigate the situation. David Lidington, the leader of the House of Commons has been reported to say that "it seems that a police officer has been stabbed; that the alleged assailant was shot by armed police. An air ambulance is attending the scene to remove the casualties. There are also reports of further violent incidents in the vicinity."
Dramatic pictures display bodies littering Westminster Bridge and the vicinity outside Parliament.
Earlier reports suggested sounds of an explosion but have yet to be confirmed.
Commons Leader David Lidington told MPs: "What I am able to say to the House is there has been a serious incident within the estate."
Watch video below of Lidington addressing in the chamber that they are to remain in lockdown following advice from police.
It seems as if the alleged ring-leader of the terrorist attack has been shot, but we do not know whether he is still alive or dead at this point.
The man was at first thought to be identified as hate preacher "Abu Izzadeen" but that claim was backtracked by British Channel 4 as it was found that Izzadeen is currently serving time in jail RT reported.
SEVERAL PEOPLE INJURD AFTER A SHOOTING AT THE HOUSE OF PARLIAMENT IN LONDON #London #LondonAttack #BrusselsAttacks #Orly #Shooting #terror pic.twitter.com/XVweuzLnUw

— DWP- SITUATION DESK (@daniel_site) March 22, 2017
This incident comes exactly one year after the 2016 Brussels bombings, in which 32 people were killed. The known order of events of today's attack can be seen below.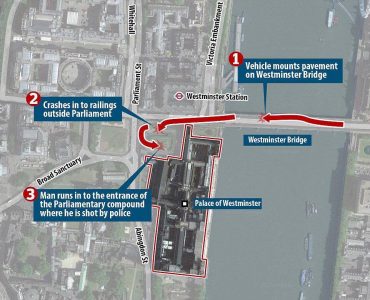 In response to the crisis, UK Prime Minister Theresa May was quickly evacuated through an underground tunnel system. It seems that the House of Commons had to suspend debates due to the incident.
There is no clear motive, intent, or affiliation of the attacker at this point.
Prime Minister May was evacuated by underground tunnels from the Westminster#London #Westminster #LondonAttack #terrorism

— DWP- SITUATION DESK (@daniel_site) March 22, 2017
This is a breaking story, and updates will be added as they come in. Stay tuned on We Are Change.