Around 6,000 National Guard troops have been activated from multiple states. They are expected to arrive in the Washington Metropolitan Area within the next 48 hours to beef up security around the US Capitol complex, according to AP.
Update: They have started to arrive…
Buses of National Guard troops still filing into the Capitol tonight. We're seeing them stationed every few feet along new barricades installed around key buildings. @ABC7News pic.twitter.com/g9dkWipyJg

— Carl Willis (@CarlWillisTV) January 10, 2021
Deployment of Guard troops come in the wake of deadly riots at the Capitol building on Wednesday and ahead of the Presidential Inauguration on Jan. 20 that could incite another wave of violence.
AP has learned defense officials are reviewing restrictions on whether Guard troops will be allowed to carry weapons in the coming days as new threats materialize.
Army Secretary Ryan McCarthy told AP Friday that intelligence on potential threats continues to evolve. He said some Guard troops could carry M4 Carbines, but a final decision may come next week.
The review reflects concerns about the safety of Guard troops in the wake of the deadly riots.
"We'll be looking at the intelligence and decide over the next day or so," McCarthy said. "It's just going to require us to get better intel, and then we'll have to take a risk assessment."
This past week, Guard troops have been unarmed and will continue to be once a decision is made. So far, they've been tasked with guarding the Capitol building behind steel walls that limit them from directly contacting violent protesters.
About 850 Guard troops have been deployed to Capital grounds, working 12 hours shifts at more than 90 checkpoints.
Over the weekend, videos have emerged of Guard troops stationed around the Capitol complex.
Guard troop presence increasing in DC.
HUGE military presence in Washington DC right now. pic.twitter.com/X9dieF4oDK

— Jeremy Kappell (@JeremyKappell) January 10, 2021
Guard troops patrolling perimeter fence around Capitol.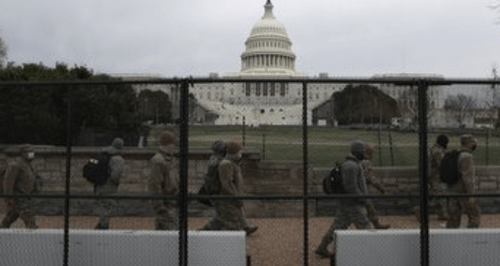 Guard troops patrolling buildings around the Capitol.
AFP shows several scenes of Guard troops outside the perimeter fence of the Capitol.
Considering top militia leaders have said they have placed "armed" members around DC to prevent a steal of the 2020 presidential election from President Trump – it's likely some Guard troops will be armed as perhaps the last of the violence isn't over.
Republished from ZeroHedge.com with permission