Update (1000ET): Twitter shares faded from premarket highs of $54 per share to around the mid-point of the $47 handle at the start of the US cash session. Some believe Elon Musk's offer is too low.
Here's what Wall Street analysts are saying about Musk's proposed takeover of the social media platform (courtesy of Bloomberg):
Piper Sandler (neutral; PT $45)
*"We are in uncharted territory with this situation," but a counteroffer is unlikely

*The offer price "seems reasonable"
Vital Knowledge
*"It seems hard to imagine TWTR's board would accept a $54.20/shr. bid given the stock was at $70 less than a year ago"

*The money might be a problem, as much of Musk's wealth is tied up in Tesla and SpaceX; while he could partner with other Twitter holders on a bid, "he would struggle to get together enough money to bump the price much beyond $54.20"
Bloomberg Intelligence
"Though there could be a competing bid, we believe any revised offer may not exceed $50 billion, given Twitter's mid- to high-teens growth"
CFRA
*Downgrades Twitter to hold from buy 

*"The offer price should be viewed as enticing to shareholders (near our $55 target price) and will be difficult to reject"

*If the offer is rejected, Musk could walk away rather than raise his offer, "which would likely drive shares considerably lower"
Wedbush (neutral; PT $42)
*"In our view, the deal does not get done at this level, and Twitter's Board will not view this offer, or Mr. Musk leading a change in the company as in the best interest of the company or shareholders"
Loup Ventures
*"Investors should welcome Musk first principles approach to running companies," as "he has a high capacity to try new things including direct monetization"
Oppenheimer
*Downgrades to perform from outperform, removes $60 price target

*Twitter "should trade at a 20-30% discount to SNAP on '22E revenue which would represent TWTR shares between $48-$54 on our current estimates"
Meanwhile…
Well this is awkward: TWTR board hired Goldman to "advise" it that the @elonmusk $54.20 offer is too low. Only problem: Goldman has a SELL rating with a $30 price target. Oops. pic.twitter.com/ViQXnXBD3C

— zerohedge (@zerohedge) April 14, 2022
* * *
Update (0925ET): Shortly after the news broke that Elon Musk offered to purchase 100% of Twitter for around $43 billion with a bid of $54.20, Twitter acknowledged the offer. A few hours later, the social media company will hold a board meeting around 1000 ET to discuss the offer.
Ahead of the board meeting, here are the top shareholders that matter the most. The question is which way they will vote…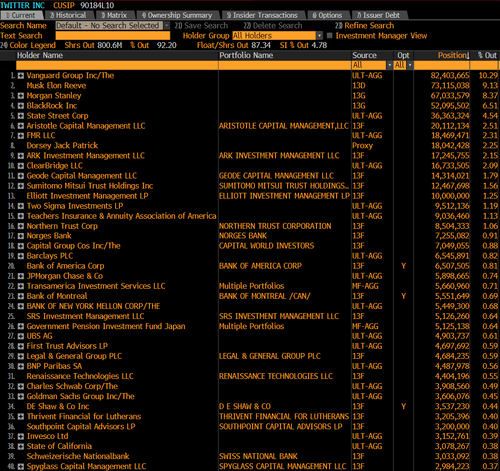 * * *
It's a worst case scenario for the easily triggered snowflake employees at Twitter: Elon Musk has just offered to buy the entire company. And even in doing so, he hasn't stopped trolling.
Elon Musk has made a bold move by offering to purchase 100% of Twitter for around $43 billion with a bid of $54.20.
According to an updated 13D filing read that Musk offered "to acquire all of the outstanding Common Stock of the Issuer not owned by the Reporting Person for all cash consideration valuing the Common Stock at $54.20 per share (which values the company around $43 billion)," warning Twitter management this is his "high price" and "if the deal doesn't work," he would "reconsider my position as a shareholder."
— ForexLive (@ForexLive) April 14, 2022
Here is the letter Musk sent to Twitter's chairman disclosed in the 13D filing.
Bret Taylor

Chairman of the Board,

I invested in Twitter as I believe in its potential to be the platform for free speech around the globe, and I believe free speech is a societal imperative for a functioning democracy.  

However, since making my investment I now realize the company will neither thrive nor serve this societal imperative in its current form. Twitter needs to be transformed as a private company.

As a result, I am offering to buy 100% of Twitter for $54.20 per share in cash, a 54% premium over the day before I began investing in Twitter and a 38% premium over the day before my investment was publicly announced. My offer is my best and final offer and if it is not accepted, I would need to reconsider my position as a shareholder.

Twitter has extraordinary potential.  I will unlock it.

-Elon Musk 
Reminiscent of Musk's previous '420'-related faux pas, we do note that the boiler plate in the filing also raises the specter of whether this deal is 'funding secured'…
"The Proposal is non-binding and, once structured and agreed upon, would be conditioned upon, among other things, the (i) receipt of any required governmental approvals; (ii) confirmatory legal, business, regulatory, accounting and tax due diligence; (iii) the negotiation and execution of definitive agreements providing for the Proposed Transaction; and (iv) completion of anticipated financing," the filing noted.  
Here's a text Musk sent Twitter management:
"As I indicated this weekend, I believe that the company should be private to go through the changes that need to be made. After the past several days of thinking this over, I have decided I want to acquire the company and take it private. I am going to send you an offer letter tonight, it will be public in the morning. Are you available to chat?"
And the transcript of a voicemail:
Best and Final:

a.    I am not playing the back-and-forth game.

b.    I have moved straight to the end.

c.    It's a high price and your shareholders will love it.

d.    If the deal doesn't work, given that I don't have confidence in management nor do I believe I can drive the necessary change in the public market, I would need to reconsider my position as a shareholder.

i.    This is not a threat, it's simply not a good investment without the changes that need to be made.

ii.    And those changes won't happen without taking the company private.

2.    My advisors and my team are available after you get the letter to answer any questions

a.    There will be more detail in our public filings. After you receive the letter and review the public filings, your team can call my family office with any questions.
Shares in the social media platform soared as much as 18% on the news.
It's been a wild rollercoaster of events over the few weeks.
Elon Musk went from:

1. teasing changes to twitter over a poll

2. buying a 9.2% stake

3. accepting then declining a board seat

4. getting sued by twitter shareholders over delayed disclosure

5. offering to buy ALL of twitter

in just a few weeks. absolute rollercoaster

— litquidity (@litcapital) April 14, 2022
These investment management firms are missing out on the Musk gains; Melvin Capital dumped its position as of 12/31/21 filings.
Twitter  has responded with a boiler platye confirmation that it has received the offer and will complete its due diligence; however, it remains to be seen if the company sells for $54.20 per share in cash, considering share prices have traded at a higher premium.
Elon Musk's $54.20 per share offer for Twitter Inc. is "too low" for shareholders or the board to accept, Vital Knowledge's Adam Crisafulli said in a report. Crisafulli adds that Twitter's shares was at about $70 less than a year ago. – Bloomberg 
Liberal elites are none too pleased – as we have detailed recently – and it didn't take long for them to be rushing out op-eds to drive the narrative…
Pickard appears to want to privatize the platform (for the safety of all?)…
Core communications systems like Twitter shouldn't be left to the whims of billionaires and profit-driven monopolies in the first place.

Until we radically democratize such platforms and treat them as the essential public infrastructures they are – shared resources that shouldn't be governed by market forces alone – Musk, Trump, or some other petulant billionaire can come along and make them their playthings.

…

But if we allow the marketplace of ideas to be conflated with the capitalist market, wealthy white men like Musk will continue to have much louder voices—amplified by their tens of millions of Twitter followers, their obscene wealth, and their unquestioned fealty to market libertarianism.
We wonder how they would feel about the offer if the 'bilionaire' in question was not from "the other side" or had a different skin color? Does he not know that Musk is an African American?
Employees have said they are "super stressed" and "working together to help each other get through the week" – whatever the hell that means.
One Twitter employee told Bloomberg earlier in the week that they were concerned that Musk was "just getting started, which is unfortunate." Other employees described the situation as a "shit show".
Rumman Chowdhury, a director on Twitter's AI research team, said: "Musk's immediate chilling effect was something that bothered me significantly."
"Twitter has a beautiful culture of hilarious constructive criticism, and I saw that go silent because of his minions attacking employees," he continued.
Well the shit show has now officially entered into another phase. – though we're sure there has to be a couple of employees quietly happy with the gains being made in their investment accounts…
And now it's time for our daily live check in at the employees at Twitter HQ:
Lib: Don't like twitter censoring free speech?

Elon: No

Lib: Twitter is a private company

Elon: Yes

Lib: So make your own Twitter

Elon: No. I'll buy this one

Lib: YOU CANT DO THAT

Elon: Just did

Lib: PANIC *hyperventilates*

Elon: Twitter is now *my* private company

Lib: pic.twitter.com/2ZOhghMzvw

— Benny (@bennyjohnson) April 14, 2022
One final thought…
This is going to end with Elon Musk selling his entire stake on 4/20, isn't it?

— Alex Weprin (@alexweprin) April 14, 2022
Republished from ZeroHedge.com with permission