(Update 1512ET): The Capitol Attacker has been identified as 25-year-old Noah Green, originally from Indiana but who may have moved to Virginia. He recently lost his job and posted to Facebook that he was 'seeking spirital help.' NBC's Pete Williams confirmed his identity.
NBC's Pete Williams reports on @MSNBC: The suspect in Capitol Police incident is a 25 year old Indiana man named Noah Green. May have lived in Virginia. On his Facebook page, he notes that he is a follower of the Nation of Islam. Suspect is now dead.

— Jesse Rodriguez (@JesseRodriguez) April 2, 2021
Green, who is now deceased, was a follower of the Nation of Islam and referred to himself as "Brother Noah X."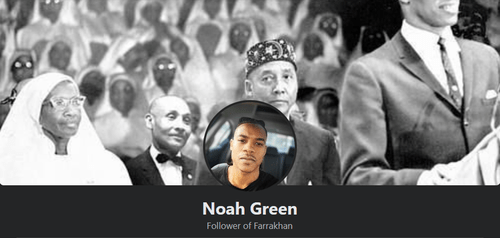 "To be honest these past few years have been tough, and these past few months have been tougher," Green posted to Facebook on March 16. " I have been tried with some of the biggest, unimaginable tests in my life. I am currently now unemployed after I left my job partly due to afflictions, but ultimately, in search of a spiritual journey."
"There is much confusion in this day and age in my perspective. The ongoing COVID crisis, unemployment, rising National Debt, division within the political sphere, rumors of war and the like. But one thing I'm assured everyone can lean on is faith in the Honorable Minister Louis Farrakhan as the man who can carry us through the dark hour."
In a subsequent post on March 17, Green encouraged everyone "to study Revelations, study the signs of end times, study who the beast is, study who the anti-Christ is, study who the false prophet is, and study the created images during those times."
Noah Green, 25, originally from Indiana. May have moved to Virginia.

Lost his job, recently posted on FB he was seeking spiritual help, was despondent. Was a Follower of the Nation of Islam. #capitol https://t.co/CbzXovIXML

— Ropebelt (@ropebelt) April 2, 2021
That sound you're hearing is the MSM scrambling to reset the headlines.
*  *  *
(Update 1450ET): Fox News is reporting one capital police officer has died, according to Acting Police Chief Pittman. As the incident unfolded "seek cover" warnings rang out across the area on the Senate side of the Capitol building:
The United States Capitol was locked down on Friday due to an "exterior security threat," as the United States Capitol Police (USCP) said two officers were injured after a car rammed into them. One officer died of his injuries, sources tell Fox News.

Sources said the suspect exited his car wielding a knife and was shot by the USCP, dying of his injuries.

Fox News is told security officials believe the suspect was a "lone wolf," not connected to any other group.
LIVE FEED:
"We just don't know right now" the motivation of the attacker, says @DCPoliceDept Chief Contee.

— Steve Herman (@W7VOA) April 2, 2021
* * *
(Update 1428ET): ABC is reporting the suspect has died after being transported to the hospital:
After reports that someone hit two U.S. Capitol Police officers with a car, Capitol Police opened fire at the north barricade of the Capitol complex, law enforcement sources tell ABC News.

Two officers are said to be injured, one critically, the sources said. Law enforcement sources tell ABC News the suspect is dead.
Additional National Guard troops, which were already in the area, have been deployed to the scene:
JUST IN: National Guard deployed at #Capitol after Car attack. 3 people in hospital include attacker and 2 Police.

Streets around building blocked, building in lockdown mode. FBI assisting: pic.twitter.com/9I3JezU56Y

— Joyce Karam (@Joyce_Karam) April 2, 2021
* * *
Chaos has unfolded outside the Capitol building after a vehicle smashed into police that were guarding a barricaded entrance. It's also being described as a possible shooting incident which left at least one officer seriously injured. The Capitol complex is now on lockdown as a huge emergency response is underway, according to breaking reports.
According to a US Capitol Police statement, it is currently "responding to the North Barricade vehicle access point along Independence Avenue for reports someone rammed a vehicle into two USCP officers. A suspect is in custody." The suspect was shot by police and is said to be in critical condition.
BREAKING: At least 1 person down outside the U.S. Capitol pic.twitter.com/kz4Opkbmc6

— BNO News (@BNONews) April 2, 2021
The statement adds "Both officers are injured. All three have been transported to the hospital."
It doesn't appear Congressional members were present or near the site of the vehicle attack incident, which seems to be over as police and emergency vehicles have taken over the scene.
Per USCP, the incident occurred on Constitution Avenue, not Independence Avenue.

Two USCP officers were injured when someone rammed a vehicle into them, per USCP, and a suspect is in custody. All three have been transported to the hospital.

Lawmakers are in recess, and not in.

— Grace Segers (@Grace_Segers) April 2, 2021
??A helicopter just landed on the east front of the Capitol. I've never seen anything like this before. ever. pic.twitter.com/LxV0mywRSe

— Jake Sherman (@JakeSherman) April 2, 2021
The AP reported that gunfire rang out in the area, before police with sirens blaring descended on the site. Further details describe:
The incident occurred about 100 yards (91 meters) from the entrance of the building on the Senate side of the Capitol. Fencing that prevented vehicular traffic near that area was recently removed as the Capitol has started to open up after the Jan. 6 riots.

The security checkpoint is typically used by senators and staff on weekdays. Congress is currently on recess.

Video posted online showed a dark colored sedan crashed against a vehicle barrier, and a police K9 inspecting the vehicle. Law enforcement and paramedics could be seen caring for at least one unidentified individual.
Local media reports say @CapitolPolice shot at a car which would not stop at a barricade. At least one person injured.

— Steve Herman (@W7VOA) April 2, 2021
It appears the suspect vehicle failed to stop before police opened fire according to the emerging details.
VOA News White House correspondent Steve Herman writes that "The suspect was shot after getting out of the car with a knife, according to media reports."
Meanwhile…
WATCH: National Guard troops, who have been gradually drawing down from U.S. Capitol complex in recent weeks, are now marching down Constitution Ave – West Wing pic.twitter.com/bMmAFKDgz8

— X News Alerts (@XNewsAlerts) April 2, 2021
Republished from ZeroHedge.com with permission