Americans continued to panic hoard guns for the 16th straight month in April, according to the FBI's National Instant Criminal Background Check System's (NICS) statistics report. The data provides insight into the trends behind Americans purchasing firearms.
The FBI's NICS logged 3.514 million background checks in April 2021, which is more than any other April on record. Background checks have been elevated since the virus pandemic began and recently supercharged under an anti-gun Biden administration.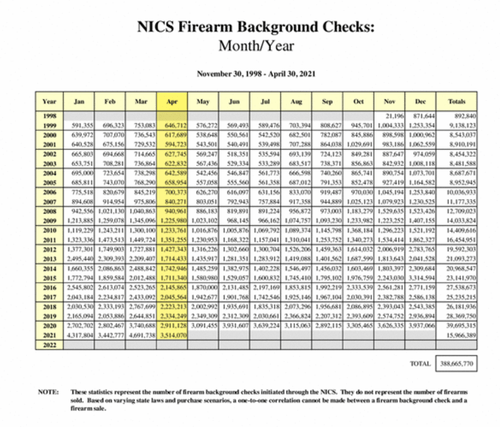 Visualizing the panic hoarding…
The Small Arms Analytics & Forecasting group (SAAF) told the Washington Examiner that gun sales topped 1.8 million for the month, another record for April.
"The April 2021 number of just over 1.8 million firearms sold is large," SAAF Chief Economist Jurgen Brauer said. "In fact, it is the largest April figure on record. While the year-over-year percentage increase of 2.1% is relatively modest, it nonetheless represents growth on top of last year's COVID-19 panic-driven sales boom. Handgun sales declined in April 2021 relative to the same month last year, so that long-gun sales drove this April's overall increase."
Before Biden, Americans panic hoarded guns and ammo during the virus pandemic in spring 2020. Another round of buying kicked off during the summer riots across major metro areas—the surge in buying produced shortages of certain weapons, ammo, and other gun-related products.
"Sales continue to be brisk, and we're showing growth in the 25%-35% range compared to last year," Justin Anderson, marketing director of Hyatt Guns of Charlotte, N.C., told the Examiner. "This is a more natural growth and isn't strictly being driven by political or other outside forces.
"More than likely, many of the 8 million people that bought their first gun in the last year have caught the bug and are buying more guns and accessories," Anderson added. "While ammo remains scarce, Remington's ammunition plant is back online, and we think this will help to mitigate the unprecedented demand. We expect another busy summer, both online and in the store, and another record year."
One of the reasons why the guns and ammo market is in a bull cycle this summer is politics. President Biden has requested lawmakers to pass an assault weapons ban, prohibit high-capacity magazines, eliminate "ghost guns," and make background checks universal.
"I'm the only one ever to have passed an assault weapons ban. I'm the only one that ever got a 10-year ban on assault weapons and clips of more than ten bullets," Biden recently said. "Immediately upon us becoming an office, having an attorney general, I asked him to put together the things I could do by executive order, including dealing with new guns that can be made, you can buy in pieces and put together, and other, and other initiatives."
Background checks and the gun-buying trends suggests Americans are armed to the teeth – waiting for the country to sink deeper into a hellhole under the Biden administration.
Republished from ZeroHedge.com with permission