Prince Andrew and accuser Virginia Giuffre have reached an out of court settlement for an undisclosed sum of money in a lawsuit which accused the disgraced UK royal of "rape in the first degree" after she was trafficked by Andrew pals Jeffrey Epstein and Ghislaine Maxwell.
"The parties anticipate filing a stipulation of dismissal of the case within thirty (30) days," reads a note to Judge Lewis A. Kaplan.
"In the interim, the parties request that the Court suspend all deadlines and hold the action in abeyance."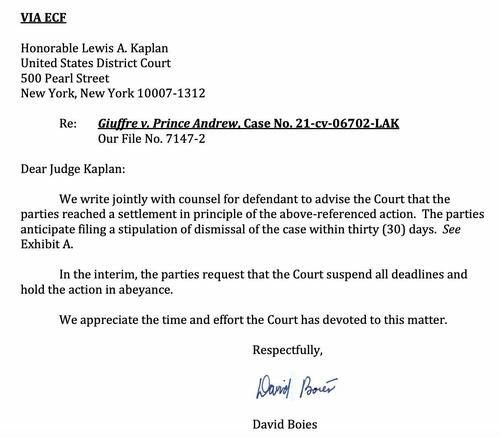 Giuffre accused Andrew in the New York civil lawsuit of "rape in the first degree," and three instances of sexual assault when she was 17.
Giuffre, 38, claims the attacks took place in 2001 in London, New York, and on Pedo Island (Little St. James), owned by Epstein at the time. She sought "punitive damages" that could end up being millions of pounds.
The lawsuit also claims that Ghislaine Maxwell forced her to have sex with Andrew at Maxwell's London residence – which Giuffre said she feared repercussions if she disobeyed.
"Virginia Giuffre and Prince Andrew have reached an out of court settlement," reads a note attached to the brief filing, which adds that Prince Andrew "intends to make a substantial donation to Ms. Giuffre's charity in support of victims' rights."
Andrew acknowledges that his old friend Jeffrey Epstein "trafficked countless young girls over many years," and he "regrets his association."
The deal comes just weeks before Andrew was to sit for a deposition with Giuffre's lawyers.
As the New York Times notes:
The lawsuit by Ms. Giuffre, one of the most prominent of Mr. Epstein's accusers, had cast a shadow over the royals at a time when Queen Elizabeth, the 95-year-old British monarch, was marking her 70th year on the throne. Andrew was forced to relinquish his military titles and royal charities, no longer was to use the title "His Royal Highness," and was "not to undertake any public duties," Buckingham Palace said in a statement last month.
Giuffre claims she was abused by Andrew at Epstein's Manhattan mansion, as well as on his private island, Little St. James, in the US Virgin Islands.
Republished from ZeroHedge.com with permission