Senate investigators have demanded that Hunter Biden turn over a mountain of evidence following bombshell emails and text messages which appear to show he and his business partners engaging in an international influence-peddling scheme while his father was Vice President of the United States, according to CBS News' Catherine Herridge – who brought receipts as usual.
NEW: Senate Investigators seek Hunter Biden records, according to October 21 letter, addressed to team of lawyers. Deadline October 23. "According to recent reports that published emails allegedly from your client's laptop, the Committees have identified your client as an pic.twitter.com/ChIhs14Ogq

— Catherine Herridge (@CBS_Herridge) October 22, 2020
"According to recent reports that published emails allegedly from your client's laptop, the Committees have identified your client as an individual involved in one or more of these business arrangements or financial transactions," reads a Wednesday letter from Sens. Ron Johnson and Chuck Grassley.
"As part of the ongoing efforts to validate and verify the information in those emails, the Committees request that your client provide all records related to any of your client's business dealings—including, but not limited, to bank records, wire transfers, account balances, gifts, business transactions, travel records—with Joe Biden, James Biden, Ye Jianming, Chi Ping Patrick Ho, Zang Jian Jun, Gongwen Dong, Mervyn Yan, Gabriel Popoviciu, or any other associates regarding CEFC China Energy Co. Ltd or any other transactions related to business in Romania, China, Russia, Kazakhstan, Ukraine, Czech Republic, or any other countries."
Biden's lawyers have until Friday to comply.
Over the last week, alleged emails, text messages and compromising photographs from Hunter Biden's laptop and his former business partners reveal that Joe Biden was directly involved in Hunter's business dealings, and appears to have directly profited from them.
The deals span several countries, from Ukraine – where Joe was 'introduced' to a representative from energy giant Burisma before strong-arming the Ukrainian government into firing their chief prosecutor who was investigating the company, to China, where a top Chinese official offered the Biden family a $5 million "interest-free" loan, to Russia, where Hunter took $3.5 million from the former mayor of Moscow's ex-wife.
Less than two weeks later, on August 8, 2017, $5 million was wired from a CEFC-affiliated investment vehicle to a Delaware LLC, which spent the next year transfering nearly $4.8 million directly to Hunter Biden's firm, according to Senate investigators. https://t.co/Byyo3FNp3T pic.twitter.com/8XHHVTuFml

— Sean Davis (@seanmdav) October 22, 2020
Meanwhile, Former Hunter Biden business partner Tony Bobulinski – who will be at tonight's debate – confirmed that an email published in the New York Post's  bombshell exposé is indeed genuine – something the Biden camp hasn't disputed, and that the "Big Guy" described in one of those emails is none other than Joe Biden himself. Bobulinski also says Joe Biden was lying when he said he and Hunter never discussed business dealings.
"My name is Tony Bobulinski. The facts set forth below are true and accurate; they are not any form of domestic or foreign disinformation. Any suggestion to the contrary is false and offensive. I am the recipient of the email published seven days ago by the New York Post, which showed a copy to Hunter Biden and Rob Walker. That email is genuine.' -New York Post
Bobulinski issued the statement late Wednesday, affirming that, contrary to Joe Biden's claims that he never discussed business dealings with Hunter, the former Veep actually profited from his son's dealings, which were undertaken with the full support of the Biden family. 
Meanwhile, @SenRonJohnson and @ChuckGrassley just announced that Bobulinski will be informally interviewed by them tomorrow as part of their Hunter Biden investigation. https://t.co/q7U5mdFUnN

— Seung Min Kim (@seungminkim) October 22, 2020
Bobulinski claims cash and equity positions and 10% stakes in dealings were set aside for "the big guy," – aka Joe Biden.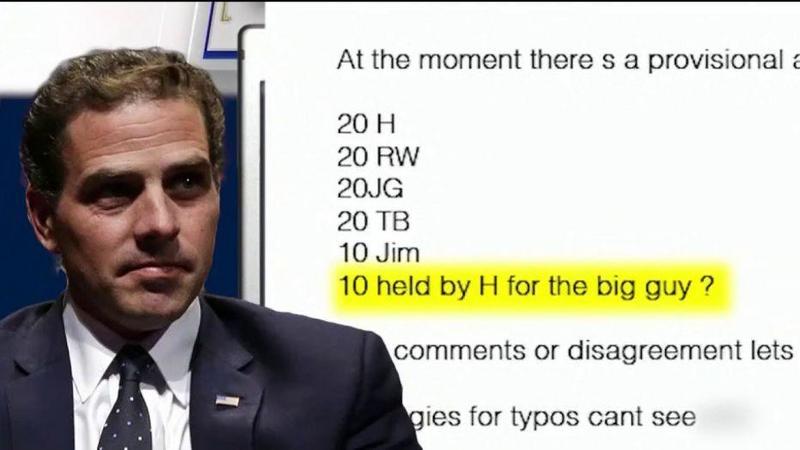 And guess who's turning over his electronic devices and business records to the FBI?
BREAKING: Tony Bobulinski will announce that he will turn his electronic devices and records of business dealings with Hunter and Jim Biden over to the FBI

— John Roberts (@johnrobertsFox) October 22, 2020
If Trump doesn't call Biden 'Big guy' at tonight's debate, it will be a missed opportunity.
Republished from ZeroHedge.com with permission