Since 2017 controversy and speculation has abounded over the legitimacy of the so-called "Havana syndrome" story, which involved some 50 diplomatic officials working at the US Embassy in Cuba coming down with strange illnesses and symptoms – from headaches to vomiting to 'brain trauma' – which was blamed on high tech covert 'sonic attacks' by nefarious actors. Officials were quick to blame either Russian intelligence or Cuban operatives in what sounded like a wild James Bond style bit of futuristic espionage.
Last week the allegations returned to national media spotlight after defense officials said they believe Russia is likely behind "directed energy" attacks on US troops in northeast Syria. Apparently some US troops occupying the country began reporting "flu-like symptoms" which caused the DoD to investigate possible linkage to microwave or directed energy weapons on the battlefield of Syria. Politico reported that "officials identified Russia as a likely culprit, according to two people with direct knowledge of the matter."
And now CNN is reporting what is perhaps the most bizarre and outlandish instance of this yet – a 'sonic attack' which sickened a top administration official while standing just outside White House grounds.
"That incident, which occurred near the Ellipse, the large oval lawn on the south side of the White House, sickened one National Security Council official, according to multiple current and former US officials and sources familiar with the matter," CNN writes.
The report says the symptoms experienced by the unidentified official were consistent to those reported in Havana at the embassy years ago. The original Havana Syndrome incident involved personnel saying they experienced everything from vomiting to concussions to extreme nausea to chronic headaches and even minor brain injuries. However, analysts and scientists have remained deeply divided on the issue, with speculation ranging from high pitched sounds from crickets or even mass hysteria causing the illness.
At the same time the US-funded National Academy of Sciences concluded that "microwave radiation" was most likely the source of the strange illnesses in Havana. Should this be the case, what makes it hugely alarming for US national security is that it's invisible, soundless, and thus undetectable.
So theoretically it could be used even against the White House without the Secret Service or US intelligence and law enforcement knowing in real-time. But despite years of this being investigated, including top generals most recently briefing Congressional leaders wherein they pointed the finger at Russia, there's yet to be any hard evidence presented to the public.
Below is an image of the Ellipse, officially known as President's Park South, located directly to the South of the White House…
NEWS: The US is investigating a possible incident that occurred near the Ellipse in November, where an NSC official was sickened with symptoms similiar to "Havana Syndrome" that have affected dozens of US personnel abroad, w/ @KatieBoWillCNN https://t.co/KVgSKNwpuV

— Jeremy Herb (@jeremyherb) April 29, 2021
Apparently this latest White House incident was not the first suspected 'sonic attack' in the area, as CNN details:
Multiple sources familiar with the matter tell CNN that while the Pentagon and other agencies probing the matter have reached no clear conclusions on what happened, the fact that such an attack might have taken place so close to the White House is particularly alarming.

…In a separate 2019 episode, a White House official reported a similar attack while walking her dog in a Virginia suburb just outside Washington, GQ reported last year.
The October 2020 GQ report was somewhat comically titled, "The Mystery of the Immaculate Concussion".
It detailed that "According to three sources familiar with the incident, a White House staffer was hit while walking her dog in Arlington, Virginia. Her dog started seizing up. Then she felt it too: a high-pitched ringing in her ears, an intense headache, and a tingling on the side of her face."
The mystery of the Havana Syndrome: https://t.co/W71FyzW7jb pic.twitter.com/CruEWuBYU9

— The New Yorker (@NewYorker) November 11, 2018
Example of a US Air Force experimental directed energy weapon: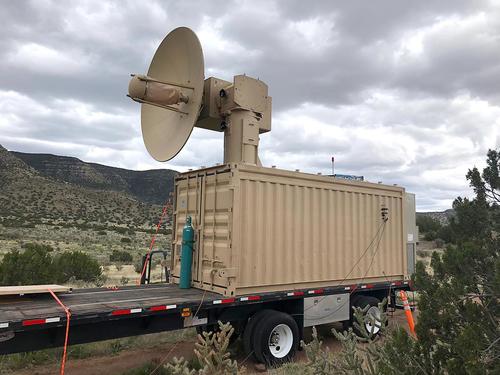 Again, despite the wealth of what is perhaps anecdotal evidence and testimony, and with at this point the original Havana episode serving as the clearest evidence yet of a large group of people saying they  experienced bizarre unexplainable symptoms all at once, it remains that US intelligence and defense officials have failed to produce known evidence that Russia or a US enemy zapped Americans with an advanced microwave weapon.
Republished from ZeroHedge.com with permission