Guangzhou, the capital of China's southwestern Guangdong Province and the country's fifth largest city with nearly 15 million residents, has just joined the ranks of cities imposing a mandatory lockdown on all citizens, effectively trapping residents inside their homes, with only limited permission to venture into the outside world to buy essential supplies.
The decision means 3 provinces, 60 cities and 400 million people are now facing China's most-strict level of lockdown as Beijing struggles to contain the coronavirus outbreak as the virus has already spread to more than 2 dozen countries.
That's more than 400 million people forcibly locked inside their homes for 638 deaths? Just think about that: If there was ever a reason to believe that Beijing is lying about the numbers (and not just because Tencent accidentally leaked the real data), this is it.
Breaking: Guangzhou City (population: 14 M) locked down. All residential blocks be isolated from each other. So far around 400 million people locked down in #China to contain #coronavirus. #coronavirusOutbreak Original Chinese official report:https://t.co/emfLIaOLut pic.twitter.com/RmX82iDOEH

— ?? Jennifer Zeng (@jenniferatntd) February 7, 2020
Meanwhile, in the US, the Trump Administration has directed researchers to investigate the 'true origins' of the virus, as 'conspiracy theories' and misinformation spreads online. We can't help but wonder: What if the scientists discover something that the regime in Beijing doesn't want them to see?
????????????????? #?????? ????#???? https://t.co/mZPAYz0K1N

— ?? Jennifer Zeng (@jenniferatntd) February 7, 2020
Elsewhere, Singapore raised its national disease response level to Orange, the second-highest level and the same level from the SARS epidemic, according to the city-state's health ministry. It also confirmed three new coronavirus cases. While investigations are ongoing, none of the three appear to have a history of recent travel to China, suggesting they picked up the virus in Singapore.
'Orange' means the outbreak "is severe and spreads easily from person to person" but "has not spread widely in Singapore and is being contained," according to the Disease Outbreak Response System Condition color-coded framework. Singapore has never invoked its highest level, red, per BBG.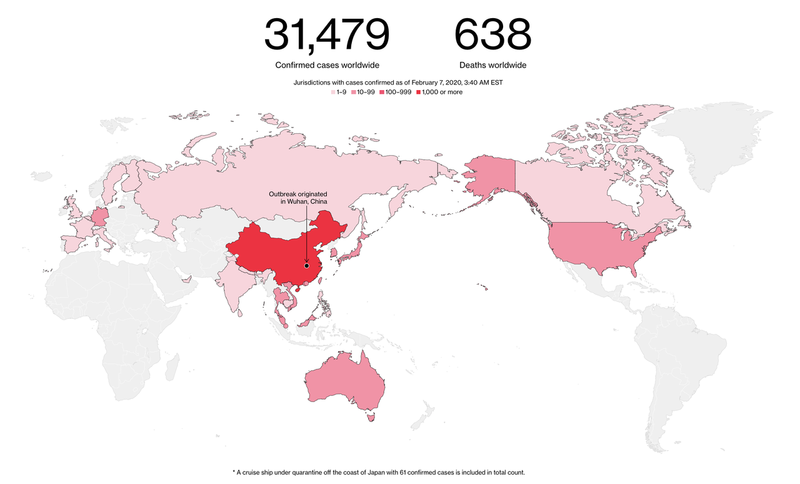 Foreigners are complaining that the new hospitals in Wuhan are merely 'quarantine centers' without any medical resources.
Dear Gov't of Uganda,

The famous makeshift "hospitalsh the Chinese Gov't is bragging about are not hospitals, they are quarantine areas where patients are not receiving any treatment at all. Is this the place you're saying is safer for us ? #EvacuateUgandansInWuhan pic.twitter.com/sLzdUHA24P

— Thomas (@owishemwe) February 7, 2020
Yesterday, Beijing argued that the virus outbreak had 'peaked' as they cited a drop in the rate of new infections. However, others have suggested that the rate of new confirmed cases has more to do with Beijing's limited resources.
It's been said by others but I'll say it too:

The way China is reporting almost an identical number of new coronavirus cases each day (approximately 3000) MUST be a reflection of its diagnosis capacity rather than the true caseload, which is likely much worse.

— Mark B. Spiegel (@markbspiegel) February 7, 2020
The WHO said during a press conference on Thursday that it's too early to claim that the outbreak has peaked, even as the outlook for the global economy falls off a cliff.
Republished from ZeroHedge.com with permission