President Biden on Wednesday claimed without evidence that "This new surge we're dealing with now started with the last administration," referring to the crisis at the southern border, in what appears to be a full court press with the assistance of MSM surrogates to blame Trump for what's going on.
Pres. Biden on immigration: "This new surge we're dealing with now started with the last administration, but its our responsibility to deal with it humanely and to stop what's happening." https://t.co/SF8lGj6JhR pic.twitter.com/rPmbZuFrJB

— This Week (@ThisWeekABC) March 24, 2021
If, by that, he meant the surge started moments after the MSM called the election for Biden on November 3rd, he may be technically correct – however as one can see below, the surge started in earnest last month.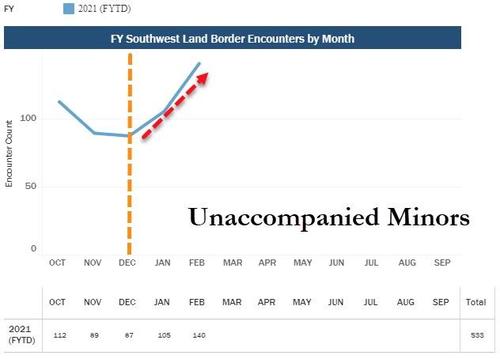 That said, NBC News has Biden's back, and front – reporting within minutes of Biden's blame-game that his transition team 'sounded the alarm' to the Trump administration on the need to increase shelter space for migrant children, which they expected to be crossing the border in large numbers – "but the Trump administration didn't take action until just days before the inauguration," according to two Biden transition officials.
"They were sitting on their hands," said one anonymous Biden transition official, adding that it was "incredibly frustrating."
The Biden transition team made its concerns about a lack of shelter space known to Trump officials both at the Department of Health and Human Services and the Department of Homeland Security, laying out the need to open an influx shelter in Carrizo Springs, Texas, and to issue what's known as a "request for assistance" that would start the process of surveying new sites for expanded shelters, according to the transition officials. -NBC News
See how this works?
And if the Biden transition team knew the US government was ill-prepared to handle an 'expected' surge, why did Biden sign a pro-migrant Executive Order on day one?
Biden, meanwhile, is putting Vice President Kamala Harris in charge of the border crisis, senior administration officials announced on Wednesday.
Harris, who found something amusing about visiting the border earlier this week, will "lead efforts with Mexico, Guatemala, Honduras and El Salvador to manage the flow of unaccompanied children and migrant families arriving at the border in numbers not seen since a surge in 2019," according to Axios.
?BREAKING : President Biden puts Harris in charge of the border and say Frm. Pres. Trump is to blame for the surge in migrant children….
pic.twitter.com/t99dpYhP3o

— Stocks_n_Scotch (@ScotchStocks) March 24, 2021
"Starting today, the Northern Triangle nations and Mexico will know there was one senior official dedicated to this effort. To be very clear, this is an important task," a senior administration official told reporters during a conference call held just an hour before a White House event with Biden, Harris, DHS Security Secretary Alejandro Mayorkas, and HHS Secretary Xavier Becerra.
More via Axios:
The announcement and high-level meeting, coming the same day the White House arranged a trip for senior aides and member of Congress to South Texas, illustrated the breadth of the administration's efforts to get control of the problem.
Republicans say Biden is to blame for refusing to reinstate a Trump-era policy to expel unaccompanied minors, as well as more accommodating language the president's own press secretary concedes is connected to the administration's humanitarian values.
What they're saying: "President Biden said during the transition, whatever the most urgent need, he would turn to the vice president," one of the three officials briefing reporters said, "and today he is turning to the vice president."
The first goal will be stemming the flow of illegal migrants to the U.S.
In a broader context, Harris also will work on establishing a strategic partnership with the Central American countries "based on respect and shared values," another official said.
The work will be conducted with the understanding that "these countries are our friends and our neighbors. They are members of our shared community of the Americas and within the western hemisphere."
*  *  *
So it's Trump's fault and Kamala is on it. Got it.
Meanwhile… one can only imagine how the press would react if they were ushered out like this after a Trump 'discussion' on immigration.
VP Harris: "Thank you Mr. President for your confidence."

Then: "It's time for the press to leave."pic.twitter.com/NnmmksW4vY

— Disclose.tv ? (@disclosetv) March 24, 2021
Republished from ZeroHedge.com with permission