In this video, Luke Rudkowski of WeAreChange gives you the latest breaking news on empathy and the ability to empathize which has been decreasing drastically in the West. We go over scientific studies regarding happiness and delve into the science of empathy. We explore emotional intelligence, especially in this social media day and age.
You can watch this video on DTube here.
Speaking of empathy, this is a good time to get an update on Corey Feldman's TRUTH Campaign!
TRUTH Campaign Update
Lets take a look at how the donations for Feldman's Indiegogo campaign are coming along. Here is how they stood on November 17th 2017, at $242,710.
Lets have a quick look-in now too. It is creeping up.
Yen Yen from Singapore comments that Hollywood celebrities have millions of dollars and they don't appear to want to help, monetarily speaking.
The Hollywood celebrities have millions of dollars and nobody chipped in.

— Yen Yen (@babydaoyin) December 3, 2017
Although some have come forward with words of support, including 'Stranger Things' star, Sean Astin.
R MANY OF THE REASONS I CONSIDER U A VERY DEAR & TRUE FRIEND! #GOONIESNEVERSAYDIE #PRESERVEINNOCENCE #ISTANDWITHCOREY LOVE U BUDDY!

— Corey Feldman (@Corey_Feldman) November 6, 2017
In this tweet on November 16th, 2017 Feldamn gives us a list of "A listers" who've publicly voiced support.
Feldman also has a GoFundMe. Lets see how that is progressing. It currently stands at $13,720. The site says this campaign is trending.
The page states that the gofundme was launched for two very important reasons. The first being:
"We have had repeated complaints by many supporters telling us they were having problems donating on the main campaign site, on Indiegogo and their donations were continuously being declined. So as an extra added security measure, we wanted to give you another route to help you help us reach our goal. "
The second reason is to raise the funds needed to provide immediate 24 hour armed security for Corey and his family.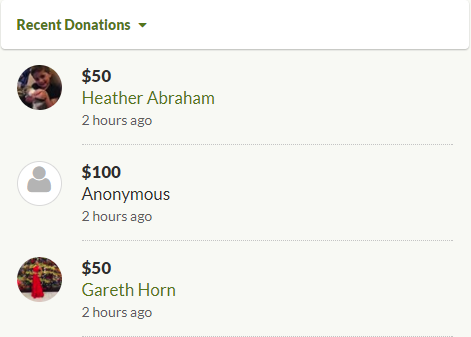 Corey's Law
Lets also get a progress update on Corey's Law which you can read about in my article here. The article from November 17th, 2017 showed 448 signatures. 10,893 people have now signed. 89,107 signatures are needed by December 12th, 2017 to get a response from the White House.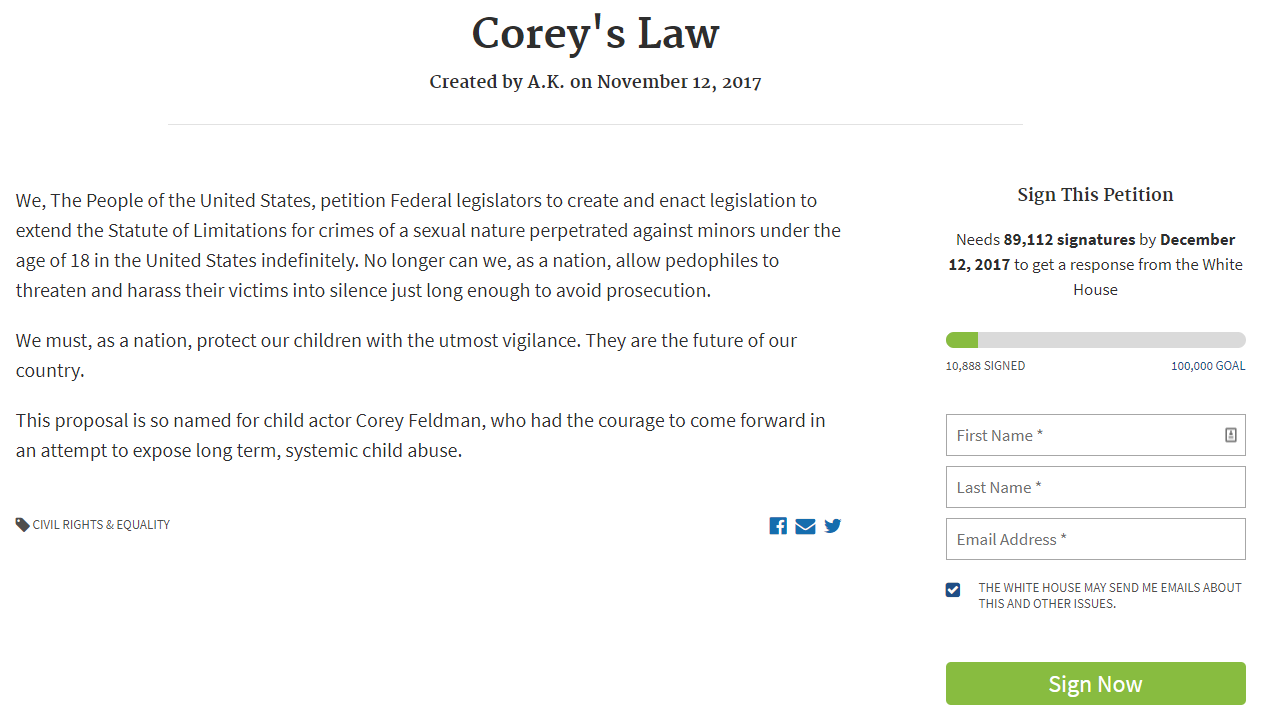 Live Event
Feldman's indiegogo campaign has 19 days left. He tweeted this morning that at this point, the pressure is getting to him.
AS I FEEL THERE R SO MANY FALSE RUMORS GOING AROUND SM, & DUE 2 THE FACT THAT THE CAMPAIGN IS WINDING DOWN & WE REALLY NEED THOSE DONATIONS, @CourtneyAnne12 & I HAV DECIDED 2 DO A @TwitterLive EVENT TONITE @ 9ISH! WE WANT 2 ANSWER ALL UR QUESTIONS RE #TRUTHCAMPAIGN

— Corey Feldman (@Corey_Feldman) December 6, 2017
Feldman is holding a live question and answer event in an attempt to ameliorate the situation, tonight at 9pm Pacific Standard Time. That's 5am for Brits across the pond.
SO AROUND 9 PM PST @CourtneyAnne12 &I WILL ATTEMPT 2 ANSWER AS MANY OF UR QUESTIONS AS POSSIBLE. WE MAY START AS LATE AS 9:30, BUT WE WILL DO IT. WE HAV NEVER USED THIS 4MAT B4 SO U WILL HAVTA BARE W US. WE SHALL C HOW THIS WORX 2NITE. #ISTANDWITHCOREY #CoreysTRUTHCampaign

— Corey Feldman (@Corey_Feldman) December 6, 2017
Will you be tuning in and what are your expectations? What questions do you want answered?
MAKE SURE TO CHECK OUT LUKE'S LATEST VIDEO HERE!