Update (1300ET): Elizabeth Warren just became the first high-profile Democrat to officially step forward and accuse the DoJ of not doing enough to target Google in its latest lawsuit.
In a tweet, Warren claimed that "two things can be true" – that Bill Barr can be a "corrupt" Trump crony, and that there is a "legit" antitrust case against Google. In fact, the case could have "gone further", Warren said.
Two things can both be true: Bill Barr is a corrupt Trump crony who shouldn't be AG, and @TheJusticeDept has the power to pursue a legit antitrust suit against Google. The case is clear – in fact, it could have gone further. It must move forward without political interference. https://t.co/7S4trkbDOG

— Elizabeth Warren (@SenWarren) October 20, 2020
Meanwhile, an unnamed Google exec told Bloomberg that the company will "potentially file pretrial motions" challenging theories in the DoJ lawsuits.
* * *
Update (1130ET): AG William Barr released a statement about the Google suit, saying "millions of Americans rely on the Internet and online platforms…" and that "competition in this industry is vitally important."
"Today, millions of Americans rely on the Internet and online platforms…Competition in this industry is vitally important, which is why today's challenge against Google…for violating antitrust laws is a monumental case both for the DOJ and for the American people." — AG Barr pic.twitter.com/CG8UKXDtZo

— Justice Department (@TheJusticeDept) October 20, 2020
* * *
Update (1030ET): Deputy Attorney General Jeffrey Rosen led a brief phone briefing with reporters on Tuesday where he essentially confirmed all of the reporting from this morning's WSJ scoop.
Rosen added that the lawsuit accused Google of violating Sectin 2 of the Sherman Act, the same statute that was used during Bill Clinton's presidency to carry out a host of antitrust litigation, including the landmark case against Microsoft.
"For years there had been concerns about business practices leading to unprecedented concentration in our economy," Rosen began, adding that the anti-trust division has been looking at Google and its anti-trust practices for more than a year now. Rosen called Google a "gatekeeper of the Internet" and "one of the wealthiest companies on the planet", saying it has maintained its monopoly standing via "anticompetitive practices" that are necessary to "enable competition".
If the DoJ doesn't act, Rosen said, Americans could risk missing out on the next wave of companies. If that happens, Americans may never get to see "the next Google."
"We plan to continue our review of market-leading Internet tech platforms," he said.
Rosen added that AG Barr made the case "a priority" within the department. Rosen thanked the DoJ antitrust division and the DoJ's partners in each state capitol for all their hard work on the case.
Read the full complaint here.
* * *
Update (1000ET): An interesting tweet from Fox Business senior reporter/fitness enthusiast Charlie Gasparino.
I hear shares of @Google are up after the @JusticeATR case because the Fed plans to institute its emergence powers to keep $GOOG from crashing and talking down the entire market

— Charles Gasparino (@CGasparino) October 20, 2020
Stocks have climbed since the open, after news about the Google lawsuit hammered US futures.
As we wait for the DoJ briefing on the lawsuit, it's worth noting that Sundar Pichai, CEO of Google owner Alphabet, will testify on Capitol Hill next week.
As for why Democratic states didn't sign on to the antitrust suit, CNBC's Ylan Mui reported – citing details in WSJ and NYT reports – that there was some resistance from staff attorneys, and ultiamtely Democratic states declined to sign on, along with many Republican states, all of which are now free to bring their own charges.
A guest who appeared on CNBC following Mui's report pointed out that one of the biggest differences between Google and Microsoft is that Google's products are mostly free (for end users) and are also tremendously well-liked.
* * *
Update (0915ET): Reuters has some more details about Tuesday's Google lawsuit, which the DoJ has now confirmed.
GOOGLE CASE IS MOST SIGNIFICANT ANTITRUST ACTION IN DECADES
GOOGLE ABUSED ITS DOMINANT POSITION IN SEARCH MARKET, U.S. SAYS
GOOGLE ACCUSED BY U.S. OF ABUSING MARKET POWER IN LANDMARK CASE
US GOOGLE ANTITRUST CASE JOINED BY ELEVEN STATES
More official details are expected during a briefing set for Tuesday morning, but many of the key details have already appeared in press reports.
Republican Sen Josh Hawley accused Google of keeping power through "illegal means" and called the lawsuit "the most important antitrust case in a generation." Reuters also note that the federal lawsuit marks a rare moment of comity between the Trump Administration and progressive Democrats like Sen Elizabeth Warren, who has called for "swift, aggressive action."
Sen Ted Cruz took to CNBC's Squawk Box earlier to trash Google and its Big Tech peers for abusing their market position and censoring conservative voices.
Google's "abuse of power is not strictly monetary … because they're also monetizing your data, your private data," says @SenTedCruz as the DoJ preps its long-awaited antitrust suit against Google. pic.twitter.com/HR9Gk8srAy

— Squawk Box (@SquawkCNBC) October 20, 2020
Some may remember that Google settled an FTC antitrust probe into Google over alleged bias in its search practice that favored Google's own products. It has also settled a trio of major antitrust suits with EU antitrust chief Margrethe Vestager.
Google saw revenue of $162 billion in 2019, more than the GDP of the entire nation of Hungary.
This could be only the beginning for Google, as more lawsuits could be in the offing since probes by state attorneys general into Google's broader businesses are underway, as well as an investigation of its broader digital advertising businesses. A group of state AGs led by Texas is expected to file a separate lawsuit focused on Google's digital advertising business as soon as November, while a group led by the AG in Colorado is reportedly weighing a more wide-ranging lawsuit.
* * *
Update (0825ET): The Google news has rattled the market, as investors contemplate the prospect of the DoJ, partnered with the state AGs, launching historic lawsuits against more Big Tech firms, thereby pulling the rug out from under the market.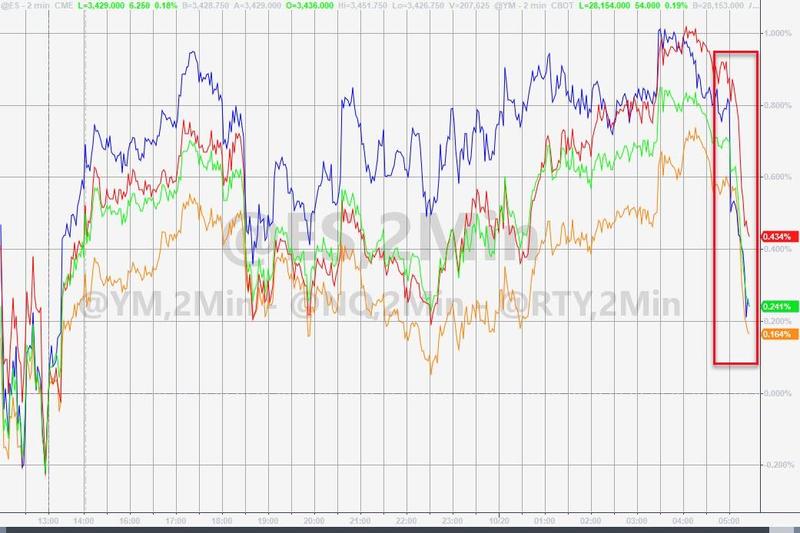 The case against Google will be the first major DoJ antitrust lawsuit to take on big tech since the DoJ sued Microsoft in the late 1990s, a suit that began during the year that Google was founded in a garage in the Bay Area.
According to details of the suit leaked to WSJ – details that have been previously outlined during leaks about the investigation when that was still ongoing – Google is being accused of maintaining its status as 'gatekeeper to the internet' via an unlawful web of exclusionary and interlocking deals that effectively shut out competitors. These deals include all the money Google pays to phone manufacturers, carriers and makers of browsers like Apple's Safari to ensure that Google's search engine is pre-set as the default on millions of smartphones, even those produced by competitors like Apple. DoJ is also taking issue with Google's Android operating system, which preloads Google's search application in a way that it can't be deleted.
These revenue-sharing agreements have allowed Google to ensure that no search competitor can challenge its dominance. Google handles about 80% of all Internet searches executed in the US each year.
During an interview with Sen Ted Cruz on CNBC, the senator pointed out that the lawsuit comes just a week after Twitter and Facebook worked to shut down a series of New York Post stories alleging shady and corrupt behavior by Hunter Biden and members with his family revealing that the scope of their international influence-selling was larger than candidate Joe Biden has led the public to believe.
If Big Tech companies are going to use their monopoly power to try and silence political speech, then the government isn't going to hold back, Cruz said.
DOJ antitrust head Makin Delrahim sat for an interview with CNBC's David Faber yesterday. Though he has been recused from the Google case, he hinted about the upcoming charges. To be sure, it could be years before this case reaches a trial or settlement (which was the outcome during the Microsoft case).
* * *
Just as we previewed roughly 6 weeks ago following a report published in the New York Times, the DoJ has finally brought a sweeping anti-trust case against Google, the ad giant monopoly which in June halted ad serving on this website, according to the WSJ. The landmark antitrust case will focus on alleged Google-controlled monopolies in search and search advertising. These businesses are the cornerstone of Google owner Alphabet's profits. At least 11 state AGs are expected to join the suit (notably, they're all from GOP-controlled states).
The DOJ anti-trust lawsuit against Google has been joined by 11 states: Arkansas, Florida, Georgia, Indiana, Kentucky, Louisiana, Mississippi, Missouri, Montana, South  Carolina, and Texas.

— Daniel Barnes (@dnlbrns) October 20, 2020
Google shares are sliding on the news.
The DoJ has scheduled a press briefing for 0945ET. Though no subject has been announced, it's a safe bet that the Google lawsuit, which has been in the works since at least January, when DoJ reportedly started beefing up a team that was reportedly focused on bringing antitrust cases against Alphabet and a handful of other big tech names.
The case is expected to be filed in federal court in Washington DC, forcing Google out of its California "comfort zone."
Republished from ZeroHedge.com with permission