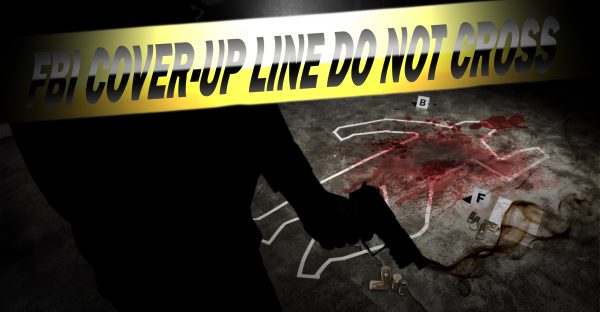 On the evening of May 21, 2013, an FBI agent, 2 Massachusetts State Troopers, and a local Orlando police officer arrived at Ibragim Todashev's apartment to interview him again. 8 hours later, Todashev was shot dead leaving law enforcement officials with the daunting task of keeping their stories straight.
They failed.
At first, they claimed Todashev had been wielding a knife when the FBI agent was forced to shoot him 5-7 times. Then the knife became a metal pole. In later reports, they believed Todashev had threatened the FBI agent with a broomstick or a Banzai ceremonial sword.
Law enforcement officials later recanted their stories admitting Todashev had been unarmed when the FBI agent killed him.
According to Todashev's live-in girlfriend, Tatiana Gruzdeva, the FBI had previously detained and interrogated her and Todashev on several occasions. At the time of Todashev's death, Tatiana was being held in an immigration detention facility. Later that day, she was transferred to Glades County Jail in Moore Haven, Florida, and placed in solitary confinement.
In an interview with Boston Magazine, Tatiana revealed the FBI had confiscated their computers, contacted them regularly by phone, visited their apartment, and called them into the local FBI branch for further questioning. At first their queries concentrated on the Boston Marathon bombings and Todashev's friendship with the alleged terrorist, Tamerlan Tsarnaev. Then the questions changed, focusing on a triple homicide in Waltham, Massachusetts.
Todashev admitted he had trained in martial arts with Tsarnaev and had gone clubbing with him in Boston before Tsarnaev had become more devout. Tatiana swore to the FBI agents that she had been with Todashev on the day of the Boston bombings. Unable to answer questions regarding the triple homicide, Tatiana was taken from FBI custody to an immigration detention center.
Tatiana was released in August with her visa extended for another year. A few days after her interview with Boston Magazine, Tatiana was arrested by the Department of Immigration and Customs Enforcement. ICE officials told Tatiana she was being deported to Moscow because she had spoken with reporters.
According to law enforcement officials, Todashev had been writing a confession implicating his and Tamerlan Tsarnaev's involvement in the brutal murders of Brendan Mess, Erik Weissman, and Raphael Teken just before he died. On September 12, 2011, in Waltham, Massachusetts, the three MMA fighters were found in Mess' apartment with their throats slashed. They had been mutilated and covered in marijuana. $5,000 in cash was also found at the scene.
The FBI agent claims Todashev was in the process of writing this confession when he suddenly overturned the coffee table, grabbed a weapon, and lunged toward them. Although law enforcement officials claim Todashev didn't have a weapon, the FBI still cleared their agent of any wrongdoing.
Two months before his death, Todashev underwent knee surgery. Even though his autopsy photos had been leaked, the FBI refused to release Todashev's autopsy report for another 10 months. At a press conference in Moscow on May 30, 2013, Ibragim's father, Abdul-Baki Todashev presented the autopsy photographs of his son revealing at least 12 bullet holes, including a control shot to the head.
"He did not believe the Tsarnaevs did this," Abdul-Baki Todashev stated. "He said they had been set up. These were his exact words."
After being suppressed for over 10 months, the autopsy report finally came out this week. Deputy Chief Medical Examiner, Gary Utz, M.D., determined Todashev had been shot 3 times in the back, twice in the left arm, once in the chest, and a bullet to the head. Although Todashev had been shot in the back 3 times, the FBI and Florida State Attorney Jeffrey Ashton have decided not to press charges claiming Todashev had been "carrying a long pole of some sort".
From 1993 to 2011, FBI agents fatally shot 70 people and wounded an additional 80 others. Through a Freedom of Information Act lawsuit, we have learned that every one of those 150 shootings has been deemed justifiable.
This includes a 2002 shooting in Maryland in which the Bureau paid $1.3 million to an innocent man named Joseph Schultz who they shot in the face. In a case of mistaken identity, Agent Christopher Braga drew his weapon and shot Schultz in the jaw. Although Agent Braga's report was full of inaccuracies, the shooting has been deemed faultless.
"Maybe my son knew some sort of information that the police didn't want to get out," Abdul-Baki Todashev speculated. "They shut him up. That's my opinion."
https://twitter.com/AndrewEmett
https://www.facebook.com/andrew.emett