With a wingspan of 130 ft, it will join others to "provide near worldwide coverage" in 2017.
by Megan Geuss http://arstechnica.com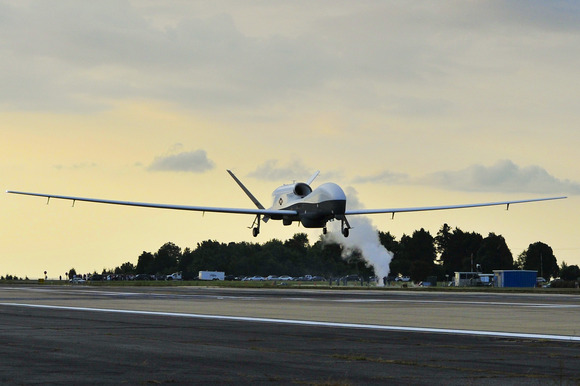 This morning, a giant Navy surveillance drone landed at Patuxent River base in Maryland after flying over the Gulf of Mexico and the American Southwest from an airfield owned by Northrup Grumman in Palmdale, California. The test flight represented the first cross-country flight for the MQ-4C Triton drone after 15 previous test flights.The drone flew 3,290 nautical miles over 11 hours, a Navy press release said. "Operators navigated the aircraft up the Atlantic Coast and Chesapeake Bay at altitudes in excess of 50,000 feet to ensure there were no conflicts with civilian air traffic," the release noted.
The drone is just the first piece in what the Navy calls Broad Area Maritime Surveillance, or BAMS. The MQ-4C Triton will be used to keep tabs on a wide area using "radar, infrared sensors and advanced cameras to provide full-motion video and photographs to the military," according to The Washington Post. Eventually, a network of these drones could be deployed to fly around the world and provide 24-hour, 7-day-a-week coverage of a given area.
The MQ-4C Triton is 47.6 ft long and 15.4 ft high, andNorthrup Grumman says it has a maximum flying time of 24 hours. The drones can also support a payload of 3,200 lbs internally, or 2,400 lbs externally.
The Navy has long been a proponent of drone research—in April, it put out a call for carrier-based unmanned aircraft that could surveil an area and bomb enemies if necessary. And in June 2013, aNavy document obtained by the US Naval Institute showed that the Navy was looking for Unmanned Carrier Launched Airborne Surveillance and Strike (UCLASS) drones capable of carrying 3,000 pounds of "payload," including 1,000 pounds of attack weapons.
PCWorld notes that a fleet of the drones was expected to be ready by 2015, but that deadline has been pushed back to 2017. In its press release, the Navy said "Three Triton test vehicles will fly approximately 2,000 hours before achieving initial operational capability in 2017."