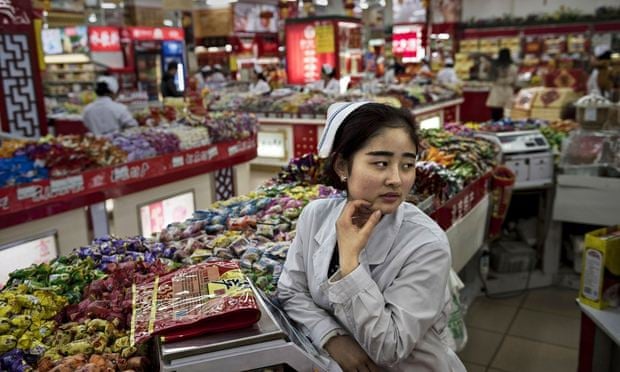 By Jonathan Kaiman and Heather Stewart
The Guardian
China's president, Xi Jinping, calls it the "new normal" – but strikes are increasing, wages going unpaid and businesses are struggling to survive as the vast economy adjusts to a more sedate pace of growth after more than a decade of explosive expansion.
Official figures published last week showed that China's GDP expanded by 7.4% in 2014. That was a significant drop from the 7.7% seen in 2013, and the weakest rate of growth since 1990, when the country was grappling with international sanctions in the wake of the Tiananmen Square massacre.
And while the government has spun the downturn as a good thing, as it deliberately shifts from an unsustainable, export-led boom to relying on demand at home to fuel economic growth, people across the country are feeling the heat.
Coal and copper prices are down owing to lack of demand; strikes and protests are becoming increasingly common. The prospect of weaker demand from China has also been a key factor behind plunging global oil prices.
"From an industry point of view, obviously the hardest hit are the miners and the upstream players – the iron ore industry, steel, refineries, they're all being really squeezed," said Andrew Polk, a senior economist at research group The Conference Board's China centre for economics and business in Beijing. "China's consumption has held up relatively well so far, but [the slowdown] looks to be finally feeding through to the consumption side as well."
And while the downturn is, on one level, intentional, policymakers face a tough challenge in engineering a slowdown while maintaining enough control over the financial system to prevent a crash.
Growth is expected to slow further over the next three years, as officials act to control the sliding property market and rein in excessive borrowing by local government — the International Monetary Fund has projected a 2015 growth rate of 6.8%.
"The financial crisis dealt a mortal blow to the export-led growth model, for two reasons," said Diana Choyleva, an expert on China at consultancy Lombard Street Research.
"One was the slowdown in global demand, and the other was the adjustment of the yuan against the dollar. Not only has the size of the pie reduced, but their ability to carve out ever-larger parts of it has diminished." Her analysis of Chinese data suggests growth is actually considerably slower than official figures suggest.