Last weekend, thousands of demonstrators across multiple continents protested against the state-sponsored violence in Venezuela. Attending the protest in front of the Federal Building in West Los Angeles, I tried not to recall how much blood had been spilled here in recent years.
Upon arrival, I find 4 students lurking within the shadows applying face paint to each other. I almost ask to join them. Out of cowardice, I remain silent.
In front of the Federal Building, hundreds of Venezuelan Americans stand in support wearing their country's colors: red, blue, and yellow. But not in support of that government.
2 men hold up a sign equating the Ukrainian riots to the Venezuelan protests. They march across each corner of Veteran and Wilshire Blvd, met with crowds cheering in every direction.
Behind me bloodthirsty uniformed jackals sneer salivating at the scent of impoverished people committing public insubordination. Jacked up on Red Bull and horse semen, the LAPD pace back and forth like caged silverbacks frothing from their pursed lips and swollen genitals.
Deceptively attractive young women hold signs reading #SOSVenezuela and #PrayForVenezuela as a plethora of cars drive by vigorously honking in support. The often dull and sedated atmosphere of the assembly finds itself interrupted with sporadic bursts of enthusiasm and contagious, yet short-lived drumbeats.
In 2002, White House officials supported the failed coup d'etat against Hugo Chavez. 12 years later, President Maduro calls for a dialogue with President Obama as his police and national intelligence service kill unarmed students. Earlier this month, the Venezuelan government blocked images of wounded protestors on Twitter, prompting a response from the hacktivist collective Anonymous who launched #OpVenezuela in retaliation against censorship and state violence.
The unofficial death toll has risen to 11 since the demonstrations began. Security forces killed a 23-year-old student named Geraldine Moreno by shooting her in the face with rubber bullets. Last week, Venezuelan beauty queen Genesis Carmona received a bullet in the head for attending an anti-government protest.
My friend was standing next to her when she died. It changed him. He's gone from a peaceful activist to throwing Molotov cocktails at police wearing riot gear.
During a press conference on Friday, President Maduro stated he would not defend any government agents caught shooting at protestors. Maduro claimed, "If any of them was involved in someone being wounded by a bullet, or in one of the deaths, they will pay with prison. I won't protect anyone who shoots anyone else at a demonstration."
As the crowd chants, "Libertad Venezuela!" an unmarked news van parks beside ABC. Fox sends a Latino correspondent to cover the protest. He remains there for 19 minutes. While covering the assignment in real time, I realize this story has become far more complicated than a 30-second sound bite.
No longer considering us a threat, the LAPD jump into their patrol cars and exit the scene. While waiting at an intersection, dozens of socially conscious drivers slam on their horns provoking the frustrated police officers who are unable to arrest the multitude of boisterous rabble-rousers.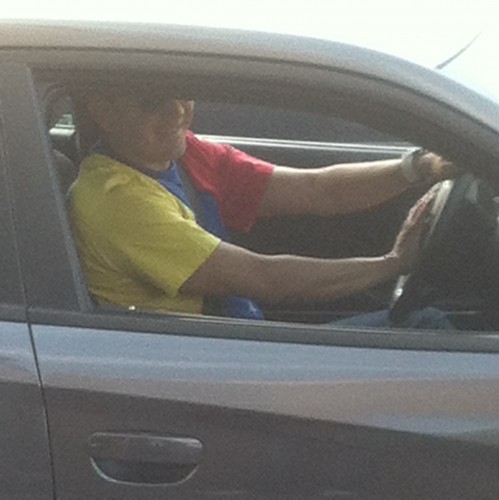 After collecting a couple sound bites, the Fox reporter flees back into the white van with his cameraman in tow.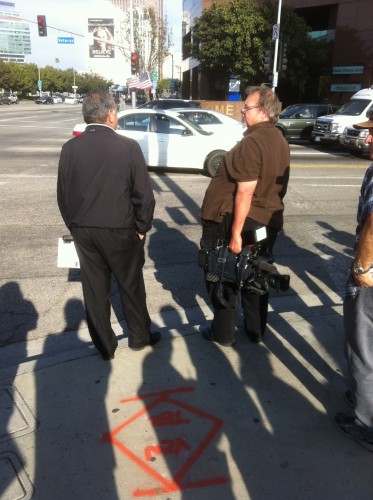 Fox keeps their news vans unmarked to reduce the risk of vandalism. With their hasty departure, NBC's van finally arrives.
Playful catcalls erupt from the group beside me as the most voluptuous dark-skinned young goddess in tight white jeans strides into the intersection waving a Venezuelan flag. My paltry knowledge of español picks up a few phrases. Most are too dirty to repeat here.
My brother and his Venezuelan girlfriend finally emerge from the crowd. They greet me with hugs and accept me into the fold even though I look like an undercover cop with a regulation haircut. Against every skeptical cell in my body, these appear to be good people who simply want to stop the violence.
Roughly translated, the crowd begins chanting in Spanish: "Who are we? Venezuela! What do we want? Freedom!" In the background, cops dressed as Stormtroopers stand akimbo guarding the entrance of the Federal Building.
After the protest, I pull a demonstrator aside and ask her why she attended. She answers, "Because I will always support the side without guns over the side with guns."
https://twitter.com/AndrewEmett
https://www.facebook.com/andrew.emett