Islamic Republic of Iran Broadcasting (IRIB) says that explosives have hit an Iranian container ship in the Mediterranean.
The Jerusalem Post reports an Iranian state shipping firm says the containership was damaged in a "terrorist attack."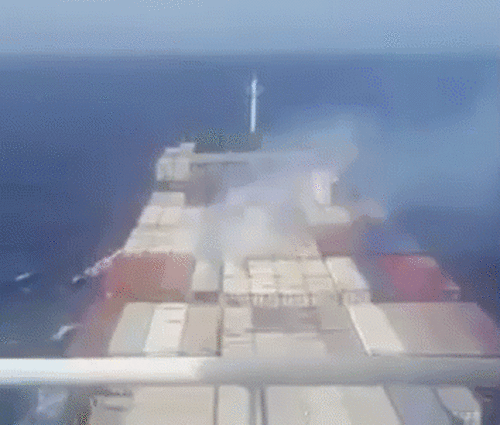 Details are limited at the moment. But readers may recall Thursday evening, we released a report pointing to a serious escalation in the Middle East between Israel, Iran, and involving the United States—particularly after Israel's recent claim of an Iranian-sponsored attack on an Israeli-owned cargo ship in the Gulf of Oman two weeks ago.
Editor in chief at Manoto tweeted:
Sources told me: Israel attacked an Iranian-owned cargo ship near Latakia port in Syria, hours ago on Thursday 11th March. The ship called "Shahr-E-Kord" is still in Mediterranean sea according to @MarineTraffic I.R attacked an Israeli cargo ship last week in Oman sea.
Alleged footage of the damaged containership.
Additional footage has been released of the fire aboard the SHAHR E KORD from yesterday's event. IRISL Group spox has stated " Shahre Kord cargo ship was attacked by an explosive object on Wednesday in intl waters of Mediterranean" – https://t.co/itfMyfDmWd pic.twitter.com/hiCx9jmZr4

— Aurora Intel (@AuroraIntel) March 12, 2021
Here is Shahr-E-Kord's current positioning and track over the last 48-hours.
Ali Qyasian, Iran's shipping lines spokesperson, confirmed Shahr-E-Kord cargo-ship "was attacked" yesterday. As we noted Thursday, US intelligence revealed Israel has bombed "dozens" of Iranian oil tankers.
More images of the damaged containership.
.@pouriazeraati says officials told him Israel attacked "Shahr-E-Kord" Iranian cargo ship near Latakia #Syria pic.twitter.com/j6r2fbg2eJ

— Amichai Stein (@AmichaiStein1) March 12, 2021
*This story is developing… 
Republished from ZeroHedge.com with permission