Lebanese Red Cross officials told local media outlets (quoted by Reuters) on Wednesday that the death toll has risen to over 100, including 4,000 injured, after a massive explosion ripped through Beirut's port on Tuesday.
On Tuesday evening, Lebanon's Prime Minister said the blast was caused by an estimated 2,750 tons of ammonium nitrate, stored in a warehouse at the port unsecured for years. Israeli officials denied they had any involvement in the horrific explosion, which also repeated by Hezbollah officials.
President Trump said earlier in the evening that after meeting with top military commanders: "They seem to think it was an attack. It was a bomb of some kind."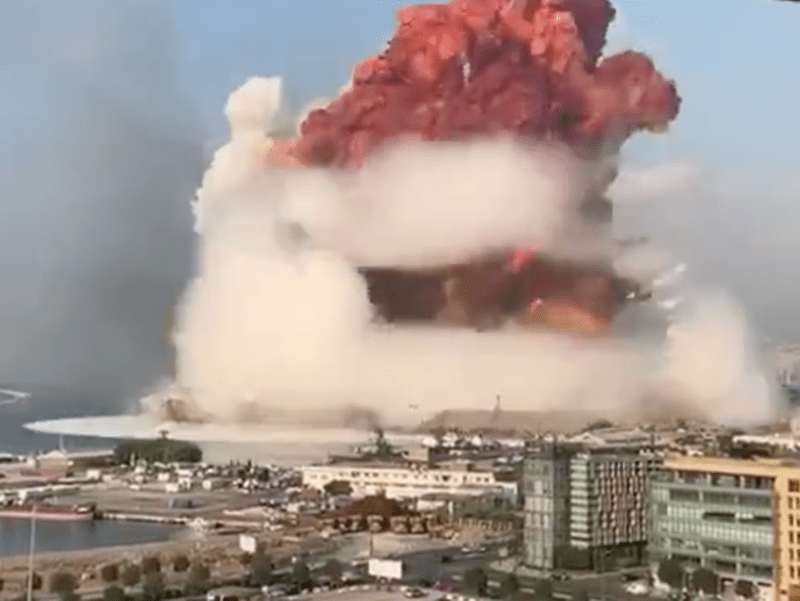 Lebanese President Michel Aoun called for an urgent cabinet meeting on Wednesday and declared a capital-wide two-week state of emergency.
Here's what residents of Beirut woke up to this morning: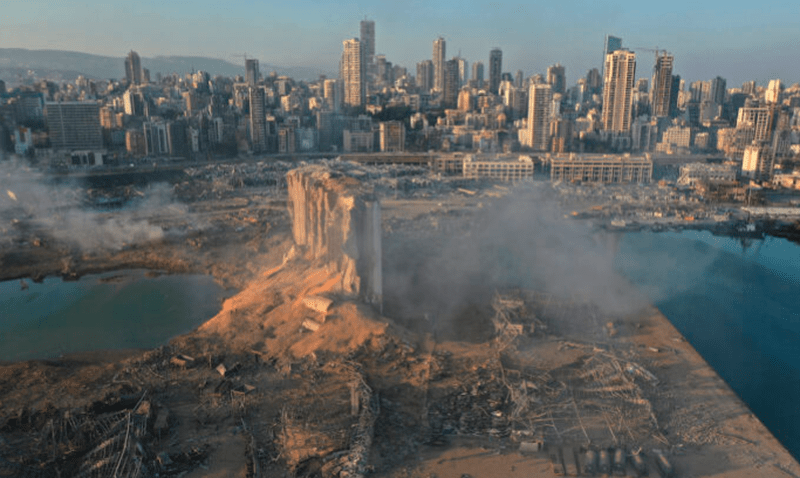 Marwan Abboud, the governor of Beirut, said the shockwave from the blast was so powerful (triggered a 3.5 magnitude earthquake), it caused widespread damage across the city, leaving tens of thousands of people homeless.
"We lost ten members of the Beirut Fire Brigade, and damages range between 3 [billion] and 5 billion dollars and maybe more," Abboud said.
The blast left communities around the port absolutely devastated.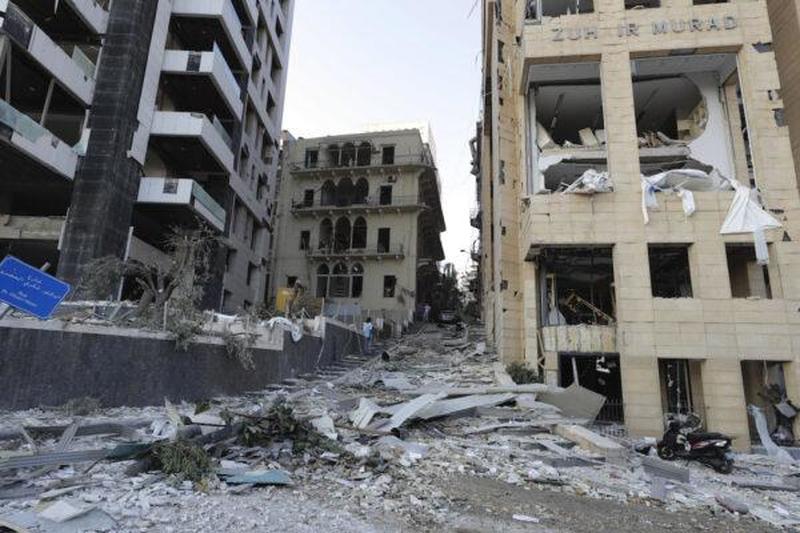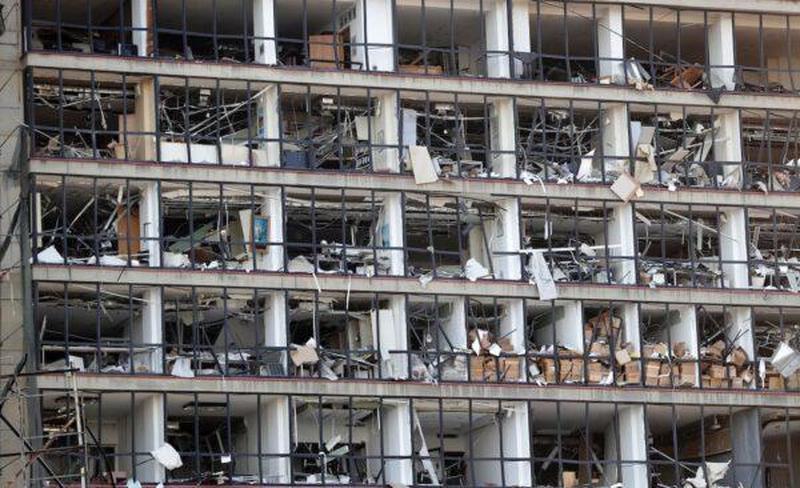 Samir Madani, the co-founder of Tanker Trackers, tweeted a satellite image of the devastation.
We have the first satellite picture captured this morning over Beirut (right) 2020-08-05 by @planetlabs vs 2020-07-26 (left). Red circled area is where the explosion took place. pic.twitter.com/Bsa4E8f95u

— Sam (@Samir_Madani) August 5, 2020
Even before the blast, the country had been devastated by the virus pandemic, a crippling economic collapse, and government corruption. The destruction of the nation's top port suggests the primary channels for imports and exports have been completely severed. The ability of the country to feed 7 million people could transform into a significant health crisis in the months ahead.
Researchers estimate that 85% of the country's grain, mostly stored in silos at the port, was also destroyed.
"This has been the worst year for Lebanon by far," Karim Nahouli, from Beirut's Ras Al-Nabaa district, told Arab News.
"We've had 15 years of civil war, then another war in 2006 with Israel, and assassinations throughout, but this is definitely Lebanon's year from hell."
With Lebanon's main port severed, and an economic crisis already festering, does this mean the country is on the brink of collapse?
Worst still, as we saw in oil prices, does this increase (if that is possible) the instability of The Middle East region further?
Immediately after this happened, as The Economic Collapse blog' Michael Snyder notes, a lot of people began wondering if this was an Israeli attack, but that does not appear to be the case.
One unnamed Israeli government official told AFP that "Israel had nothing to do with the incident", and Benny Gantz has actually offered to send humanitarian aid to Beirut…
Offers of aid also came from bitter rivals Israel, with which it is still technically at war. Defense Minister Benny Gantz and Foreign Minister Gabi Ashkenazi, on behalf of the State of Israel, have offered the Lebanese government – via international intermediaries – medical and humanitarian aid, as well as immediate emergency assistance,' said a joint statement from the two ministries.
If Israel really had been behind this attack, I seriously doubt that they would be offering to patch up their enemies.
Instead, it appears that this was some sort of deeply tragic accident. Lebanese officials have admitted that 2,700 tons of ammonium nitrate were stored in the unit that exploded, and that amount of ammonium nitrate can definitely produce the sort of explosion that we just witnessed…
Lebanon's interior minister said ammonium nitrate had been stored in the unit since 2014, with experts agreeing that the chemical would cause the red plume of smoke which burst up from the blast.

Local media are reporting that 2,700 tonnes of the chemical exploded, which scientists making initial calculations said was about three kilotonnes of TNT – roughly a fifth of the Little Boy atomic bomb dropped on Hiroshima in the Second World War.
But as we noted above, Donald Trump is apparently not buying that explanation.  He told the press that the explosion "was an attack" and that it was caused by "a bomb of some kind"…
At least 60 people were killed and thousands were wounded in an explosion that caused widespread damage in the Lebanese capital. Trump said he had been briefed by "our great generals" and that they "seem to feel" that the explosion was not an accident.

"According to them – they would know better than I would – but they seem to think it was an attack," Trump told reporters at the White House. "It was a bomb of some kind."
If this really was an attack, the Lebanese are going to want revenge, because a substantial portion of their capital city has been absolutely decimated.
And needless to say, there are already voices all over the Middle East that are eagerly pointing a finger of blame at Israel and are calling for war.
But unlike the "mystery explosions" that have been happening in Iran, the evidence does not indicate that Israel had anything to do with this great tragedy.
Unfortunately, a lot of people out there are going to jump to their own conclusions.
Over the past couple of years, there have been several moments when it seemed like a major war could break out at any time in the Middle East.  And here in 2020, tensions are running higher than ever.  The IDF has been regularly hitting Iranian and Hezbollah targets all over the region, and we just witnessed a harrowing confrontation on the Syrian border.
It appears that it is just a matter of time before a huge war erupts in the Middle East, and it certainly isn't going to take much to trigger one.
So could this explosion push the region over the edge?
Let us hope not, but without a doubt this blast is not going to help matters.
The devastation that we just witnessed has caused great pain and anger in Lebanon.
Republished from ZeroHedge.com with permission