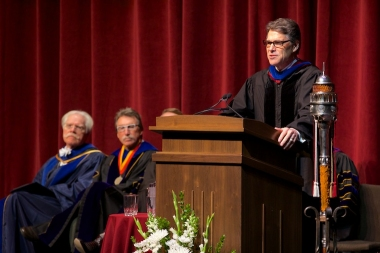 After not-so-subtly hinting that he would like to be president in 2016, Texas Governor Rick Perry has warned that "Large doses of vaccines" may be needed to respond to a bio-terror attack on the United States. During Remarks at the Texas A&M Commencement Convocation last Thursday, Perry said "The allure of Texas A&M is not confined to our culture. This special place offers an excellent academic experience, and is one of the premiere research institutions in the country. Today Texas A&M is the largest research institution in the State of Texas. Our engineers, working with our scientists created the cutting edge National Center for Therapeutics Manufacturing, a first of its kind method for the production of life-saving drug therapies. That vision led to a major federal grant of $176 million to create the Center for Innovation in Advanced Development and Manufacturing. It will be capable of creating large doses of vaccines to respond to deadly viruses or a bio-terror attack on our nation."
Perry also hinted at presidential aspirations and stated his objective was to be a "chief executive of a large enterprise with good benefits and a really large personal jet." The 14-year governor also used the opportunity to humbly refuse Texas A&M's Bid To re-name the University's Academc Building after him. Last week, LibertyFight.com reported Perry's presidential goal after he was spotted dancing in the street with whom he sees as his largest potential money-base: Rick Perry One-Ups Both Rand & Jeb, Does Crazy-Dance With Rabbis In the Street For Hanukkah .
Despite constantly babbling about 'freedom' as if he supports it, Perry showed his true colors years ago when he tried to mandate the highly toxic gardasil vaccine for girls in Texas. That launched a highly-contentious political fight, with the masses outright refusing to comply. Perry then sheepishly reversed himself and admitted that the HPV can not be made mandatory.
In 2009, the U.S. Customs & Immigration Service changed their vaccination requirements, forcing legal immigrants to receive the human papillomavirus (HPV) vaccine Gardasil. This little-known fact has not been mentioned or protested by vaccine opponents or immigration groups. Early this year, LibertyFight.com reported that Pseudo-Libertarian REASON magazine called Jenny McCarthy an 'ENEMY OF FREEDOM' for daring to question vaccines.