INTERNATIONAL SOCIETY FOR ETHICAL PSYCHOLOGY AND PSYCHIATRY

Statement on the Connection Between Psychotropic Drugs and Mass Murder
With seemingly no explanation, 8 corporate executives have died within weeks of one another. Ruling out homicide in each case, local police believe the deaths were either suicidal or accidental in nature.
On the morning of January 26, 2014, Tata Motors Managing Director Karl Slym jumped out of his window on the 22nd floor of the Shangri-La hotel in Bangkok, Thailand. His wife claims she was asleep in the room with him at the time. Hotel staff awoke her shortly after her husband's body was discovered on the 4th floor.
MLK's assistant we don't know the whole truth about MLK's murder, End The Fed
WeAreChange ran into Benjamin Chavis, Dr. Chavis was an assistant to Dr. Martin Luther King, Jr. He is currently working with Russell Simmons onhttp://www.occupythedream.org/
SUPPORT THE RESISTANCE http://www.wearechange.org/?page_id=9453
http://www.facebook.com/LukeWeAreChange
http://www.twitter.com/LukeRudkowski
Read The Entire Article Here Please Comment,
Part About WeAreChange:
It's what historians of 9/11 – which is what the activists and investigators essentially are – value most: the paper trail. Documents, statements, memos. This is the grist of history. And if some of the 9/11 activists can tend, sometimes, towards the obsessive, it's generally an obsession with data. And to have that data withheld? It's murder.
So when, at the tail end of LibertyFest, longtime 9/11 activist Luke Rudkowski tells me of the 2.5 terabytes of data from the Able Dangerterror investigations that were deleted, it's with genuine pain in his eyes. It's a Ming vase that's smashed on the floor. It's Wayne Rooney looking at a squashed banana. It's a tragedy.
I asked Rudkowski what the "Truthers" were planning for the day. "This year, we're all about paying our respects to the dead. We're sending out a solemn message: we don't know what happened on 9/11, yes we have questions, but on the day we're not asking them. We're going to stand in respectful silence."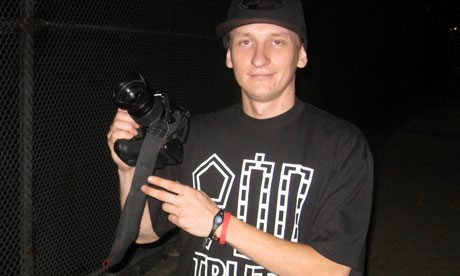 Luke Rudkowski Photograph: Charlie Skelton
But on the night before, Rudkowski is happy to ask. Why, from the 78 security cameras that surround the Pentagon, have we been shown just a few blurry frames? Why has the FBI classified its official investigation into the fact that some of the hijackers were trained at US military bases…?
And what would he say to those who'd scoff at asking such questions? "I'd say, look at the evidence and make up your own mind. And remember, 9/11 is a gigantic event that's going to affect us all for the next hundred years, but it's an event a lot of people know very little about."
And with that, I slid away from the party, and bought some toothpaste from a late night store. I'm not going to mark the tenth anniversary of 9/11 with dirty teeth. I'm glad that the New York Truthers aren't planning anything big and brash for the anniversary. The living will still have their questions, documents will need to be declassified, evidence sifted and lies challenged, but the anniversary of 9/11 is about the dead. The truth can take the day off.
Kurt Nimmo
Infowars.com
February 16, 2011
In the We Are Change video below, Marxist converted into card-carrying neocon David Horowitz reveals something not really surprising – he knows very little about September 11, 2001, or at least claims to know very little.
The events of September 11, 2001, define the pro-war, anti-Muslim agenda of the neocons, and yet Horowitz comes off as completely clueless. He is like a deer caught in the headlights. He is like a babe in the woods without his soap box at Fox News.
He feigns ignorance of the established fact that Mahmood Ahmed, then director of Pakistan's ISI, ordered Saeed Sheikh to wire $100,000 to hijacker Mohamed Atta. On the morning of the attacks, Ahmed had a breakfast meeting in Washington, D.C., with House and Senate Intelligence Committee chairmen, Rep. Porter Goss and Senator Bob Graham.
Horowitz is also clueless about the fact that six out of ten 9/11 commissioners doubt the official story and some suspect they were deceived by the Pentagon. The co-chairs of the Commission, Thomas Keane and Lee Hamilton, said that the CIA and the Bush neocons "obstructed our investigation."
The co-chairs of the Commissionadmitted that their report was driven by political considerations. In other word, it was steered by neocons in the Bush administration for the sake of creating an excuse to invade small countries and wantonly slaughter Muslims.
David Horowitz is a member of the neocon intelligentsia. It is difficult to believe he has no knowledge of the event that literally defines the neocons and their illegal wars against Arabs and Muslims, so far resulting in over a million and half calculated murders.
Of course, we have to take into consideration that Horowitz's main obsession is attacking people he was once associated with as a Marxist, so knowledge about the facts surrounding 9/11 come in at best as a distant second. He is also an enemy of libertarians and especially Ron Paul because Paul is opposed to the total warfare state and the neocon mass murder campaigns in Iraq, Afghanistan and Pakistan.
Stock up with Fresh Food that lasts with eFoodsDirect (Ad)
Horowitz may be dismissed as just another ideologue on the CIA's payroll. Horowitz's operation has taken money from Richard Scaife, the "philanthropic" billionaire who worked with the CIA. Scaife's Forum World Features, a foreign news service, was a CIA front that disseminated propaganda around the world.
In short, Horowitz indirectly works for the same people who pulled off the attacks of September 11, 2001.