The U.S. is Canada's largest export buyer for beef and Canada's largest importer supplier. Any disruption to the meat trade between both countries would have severe consequences for meat processors in Canada and consumers in the US.
Days after the "Freedom Convoy" of truckers protesting vaccine mandates in Ottawa, the country's capital, protests are spreading to US-Canadian border crossings and furthering logistical headaches.
Bloomberg reports 150 trucks packed with beef, bound for the US, are stuck in a traffic jam at the border at Coutts, Alberta, the Canadian Meat Council said. Since the weekend, a convoy of truckers has slowed processing times between Alberta and Montana.
We reported as of Monday, more than 100 truckers blocked the US-Canadian border between Alberta and Montana.
BREAKING: Massive convoy of truckers have blockaded the US-Canada border crossing in Alberta pic.twitter.com/A4KHrzETbv

— Truckistan Amb. Poso ? (@JackPosobiec) January 31, 2022
On Sunday, Alberta Premier Jason Kenney called for an end to the blockade, stating: "Canadians have a democratic right to engage in lawful protests. I urge those involved in this truck convoy protest to do so as safely as possible, and not to create road hazards that could lead to accidents or unsafe conditions for other drivers."
"It is not yet clear what the provincial or federal government is doing to facilitate a resolution. The longer this takes, it will cause more supply chain issues and this will affect everyone from producer to consumer," Marie-France MacKinnon, a spokesperson for the council, said.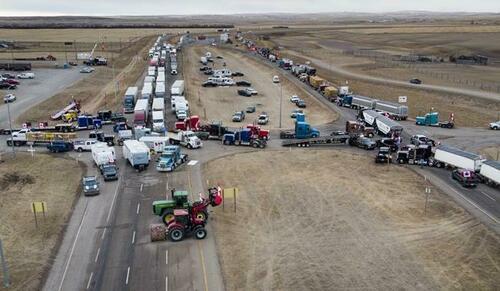 What sparked convoys across border crossings and the capital is a new measure imposed by the Canadian government on Jan. 15 requiring unvaccinated cross-border truckers to quarantine upon returning home, making it virtually impossible for them to work.
Trucker convoys are so disruptive to trade between the US-Canada that local officials are expected to take action to resolve the protest revolt.
Every truck taken out of the supply chain is one less truck that can haul goods. This comes as virus-related worker absenteeism and labor shortages have prolonged supply chain woes. Snarling chains, even more, has been an answer by the people to band together against medical tyranny by the government. There's just one problem, blocking cross-border trade or at least slowing it down will further supply chain issues and could spark meat shortages in the US.
Republished from ZeroHedge.com with permission